KHAITE SAMPLE SALE 2023 happened this past weekend (10/12 – 10/15-2023), and I thought it would be a helpful blog post reviewing the experience for those who have never been to a luxury sample sale in NYC before.
There are a few types of sample sales, and some are invite-only. However, there are plenty open to the public, and you even get to shop a day early before the public opening. It's called 'friends and family' sale, and as the name implies, it's for friends and family of the brand's employees.
This year, it's my second Khaite sample sale. I went early right on the first public opening day, and in total, the whole experience took almost 5 hours. Last year, I went on day 2, and there was nothing left, like literally. This year, however, I heard they were restocking shoes on day 2 and day 3. So again, it really depends.
And before you say that's crazy or why would one wait in line just to go spend money this way, then keep on reading!
In this blog post, I will only focus on my luxury sample sale shopping experience at Soiffer Haskin, specifically the brand Khaite.
SAMPLE SALE AT SOIFFER HASKIN
Soiffer Haskin has run sample sales for luxury brands since 1982. 
1. LOCATION: 
Soiffer Haskin – Address: 317 West 33rd Street, New York, 10001 (right next to Penn Station)
2. HOW TO FIND OUT ABOUT THE SALE:
Check your email – Fall is when some of my favorite luxury brands run their sample sales (think end of the year, and many brands are clearing out their inventory) – Khaite Sample Sale this year started on October 12, 2023, and I knew about it via email a week prior. 

Other popular sample sales in NYC I'd recommend signing up as well – 260 Sample Sale (2 locations in Soho and 1 on 5th), Eclipse (232 Madison Avenue)

CHICMI has a community page where sample sale goers provide feedbacks and updates, so I'd recommend signing up to their email as well.
3. RULES AT KHAITE SAMPLE SALE WITH SOIFFER HASKIN:
'Credit cards only. All major credit cards accepted. All sales final. All outerwear, bags, and handbags must be checked in at coat check. Strollers not allowed. No children under 12 will be admitted.'
Once given a wristband prior to entering the building, you will also be required to check in your coats, bags, and phone.
PHONE RULE – We were required to check our phones at the Manolo Blahnik Sample Sale, and many people complained about it. And I think that's why they allow phones this time. Note that phone usage was only allowed in the waiting area (after checking in bags and coats), but you're not allowed to use it in the showroom upstairs. No photos nor recording was allowed. I did see some people posted photos on TikTok and had their comment section muted, and that's not a good look. You're basically asking to be banned from shopping here, well, that can be a possibility.
Just respect the rules!
Yes, it's strict, but that's the only way to keep it professional, effective, and fair for everyone!
4. SAMPLE SALE SHOPPING TIPS
GO EARLY – For Khaite this year, I did set my alarm at 5:30 am. I had to commute in, and my train ride took 30 minutes. I got in line at around 6:40 am. And I got good stuff!
I also went to the Manolo Blahnik Sample Sale a few weeks ago (on the first public opening, arriving at 8:10 am), waited 6 hours, and came home with NOTHING aka Manolo-screaming shoes. There were only 5 pairs of shoes, size 38, but the styles were not good at all. I settled and bought one pair of men's boots. Many girls I talked to either left with nothing or settled with something 'blah!.'
Note that many people pay 'line sitters' to sit in line for them even from the night before.
DRESS WARM AND COMFY – You're basically standing still for a couple of hours, so make sure to dress light and warm. I love my cashmere sweaters, joggers, leggings, and a short wool jacket (instead of a long coat which gets heavy!). And don't forget socks, comfy footwear, and perhaps a beanie and scarf. No heels!
BRING A BOOK, HEADPHONES, OR EVEN A SMALL FOLDABLE CHAIR – I think bringing along a small stool or foldable camping chair is not a bad idea if you have a bad back or legs. Many people read, listen to music, and talk to people next to them.
GET A COFFEE – There are many great coffee shops nearby outside of Penn Station. Starbucks opens really early, and don't forget you can have your drink and snack delivered to you, too.
BRING WATER & PLAN OUT YOUR BATHROOM BREAK – I have to be strategic about the water intake prior to coming and during. Go before you commit to the line. For water, I drink it sparingly, and so far, I can wait up to 5 hours without a bathroom trip.
BE FRIENDLY AND MAKE A FRIEND – If they're friendly and seem like they want to talk. I sometimes do and sometimes don't, just depends on people's body language and situations. It's helpful if you need to go to the bathroom or get a drink and be right back as it's ok to ask them to keep the spot in line for you.
RESPECT THE RULES & BE POLITE WITH THE STAFF – As I said above, it doesn't hurt to be nice and kind to everyone. Watch out for people around you, offer help, and say thank you.
KHAITE SAMPLE SALE 2023 email announcement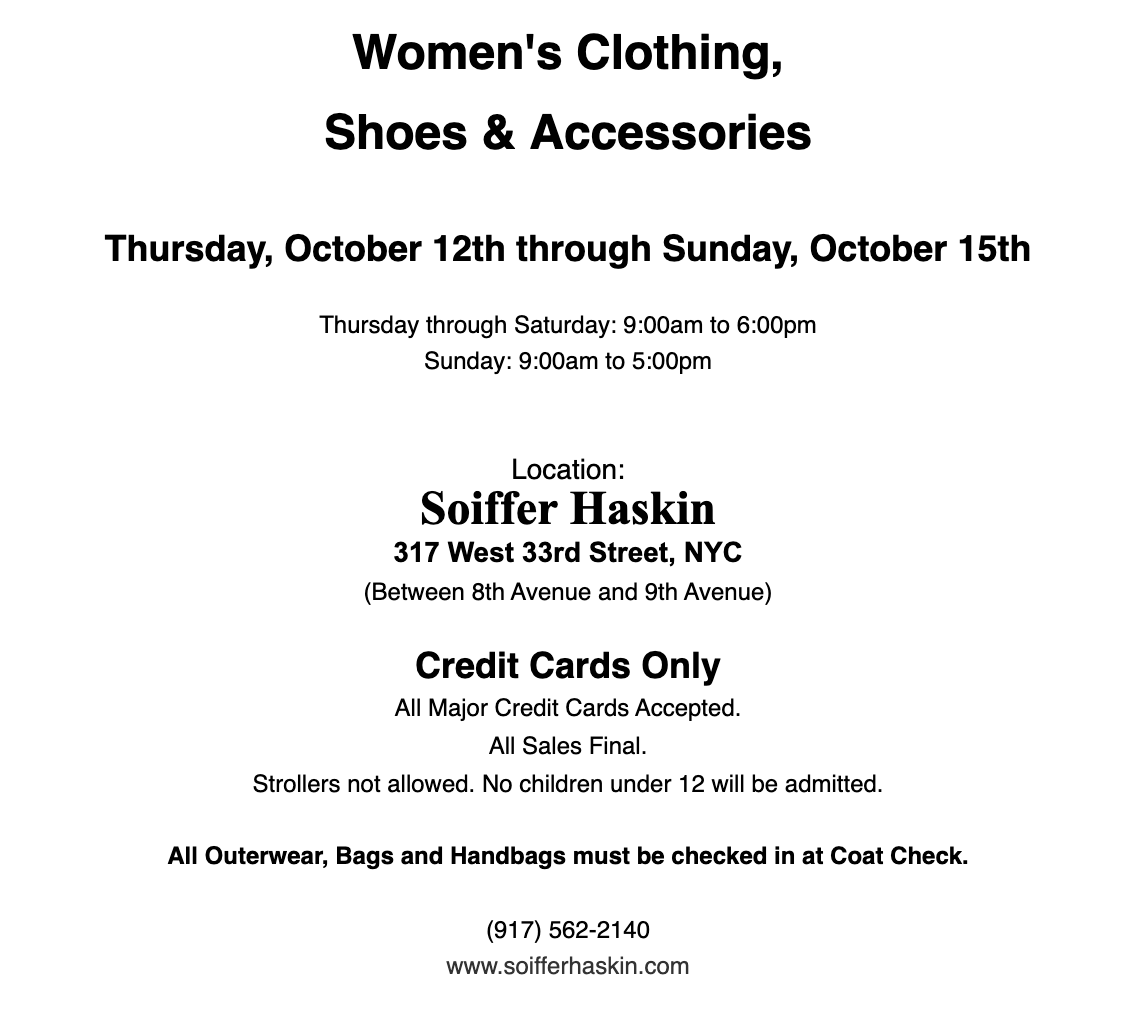 MY KHAITE SAMPLE SALE 2023 TIMELINE BREAKDOWN
I did set my alarm at 5:30 am and commuted in. From Brooklyn, it takes 1 train ride and 30 minutes only. 
This year, I wasn't too surpirsed that there were a good amount of people plus the line dues (professional line sitters – yes, that's a thing in NYC!). Sample sale started at 9 am, and I was the 3rd group in at 11 am. There were 60 people each group, and I was number 53. So that meant I was the 173rd person in line. We were allowed 45 minutes to shop and 15 minutes to check out.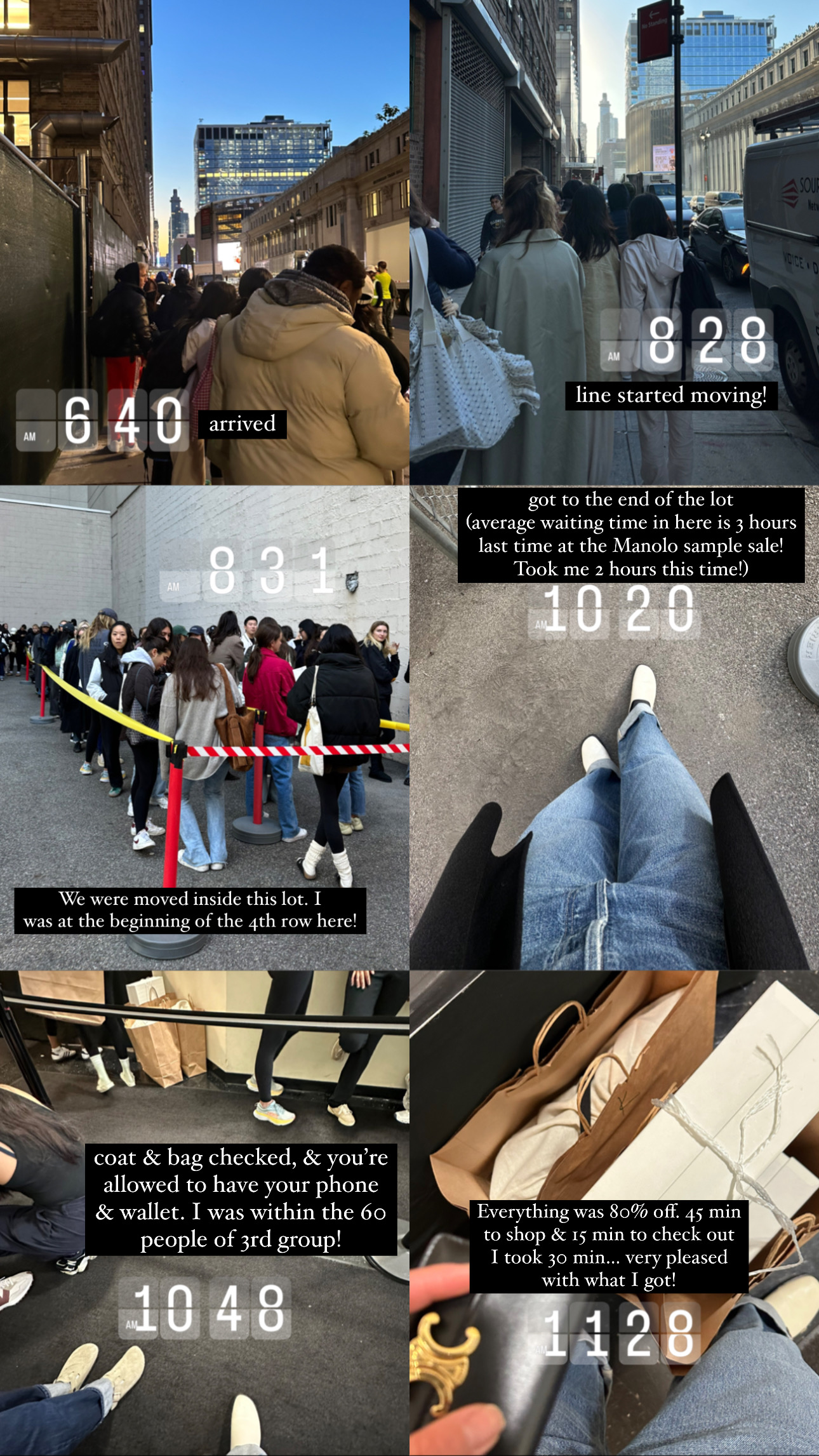 I did take 30 minutes to shop because I knew what I wanted to buy already.
For Khaite, I'm specifically after their leather goods such as bags, shoes, and accessories such as belt. I have this Khaite belt and these ankle boots in bugundy, and I adore them. And I'd swear by their quality! Khaite clothes, however, I'm not too sure, especially their sizing. I understand the Khaite cardigan hype, but they're sold at nearly 2K at retail. Khaite denim is absolutely not worth the $500 price tag.
So when our group was let in, I ran toward the bag section right away. There were a few tote bags in the left corner of the room, so cashmere bras, no belt. Clothes are hung neatly on hangers and racks and spreaded throughout the space, and shoes are in the right corner. The knits are folded on the tables in the middle. There's a fitting area in the back, and you also have to wait in line for it.
I tried on a cropped brown puffer jacket, size 6, and decided to pass on the rest of the clothes due to the sizing inconsistency. I had a tote on my shoulder and two boxes of shoes with me, quite heavy, so I didn't really want to go back to try on more things, especially feeling the needs to buy or not missing out kinda feeling under this kind of pressure.
WHAT I BOUGHT – KHAITE SAMPLE SALE 2023 HAUL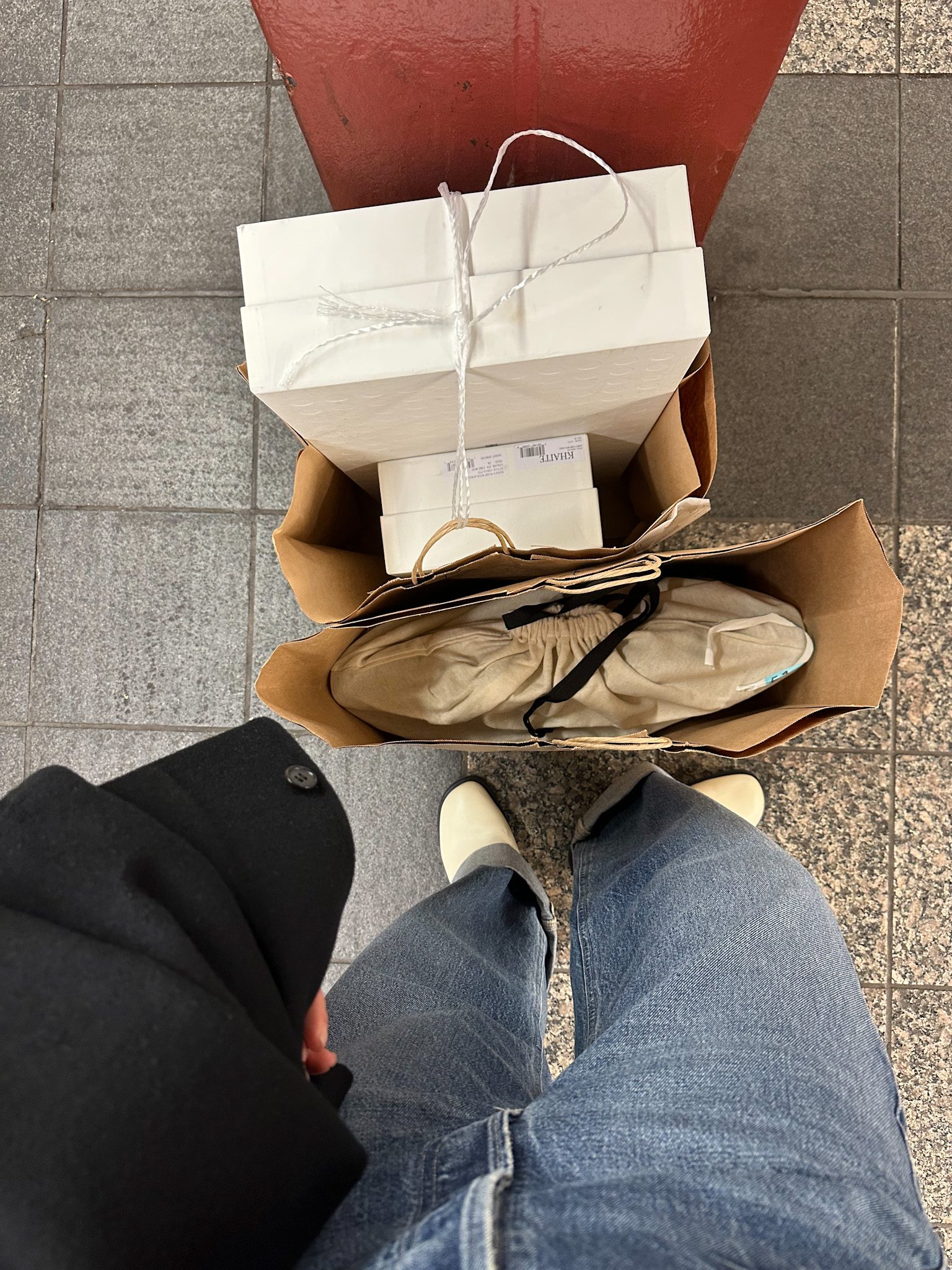 1. KHAITE Admiral Knee-High Boots
Black leather round-toe boots with block heels and gold-tone metal hardware.
Size 38, my size!
Original price $1800 – $1440 = $360 (sale price, 80% off)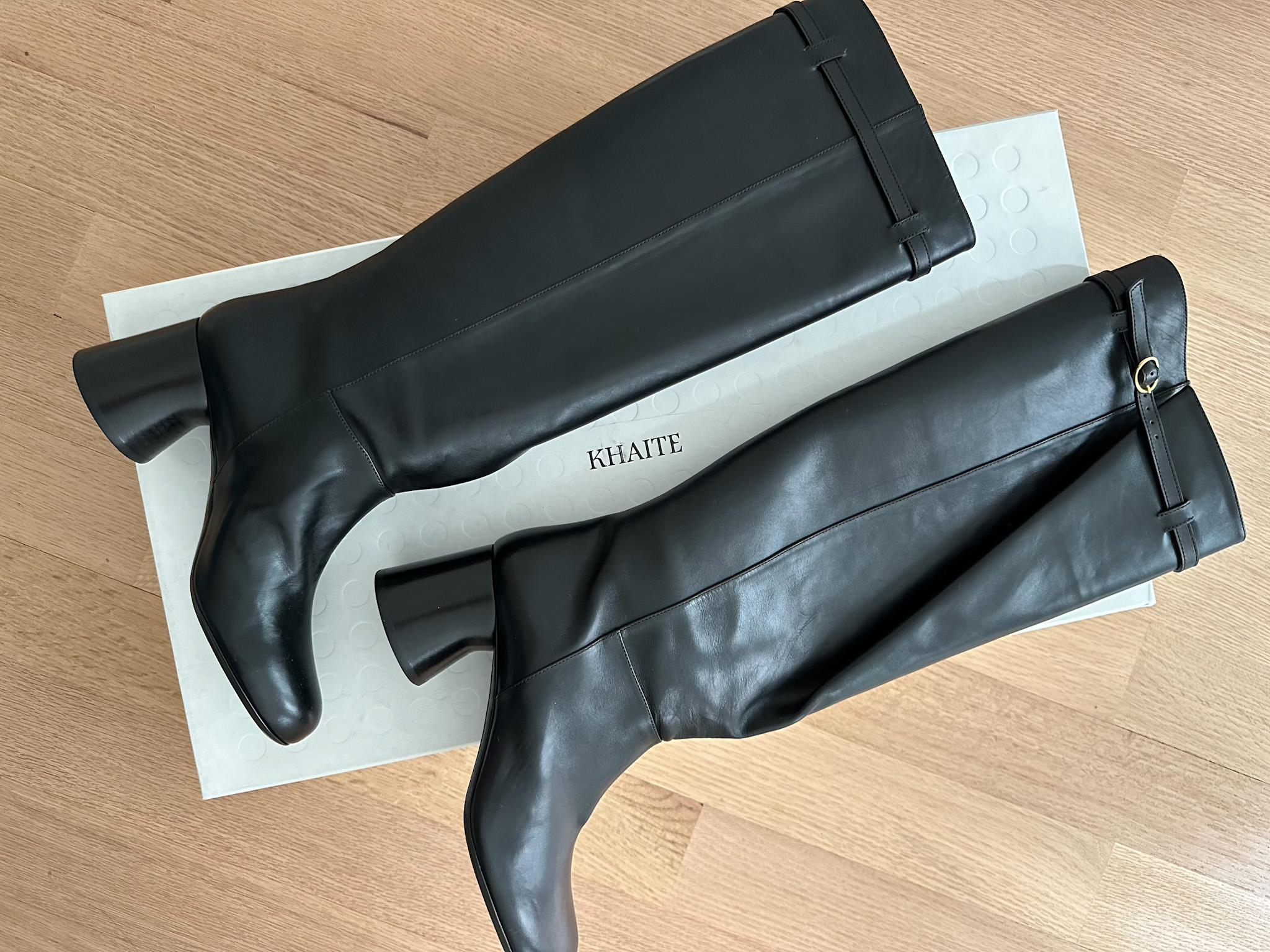 2. KHAITE Sidney Pumps in Fire Red, Patent Leather with Crystals
I also saw a few black pairs of this style, but these red pairs are the last pair of this style that are my size. Size 38!
Original price $980 – $784 = $196 (sale price, 80% off)
These seem to be sold out at the moment, but you might have some luck in the secondhand market. Fire Red is a true red, not too bright, and it does look a bit darker in the photos here. Note that these are iPhone photos, no editing.
In terms of fit, I wish the upper was cut to cover the toe gaps as mine shows. Honestly, that's the detail that only you would notice unless someone stares closely at your feet. The heel height is 3 inches, and that's a practical and walkable heel height for NYC streets for me. I don't have any red shoes or any shoes of this style. In addition, most of my outfits are neutrals, black, white, and gray, so this pop of red is perfect for what I've been looking for. Did I say red is the 'IT' color this fall and winter?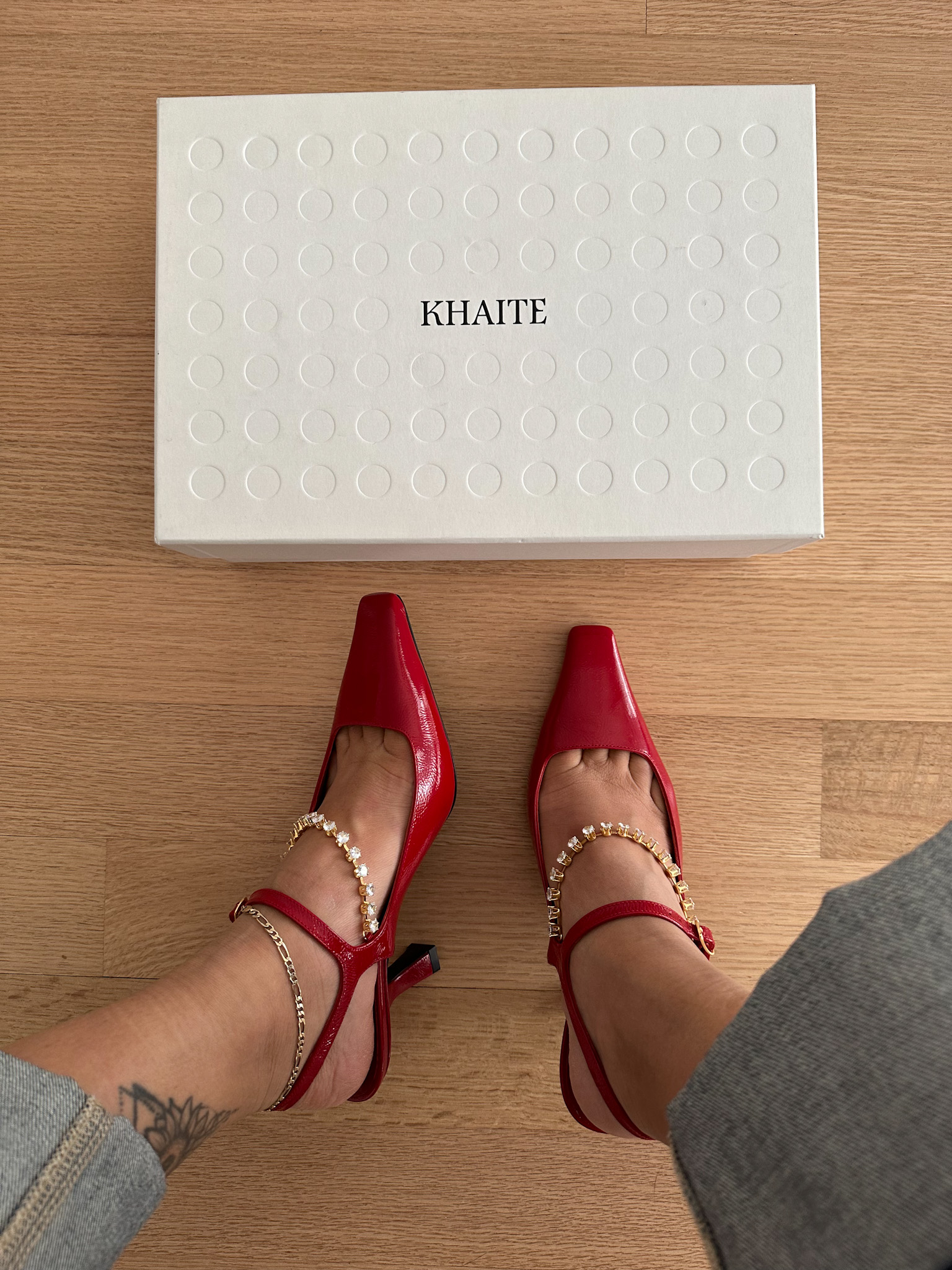 3. KHAITE Florence Banded Tote in Black Patent Leather 
Original price $2200 – $1760 = $440 (sale price, 80% off)
SIMILAR: AMELIA TOTE $2400
SPROUT TOTE IN BLACK $650 & IN BROWN SUEDE $650
REVIEW: I normally avoid patent leather or anything shiny altogether, plus it sorta makes noise and is easily prone to show scratches and imperfections. However, I've been craving fun fashion accessories lately, and that's maybe because I have a good amount of classic timeless pieces in my wardrobe already. I hate red, but I'm wearing red nail polish on my toes and nails. And I'm shopping for red sweaters. I used to hate silver jewelry, and all I've been wearing is silver jewelry. Who am I?
From silver jewelry to red nails, I'm open to patent leather and things with crystals. These ballet flats with crystals are stunning in person (I saw them on a creator at an event!), and that really makes me want them. I'm sure you'd already pick that up if you follow me on my Instagram stories.
So once I saw the Florence tote (there were 3 left when I checked out), I knew I had to grab it right away. There was also one in butter yellow/cream in smooth leather. This style reminds me so much of Little Liffner's SPROUT TOTE which I linked above. I ordered the Tulip tote from them before but returned it because of the zipper and lining quality (kinda cheap looking on the inside). For that price point, I'd rather pay a little more for a higher-end designer brand. It's not a bad design in concept, but on me, it's huge and long. It would look food on someone who is a model's height, super long and skinny, and always in dresses. I had to pay for the return shipping, but that was fine.
For me, this tote is perfect for what I've been looking for. Large totes are quite in this year, and I know they will be everywhere next year. Patent leather always requires extra care and attention, but I can take care of my stuff. I love the metal feet at the base, the perfectly long shoulder straps, and how spacious it is. I've noticed many totes in this style have the bottom sticking out too much, and the bottom of this tote is just perfect. There's also a flat zip pouch inside, and the lining is beautiful. No zip closure though!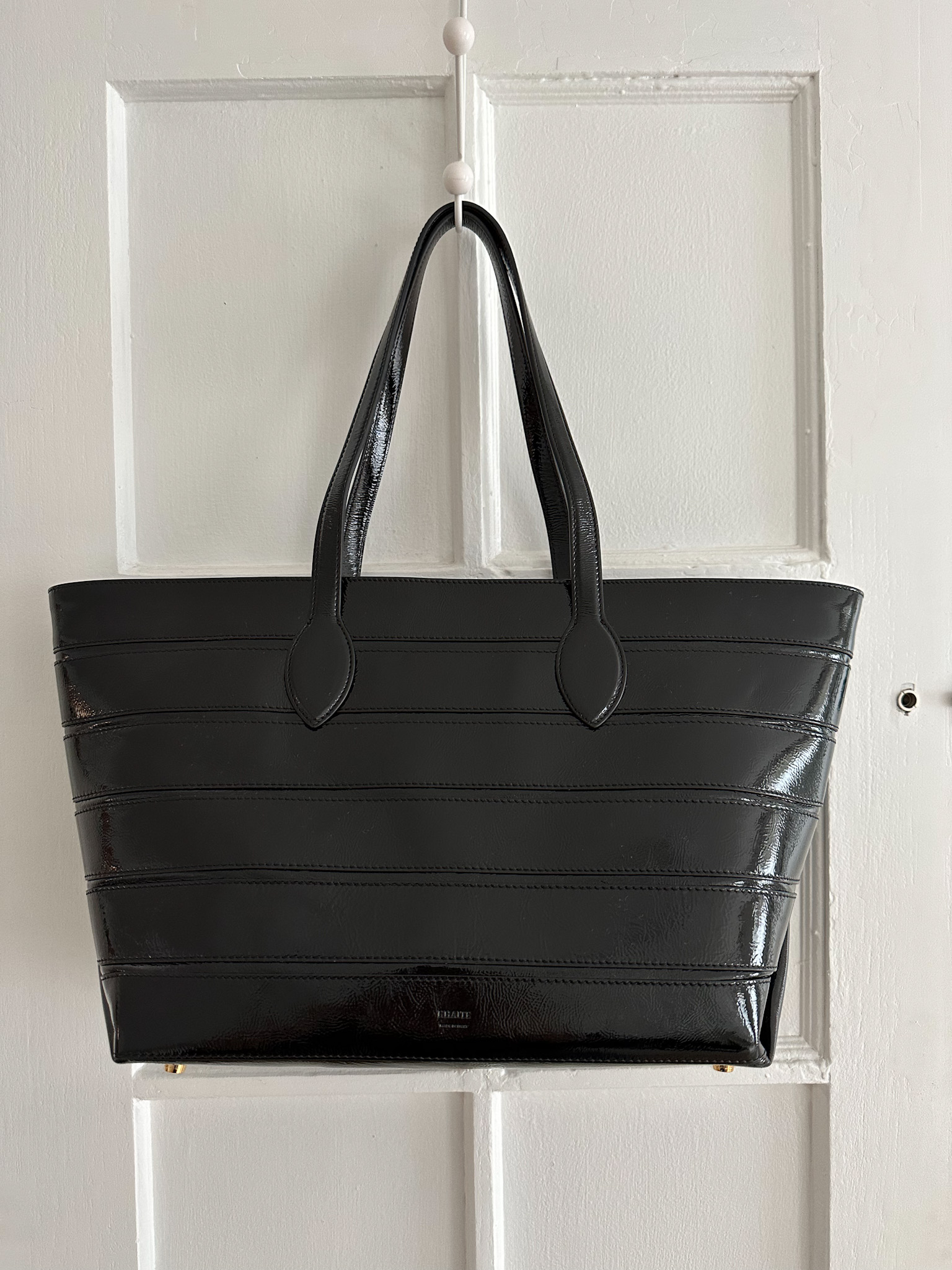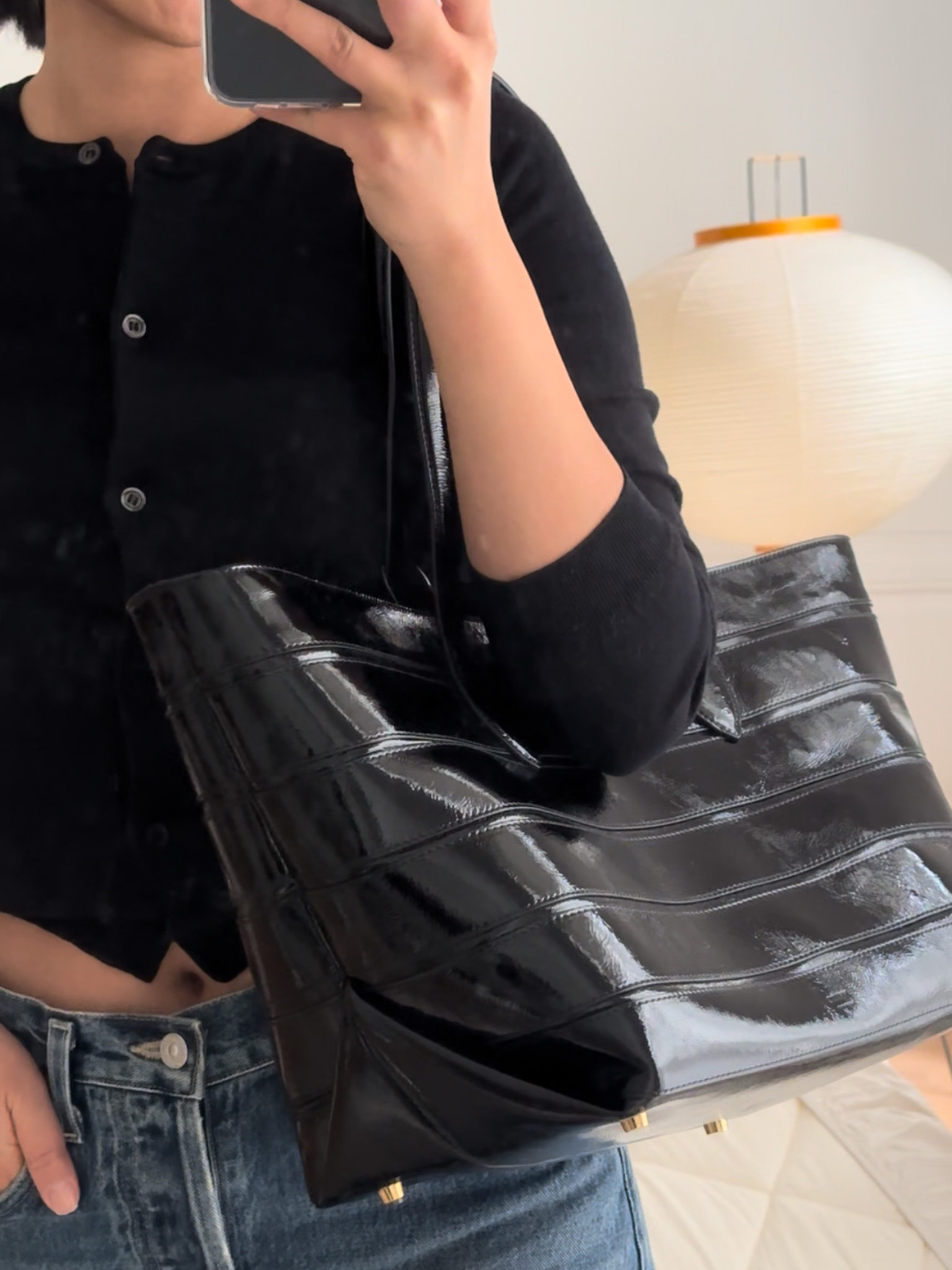 In total, after taxes, I paid $1080.40.
Final thoughts
If you know me, you'd know I'm not someone who's after trends. I didn't get a look through everything at the time, but to my observation, most of these items are from last season/s or out-of-stock items. Everything is 80%, except knits are 75%, and you know that Khaite stuff isn't cheap. 
As said from the beginning, my goal coming in was to find leather stuff. I am super pleased with the 3 pieces I got, a tote, a pair of heels and a pair of knee-high boots, practical and very much my style. I love that they are all classic well-made leather pieces, pieces that I don't have. With proper care, leather pieces like these will last a long time, and I see myself wearing them for many years to come.
Would you go wait in line for a sample sale like this? Let me know your favorite item from this haul?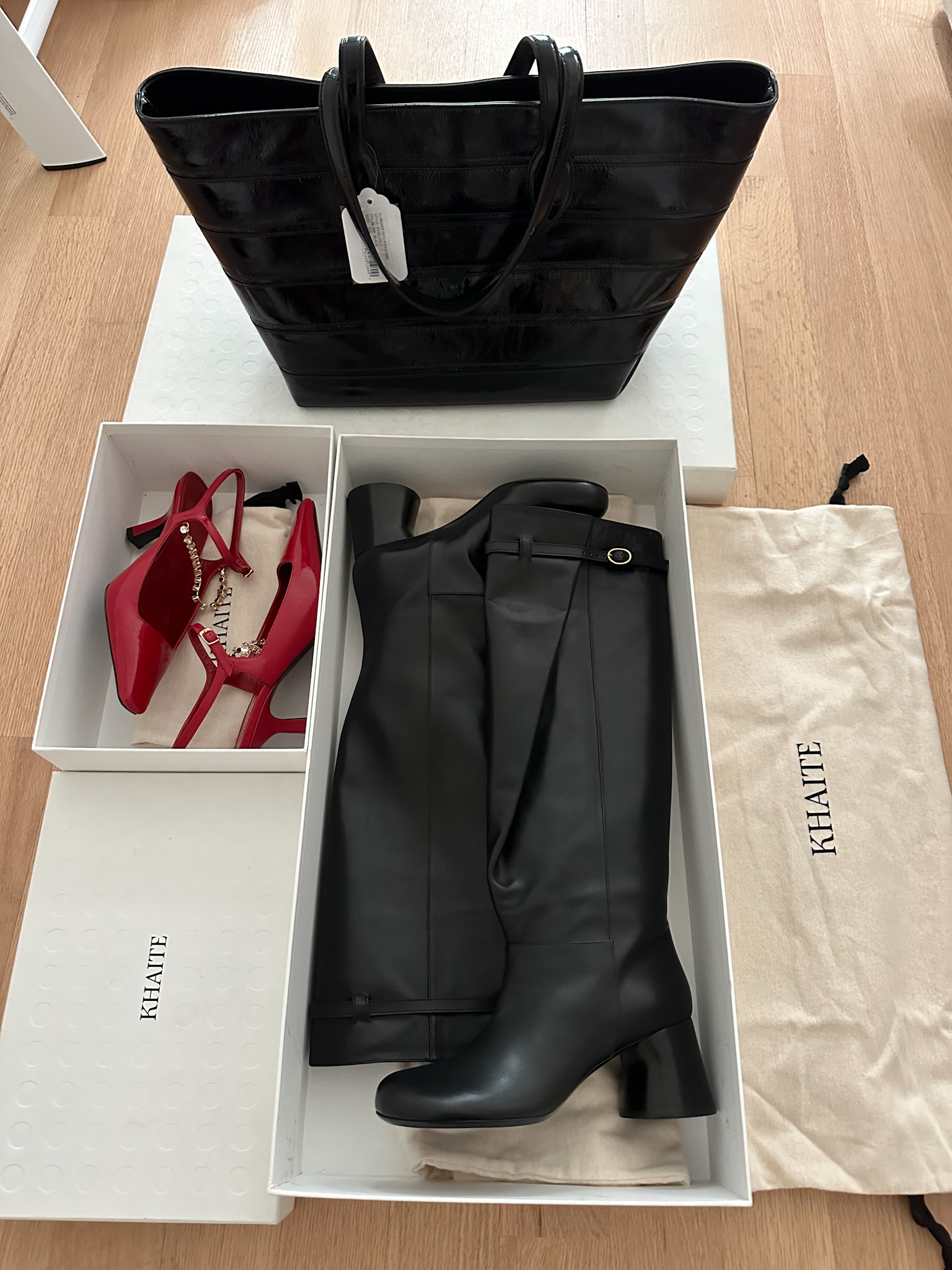 Subscribe to my weekly newsletter, An's List, to be the first to know what I'm up to – think travel guides, fashion items I'm buying, product and brand recommendations, lists of cool things I'm into, creators I love to follow, monthly favorites, New York City things, my Brooklyn apartment, film and show recommendations, recipes & food ideas, and many more.
FOLLOW ME ON MY SHOPMY (Wardrobe Wishlist updated weekly):