British-made penny loafers that are made for walking? Sign me up!
At the beginning of spring this year, I bought a pair of Saint Laurent penny loafers in cream, secondhand on The RealReal. The leather lining inside both of the shoes keeps curling up as I take slide my feet out, and that gets annoying every time. I understand that it is not something people who list the items on The RealReak would know, so it's ok. The reason why I am listing them for sale on my Poshmark is that they get incredibly snug after walking in them for a few minutes. They, in fact, run small, so make sure to size up 1/2 of the size.
Similar experience for me with my Gucci Brixton loafer! I got them off from the Nordstrom website, brand new, my size, and even though they fit and the leather is so soft. I did wish I got them a half-size bigger. I still love and would recommend them both, the Gucci and the YSL loafers!
Penny loafers are just so timeless, and I do recommend investing in quality-made loafers from brands that are known for leather craftsmanship or work with reputable leather shoemakers. I'd recommend a pair of black, a pair of white or off-white/cream, and a pair of two-tone black and white loafers.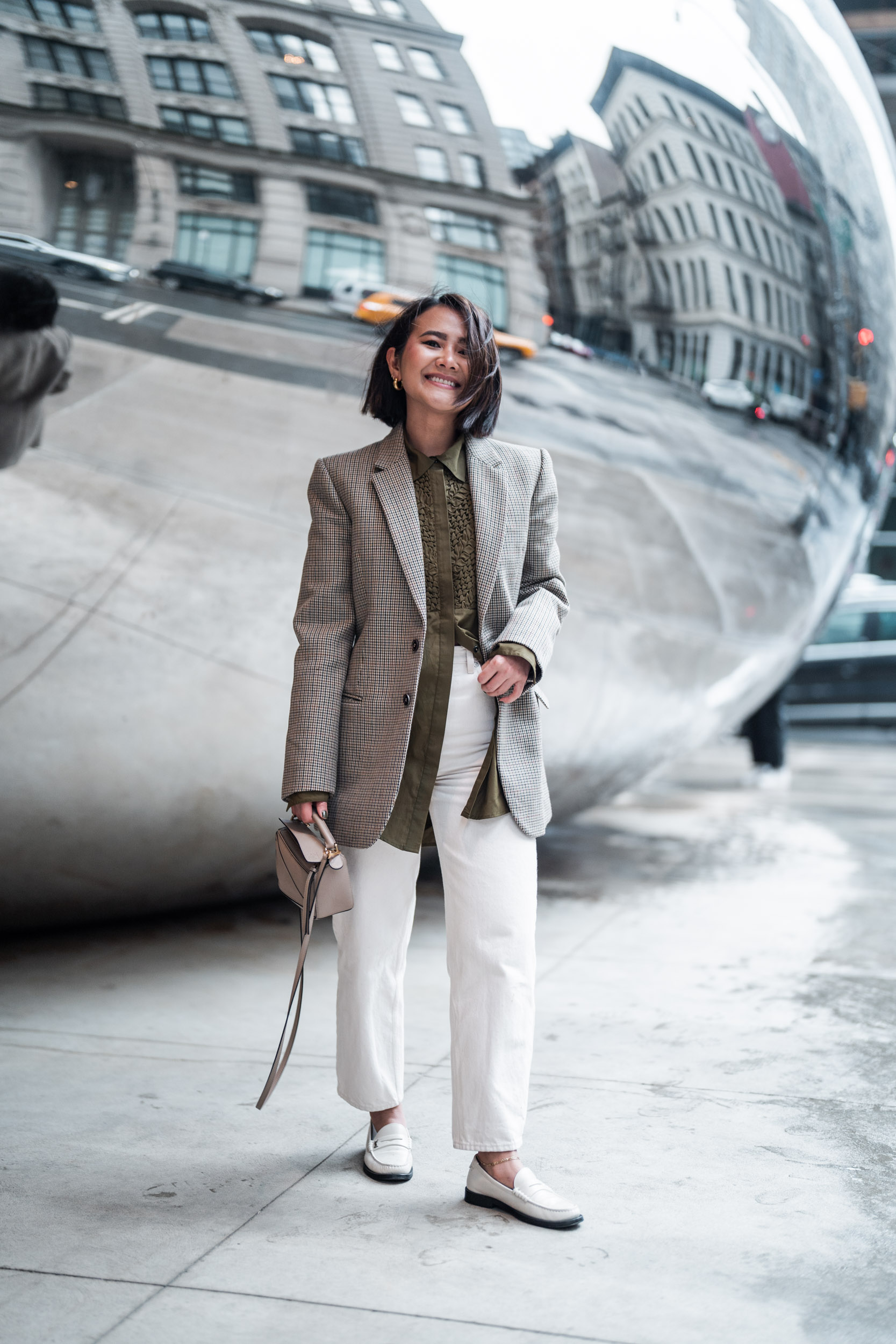 about DUKE + DEXTER
The shoe brand is known among artists and celebrities first. I love that their design philosophy is 'do things differently' while showing respect for traditional shoe-making craftsmanship. And the quality really shows in their products! The first time I saw my D + D loafer in person, I gasped at how beautiful they were in person. My shoes are made in their factory in England. That's an instant purchase for me once I find that out because I'd trust the British to deliver the best and most beautiful pair of loafers!
Read more on The Rake.
I love the look of the black and white or any two-tone loafers because they're a great dressy pair that would work for any season of the year.  I can easily style them up or down, without socks or with a pair of ankle white socks. There are tons of fit-inspo on social media, I already have many outfit ideas in mind. Can't wait to play with the styling.
   SPECIFICATIONS
Sole: 25mm compounded rubber sole

Upper: Premium durable Italian leather

Lining: Tonal, off-white leather lining

Packaging: made from recycled materials

Comes with a D+D organic cotton dust bag

3-year guarantee

SHIPPING, RETURN & EXCHANGES

It costs $15 to ship to the US, and they offer free returns and exchanges with a 60-day return policy on all full-price orders. 
MY LOAFER REVIEW
Style
Now, I do think loafers tend to be dressy and can make an outfit look stiff. Personally, I'd recommend not wearing tailored pieces head-to-toe. If you're wearing something dressy and stiff, like loafers, go with something looser, casual, or flowy on the top.
Lots of people I've seen on social media dress down loafers with oversized vintage T-shirts or sweaters, mini skirts or boxer shorts, or slip dresses with an oversized blazer on top. They all look so cute with a pair of white or off-white ankle socks. I don't know why I've never actually worn loafers with ankle socks, but with these D + D, I feel right doing it. I think the black and white leather makes it look less comical or gives less of a school-girl vibe. If styled right, loafers are the classic and essential pair that everyone at any age would be able to pull off.
I love the slim silhouette with the slight taper design toward the toe and the white exposed stitching. They look so attractive and beautiful, in person and in photos, and I cannot think of any better words. The quality is up there and comparable to my YSL or Gucci loafers.
Lastly, I appreciate the fact that these have a bit of a heel to them. I'm 5ft5 but would gladly accept the 0.5 in height added. I'm not too big of a fan of completely flat shoes because they're actually not as comfortable.
Sizing
My normal size is 7.5 – 8 US, so 38 EU (international sizing) or a UK 5. I measured my feet in centimeters, and it measures at 26 cm. And according to D + D size chart, I'm between a UK 5 & UK 6.
I ordered the two-tone D+ D Wilde loafers in size UK 6, hoping the heels wouldn't slide off as I walked. But they did, unfortunately. I have pretty bony and flat feet, in case that's some helpful information.
As mentioned at the beginning of this post, loafers my size tend to be small on my feet. The YSL loafers that I ordered in my size fit me just fine, but after a bit of walking, they become too snug and my toes don't like it. The Gucci pair is a bit better since they're made from thin softer leather.
I walk a lot in NYC, so I have to be picky with the shoe style and sizing.
I tried on the D + D loafers (size UK 6) and walked around my apartment with and without socks, and my heels kept on sliding out. After a few emails requesting an exchange but hearing nothing, I decided to wear them out on a Sunday to church and meet up with friends in the city. My heels did slide off many times, so I'd have to exchange them for a size smaller! Regardless, I love the way they look with my outfit, so sleek and cool with the two-tone, and they feel quite comfortable.
I had on a pair of invisible socks, and the parts that get rubbed are the points right below my outer ankle bones where the skin is exposed and meets the edge of the shoes. I love that the bottom of the shoes is rubber, and they look just fine after a day of walking. I'd do ankle socks next time after I get the right shoe size in!
So stay to your true size! 
Fit & Comfort 
The rubber bottom reminds me of Clarks Wallabees's rubber bottom, but the feels are completely different. I own both! Just know that shoes with rubber bottoms like this, they'd provide a good amount of grip while walking. I love that my feet are on a slight angle, so they're actually pretty comfortable as compared to completely flat shoes.
I could feel some insole padding and support. And after a full day of wearing them out for the first time,w ith a pair of no-show thin socks, I'm happy to report that I've got no blisters!
The only parts that get rubbed are the two points right below the ankle bones where the edge of the shoe gets in contact with my skin. I think a different pair of no-show socks or higher-ankle socks would solve that problem. Overall, I'm pretty impressed and would absolutely recommend D + D loafers!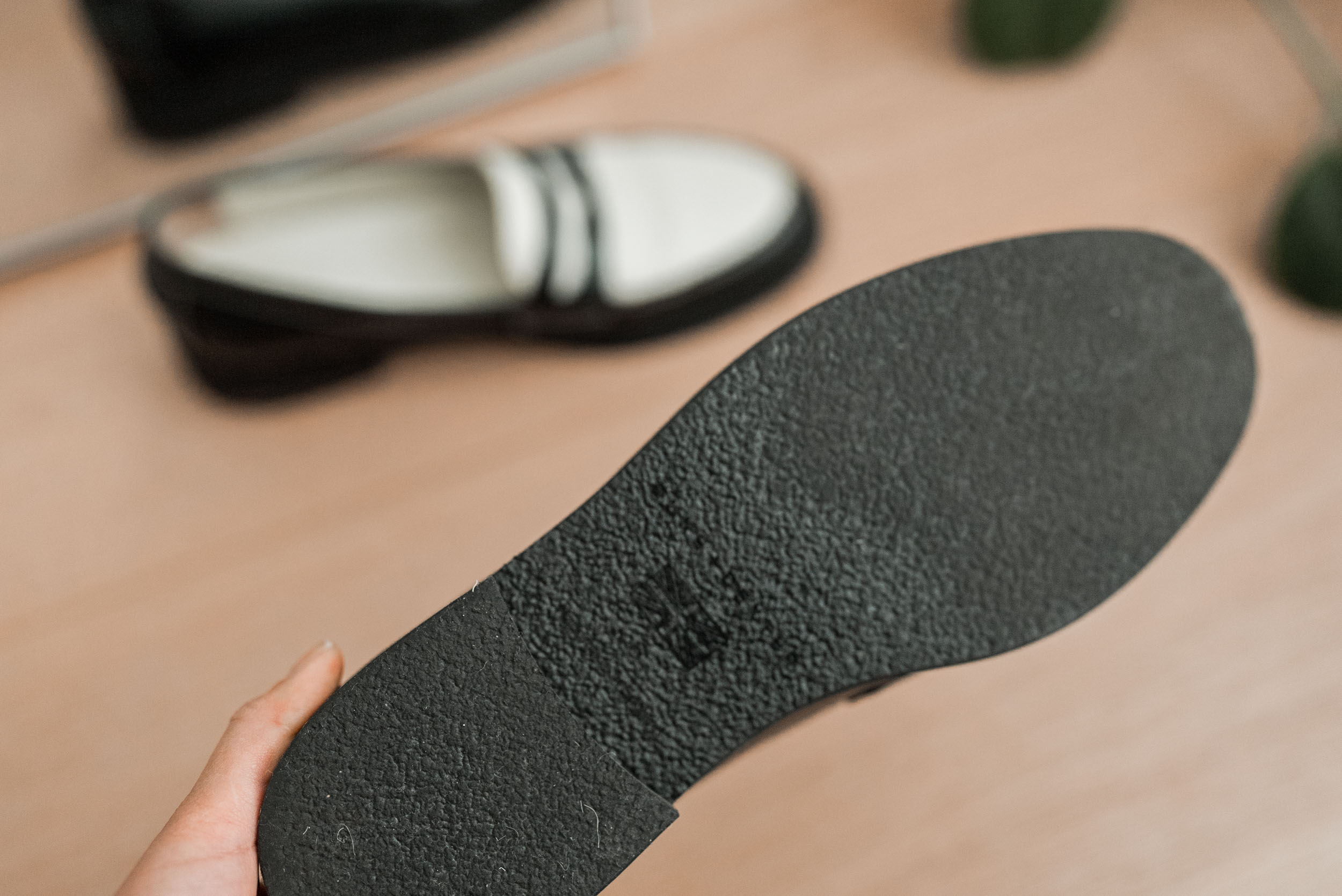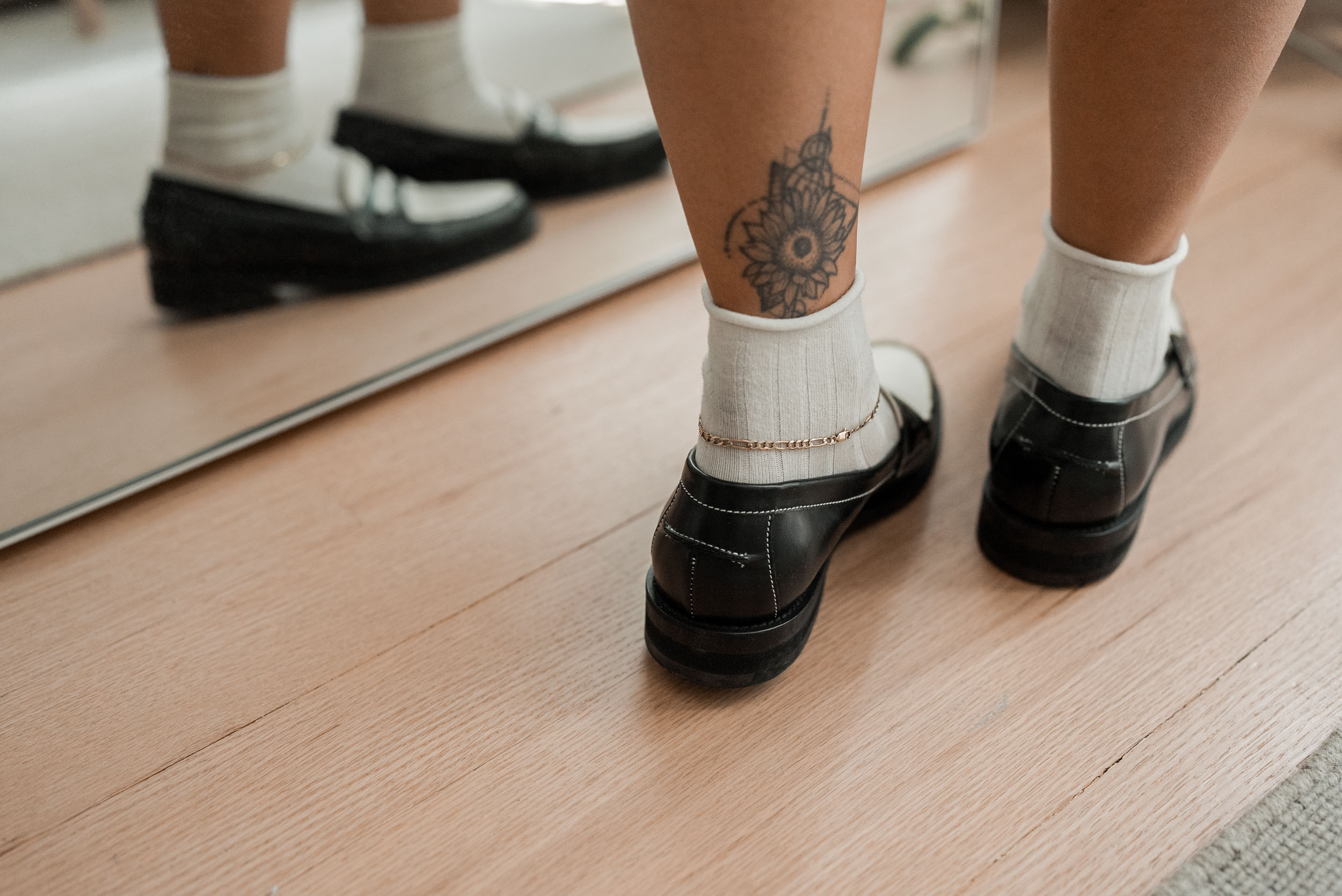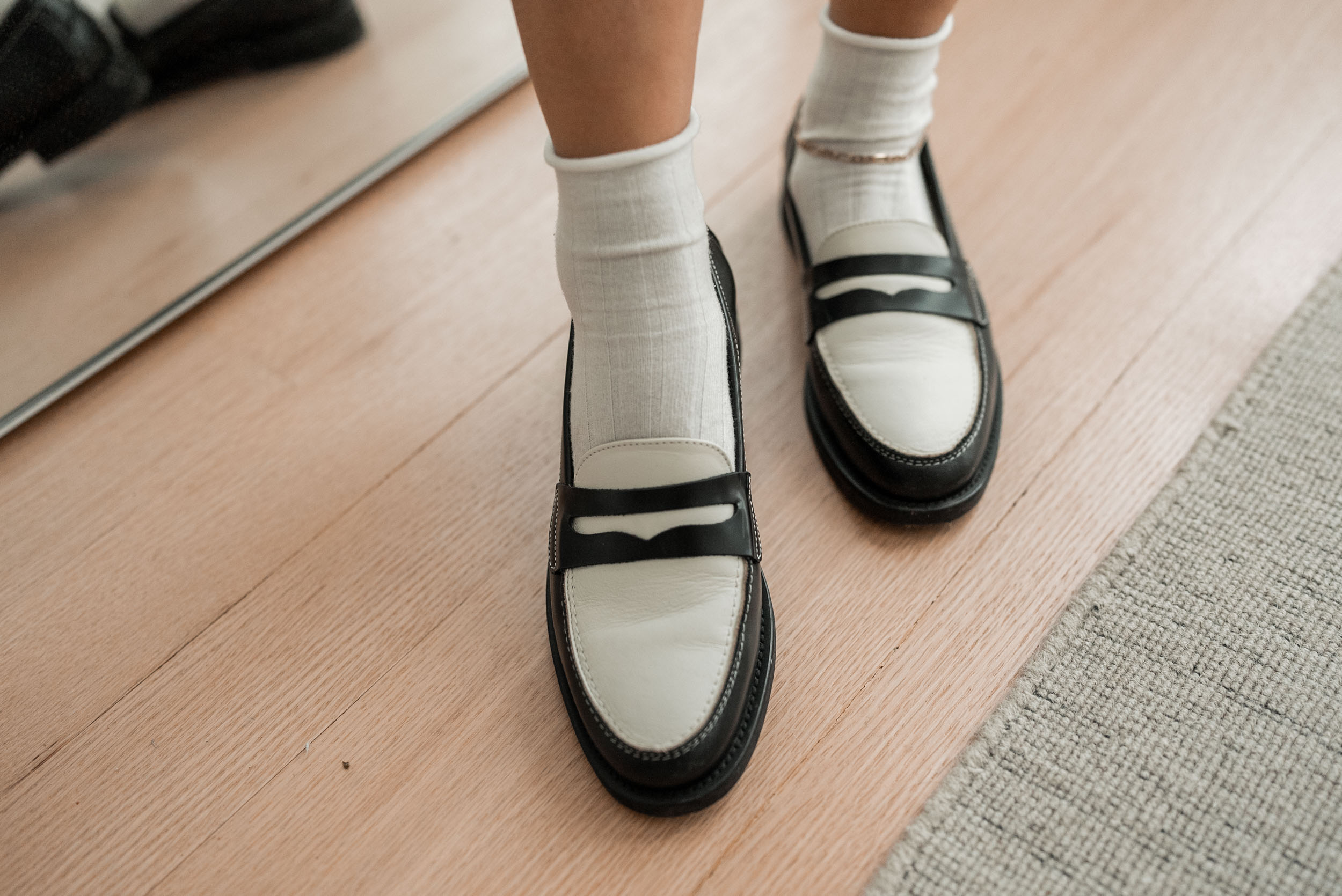 How would you style these loafers? Are you team no socks or socks?
UPDATE ON D + D RETURN & STOCK AVAILABILITY
I decided to send back the black and white UK 6, and it took them days to respond back to my email with the exchange request. I was told my email ended up being in their spam folder, and they had no plan of restocking them. Apparently, the two most popular sizes UK 5 and UK 6 are out of stock.
So I exchanged my Black and White Loafer for the cherry pair.
They offered me those at no extra cost.
I ended up loving these cherry pair a lot more. The cherry print is quite subtle, and they don't look childish at all. They're so perfect for the summer, and I love that they add a little bit of playfulness and some red to my outfit. Do you know that cherry red is going to be huge this fall season?
OUTFIT: tank: ETERNE | trousers: TOTEME | loafer: D + D | shirt: MAISON MARGIELA similar here | bag: SAVETTE (Ivory sold out, shop color BONE on sale BROWN | sunglasses: SAINT LAURENT | necklace: ETSY SHOP | earrings: AURATE NY