If you missed my previous blog post where I shared with you my recent KHAITE Sample Sale shopping experience and a haul, then CHECK IT OUT HERE! In this post, I'm sharing 3 fall outfits styling those new Khaite pieces that I got plus locations where I shot those outfits from.
3 NYC FALL OUTFITS 
I love New York in the fall – the crisp morning air, sun shining, leaves falling on the buzzing busy streets. You cannot help but feel like you're the main character in a romcom movie. 
After 2+ years of living here, I still feel the butterfly in my stomach every time I step outside walking the streets of New York. I'm counting down the days when Central Park's foliage is at peak, and the weather forecast says that it's going to be on the last week of October. I cannot wait!
And here are my 3 most recent fall outfits.
OUTFIT 1 – Bed-Stuy, Brooklyn 
I shot this outfit right in my neighborhood in Bed-Stuy. I adore this corner where it's filled with historic brownstones and the streeets are kept so nice and clean. It's quiet and truly a great residential area I feel so lucky to call home.

OUTFIT 2 – Financial District
On this day, we had brunch at The Odeon, a well-known NYC institution serving French American food and a bar. I thought the food was good but a bit overpriced, but I could justify for ocassions since it's a pretty history spot in Tribeca. You've got to try once!
Similar spots I've been and would recommend include Bubby's and Balthazar.
Then we walked all the way to The Seaport to check out the shops in Fulton. I'd recommend stopping in The Tin Building, Club Vintage, and drink at the Chase Sapphire at the Seaport (drink is free if you have a Chase Sapphire card).
tank: FLORE FLORE
bag: LOEWE mini puzzle in sand
trench: vintage BURBERRY (got mine in-store at Front Genreal Store, shop online HERE)
boots: KHAITE Hooper available in black, secondhand burgundy size 37
earrings: MANGO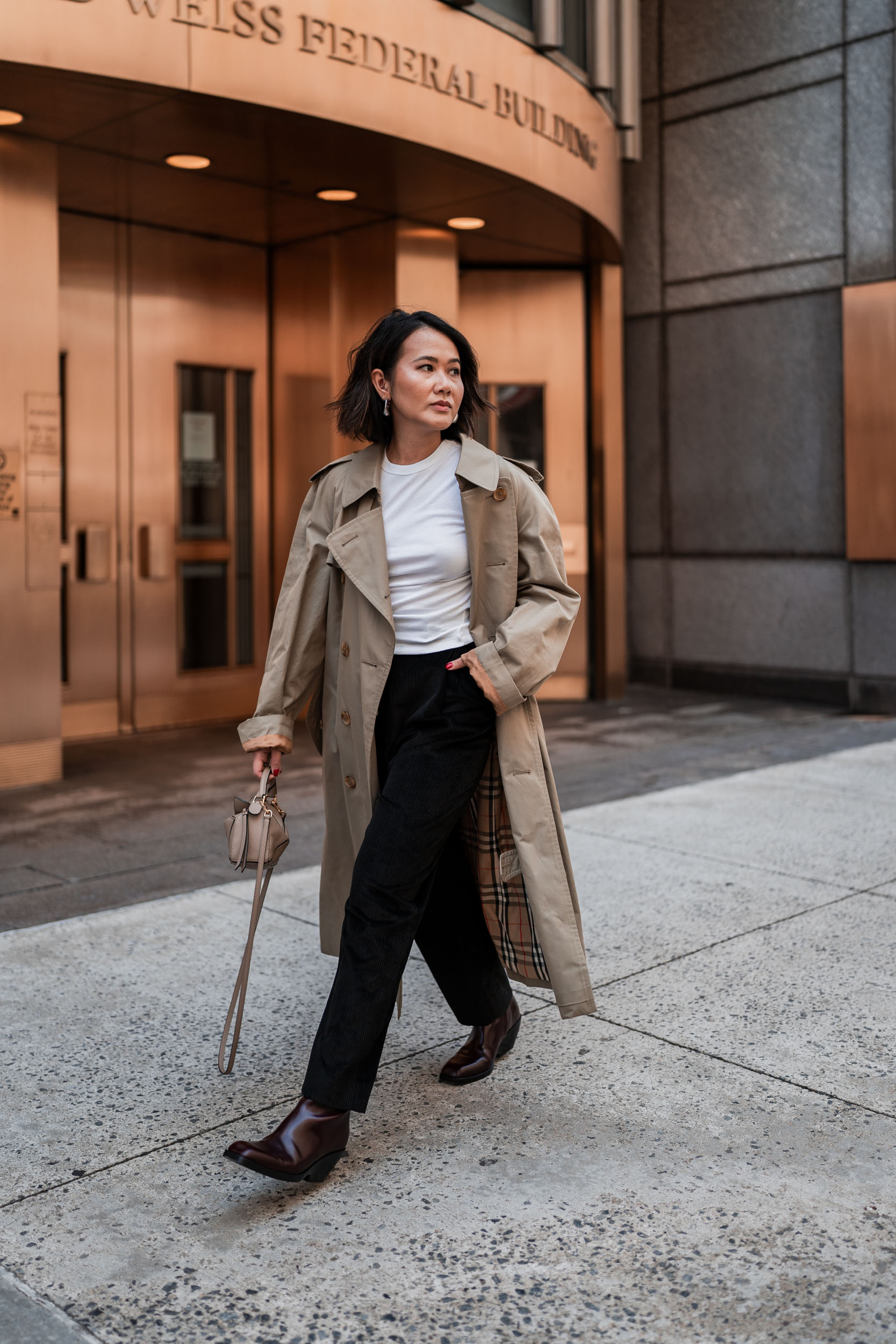 OUTFIT 3 – Washington Mews
Washington Mews is a private gated street between 5th Avenue and University Place, just north of Washington Square Park. The street with pretty cute doors and windows is pretty much open all the time and great as a photo spot, at least every time I walk by. Mews aka row of stables used to service horses from homes in the area.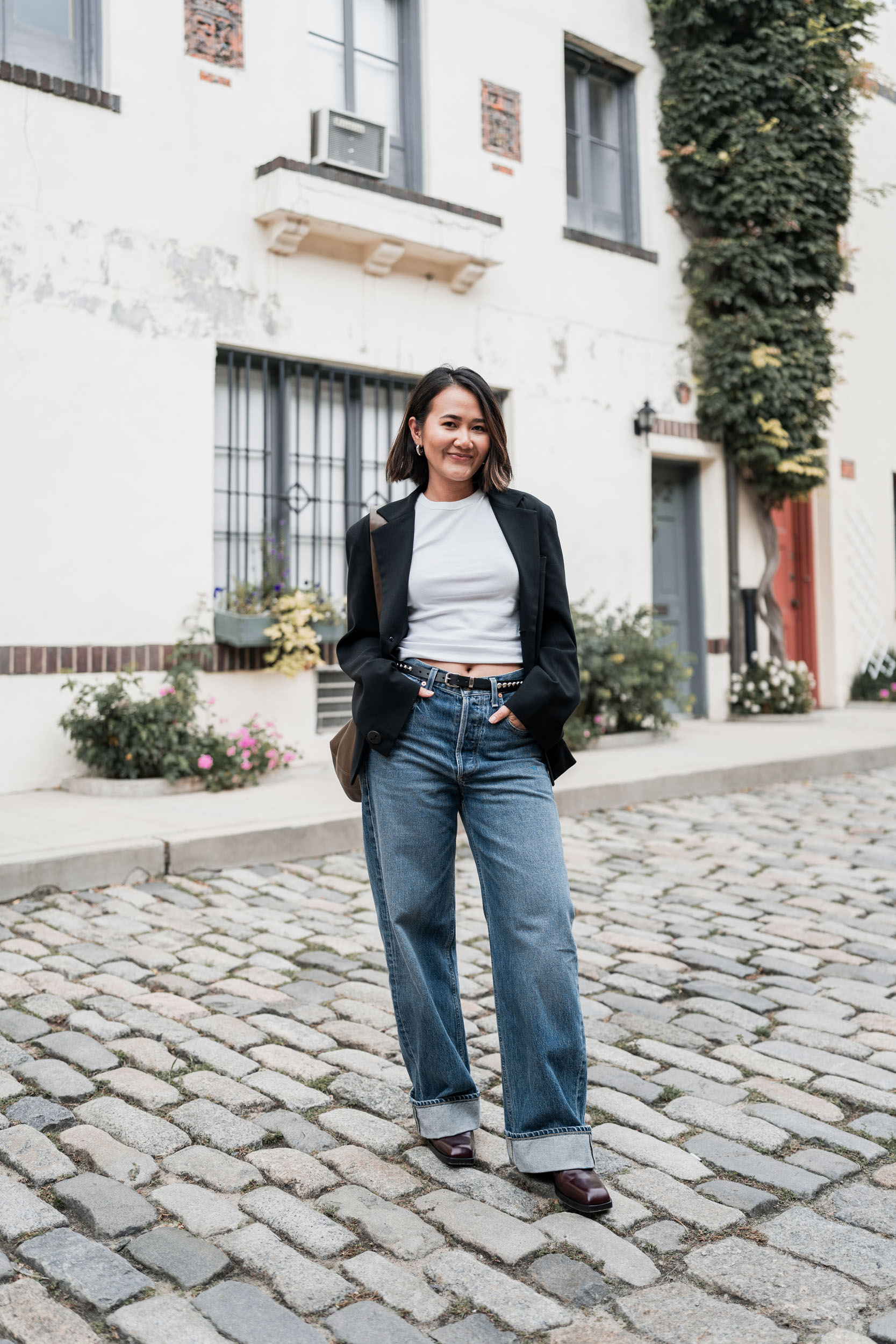 tank top: FLORE FLORE
blazer: YOHJI YAMAMOTO – very similar (size up!)
belt: ETSY
jeans: CITIZENS OF HUMANITY Ayla jeans in Brielle
bag: LEMAIRE croissant small in khaki leather

earrings: MANGO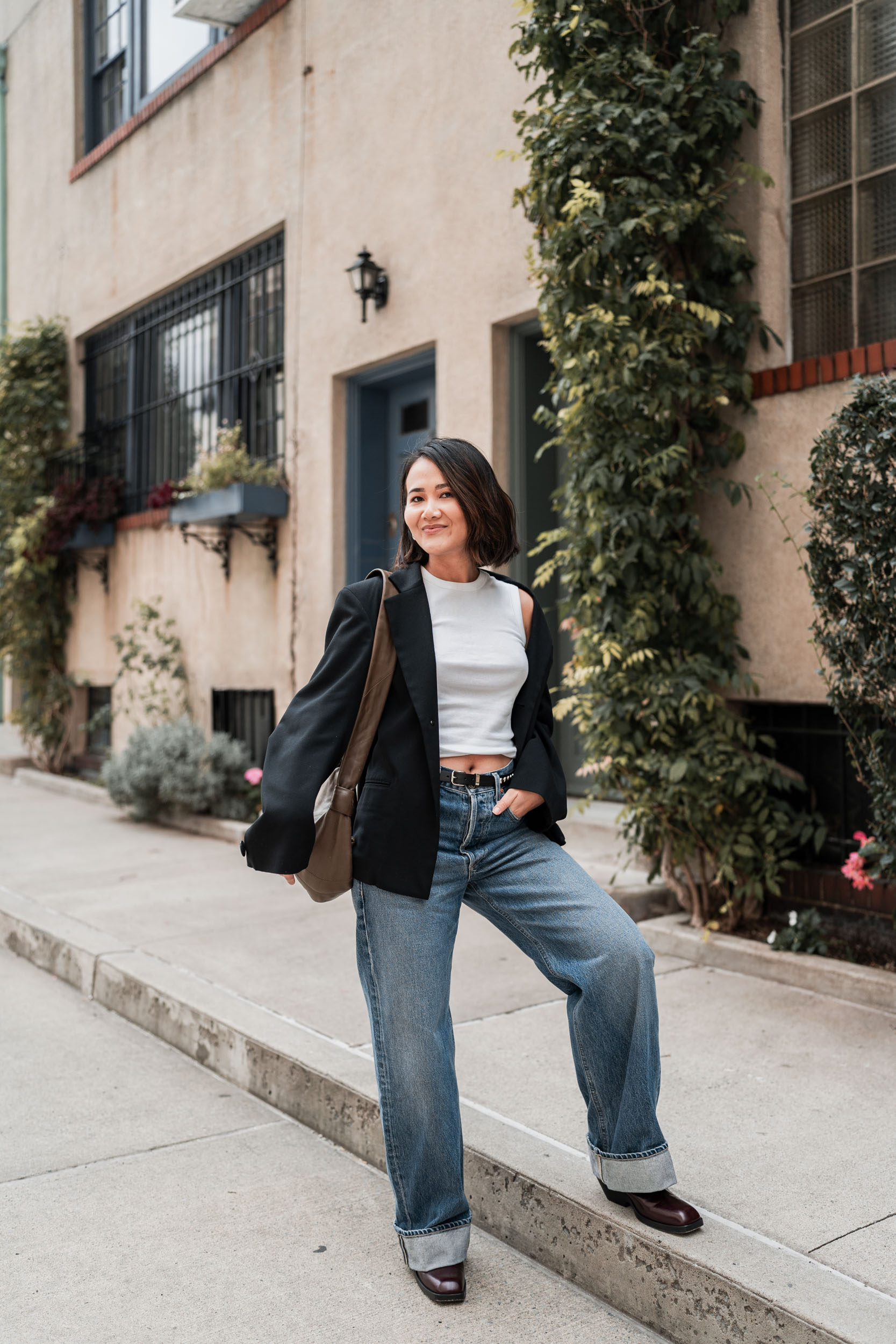 MY WARDROBE WISHLIST
(updated weekly!)