Wondering if it's worth it or not to buy a brand new Celine Box ba in 2022? This blog post is for you!
I've recently bought a Medium Celine Box Bag in Black Calfskin leather at the Celine store on Madison Avenue, Manhattan, New York. 
about Celine
Celine is a French ready-to-wear and leather luxury goods. Founded by Céline Vipiana in 1945, Céline was integrated into the LVMH group in 1996. 
Headquarters: 16 rue Vivienne, 75002, Paris, Paris, France.
Céline's designers:
Céline Vipiana, 1945

Peggy Huynh Kinh, 1988

Michael Kors, 1997

Roberto Menichetti, 2005

Ivana Omazic, 2006

Pheobe Philo, 2008 – 2018. The most influential figure for Céline, and the Box bag is one of her many iconic Céline's classics. 

Hedi Slimane, 2018 – current. Updated the Céline logo from Céline to Celine.
MEDIUM CLASSIC BAG IN BOX CALFSKIN
BLACK

$3950

9 x 7 x 3 in (24 x 18 x 7 cm)

Calfskin, lambskin lining, and gold finishing.

Made in Italy.

One removable and adjustable shoulder strap. The bag can be worn 3 ways, hand carry, under the shoulder, and as a cross-body. 

3 compartments and 3 pockets: 2 flat pockets in the front compartment, and 1 flat zipped pocket in the back compartment.

Celine logos are visible only when the bag is open, one inside the metallic closure, and one embossed on the leather.
Care and Maintenance (general leather care)
Protect from humidity.

Avoid contact with liquid, hand cream, hand sanitizer, makeup, and perfume.

To clean or remove light scratches, gently dab with a dry, non-fluffy, light-colored absorbent cloth

Avoid exposure to direct lighting.

Keep away from direct sources of heat.

Be careful when handling and not rub against coarse or abrasive surfaces. Jewelry can scratch and leave marks.

Store in Celine dust bag. Stuff with soft tissue paper to keep its shape. Remove the strap and store it separately in its own dust bag.

Do not store in high temperature, humidity, or unventilated areas

Never store in a plastic bag.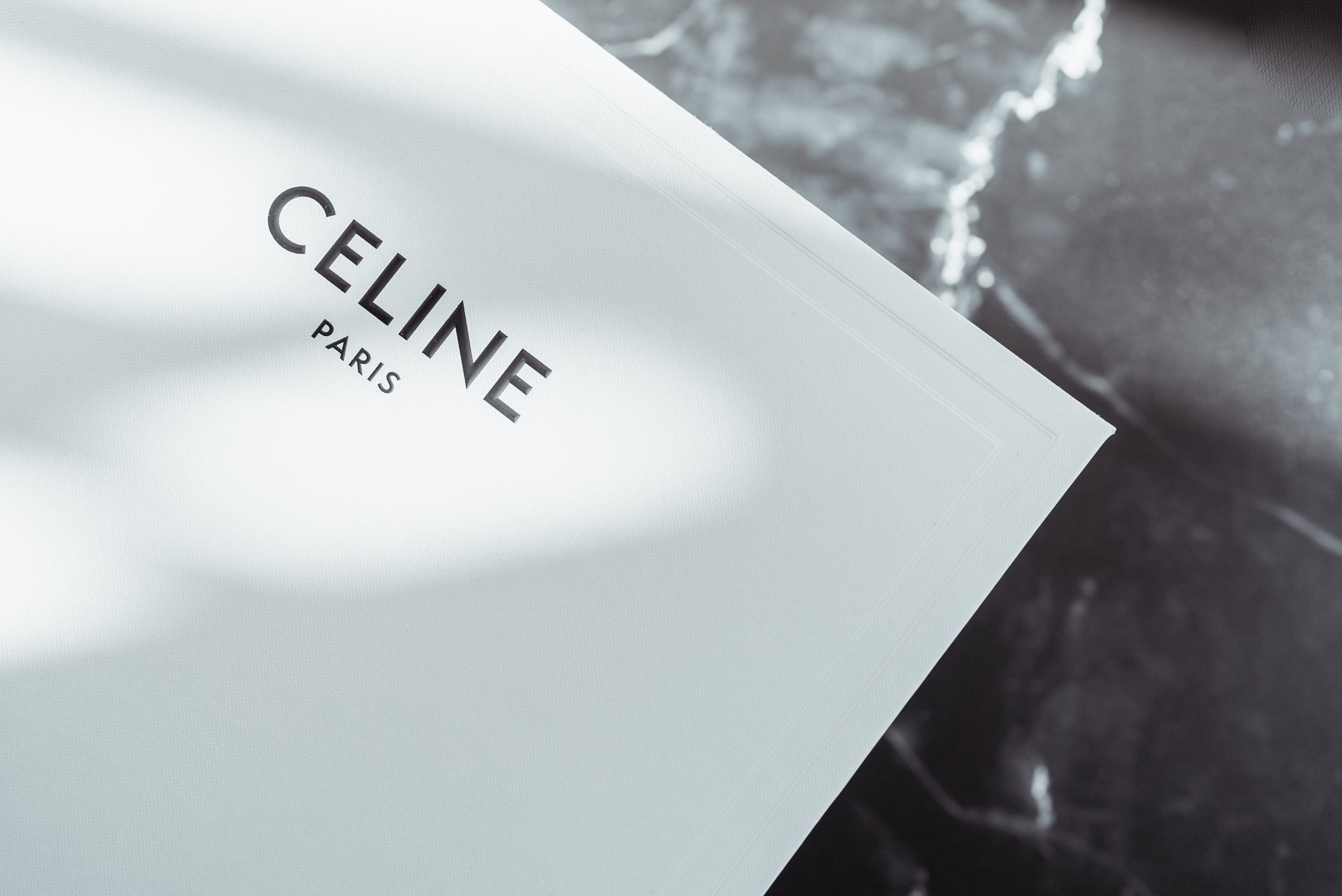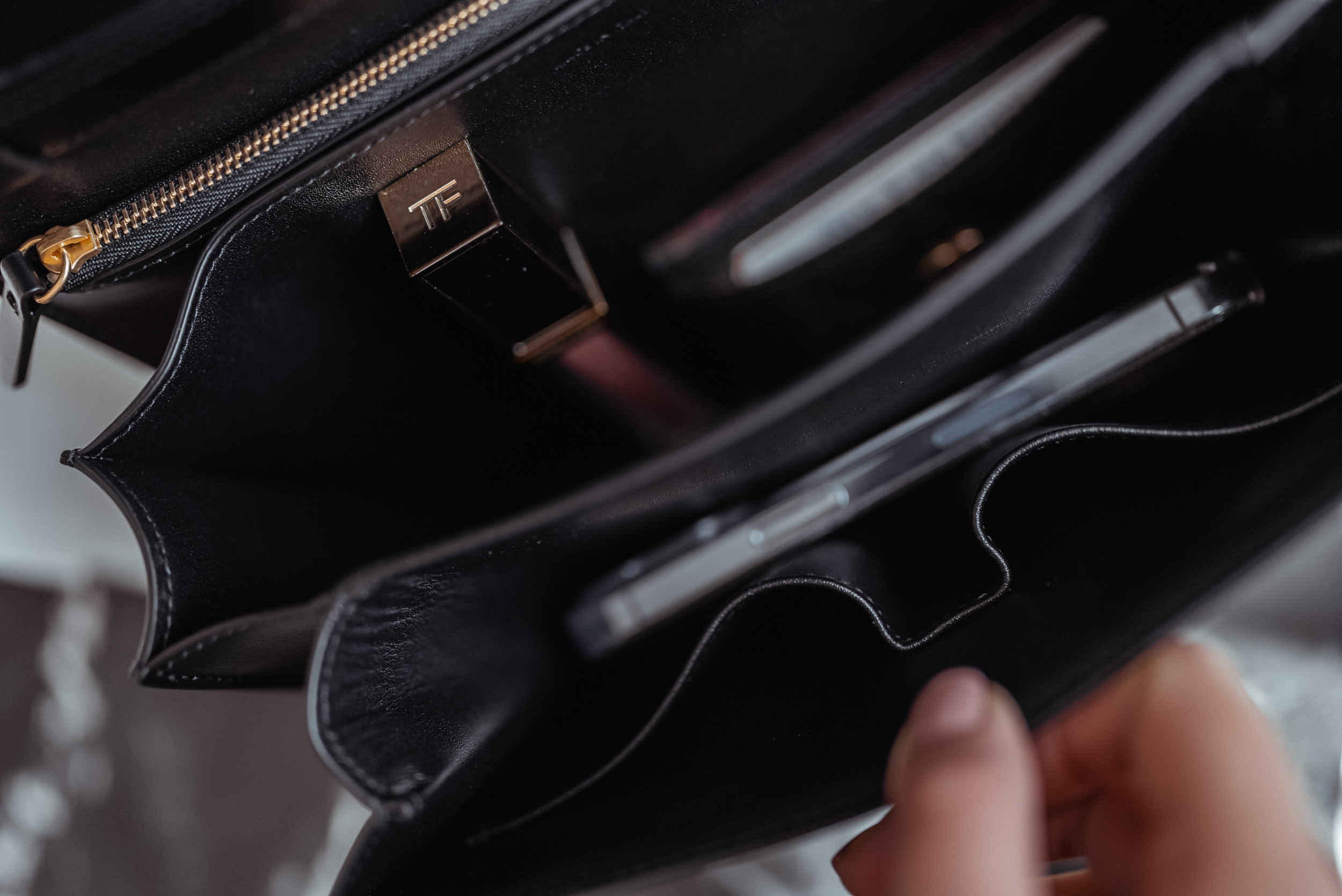 WHY BUY IT NEW IN 2022?
At the time, I knew I wanted a black leather shoulder bag with a strap that is adjustable. I debated between the curvy moon shape and a boxy style, mentioned in a Shopping Edit (subscribe to my weekly newsletter if you're there!). I know leather ages well, and I also make sure to stick with the classics, something minimal, functional with good design. I only wear gold jewelry, so gold is my hardware of choice. My initial budget was around $2k.
My favorite brands were Prada, Gucci, Jil Sander, and Dior. After trying on 10+ bags, only the Celine Box Bag and the Lady Dior Bag stood out the most in terms of design. I knew about the old Celine versus the new Celine, and why many people would only buy the old Celine. It's to pay tribute to Pheobe Philo. However, old Celine Box Bags are not that much cheaper, and I don't want to pay the third-party fees associated with buying a secondhand bag these days. 
First, I stopped by the Celine store inside Saks Fifth Avenue on Fifth Ave, NYC. The sales associate was lovely, and she made the experience fun and welcoming. I tried on the Romy (that will make such a great spring-summer bag!) and Medium Box Bag for the first time and immediately fell in love. The bag had a good weight to it, and I learned about multiple ways I could wear the bag, hand-carry like a clutch (Although the Medium might be too big for it, the Teen size is better!), shoulder bag, and cross-body.
Of course, it was out of how much I wanted to spend on a bag. I spent weeks looking for a decent second-hand option online, but nothing really stood out when comparing conditions versus the price. There were a lot of colorful Box bags in either the smaller size or with silver hardware. So I decided to buy it brand new and start my own journey with it brand new.
It's my first-ever Celine bag, and I've also never bought a bag at a designer boutique before. The feeling and the whole experience are something I'd never forget. I get to unbox it at home and sit with it for a while. It's a big girl moment for me because you know it's my birthday and that I now live in New York City. Of course, I've bought designer bags before and would only buy designer bags, but this one is extra special. 
In Conclusion
I talked about the little dent at the corner of the front metal closure in my Instagram stories, so I thought I'd mention it here. I got the bag home, brand new and still in its original packaging. I have photos to prove that the tiny dent was there before I removed the tape. However, the Celine's sales associate took it in without questions asked and gave me a new one. I stopped by the Celine store inside Saks Fifth Avenue to browse, the Boutique in Soho for questions, and the Celine boutique on Madison Ave to buy. It was fast and professional.
I hope this blog post helps you make a decision whether you should buy the Celine Box Bag used or brand new. It's all worth it because I know my style. It's something that will hold up through time and will still have good resell value if I decide to sell it one day. But you know, it's a forever bag for me!
Celine Box Bag also comes in Teen size. It fits a big phone perfectly and makes a better everyday bag.
MORE BAGS: