Happy Friday! I can finally reveal what I've been hinting at you guys after my Portland trip. I made a designer purchase at the Nordstrom store in downtown Portland, and it was the beautiful Musubi Midi bag from Acne Studios. And I love every inch of it!
Before you jump to any conclusion: Wait, what? Another new designer bag in a year? Another black bag? I must be crazy, but please read till the end!
If you read my blog or follow me on IG for a while now, I'm sure you've seen me wearing my YSL East Side Baby Cabas leather satchel bag in pretty much every other outfit. It's so versatile, and I will never get tired of it and will continue to wear it for years to come.
about Acne Studios
A little bit about the brand in case you still don't know how big and influential Acne Studios is!
Acne Studios is a Stockholm-based fashion house that is well-known for its unique approach that combines art, architecture, and contemporary culture into ready-to-wear, magazines, furniture, books, and exhibitions.
Jonny Johansson is the founder and current Creative Director.
Over the years, I especially am drawn to its Scandi minimal design and its strong focus on materials and tailoring. Trousers, blazers, suits, jackets, accessories like scarves, beanies, and bags are some things I can always count on Acne Studios.
The Musubi Midi comes in a variety of colors and is sold at different price points depending on where you get it. Mine is the black color, and I've got it at in-store Norstrom.
It is made from 100% matte Cow leather with 100% Lamb leather lining. The selling point for me is the knot design in which is inspired by the traditional Japanese obi sash. I love that the Acne Studios logos on the bag are subtle. The one big shoulder strap is adjustable and can be made shorter or extended longer up to 25 cm or 9.8 inches.
The Musubi is a classic (launched in 2017) and is Acne Studios' permanent collection meaning it is here to stay and so is the price.
 SIZE INFO
12″W x 11 ½"H x 5 ½"D. (Interior capacity: large.)

10″ strap drop.

1.9 lb.

Below are the Acne Studios micro bag (left), the mini bag (middle), and the midi one in comparison (right).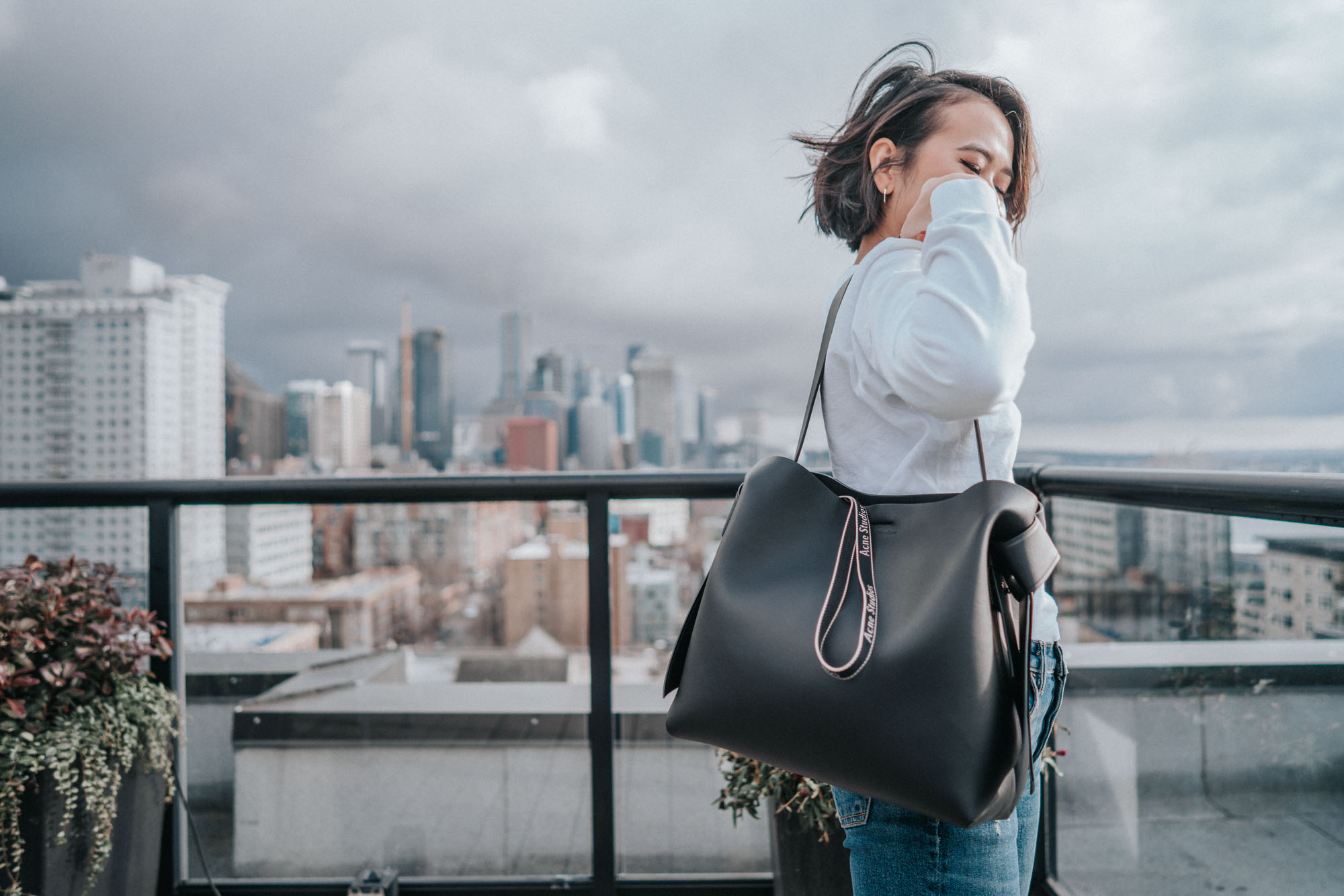 about this Acne Studios bag purchase:
I had actually had my eyes on the small Musubi bag (middle bag linked below) for quite some time. I love the knot design and how soft yet structural it is, definitely something I would see myself wearing all the time. However, it's kinda similar in terms of the size of my Kozha Numbers and my YSL bag mentioned above, and the dual straps remind me of them.
Once seeing this Musubi Midi bag in-store at Nordstrom Portland, it was really love-at-first-sight for me! I was surprised at how actually practical the bag was, and it was not that big at all (compared to many pictures I had seen online). The leather feels so soft, and the bag construction is flawless. I especially love the small Acne Studios logo embossed in the front of the bag, subtle and elegant!
In Portland, there's no sale tax, and I was able to use some Nordstrom notes that I had.
Final Thoughts:
I am pretty satisfied with the purchase because the bag is an actual work of art. I'm a big fan of its unique design and its flawless construction. The fact that it belongs to Acne Studios' permanent collection, and that means I don't have to worry about the bag losing its value (at least for a few years!).
The Musubi Midi does look massive in photos or on the website, but it is so light and is not that big in person. I'm 5ft5 for reference if you're wondering.
I've also gotten some questions asking about the strap if it ever falls down or would I use it as a work bag, and my answers are NO! The strap stays on my shoulder at all times, and I don't stuff too much stuff in it when I wear it out. For work bags, I usually stuff my lunch and tons of knick-knacks, and I don't think this bag is for it! It's so beautiful, so I only wear it as a weekender bag for style.
Let me know your thoughts on my new bag! Meanwhile, enjoy some ways I've styled this bag, and let me know your favorite in the comment section below! 
OUTFIT 1:
shirt: BRANDY MELVILLE | jeans: GRLFRND | bag: ACNE STUDIOS | socks and sneakers: MUJI | scarf: ARITZIA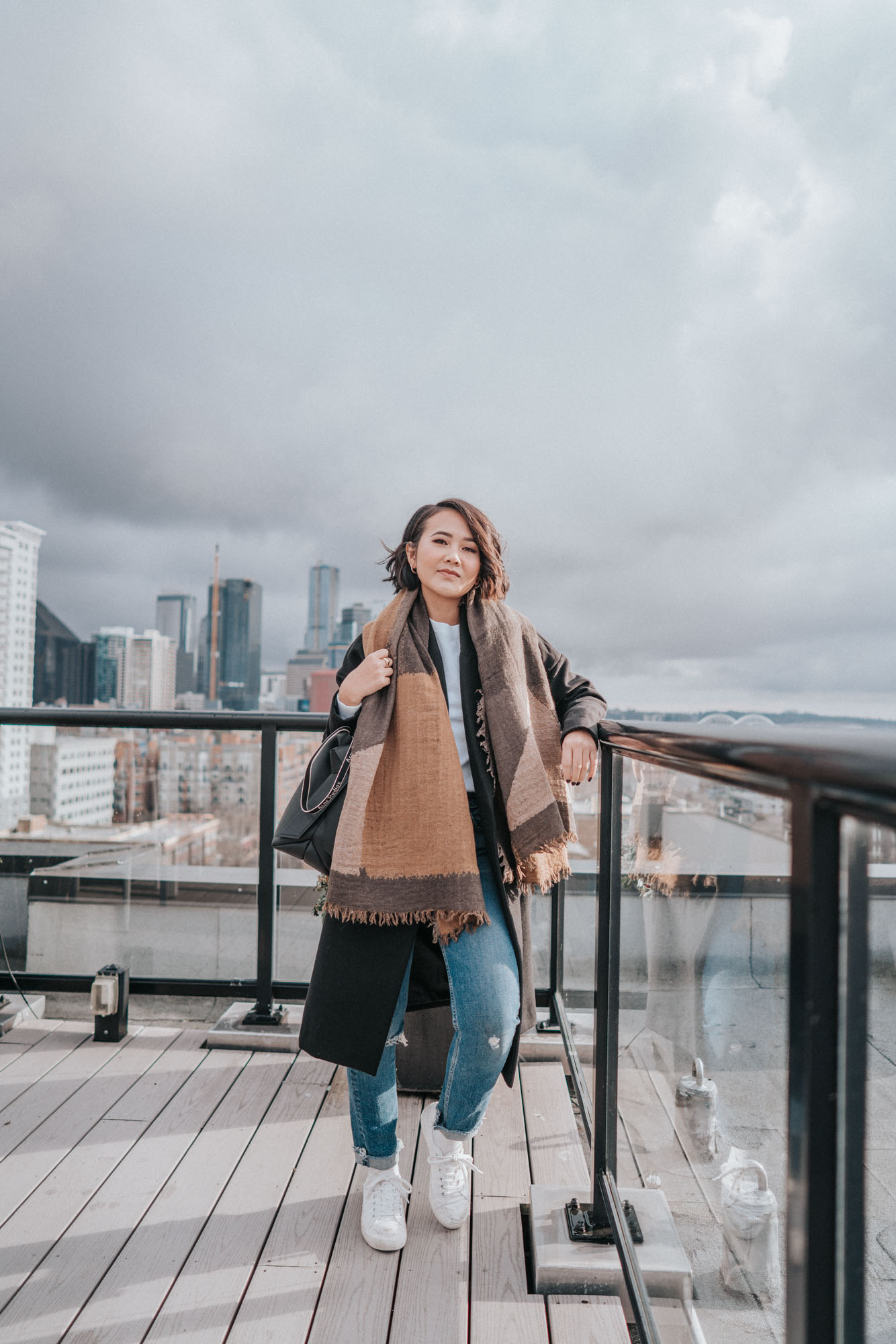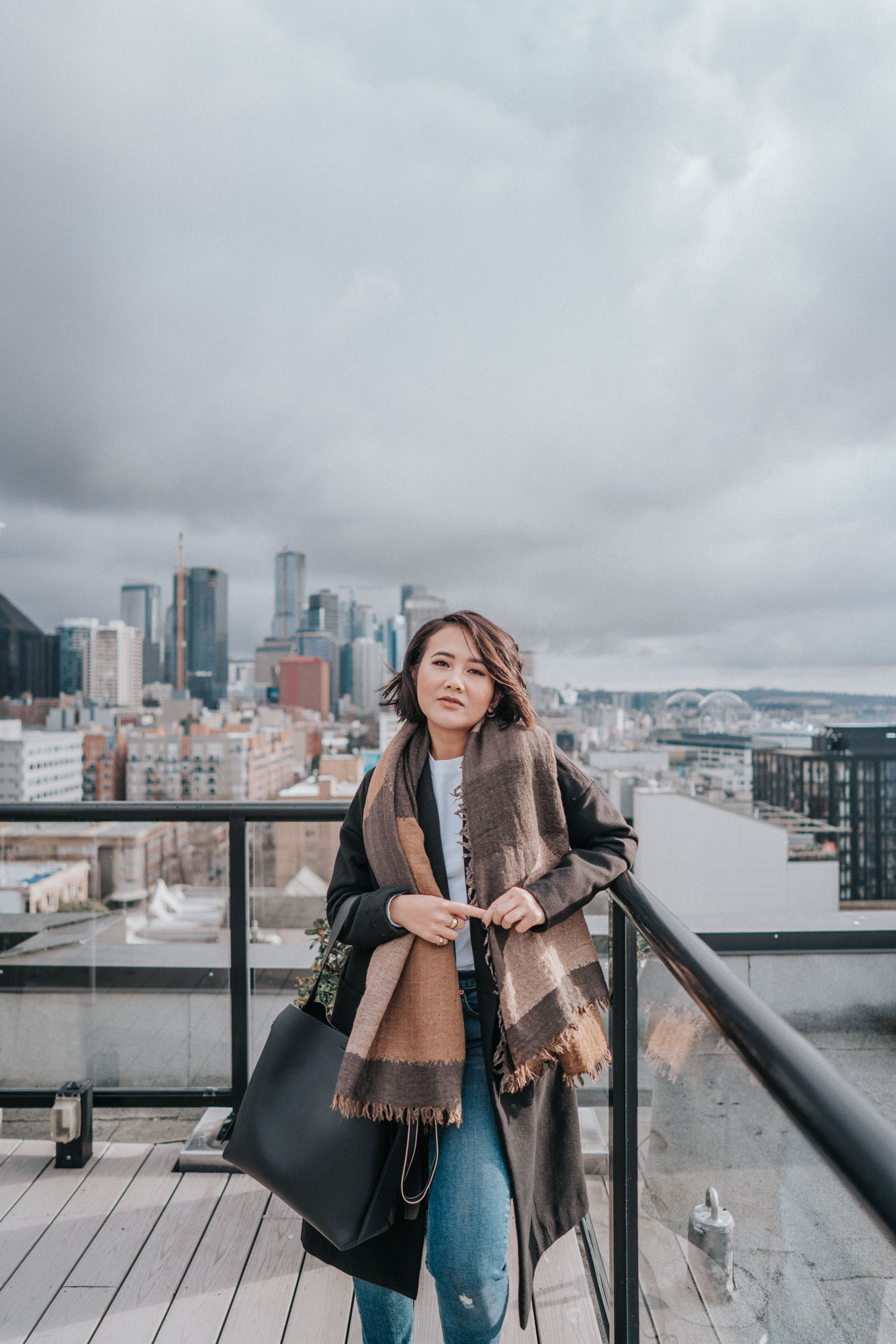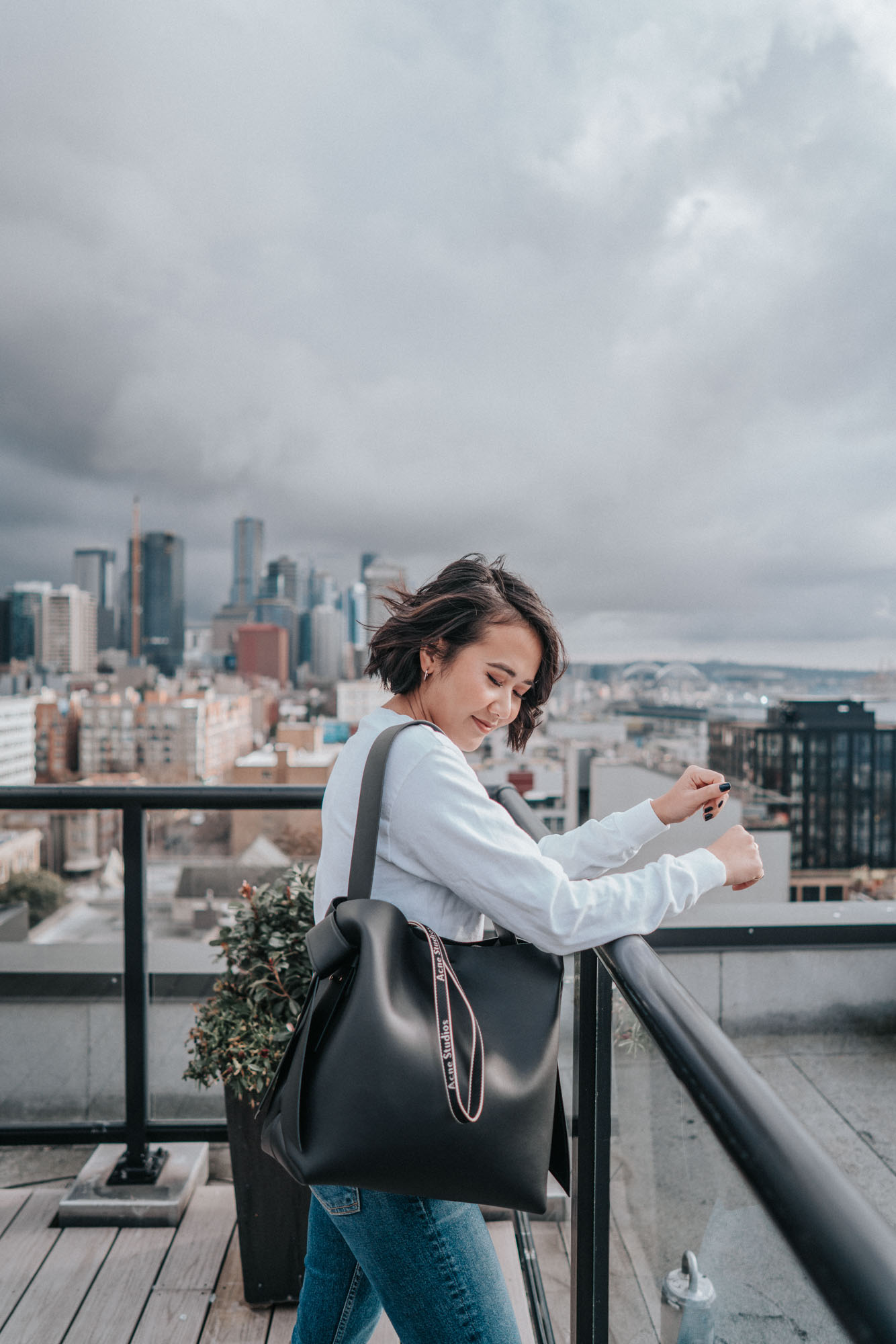 OUTFIT 2:
sweater: AGOLDE | trousers: ARITZIA | coat: UNIQLO U | sneakers: MUJI | bag: ACNE STUDIOS | neckclace: MEJURI (10% at edit.mejuri.com/antrieu)