Fall is here. Foliage season is here. Leaf peeping season is here. In search of Fall Colors and in the mood for a drive? You've come to the right page! In this blog post, I will cover some popular iconic locations I've been to and travel tips I've learned during my 3-day trip to Vermont and New Hampshire (the second weekend of October 2021). 
BEST FALL FOLIAGE STOPS IN VERMONT AND NEW HAMPSHIRE – GOOGLE WEB STORIES
New England includes 6 states in the Northeastern US: Connecticut, Maine, Massachusetts, New Hampshire, Rhode Island, and Vermont. Fall in New England is a thing! End of September to mid-October, people go to Vermont, New Hampshire, Maine, and parts of Massachusetts to see colors, and they're known as 'leaf peepers.' Leaf-peeping is also a thing if you're into hiking and after those popular Instagram spots. There are the Larch March in Washington, aspen leaf peeping in Colorado and Arizona, and maple (especially sugar and red maple trees), oak, birch, ash, and willow in New England.
Remember: northern ends and higher elevation will get their colors first! Peak fall foliage varies each year depending on temperature and weather conditions.
So timing is super important here! I did the trip the second weekend of October of 2021, 5 to 7 days after hearing about the peak or starting to see photos on Instagram and Tik Tok videos popping on my For You Page about these spots or locations. I had to do a lot of digging and research and was able to find some hikes or spots that people didn't disclose the locations. I felt like we spent a lot of time driving around Vermont trying to find "the spot" and learned that New Hampshire actually had more spots. Spots here refer to a higher elevation location where the photographers stand to capture the photos, those you see on the popular pages on social media. A lot of the photos and videos with vibrant intense yellow, orange, red, and green colors are actually enhanced. Lighting also makes a huge difference.
If you've been following me for a while, you'd know I do a lot of nature-related road trips. Exploring New England in the fall has been on my bucket list for quite some time, and I'm glad I'm able to make it this year. After finishing the two-week road trip from Seattle to New York, my partner and I went for another road trip to northern Vermont and New Hampshire. From our Brooklyn apartment, it took about 6-8 hours to get to where the peak colors were.
Connecticut
We're based in Brooklyn, New York, so a detour in New Haven, Connecticut, is a must. 
Loui's Lunch in downtown New Haven is a tiny hamburger restaurant with claims of having invented the hamburger. They serve only two types, cheese, and hamburger with tomato and onion on toast. Don't forget to also try the potato salad and sit inside for the full old-school dining experience.
Downtown area includes many restaurants and shops. You'd most likely see lots of college students and their families walking around the area since Yale University campus is there. New Haven Green, a privately owned park with historic significance, is a popular venue for festivals.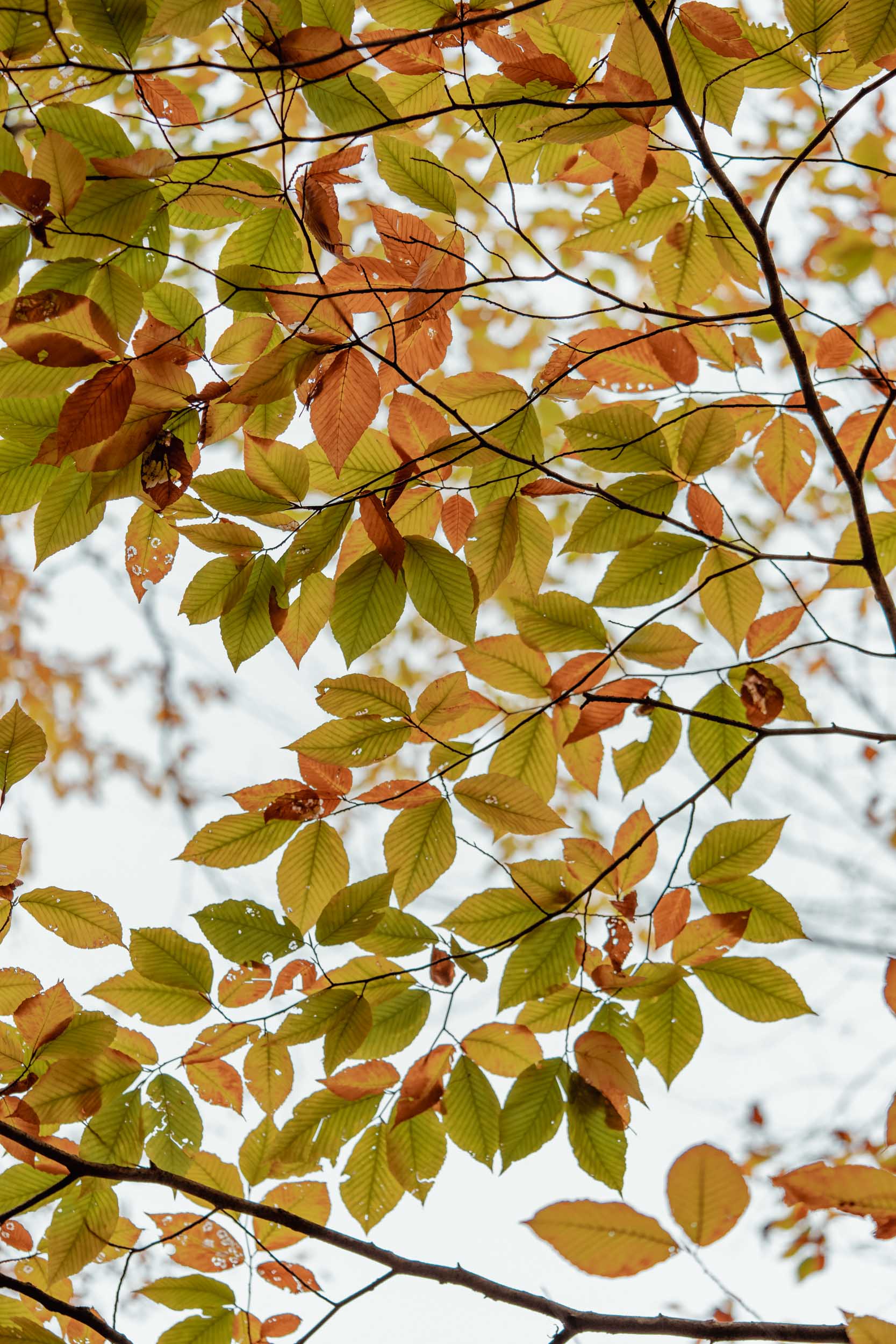 Vermont
From New Haven, we decided to head to Vermont first and New Hampshire after that. Due to heavy weekend traffic, it took nearly 4 hours from Brooklyn to New Haven, and we left at 11 am that Saturday. After lunch and spending some time walking around downtown, our plan was to spend the night in Montpelier, the capital city of Vermont. After nearly another 4 hours, we made it to Montpelier. And after an hour of calling around all of the local hotels, we found out that they were all sold out. It's peak leaf-peeping season, and that's apparently a thing this time of the year. Luckily, I sorta had the feeling that there might be a chance that we had to sleep in the car, so I did pack along with our camping stuff. The temperature dropped down around 50F, so overall, it was not too cold.
Places we stopped by on our first night in Vermont:
Cornish-Windsor Covered Bridge: Covered bridges are historical and iconic things you must go see in Vermont. This bridge is about 155 years old that crosses the Connecticut River between Cornish, New Hampshire, and Windsor, Vermont. Emily's Bridge in Stowe is another popular (haunted) covered bridge that I didn't get to check out.
Montpelier – Capital city of Vermont: The Vermont State House, The Vermont Historial Society Museum, Bragg Farm Sugar House and Gift Shop, Hubbard Park, The Pavilion, and The Coburn Covered Bridge are some of the popular places people recommend in Montpelier. We watched venom at the Capitol Theatre, got Vietnamese food at Pho Capital, and spent the night at the nearest Walmart Supercenter parking lot. In case you're new to car camping, it is actually a thing, and I can write a more detailed blog post about it. So just let me know.
On day 2 of our trip, we started to head back south and started on Route 100. From Montpelier, it took about an hour to get to Rochester via Interstate 89S. Rochester is a random start point along Route 100, but you can start your drive at any point depending on where you are the timing of the day.
Vermont Route 100: It is a north-south state highway that travels nearly the entire length of Vermont. It is recommended on a lot of travel blogs and known as "the most scenic drive in New England" or "Vermont's Main Street." There are a lot of cool photogenic colorful foliage spots and small towns with lodging and dining options along the route. 
Moss Glen Falls – Route 100, Granville, Vermont: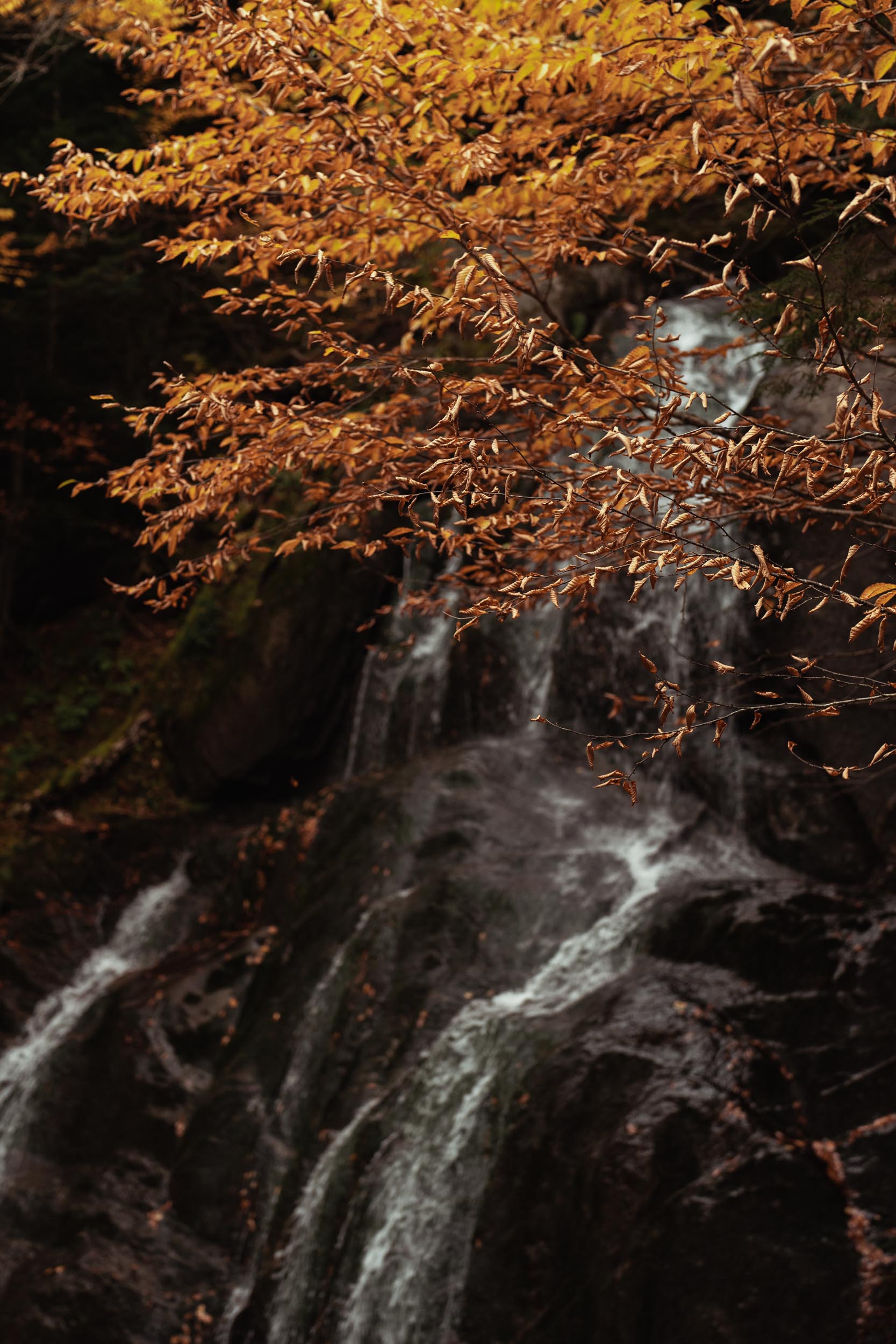 Warren Falls – Route 100, Warren, Vermont: There's a good-sized parking lot, from there, you can walk to the river access or head toward the Cascades. I did the latter.
OUTFIT: sweat set: UNIQLO U | beanie: NORSE PROJECT | sneakers: NEW BALANCE
Continued on Route 100, instead of heading north to Stowe, we took the left turn and did Shelburne and Burlington first. We made some random photo stops along the way because the colors kept getting better and better as we headed north. If you have half of the day free, definitely check out Shelburne Farms. It's a popular farm in Shelburne with workshops and tons of kid and family-friendly things to do. I stopped by but didn't do in since the place seemed to be crowded plus we didn't have a lot of time to wander around, so next time.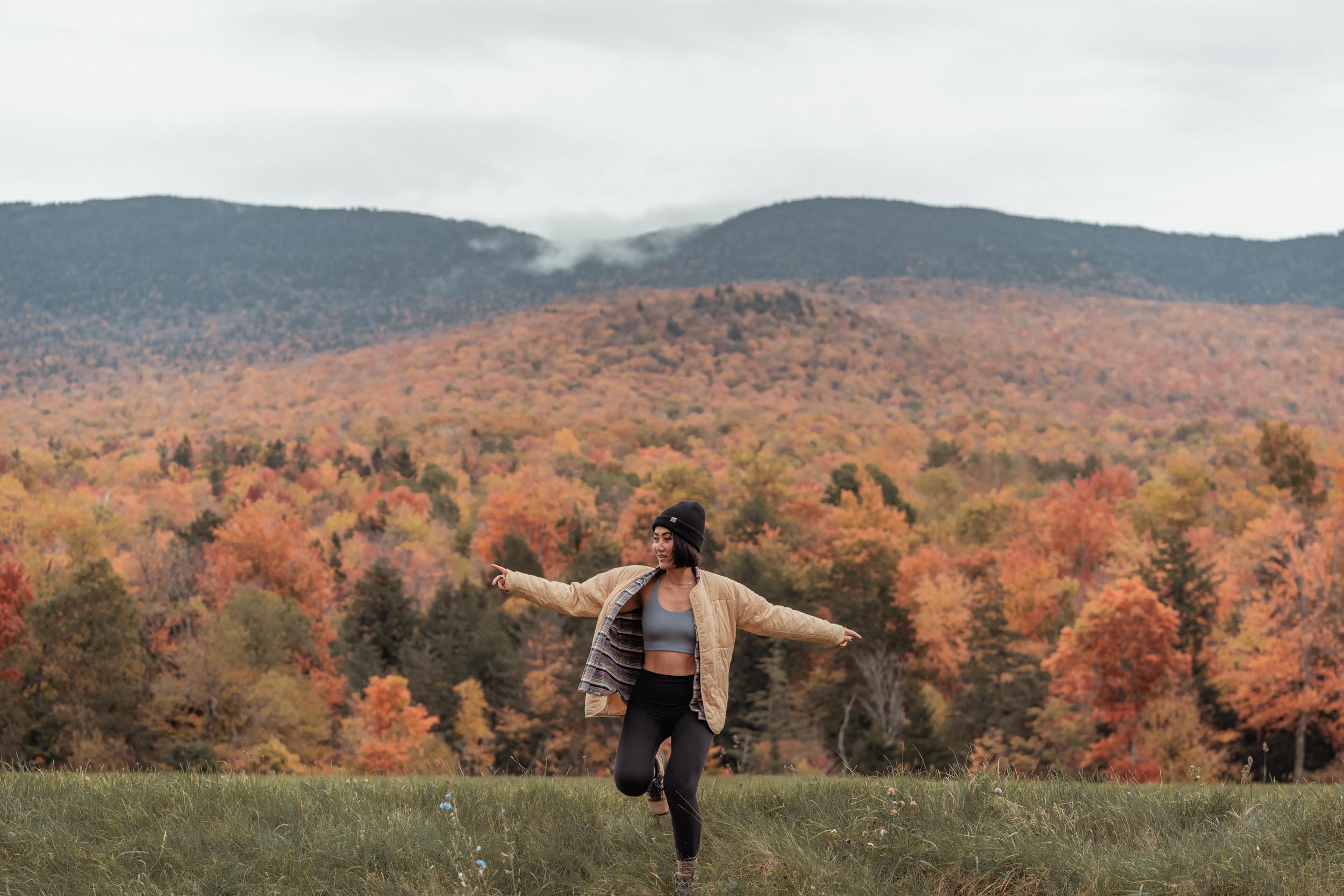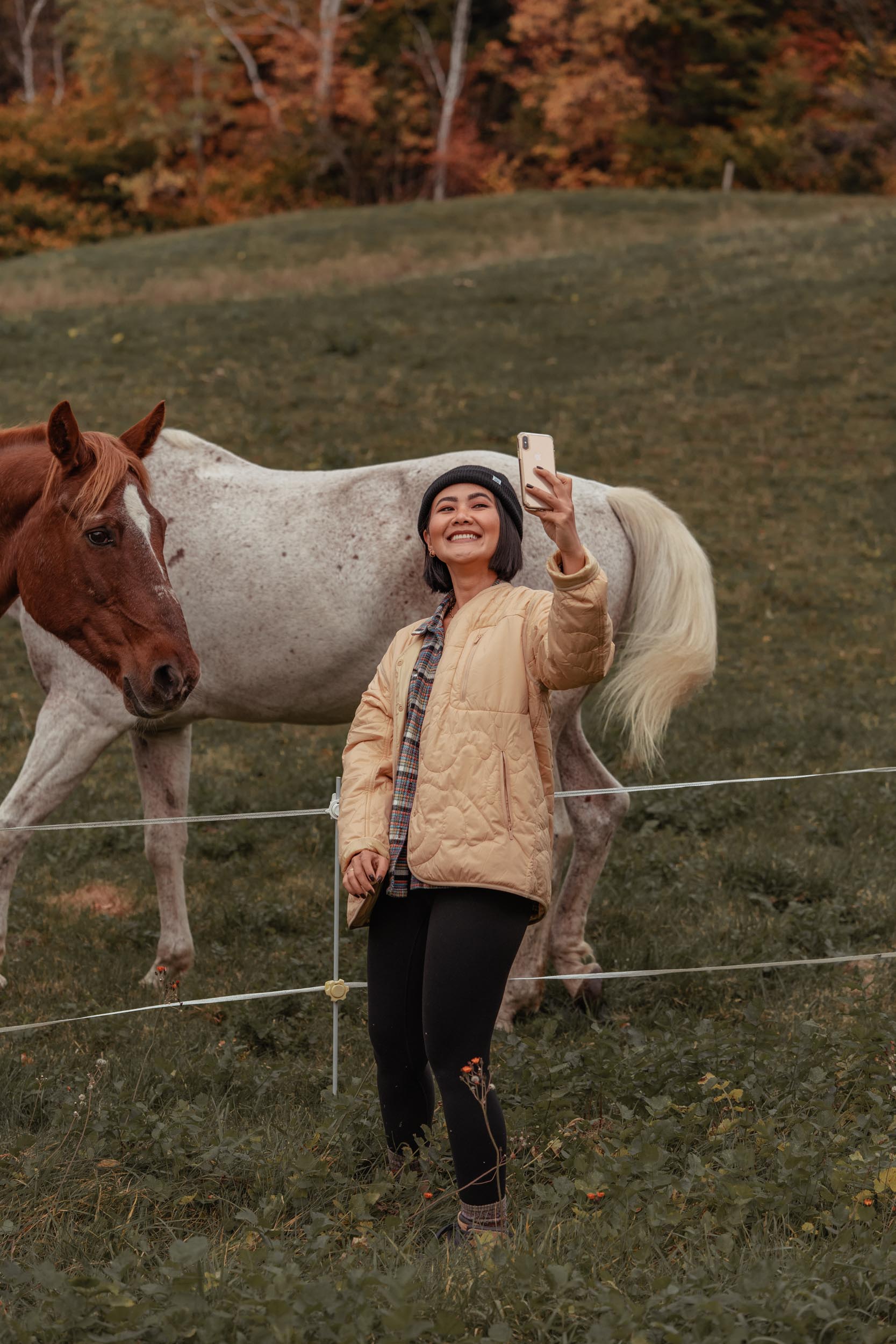 Burlington, Vermont: We had such a lovely Sunday brunch at Penny Cluse (Highly recommend the Biscuit and Gravy, pancakes with fruits and Vermont maple syrup). Vivid Coffee Roasters, located just across the street, makes a great cup of cappuccino. Make sure to stop by the shops along Church Street (aka Church Street Marketplace), just steps away from Penny Cluse. It was a Sunday, so there were a lot of street vendors and people out. I picked up some Vermont maple syrups bottles to bring home and headed to Stowe after that.
Stowe, Vermont: Stowe is known as the "Ski Capital of the East." Smuggles' Notch State Park has dense forest and a narrow mountain pass (aka scenic drive!) that I will have to come back and do next time. Mount Mansfield, tucked between the Green Mountains, is the highest peak in Vermont.
We stopped by the little lake (privately owned, photos below) right next to the Nebraska Notch trailhead to take a few photos and headed north from there.
PLACES AND THINGS I WANT TO CHECK OUT NEXT IN VERMONT:
Drive the winding Notch Road from Stowe to Smuggler's Notch

Stay in Stowe

Lake Willoughby

Sleepy Hollow Farm

Shelburne Farm

Great Vermont Cornmaze

Go kayak or canoe at a lake, bike, hike, camp

Sample cheese and seasonal brews from local breweries
New Hampshire
From Stowe, it took about 1 hour and 20 minutes to Colebrook, a small town in New Hampshire. The drive was incredibly scenic, especially when the sun started to set and the sky turned all pink. I knew we wouldn't make it to the hike we wanted to do here before the daylight was over, so we car-camped and stayed the night in Colebrook.
Colebrook, New Hampshire: Colebrook is a lovely small town with friendly locals and great food. I really enjoyed the food at Black Bear Tavern!
Table Rock Trail or Tabletop Rock – Dixville Notch State Park: I started this hike at around 8 am, Monday, October 11, 2021, and I'd say we were about 5 days late from peak foliage. It's a pretty far north long drive, so I wouldn't think I would go back unless I knew I'd be back right at the peak. The trail was muddy and quite steep at the beginning, but it was short and the views were incredible at the top.
Franconia Notch State Park, New Hampshire: We were told to head south if we were a few days late from peak fall foliage in New Hampshire, and we were right. Franconia and White Mountains foliage was at its peak!
View of fall foliage from a bridge with Mount Lafayette in the background:
Artist Bluff Trail, Franconia: was on my list, but the place was incredibly crowded and chaotic when we got there. There are a few starting points, its main parking lot or from Echo Lake parking lot. The trail is about 1.5 miles heavily trafficked loop trail. It was such a nice sunny day, but the crazy crowd was really the reason why we didn't do this hike.
Echo Lake, Franconia: Must stop for a family pic if you're in the area.
The next stop was White Mountain Cider in Glen, New Hampshire: The main restaurant was closed due to the pandemic, but they had the market store open. There were a lot of people, so we just ordered some sandwiches and hand pies and ate outside. There's a cool railroad right behind the property, so I had to snap some fall photos here.
OUTFIT: shirt: BRAVA FABRICS | pants: BRAVA FABRICS | beanie: NORSE PROJECT | sneakers: NEW BALANCE | cropped sweater: URBAN OUTFITTERS | necklace: AURATE NY (use code antrieu25 for 25% off)
From Glen, we drove back up to Crawford Notch State Park for a small hike. The drive in this area was amazing, easily my most favorite drive this entire trip. I feel like New Hampshire has more "spots" and properly marked trails versus Vermont.
Mount Willard Trail – Crawford Notch State Park, New Hampshire: This trail is fairly easy with some incline, 3.2 miles, with incredible views at the top. I love the foliage forest at the beginning and round rocks all throughout the trail.
OUTFIT: dress: OUTDOOR VOICES | flannel: OUTERKNOWN | boots: DANNER | socks: DARN TOUGH VERMONT
After Mount Willard, we stopped by a lake and Silver Cascades and got to see a train leaving from Crawford Notch right before sunset. We made a dinner stop at Pho Tai Loc in Nashua, New Hampshire, slept at a rest stop for an hour, and made it home at 4 am the next day. It was a lot of driving, but at least we didn't hit bad traffic that early in the day.
PLACES AND THINGS I WANT TO CHECK OUT NEXT IN NEW HAMPSHIRE:
Board a train, Mount Washington Cog Railway and Conway Scenic Railroad

Omni Mount Washington Resort

Artist Bluff, The Flume Gorge, Franconia State Park

Drive Kancamagus Highway (35 miles from Conway in the east to Lincoln in the west)

Mt. Monadnock

Story Land

Arethusa Falls, Sabbaday Falls
I hope you've enjoyed scrolling through this post as much as I love putting together these travel diary posts. Here are a few tips I've learnt from my first trip to Connecticut, Vermont, and New Hampshire. Hope they will help you to plan out your New England trip for next year.
Time it right: The best time to visit states in New England in the fall is around the end of September to the middle of October. Main peaks first, and then northern New Hampshire and Vermont. I haven't been to Massachusetts and Rhode Island, but I know they usually peak the last two weeks of October. So give yourself plenty of time, at least a long weekend or a week-long trip and be willing to drive around.

Book lodging in advance: Definitely consider lodging or hotel options in Stowe/The Green Mountains  or Burlington (Woodstock, Mad River Valley, and Lake Willoughby are on my list!), Vermont, or staying around Franconia State Park or Crawford Notch State Park, areas near the White Mountains (hiker's paradise), New Hampshire, if you're travelling with friends and family. I'd definitely do some tent camping next time or car camping wouldn't be too bad either.

Soak up local culture and cuisine: I don't think I've had any bad food experience during this entire trip. I love that both Vermont and New Hampshire so many charming and cute little towns with farm stands, barns, covered bridges, and cute churches everywhere. People are friendly, food is affordable and delicious. What else can I ask for?

Just go for a drive: I really cannot explain exactly the feeling when driving through endless seas of colours. I wish I had more time to take things slow and make more stops frequent. So just be ready to drive a lot and let your mind be blown.

If being able to experience peak fall in New England is important to you, and you have time. Go there immediately as soon as you hear about the peak fall. I live in Brooklyn and got up there about a week after hearing about the peak foliage in Vermont and New Hampshire, and I thought I was kinda late already.
Feel free to leave me a comment with any questions you might have. Thanks for being here!
New England travels:
My favorite fall hikes of all time: