Mt. Rainier National Park is on my list of top 5 favorite national parks that I have ever been to. Prior to New York, I had lived in Seattle for 4 years, and I took at least 2 to 3 trips to visit Mt. Rainier a year. It depends on what time of the year you're visiting and what you want to see, Mt. Rainier has a lot more to offer than you think. Make sure to leave me a comment with specific questions, I'd love to help you plan for your perfect trip here.
In this blog post, I will cover some basic information and general knowledge you should be aware of prior to visiting the park. I will also share the best spots for photos, my favorite hiking trails, as well as hidden spots no one else has shared before. There are endless viewpoints and lookouts that require no hiking, so it's perfect for a family trip with kids and the elders. Be prepared with some shoes with good traction, appropriate layers, food, and drinks. 
CHECK OUT MY GOOGLE WEB STORIES:
About Mt. Rainier National Park, Washington
Mount Rainier stands 14,410 ft above sea level. It is an icon in the Washington landscape, and you'd most likely see its snow-covered peak when flying into Seattle (so get yourself a window seat!).
1. KNOW BEFORE YOU GO
WEATHER – My hiking season usually begins late spring up until late fall. I don't hike in the winter and have never ventured out to Mt. Rainier when the roads are covered in snow. Opt for a sunny summer or fall day because the mountain is most likely out. Arrive early morning for sunrise or stay a little later in the day for sunset. Gloomy days are also pretty cool because of that PNW moody feel if that's what you're going for.
PARK ALERT AND CURRENT CONDITIONS – Please always check the park status for any road closure or dangerous conditions before heading out. I do that when I plan for my trip, a day or two before the trip, and the day of, and always have a backup plan.
BEST TIMES TO VISIT 
WILDFLOWERS – BEST IN AUGUST

FALL COLORS – HAPPEN IN SUNRISE AREA FIRST (EARLY OCTOBER AND LASTS UNTIL THE THIRD WEEK OR END OF OCTOBER), AND PARADISE TENDS TO BE A FEW DAYS OR A WEEK AFTER THAT. CHECK WITH THE PARK FIRST FOR EARLY OR LATE BLOOM IN CERTAIN AREAS

SUNRISE AND SUNSET

SPRING, SUMMER, AND FALL
EASY SPOTS WITH GRAND VIEWS & LITTLE – NO HIKING REQUIRED
Sunrise Visitor Center
Tipsoo Lake
Paradise Visitor Center
Myrtle Falls
Reflection Lakes, Paradise
1. Sunrise Visitor Center
Sunrise is my preferred area since it's closer if you're coming from Seattle like me, and there are many easily accessible trails from the visitor center. There are also many scenic pullouts as you drive up to the visitor center, so take it all in. 
Sunrise Visitor Center
2. Tipsoo Lake
You can choose to hike from the parking lot or simply take a stroll around this area. August is the peak time for wildflowers, and avoid weekends due to the crowd and its popularity on social media. Be mindful and remind others to stay on trail as the plants here are super fragile.
Wildflowers near Tipsoo Lake
3. Paradise Visitor Center
I love checking out National Park merch, and this one is located right next to Paradise Inn. There are tons of lodging options as well as easy hikes with grand views from here. Highly recommend! 
Paradise Visitor Center
4. Myrtle Falls Viewpoint via Skyline Trail, Paradise
I'd say this is more like a stroll, not a real hike since it's only 0.8 mi. round trip. It is kid and wheelchair/stroller-friendly. The path is paved the entire way!
Myrtle Falls – Fall 2021
5. Reflection Lakes, Paradise
Located on the South side of the park, if you get lucky with the weather, you'd see the reflection of Mt. Rainier in the lake. There's no hiking required on this one, and you can walk straight down to the lake from the parking lot.
Reflection Lakes – Fall 2021
MY FAVORITE HIKING TRAILS
Mt. Fremont Fire Lookout, Sunrise
Tipsoo Lake
Panorama Point, Skyline Trail, Paradise
Pinnacle Peak, Paradise
1. Mt. Fremont Fire Lookout via Sourdough Ridge Trail, Sunrise
Length: 5.7 mi. Elevation gain: 1,118 ft. Route type: Out & Back
This trail starts at the Sunrise Visitor Center. Throughout the hike, There are tons of wildflowers and many chances to spot wildlife. The views from the fire lookout are incredible. Read more here. 
Mt. Fremont Fire Lookout
2. Tolmie Peak & Eunice Lake
Length: 5.6 mi. Elevation gain: 1,541 ft. Route type: Out & Back
I hiked this trail a few years back and didn't get to the fire lookout. It was in the middle of summer, so the mosquitoes at the lake were insanely crazy. Do read reviews on WTA or Alltrails for trail conditions and come prepared with bug spray. From Eunice Lake to Tolmie Peak Fire Lookout is under a mile, so I'd love to come back and hike up to the lookout to view Mt. Rainier at sunset one day.
Eunice Lake
3. Panorama Point, Skyline Trail, Paradise
Length: 4.1 mi. Elevation gain: 1,263 ft. Round trip.
I hiked Panorama Point in late fall of 2018, and there was some snow on the ground. I'd say the trail is on a moderate side, and there is a lot of elevation. Layer up as it can get quite cold in the fall. Read the blog post here.
View of Mt. Rainier on the way to Panorama Point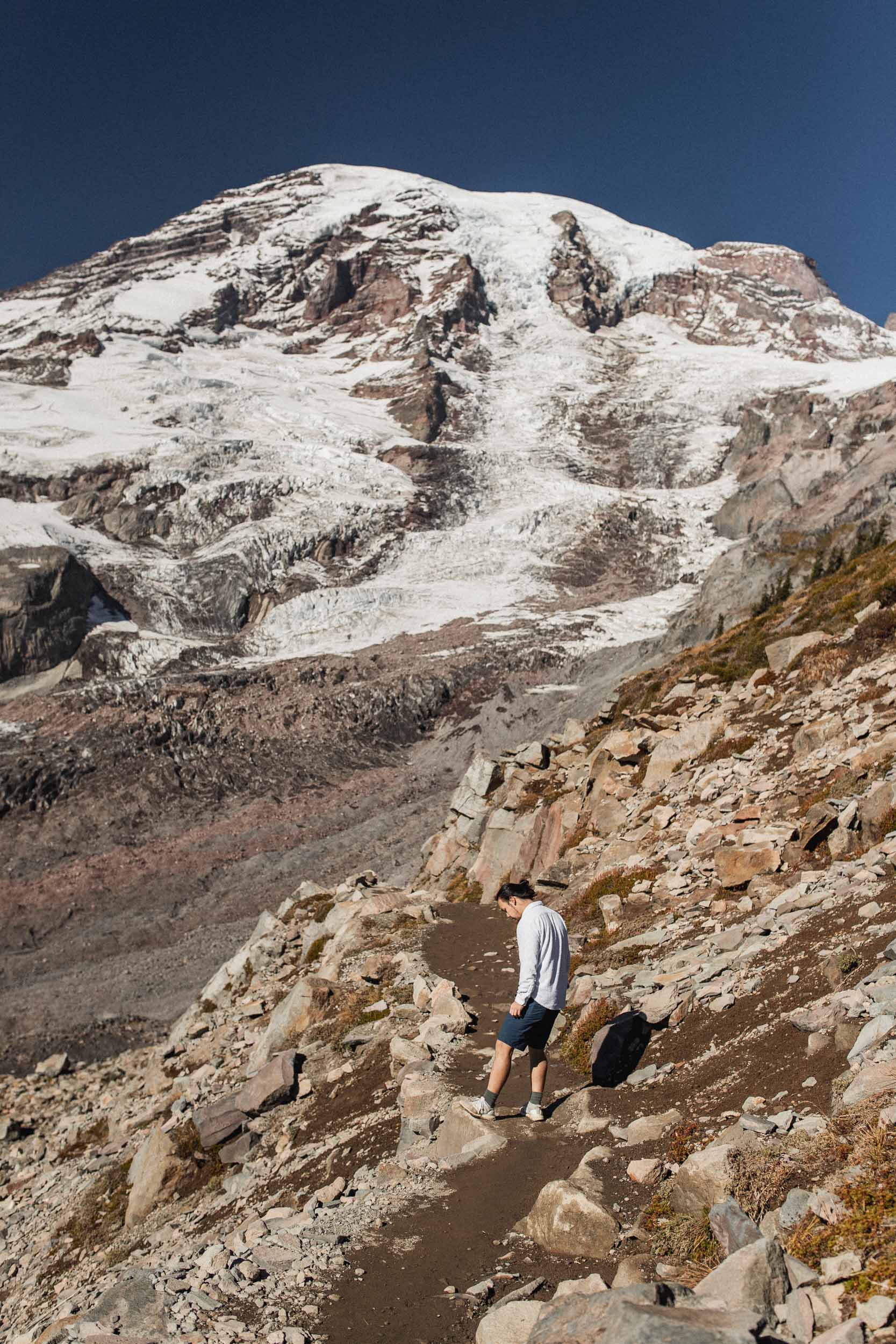 4. Pinnacle Peak, Paradise
Length: 2.8 mi+. Elevation gain: 1,423 ft. Route type: Out & Back
Pinnacle Peak trailhead is located across the street from Reflection Lakes' parking lot. It is my most favorite spot for many incredible Mt. Rainier shots. It is kid-friendly, short with grand views. After you reach the sadle, there are many off-trail paths that you can take either from the left or right. Please be mindful and stay on designated trail paths when there's sign due to the fragile plants and flowers. The best time to hit this trail is late August to October when the snow is melted. Read more here.
View of Mt. Rainier from Pinnacle Peak Trail