Glacier National Park, Montana, is one of the top 5 National Parks that I have ever been to. I've been there twice, the first time back in July of 2020 and the second time in September 2021. Timing is a very important factor when it comes to visiting Glacier National Park due to snow. In this blog post, I'll share my tips including the best trails and best times to visit, hopefully, this blog post helps ease the planning process. 
About Glacier National Park
Glacier National Park is a 1,583 square mile wilderness area in the Rocky Mountains, northwestern Montana. It's part of the Waterton-Glacier International Peace Park and managed by National Park Service.
Top tips you should know before visiting the park:
1. Watch out for the weather. Weather in the park varies and can be extreme. Even on a warm summer day, do bring rain gear and extra layers of clothing. Pack extra layers regardless of what season you're visiting Glacier National Park and avoid getting wet.
2. Seasonal road closure and construction. Current road status – IMPORTANT!
3. Crowd. What to do? Peak season is from May to September. Parking areas near popular spots like Logan Pass and Avalanche Creek can get filled up at around 8 – 9 am. My tip is to arrive as early as 6 – 7 am or 3 -4 pm. Park staff might close or restrict vehicle access temporarily, so make sure to have a plan B and be patient as they will reopen the road back up.
4. Wildlife safety. Animals are active year-round, especially in the fall, so always stay alert and watch out for wildlife along the roads. Read up about bear safety, don't leave food out or hike alone, and always carry bear spray.
5. Learn about glaciers in Glacier National Park (because they're cool!)
7. Always stop at a visitor center or ask a ranger for any questions you might have before heading out.
Best Time to Visit
August is the most perfect month to visit Glacier National Park.
I visited the park in early July of 2020, and east sections from Logan Pass including the entire Going-to-the-Sun road was closed due to snow. Our second visit was in early September, and the Manny Glacier area was closed due to construction. We did get to drive the Going-to-the-sun road and hiked two trails from Logan pass parking lot, so that was super cool.
Best Areas for Food and Lodging
Assuming you're coming from the West side of the park, I'd recommend staying at the lower end of Lake McDonald, Apgar Village, or West Glacier entrance. They're the two main areas popular for food, gift shops with tons of things to do like kayak, canoe, and biking rental. You can even rent bear spray, and the Apgar campground is there. Also, check out Lake McDonald Lodge, walk to the waterfront, book a boat tour, stay the night at the lodge, and grab a bite and a beer.
I have yet to camp nor stayed the night at any lodges inside the park, but that's still on my bucket list to do for next time. There are tons of dispersed camping spots and hotel options, but you'd have to drive out to nearby cities. And I've done both.
Hidden Lake Overlook
Best Trails for Beginners
1. Avalanche Lake
Distance: 5.9 miles. Elevation gain: 757 ft. Type: Out & Back
This is a kid and family-friendly trail, and the views are incredible. There are waterfalls, and you'd be hiking through lush greenery all throughout. The lake water is so pristine, clear, and green-blue turquoise.
Read the blog post here.
Avalanche Lake
2. Hidden Lake Overlook
Distance: 2.9 miles. Elevation gain: 567 ft. Type: Out & Back
This trail is rated as moderate, although most of the time, you'd be walking on a boardwalk. Note that it is high in elevation, and the slight incline can be a bit tough to adjust to at first. Pack along with layers and bear spray! It is, however, incredibly busy, and access to Logan Pass (where the parking lot and trailhead are) is so limited. If you've read my tips above, you might not be able to get in either due to snow or that the parking lot is full. There's a wooden platform with an overview of the Hidden Lake, and from there, you can turn back or continue and hike the Hidden Lake Trail (to the lake!).
I didn't get to hike it because of grizzly bear activity. And shortly after we got our shots in, there was a grizzly bear. He was digging for food, super-fast, and did cross our hiking path. Luckily, everybody was standing at a safe distance, and everyone was notified. Honestly, that was one of the coolest experiences seeing an actual grizzly bear in person like that. We bought a bear spray immediately after though!
In fact, we hiked this trail twice, sunset and sunrise, but only to the Overlook due to grizzly bear activity. Because we did this hike in early October/in the fall, the sun positioning makes the sunrise hike a lot better. So if you can, try to make it to the Logan Pass parking lot by 8 am.
Hidden Lake Overlook (an hour before sunset)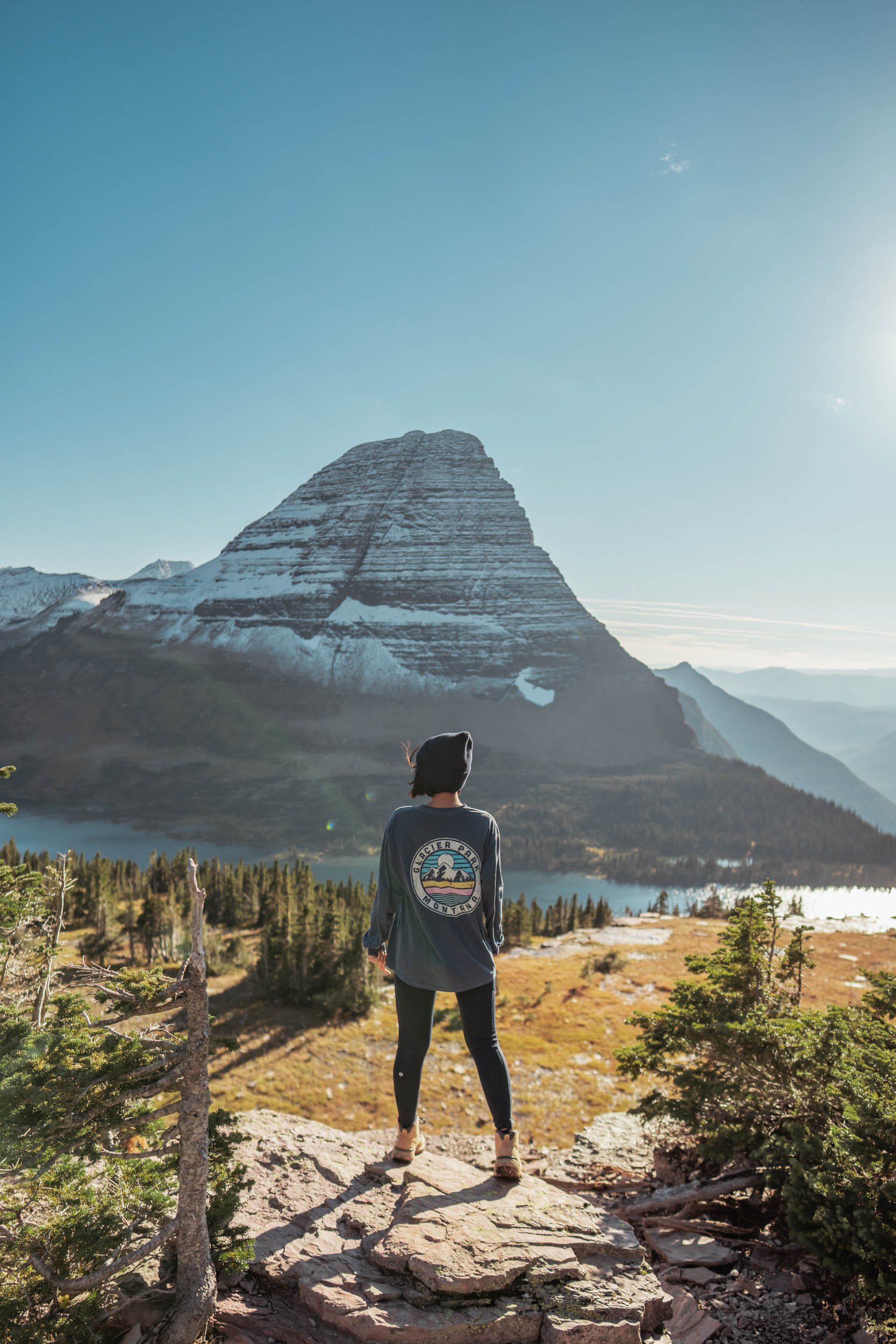 Hidden Lake Overlook (sunrise, the day after. Peek at the grizzly at the end.)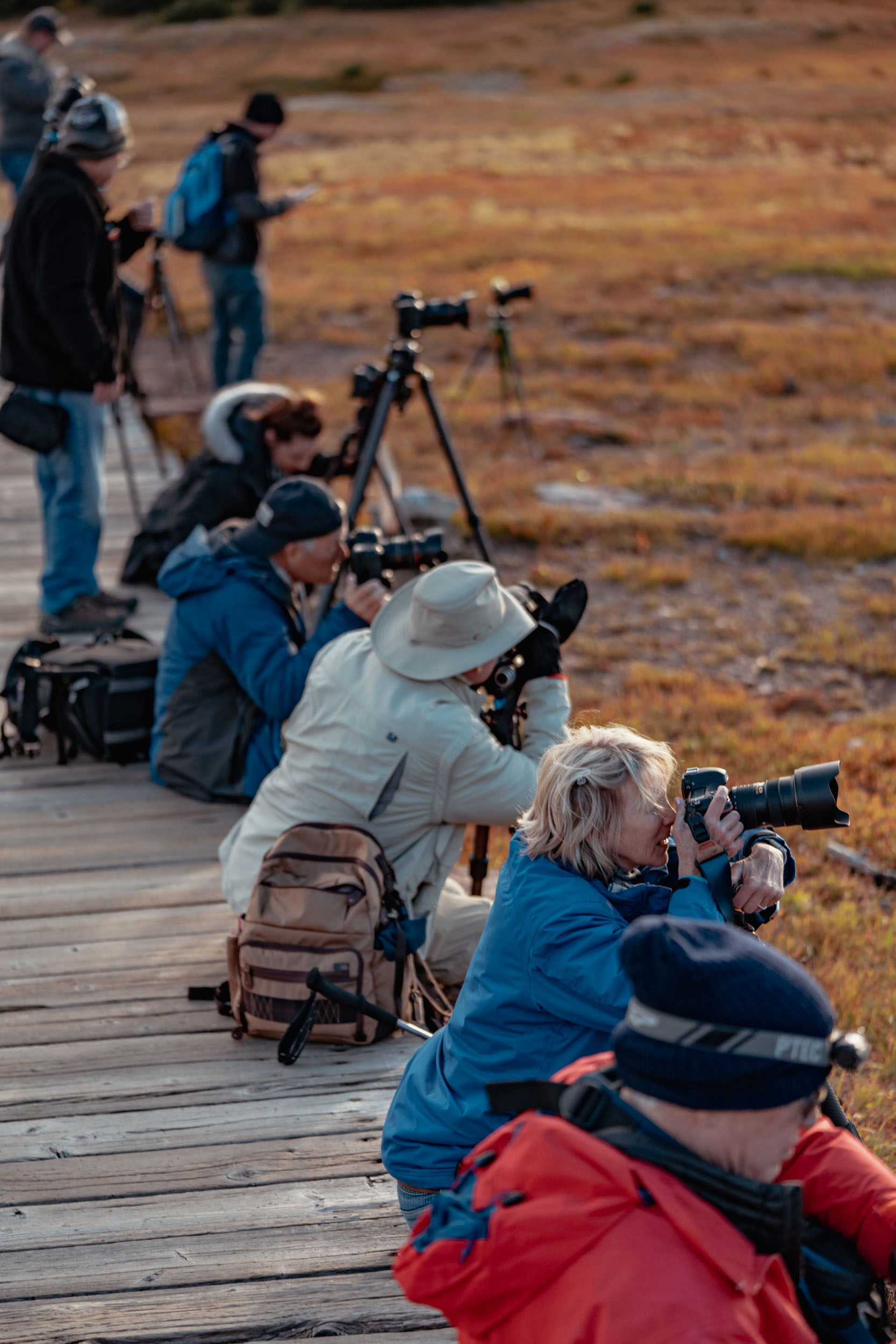 My Most Favorite Trail of All Time
Highline Trail: Logan Pass to Grinnell Glacier Overlook
Distance: ~15 miles. Elevation gain: ?. Type: Out & Back
TIPS: If you have the Alltrails app, look up Highline Trail: Logan Pass to Granite Park Chalet. This is the trail that I did, but instead of going to the Chalet, we took the Grinnel Overlook route and went back out from there. We skipped the Chalet because we ran out of time. It is rated as HARD, long, and strenuous, so please be prepared.
Read reviews and scan for any warning signs, especially bear activity or snow/trail conditions.

Don't hike alone, but if you do, please be careful.

It is a very long trail if you decide to do the out-and-back route, so start early (as early as 7 or 8 am).

Pack plenty of food, water, and snacks.

Bring warm layers and wear appropriate attire depending on weather and trail condition.

Bring bear spray and know bear safety.
We did the Hidden Lake Lookout trail for sunrise. Then we did Highline/Grinnel Overlook starting at around 10 am on the same day, and we didn't get back until pitch dark. It was the most exhausting day on the trail but so rewarding. I wouldn't recommend hiking two trails a day or if you're afraid of height, don't do this trail.
CONS: It is strenuous, and you'd be hiking along the mountain ledges the entire time. Trekking poles and sturdy hiking shoes are definitely recommened. There is not much of an elevation gain until the last 1/5 part of the trail. The incline up to the Grinnel Glacier Overlook is super dangeruos, so watch your steps. I remembered the wind that day was insanly strong as I felt like I would get blow away any minute while hiking up there. Please read as many reviews on Alltrails as possible before deciding whether or not you can do this hike. The hike is incredibly scenic but long, but you don't have to finish the entire trail out and back. There's an option to hike this trail one way if you plan your trip ahead of time and want to hitch hike.
PROS: I saw a family of 6 mountain goats, no bears, luckily. According to many reviews on the Alltrails app, there was a bear encounter on this exact trail a couple of days before we did this hike. As said above, I did the Hidden Lake Overlook trail earlier the same day and saw a grizzly bear. So I was super nervous while hiking the highline because I would freak out and wouldn't know what to do. I did bring bear spray, so that was at least something. Definitely try to hike along with other people if possible, be extremely careful, and watch out for bears!
Drive Going-to-the-Sun Road
Going-to-the-Sun Road is historic and one of the park's most popular destinations. It's 50 miles long two-way road that leads you to some of the coolest viewpoints and trailheads. You obviously don't have to drive all the way and turn back whenever you want. Road passes through breathtaking views of glacier-carved peaks, emerald-blue alpine lakes, and lush forests.
Major points of interest include Apgar Village, McDonald creek, Avalanche Creek, West Tunnel, The Loop, Bird Woman Wall, Weeping Wall, Big Bend, Triple Arches, Oberlin Bend, Logan Pass, Siyeh Bend, Jackson Glacier, Gunsight Pass Trailhead, St. Mary Falls Trailhead, Golden Staircase, Rising Sun, Sunrift Point, Two Dog Flats, St. Mary Visitor Center.
I hope that you will get to make it to Glacier one day. Let me know if you have any specific questions, I'd love to help. Glacier National Park is on top 5 of my most favorite National Parks that I've ever been to for sure. What are your top 5?