Have you ever been to Connecticut and Rhode Island? If not, then consider this a sign to go for a drive!
From New York, it's about 3 hours. If you're not starting your trip from New York like us, Boston is a big city that has lots of flight options. From Boston, Providence, Rhode Island, is only an hour away. Regardless, I suggest taking the coastal route and making many stops along the way. There are a lot of hidden treasures with charming little towns, friendly people, and delicious food.
In this post, I'm going to share with you the details of my recent road trip from Brooklyn, New York, through Connecticut, and Rhode Island (Providence and Newport). 
NEW YORK – CONNECTICUT & RHODE ISLAND
Connecticut (3rd smallest US state) is often overshadowed by New York, and I've heard it's like the suburban of New York in a way. There's Yale University, Mark Twain House, ESPN, apizza (New Haven-style pizza), and historic lighthouses, definitely worth a detour if it's within your route.
Rhode Island is the smallest state by size/area. It borders Connecticut to the west, Massachusetts to the east and north, and the Atlantic Ocean to the south. Providence is its capital, and it's where Brown University is. Newport is known for sailing and historic Gilded Age mansions, so make Rhode Island your next day or short weekend road trip.
Grace Farms – New Canaan, CT
New Haven, CT
Hammonasset Beach State Park – Madison, CT
New London, CT
Westerly, CT
Hazard Rock – Narragansett, CT
Warwick, RI
Providence, RI
Newport, RI
CONNECTICUT
1. Grace Farms – New Canaan, CT
Grace Farms has been on my list to visit for a while, and it's not too off of my way out of New York to Rhode Island. After the visit, I learn that the place has so much to offer besides having a cool building situated on a beautiful landscape. Nature, arts, justice, community, and faith are some of their core initiatives, and that really shows through. I really enjoy my time there and cannot wait to come back.
You'd need to present your ID when entering the gate and be given a wristband to wear. Make sure to check in at the welcome center, and after that, you're free to explore the property. You won't miss the iconic circular building, called the River Building. It's designed by SANAA, a Tokyo-based architectural firm. There's a cafe, a library, an auditorium, and playgrounds for kids and family time. 
The staff members that we encountered were super friendly, welcoming, and informative. We had some tea time served by Frank, one of Grace Farms Foundation's staff members. We spent a little over 2 hours, just walk-in with no reservation.
2. New Haven, CT
We've been to New Haven a few times, and each time, it's just a quick stop-and-go for food and coffee. you'd notice there are a lot of college students and families since it's where Yale University is. Below are some of the iconic must-stops in New Haven!
Louis' Lunch – hamburger sandwich. This is a pretty cool spot with claims of having invented the hamburger, one of the oldest family-run businesses in the US. It's pretty interesting watching the way they prepare each component in an old-school way. Must-try!

Frank Pepe Pizzeria Napoletana – the best white clam pizza! I love the clam ratio with the perfect amount of sauciness and texture. So flavorful! The bottom crust is hard and the edge is more burnt, not as chewy. The original tomato pie is just alright. Go here for the clam pizza!

Modern Apizza – second-best white clam pizza. I love the super thin crust, and the fact that it's cheesier than Frank Pepe's white clam pizza. We did the half classic white clam and half clam casino (with bell pepper and bacon) and loved the classic much more.

Yale University – private Ivy League school founded in 1701, known for liberal arts, drama, and music programs.
half classic white clam pizza and half clam casino (with bacon and bell pepper) at Modern Apizza
3. Hammonasset Beach State Park – Madison, CT
About 30 minutes east of New Haven, Hammonasset Beach State Park makes a great stop for your family. There are long sandy beaches with picnic areas, hiking trails, campgrounds, and so much more.
Note that you'd need to pay an entrance fee before entering any state or national parks. But if you're around the area past their business hour like us, you can just drive in and check it out.
4. New London, CT
We did a quick detour to shoot one outfit and came across Ocean Beach Park in New London, and i thought it was pretty interesting. It looks like an abandoned amusement park, and the gloomy windy weather definitely adds to its eerie feeling. I made a fun Tiktok video here. 
5. Westerly, RH
We stopped by a Thai restaurant, called Thong Thai Restaurant, on the way back home, and I thought everything was just okay. Food was on the sweeter side, nothing special, but it looks like it's family-owned and the Thai lady owner was super nice to us. It's in a small town located on the southwestern shoreline of Rhode Island, Westerly, and their clients seem to be mostly white with take-out orders.
6. Hazard Rock – Narragansett, CT
Fun little detour in Narragansett, Rhode Island where people are fishing. There were some seafood restaurants that had lines of people outside, and I wish we had time to stop by.
RHODE ISLAND
7. Warwick, RI
We arrived in Warwick, the third largest city in Rhode Island, at around 8 pm for dinner. We dined at Greenwich Bay Oyster Bar (check out their buck-a-shuck happy hour) and stayed the night at the Radisson Hotel. Providence is only 15 – 20 minutes away from Warwick, so we leave to Providence first thing in the morning. Everything is so close, and I love that about road tripping in New England.
8. Providence, RI
Providence is the capital city of Rhode Island. I was there on a Sunday, so there wasn't much going on besides some crowd for the 5K marathon. After that, there was barely anyone on the streets, so we just spent the morning walking around checking out some historic buildings, got some coffee and bakery, and left for Newport.
4 HOURS IN PROVIDENCE, RHODE ISLAND – TIKTOK VIDEO
College Hill

Rhode Island School of Design (RISD)

RISD Museum

Waterplace Park

Federal Hill

Arcade – historic shopping center downtown, built-in 1828. It remains the oldest indoor shopping center in the country.

Brown University
Left: Fleur-de-lys Studios aka 
Sydney Burleigh Studio, a historic art studio in the Arts and Crafts Movement in the US. Right: The List Art Center. Both in College Hill.
Waterplace Park situated along the 
Woonasquatucket River, downtown Providence, Rhode Island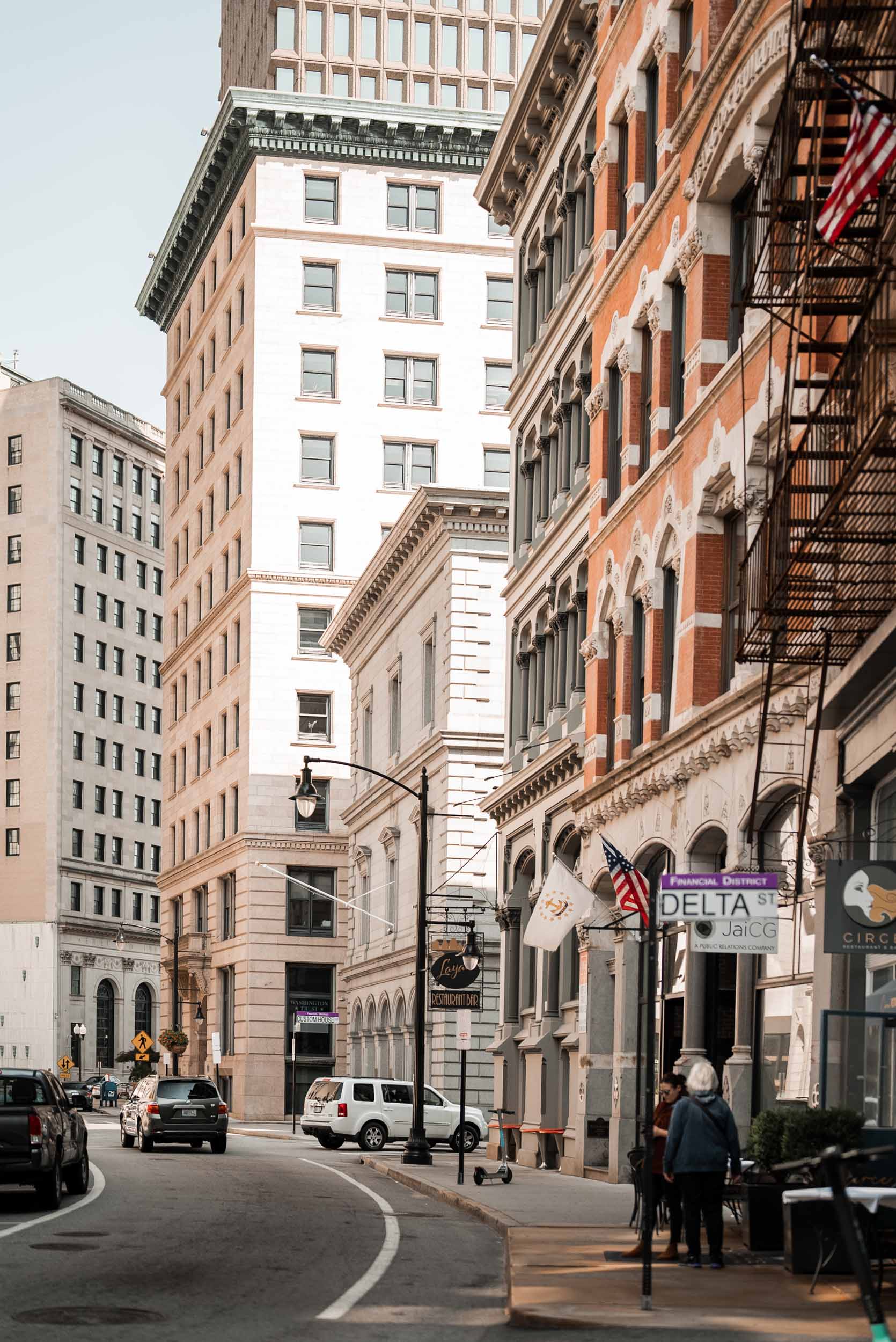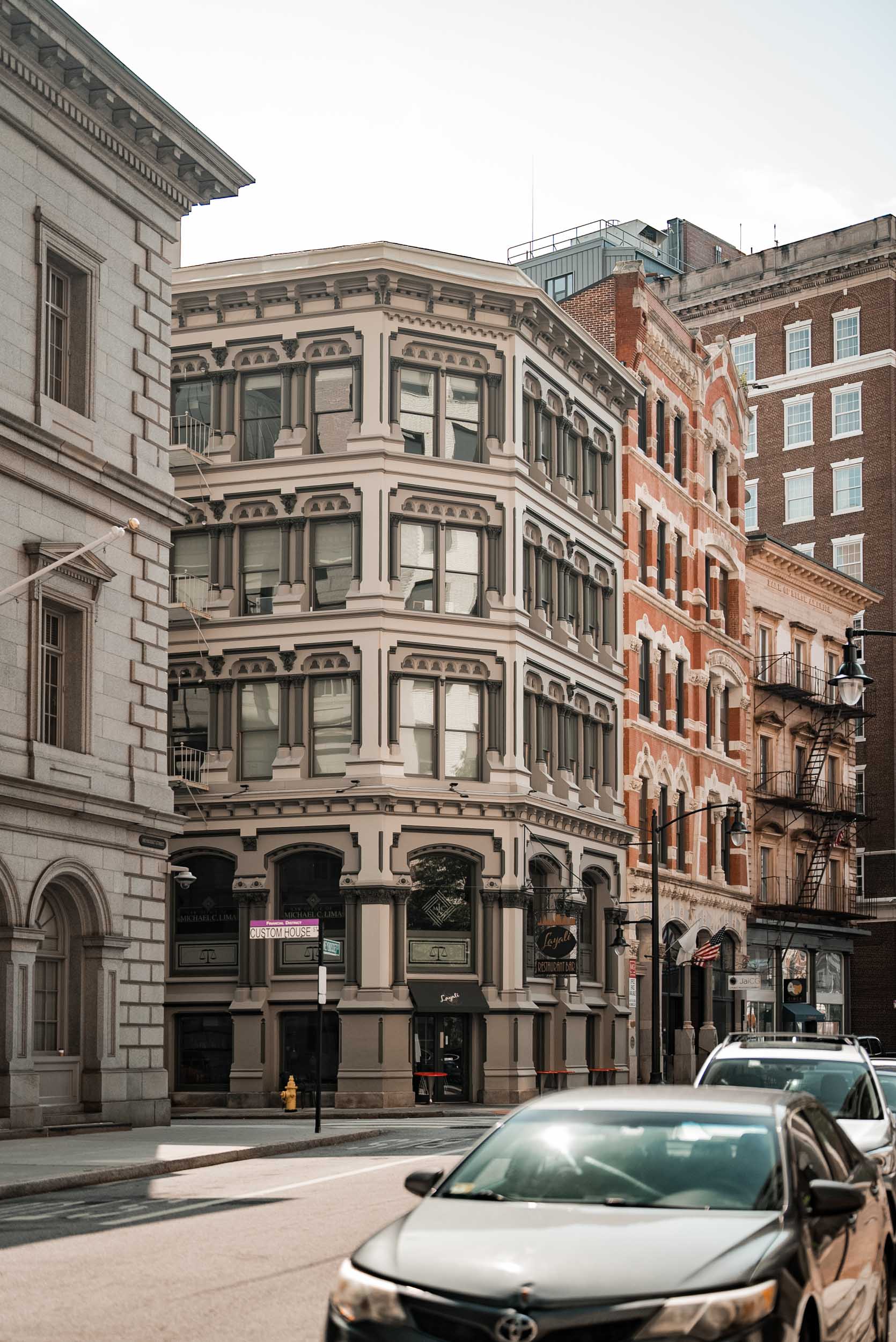 Right: Superman Building aka 
Industrial Trust Co. or Industrial National Bank building

, Rhode Island's iconic & tallest building, 26-story art decor style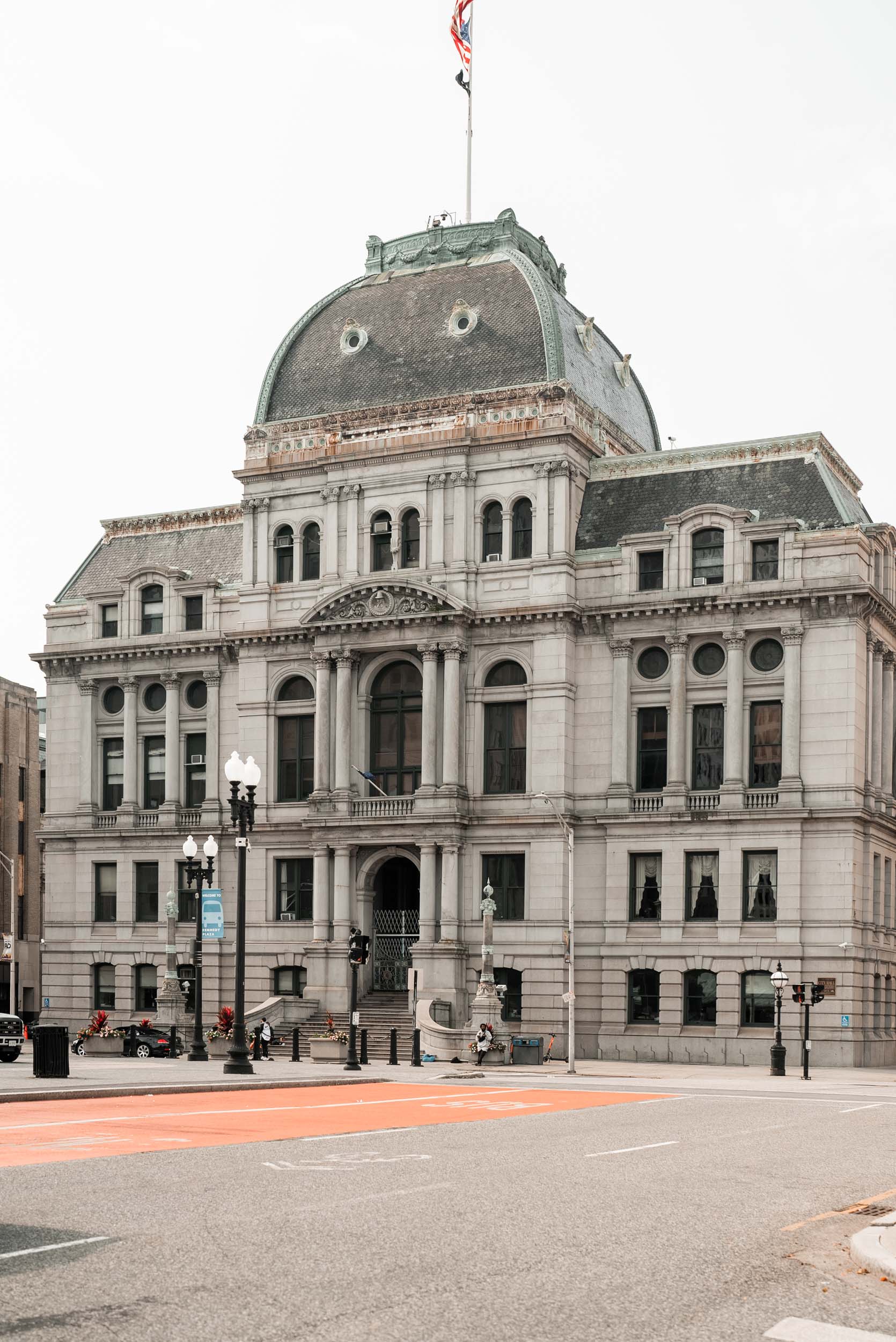 Left: the interior lobby of the Graduate Hotel. Right: Providence City Hall
9. Newport, RI
Our experience at Newport was really interesting, and I loved it so much more than Providence. Not that the city was boring or anything, it's just because there were a lot more things going on in Newport on that particular Sunday. There's Newport International Boat Show (September 15 -18, 2022), many Newport mansions to visit, ocean drive, and plenty of opportunities to be near the ocean.
In case you don't know, Newport mansions were summer 'cottages' for America's wealthiest families, built during the Gilded Age. I was debating between the Breakers versus Marble House and ended up at the Breakers since it's bigger and got more varieties of things to see. I'd give the Breakers tour a 6/10 – Tiktok video here. A staff member's favorite is Marble House, so that's definitely on my list to visit for next time.
4 HOURS IN NEWPORT – TIKTOK VIDEO
The Breakers – Ticket is $29/person! It is the grandest of Newport's summer 'cottages'. I like the little kid's room, the kitchen, and the view out to the ocean. Before you exit the building to the garden, there's a gift shop, and I bought a tiny copper pot and pan ornament as souvenirs from the gift shop.

Marble House – For $38, just $9 more, you can visit 2 mansions. We only had an hour before they were closed for the day (5 pm), so, unfortunately, we missed it this time. We were told, however, to keep the receipt as we might be able to get the deal the next time we go. I'm really curious to see the gold leaf room and the giant staircase. Anyway, both the Breakers and Marble House were designed by the same architect, named Hunt, so there might be some similarities. Check out the Elms, designed by Horace Trumbauer.

Ocean Drive – It's free, and there's no real physical starting point. You can start from downtown Newport, just look for the sign that says Ocean Path or drive along the mansion-lined Bellevue Avenue.
Newport International Boat Show
The Breakers – a visit to one of the iconic Newport mansions is a must!