If you're looking for a perfect day trip idea with friends or family, then let me suggest driving to Mt. Baker, stop by Picture Lake, explore Bagley Lakes, and hike the Artist Point trail. Trails in this area take little to no effort with meadows and stunning mountain scenery.
From Seattle, it takes about 3 hours to get to the Mt. Baker area, but I promise it will be worth the drive! And all three places can be done in one day!
Picture Lake (no hiking required. Park on the side of the one-way road, and walk to the lake with an incredible view of Mt. Shuksan.)
Bagley Lakes Trail (2.2 mi roundtrip, easy, kid-friendly)
Artist Point Trail (aka Artist Ridge Trail, 1.2 mi., roundtrip).
Chain Lakes Loop and Artist Point Trail share the same parking lot. Look for signs before starting your hike and bring layers since it can get chilly in the fall. Chain Lakes Loop is also a great option. It's a 6.5 mi loop, but you can turn back at any points if you run out of time. 
PRO TIPS:
Mt. Baker – Mt. Shuksan area has a short hiking season (August – October), so I highly recommend looking for a warning sign for road closure HERE or check WSDOT status.
Try to plan your visit in the summer or fall since days are longer. If you don't mind driving in the dark, definitely wait until sunset at one of the lakes up in Artist Point Ridge. The views there are unbeatable!
I don't hike in the winter, so I can't recommend specific snow activities. However, I do know that people snowshoe and ski in this area.
1. STOP AT PICTURE LAKE
This is the classic Mt. Shuksan picture spot, so you should not miss it if you're in the area!
The road around the lake is one way, so you can park anywhere on the side of the street and follow the trail to the lake. There are a few viewing platforms, and the road that leads there is wheel-chair accessible.
OUTFIT: windbreaker: COTOPAXI (exact color is sold out) | leggings: OUTDOOR VOICES | shoes: KEEN
2. HIKE BAGLEY LAKES TRAIL
Length: 2.0 miles, roundtrip. Gain: 150 ft. Highest Point: 4300 ft.
Bagley Lakes trail is a 2.2-mile easy loop trail. It's definitely family and kid-friendly. You'd need to look for Heather Meadow's parking lot.
From the little visitor center, you can opt to hike in any direction. I'd recommend taking a left turn first to the rocky viewing platform with the big Bagley Lake overlook.
After that, we did the trail clockwise from the visitor center following the sign for the Wild Goose trail. There were a few sets of stairs at the end, but that was not hard at all.
3. HIKE ARTIST POINT aka ARTIST RIDGE TRAIL
Length: 1.2 miles, roundtrip. Gain: 200 ft. Highest Point: 5150 ft.
This specific trail is known for getting tons of love and abuse. It gets very crowded during its short hiking season.
Lots of people go here for engagement and wedding photos because the hike is short and the view is grand. The last time I was here, I even saw a girl in her Quinceañera dress and a few girls in their high heels and fancy dresses. We waited near one of the lakes until sunset. It was cold but totally worth it. Mt. Shuksan and Mt. Baker were covered in clouds, but the sky did clear up at sunset
If you can make it up here, please be mindful of others, pack your trash out, and stay on the graveled trail.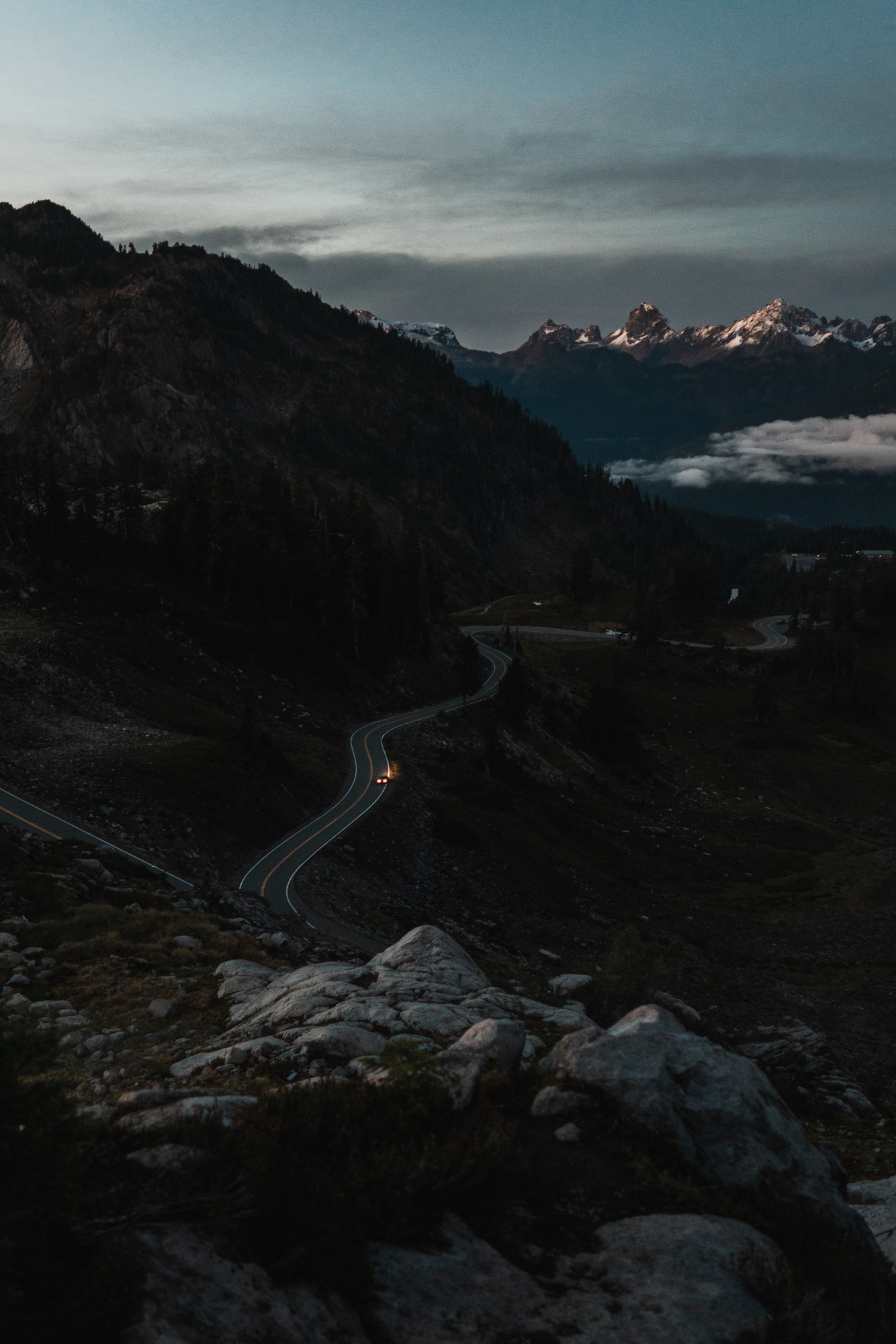 OUTFIT: long-sleeved shirt: HEMPX *gifted (use code 'AN' for 30% off) | leggings: OUTDOOR VOICES | shoes: KEEN | bra: GIRLFRIEND Float Lola 

 MORE DAY TRIP IDEAS IN WASHINGTON:
 Obstruction Point & Amazing Sunset at Hurricane Ridge – Hike Washington
 Top Things to Do in San Juan Island – Travel Washington
 Bain Bridge & Deception Pass – Travel Washington