Heather – Maple Pass Loop is a classic must-hike in the North Cascades area, Washington. I've hiked this trail twice, and both are in the fall.
Length: 7.2 mi., roundtrip
Elevation Gain: 2000 ft. Highest Point: 6650 ft.
Parking Pass/Entry Fee: Northwest Forest Pass
There was a lot of snow the first time I hiked this trail back on October 13, 2019. I didn't need to use microspikes but having some trekking poles helped a lot. The second time, I went with some friends at the end of October in 2020, and fall was at its peak. Most of the larch needles fell off, and I would say the larches' color wasn't wowing me as much compared to the first one. regardless, this trail still stays high on my favorite list, and I'd do it all over and over again.
On WTA, there is a constant debate in terms of which direction is best: clockwise or counterclockwise, and I do think it's up to your preference whether you want to get the elevation gain out of the way first (clockwise) or having the sudden drop in elevation on the way down later (counterclockwise).
I go counterclockwise both times, and I think it is the best way to do this trail. Again, it's because I have trekking poles, and they help a lot when going downhill.
2019 OUTFIT: spring leggings: OUTDOOR VOICES | bra top: GIRLFRIEND COLLECTIVE | heat-tech: UNIQLO (gifted) | mega-fleece half-zip sweater (last year style): OUTDOOR VOICES (new style this year) | bag: PATAGONIA | trekking poles: borrowed, not sure the brand |socks: SMART WOOL | boots: KEEN | hat: PATAGONIA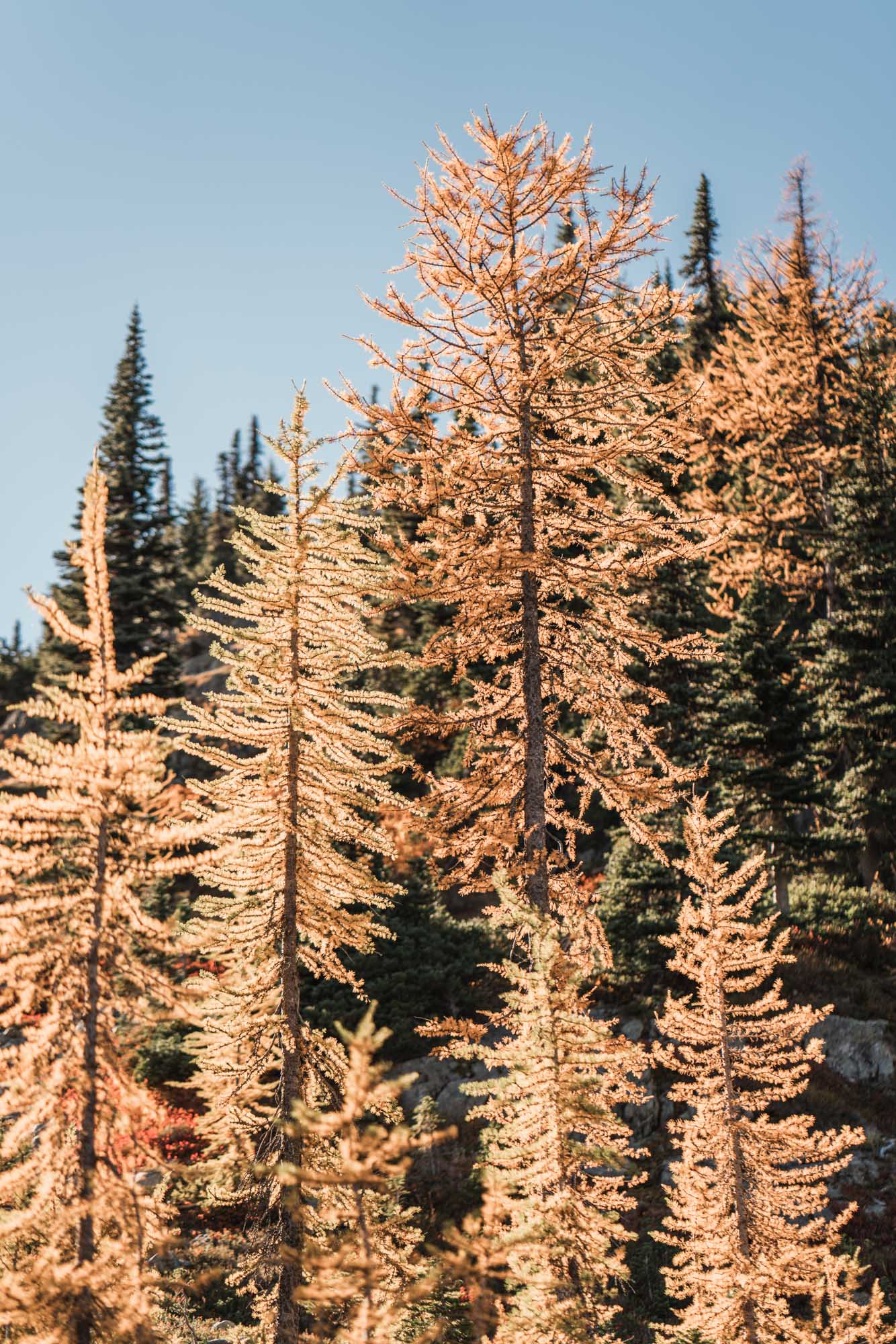 2020 OUTFIT: bra: GIRLFRIEND | leggings: LULU LEMON | trekking poles: LEKI | boots: KEEN
WANT MORE FALL HIKE RECOMMENDATIONS? CHECK OUT:
INGALLS LAKE
PANORAMA POINT, PARADISE, MT. RAINIER