Welcome back to a full beauty brand review. I always love to do a full brand review blog post where I break down the main ingredients and share with you what's worth it to buy. Similar to my Krave Beauty brand review, I will give each product a rating on a 5-star based on its performance, price point, and whether I will repurchase it or not.
Note that I have a medium skin tone. It's dry and can get quite oily at the end of the day but overall normal.
Disclaimer: All products featured in this review were gifted to me in exchange for social media posts. This blog post is not sponsored and contains affiliate links.
VIEW MY MERIT REVIEW GOOGLE WEB STORIES HERE
about MERIT
MERIT is a clean minimalist beauty brand, founded by Katherine Power, co-founder of Who What Wear, Versed, and Avaline.
MERIT products are created with body, skin, and planet in mind. They're clean, comfortable, non-messy, long lasting. They're are everything to make us look like ourselves, but better. So overall, MERIT's positioning themselves as a less-is-more brand with a promise of a 5-minute-and-done makeup routine.


| | | |
| --- | --- | --- |
| BODY | SKIN | PLANET |
| EU-Compliant (free of 1328 common toxins) | Artificial fragrance-free | Cruelty free |
| Paraben-free | Sensitive skin safe | Vegan |
| Sulfate-free | | Recyclable packaging |
Every first order comes with Merit's signature makeup pouch bag. It's lined and reusable.
Foundation and Concealer
1. The Minimalist
PERFECTING COMPLEXION STICK – $38
Coverage: medium
Finish: natural
Shades I have: Bisque, Suede, Siena
Bisque – medium with neutral undertones: center of my face: under-eyes, around nose, mouth, and center of the forehead. I also use it to clean the brows.
Suede – medium tan with peach undertones: the rim of the face
Siena – deep tan with peach undertones: contours of the face, cheekbones, sides of the nose, chin lines, temples, and forehead.
Review: I am obsessed with this 3-in-1 stick, foundation, concealer, and contouring. It's creamy, lightweight, and has the most amazing coverage while giving such a natural finish to the skin. I reach for these almost every day and always pack them along all of my travels because they're compact and so convenient. 
One complaint is that one of the sticks has already broken off, so don't twist the product up so high knowing that a little bit also goes a long way. Lastly, make sure to well-moisturized your skin before applying any makeup, and don't forget the sunscreen!
Will I repurchase? Absolutely, yes!
Rating: 4.5/5
BUY FROM SEPHORA – BUY FROM MERIT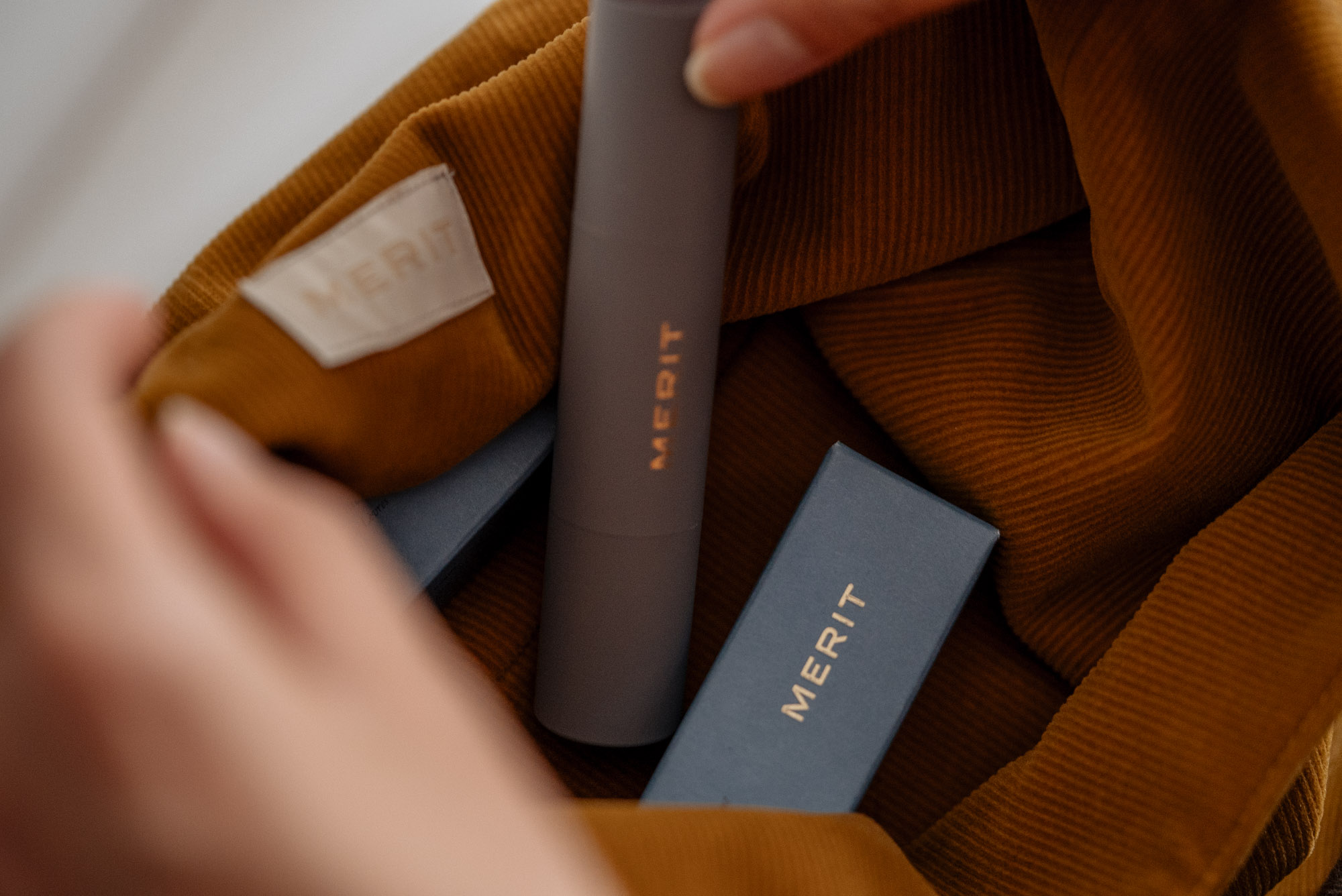 Lip Oil
2. Shade
S
lick
TINTED LIP OIL – $24
Type: lip gloss, balm & treatment, stain
Benefits:
 h
ydrating, long-wearing
Shade I have: Taupe – neutral brown
Review: This Shade Slick is the most unique moisturizing lip product I've tried to date. It glides on my lips and immediately seals in cracks and dry areas on my lips. Taupe's brown is so subtle and adds just enough pigment to the 90s makeup look I'm after these days. It stays on my lips for a decent amount of time, and re-applying is also easy. It feels comfortable, light, and so hydrating.
Will I repurchase? Yes!
Rating: 4.2/5

Blush
3. Flush Balm
CREAM BLUSH – $28
Coverage:

 

Light



Finish:

 

Radiant
Shade I have: Beverly Hills – soft peach
Review: I love that this blush comes in such a cute unique stick shape and packaging, and I don't have anything like this in my collection. It glides on my skin effortlessly, and minimal blending is required. The packaging is lightweight and compact, so I can just throw it in my bag whenever as well. It's moisturizing and easy to blend with fingers, not a brush because I feel like the bristles do move the cream blush around. I have to go back. As described, it's a light blush and supposed to "deposit a creamy and transparent veil of color" that lets the skin show through. I love a radiant blush, but I feel like that is more like a highlighter's job. Personally, with my skin tone and what I think looks good on me, I would prefer a blush that deposits more pigment or more coverage than "light."
Will I repurchase? No
Rating: 3.5/5
SHOP FROM SEPHORA – SHOP FROM MERIT

Blush
4. Day Glow
HIGHLIGHTING BALM – $30
Coverage:

 

Light
Finish: Radiant
Shade I have: Cava – champagne
Review: I love highlighters like this! Day Glow comes in a stick, and it glides and feels like it melts onto my skin. It's got sheer coverage, light, and moisturizing. 
The name Day Glow means it's meant to be used in the day, and I love that MERIT clearly states that everywhere. The closest to this type of highlighter that I have is the RMS's Living Luminizer, and I feel like they might be the perfect dupes for each other. The Living Luminizer comes in a pot, and Day Glow is a stick. 
Will I repurchase? Yes
Rating: 4.4/5
BUY FROM SEPHORA – BUY FROM MERIT

Brush
5. Brush No. 1
TAPERED BLENDING BRUSH – $30
Brush Handle Length: 3.5 inches
Bristle Type: synthetic
Review: I have been looking for a brush like this for years, and I've finally found it. It's the brush that will stay in my bag every day because of its minimal design and compact shape. It blends cream products like a dream. It's dense enough to pick up powder and pack on products if I want to. It's the brush that would replace all of the brush in an emergency situation. It's the brush that I cannot live without!
Will I repurchase? Yes!!!
Rating: 4.8/5
BUY FROM SEPHORA – BUY FROM MERIT

[et_pb_wc_images _builder_version="4.8.2″ _module_preset="default"][/et_pb_wc_images]
Brow
6. Brow 1980
VOLUMIZING EYEBROW POMADE GEL – $24
Type: tinted brow gel
Shade I have: Black Brown – dark brown/black with warm undertones
A tinted gel designed to give you your most face-framing brows yet, shaping, grooming, and adding hold for a fuller, more natural look.
Highlighted Ingredients:
– Nourishing Vitamin B5: Adds flexibility and encourages fuller-looking brows.
– Kaolin Clay and Mineral Pigments: Build natural-looking color.
Review: I love tinted brow gel on sparse areas of my brows only after I fill my brows in already. Brow 1980 provides my straight Asian brow hair decent hold, and I love that it's got some color payoff. It's a great product that does the job, but I'd need another product in order to be happy with how my brows look.
Will I repurchase? Maybe!
Rating: 4/5
BUY FROM SEPHORA – BUY FROM MERIT

Mascara
7. Clean Lash
LENGTHENING MASCARA – $26
Type: lengthening tubing mascara
Review: Normally, I would prefer a volumizing and lengthening mascara, something that does both because my lashes point straight down. A mascara with a lengthening formula usually does not do much for me. I need a volumizing mascara that holds my lashes curled all day, and so far the Lancome one is the best. In terms of lengthening capability, Clean Lash's tubing formula kinda reminds me of Em cosmetic's tubing mascara or Glossier Lash Slick. I like how easy it is to remove tubing mascaras as they just come off with warm water. However, they do tend to weigh down my lashes.
With that said, I think Clean Lash is still a great mascara to try if you've already got volume but need length. It's clean and does not budge or smudge. It's for sure one of the best lengthening mascaras that I've used. 
Will I repurchase? No
Rating: 3.8/5
BUY FROM SEPHORA – BUY FROM MERIT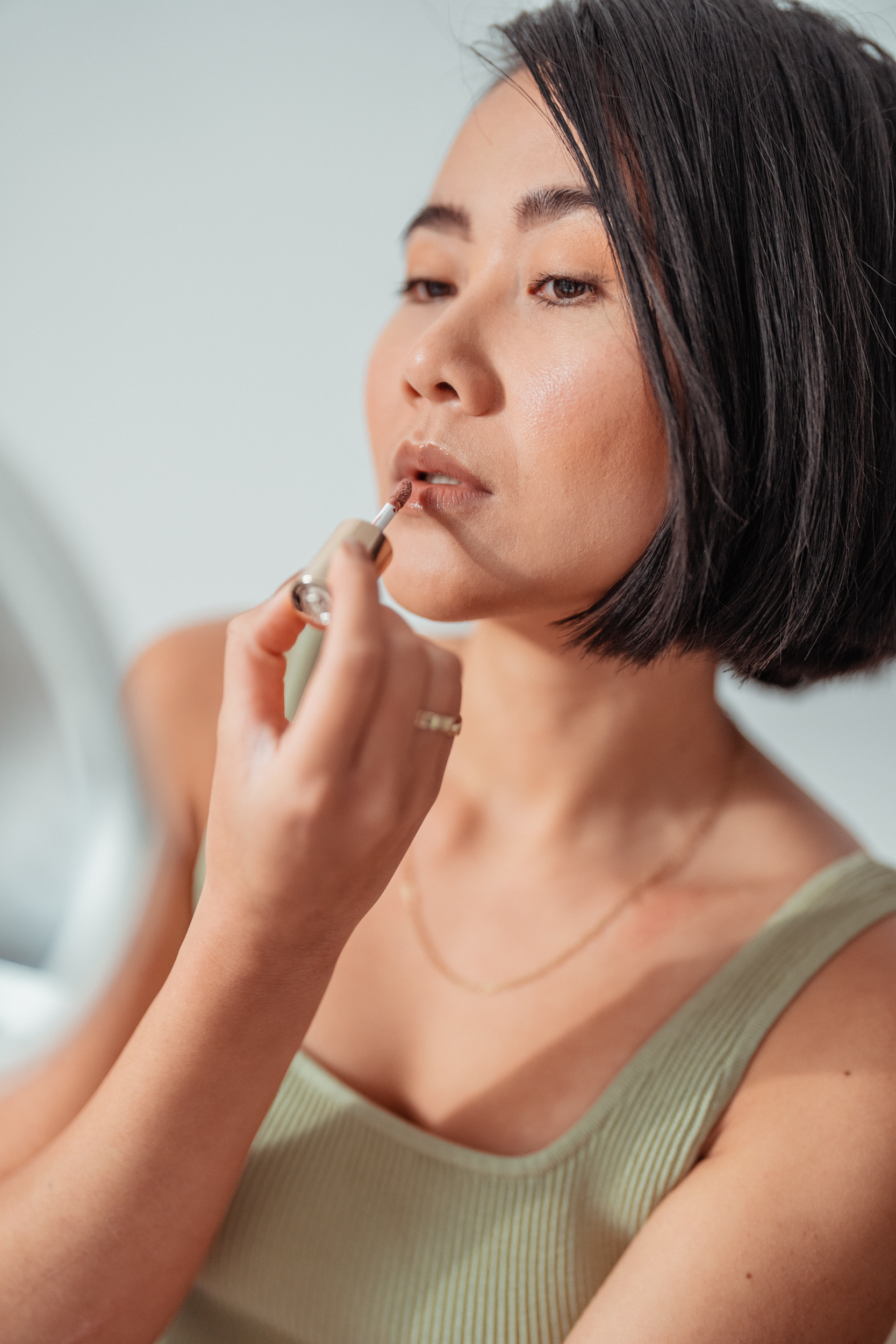 Conclusion
As you can tell from this very positive review, I am a big fan of MERIT. My favorite thing about this line is the no-mess aspect (most products are cream in a stick or tube form), and it's so convenient. Formulas are just right which makes it even more appealing to even makeup beginners. 
My top 3 products from the total of 7 product line are the Minimalist stick, the Lip Oil, and the Highlighter stick. What would you like to try from MERIT? Would you shop the entire line?
SHOP ALL MERIT PRODUCTS:

READ MORE:
WHAT'S IN MY TRAVEL MAKEUP BAG