In this post, you'll get a breakdown of key ingredients and my honest opinions about each and every product that Krave has up to date. Yes, everything! I'll give each product a star rating on a 5-star Yelp scale on its effectiveness, price point & whether I will repurchase it or not. Please note that I have dry skin, it gets quite oily at the end of the day but overall normal.
about Krave Beauty
Krave Beaty was created by Liah Yoo, a Youtuber who is pretty well-known in the Asian skincare/beauty influencer space. She introduces the 'press reset' concept by advocating customers to really minimize skincare products and listen to what the skin 'craves.'
Krave Beauty currently has two main product categories, the Core (3 products) and Supplement (2 products), and a total of 5 products since their launch in 2017.
Disclaimer: This blog post is NOT sponsored. I bought all the products in April and October of 2019 with my own money. All opinions are mine and true to my own skin needs and conditions.
CORE SERIES: CLEANSE, MOISTURIZER, & PROTECT (SPF)
1. Matcha Hemp Hydrating Cleanser
WHAT: Anti-oxidant-rich soothing and moisturizing gel cleanser. $16 120 ml/4.05 fl. oz
HOW TO USE: Gently massage on wet face and neck and rinse off with lukewarm water. I use it at night as a second cleanser after my makeup removal step or days when I don't have much makeup on.
KEY INGREDIENTS: Matcha, Hemp seed oil, Coco -betaine, Coco-glucoside, Decyl glucoside, Vitamin B5 & Sodium PCA. Ingredient list: here.
REVIEW: This hemp matcha cleanser is one of my most favorite cleansers used to date, and I've already bought a backup! It has an odd scent, light brown color, but all that does not bother me at all. I've applied it dry, directly on my face with makeup, and wet, and both ways work fine! I love that it foams up lightly and works so well at breaking down all of the makeup including my mascara. I don't use waterproof mascara, but there is nothing a few drops of Bioderma soaked in a soft cotton pad cannot do! It's moisturizing and does not leave my face feeling stripped like many gel/water-based cleansers I've used! I leave it in the shower and use it as the main cleanser on days that I don't wear a lot of makeup or a second cleanser after an oil/balmy cleansing step. For $16, it's a great buy, and I've got to say it's my most favorite product out of the entire line!
RATING: 4.5/5 – REPURCHASE? Yes!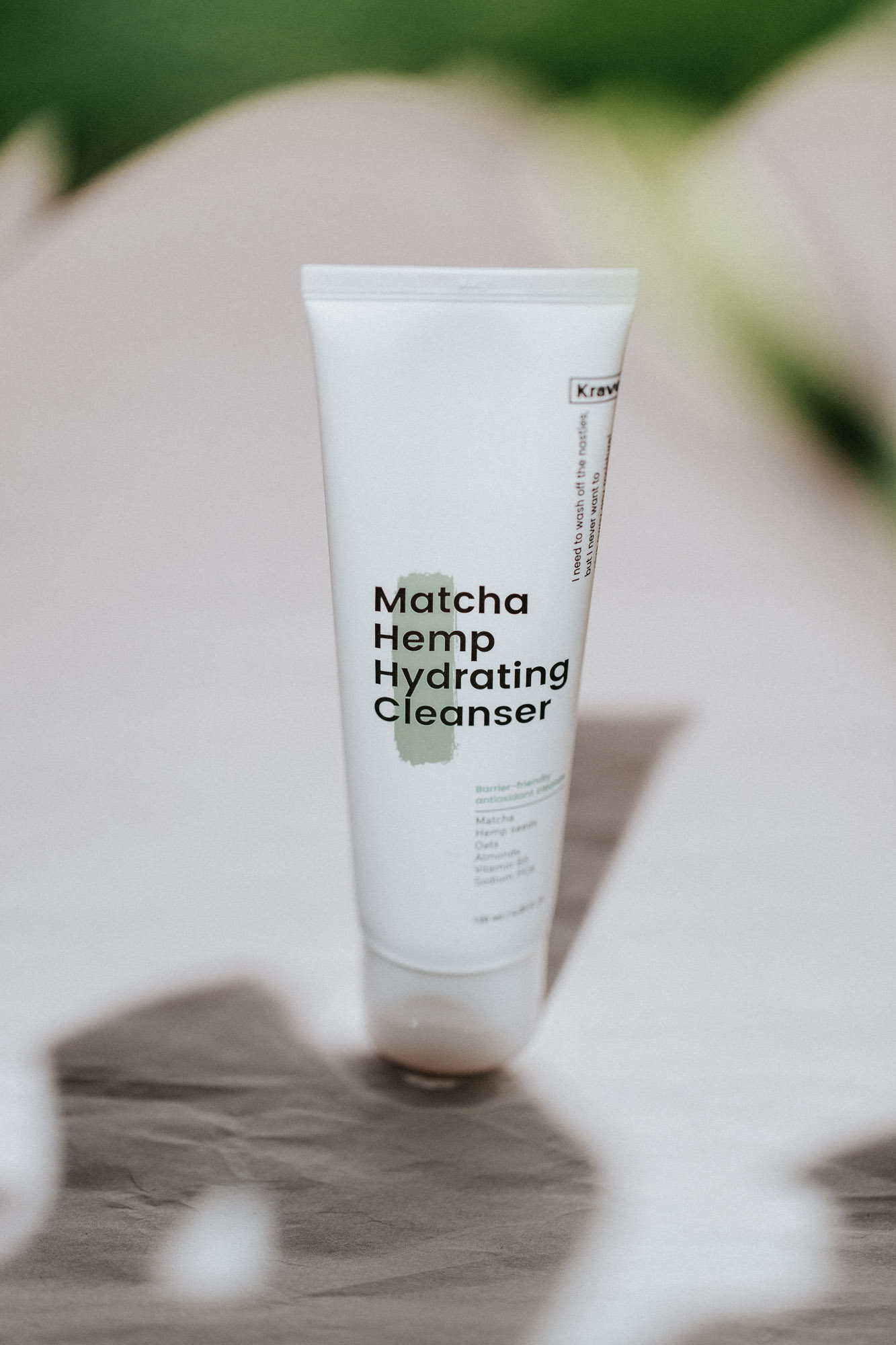 2. Oat So Simple Water Cream
WHAT: #NoFrillsJustOats water cream moisturizer – $28 – 80 ml/2.7 fl. oz.
HOW TO USE: Per instruction from the brand, you can it as is or it can be mixed with other oils, retinol, AHA, vitamin C powder, serums, etc. I personally use it in conjunction with this Hyaluronic acid to help to add extra moisturization because my skin is very dry. List of ingredients: here.
KEY INGREDIENTS: Oats & other 9 ingredients. Very simple, read more, here.
MY REVIEW: Let me start by saying how excited I was when seeing Krave release a moisturizer! Sadly, for someone who has dry skin like me, it gets a 3 out of 5-star rating.
With this moisturizer, I'd notice the instant tightness even when used as day cream after a thick layer of application. Don't get me wrong! This moisturizer has such a beautiful white creamy bouncy texture that applies and absorbs so nicely on the skin. I love that it has a subtle oat scent and a cooling sensation when applying the cream. My face feels so smooth, soft, touchable but so uncomfortably tight, especially on the lower parts of my cheeks and around my mouth.
For nighttime, I've kept my skincare routine the same since I really want to give this moisturizer a fair try. I've tried to use it on top of my oils, essences, and even Krave's Great Barrier Relief to see if there's an improvement, but I still wake up with dry patches on my lower cheeks. Finally, I had decided to purchase this Hyaluronic from the Ordinary in hope that it will add the moisture that this Oat So Simple moisturizer need, and it did! I've been using the two together since, but I find that I don't reach for it often compared to my other holy-grail moisturizers which are this one from Drunk Elephant and Olehendriksen.
>Personally, regardless of all of the hype because the brand is very well-loved, for Krave to release this #NoFrillsJustOats moisturizer on October 15th, 2019, I think it's quite bad timing when winter was about to start. For a simple moisturizer, it needs to at least do its job at moisturizing the skin, and it should not need any supplemental products for it to perform its basic function. And if you read the reviews on Krave's website, here, you'll see reviews are NOT displayed in chronological order, 5-star reviews are displayed first and 3 or lower-star reviews come after clicking on the next pages of reviews. This really makes me question why such a brand would do that. Isn't Krave supposed to be one of the most transparent skincare brands that it advertises itself to be?
RATING: 3/5 – REPURCHASE? No
3. The Beet Shield
WHAT: Chemical sunscreen (Even though it's labeled as 'Antioxidant Day Fluid,' this US' version has the same formula yet is qualified as sunscreen in Korea, and it's called the 'Beet The Sun SPF 50+ PA++++'.) – $20 – 50 ml
HOW TO USE: Daytime only after skincare and before makeup, and apply a generous amount EVENLY on the face, neck, and chest. Same as all other sunscreens, make sure to apply at least 15 minutes before sun exposure and reapply as needed.
KEY INGREDIENTS: Beetroot extract, Allantoin, Antioxidants: Vitamin C, Resveratrol, EGCG
REVIEW: For sunscreen, it is tricky since there is no way to tell that sunscreen does its great job of protecting our skin. I wish there's a home device that inspects areas where we need to put more sunscreen or apply more of it in certain areas. The Beet Shield is a chemical sunscreen, so it might not be for everyone depending on your preference! But to me, it does not matter if it's physical or chemical. I think as long as it does not irritate or sit too heavily on my skin, wearing some sunscreen is still better than wearing none!
The main reason that sunscreen does not work is mostly human error. I myself get lazy and don't use something 'generously' because I'm afraid my products run out too fast. For sunscreen, you've gotta make sure you apply it EVENLY using a SPECIFIC amount because sun damage will happen in any exposed areas that aren't covered with sunscreen, including the neck, back, and chest: areas that seem to be forgotten when it comes to sunscreen.
In terms of the formula, I love how lightweight, easy to blend and fast absorbent it is. It has a light green color which gives me a clean, fresh, and good feeling when applying it. Again, I feel like I don't use this generously enough. Although I should have, I don't want to. Even though it's hydrating and gives my skin such a gorgeous healthy glow, I soon notice that oil would seep through my face uncontrollably, especially at the end of the day when I forget to prime my face. I've worn it on days when I wear no makeup and with makeup keeping everything else the same, and my forehead still gets super oily. Yes, I know my skin is quite dry, but my forehead and eyelids get very oily which can be tricky at times.
Yes, I like the dewiness and sheen that it gives, but only in controlled areas where I want the shine like high points on my cheekbones, not my forehead and eyelids. And for sunscreen, I cannot just skip any areas, you feel? I have not tested the flash camera test, but I can assure you there's no white cast since this formulation looks and feels very much like skincare, not typical heavy white casting sunscreens out there.
RATING: I give it a 3.5 because there are better products out there that serve my specific skin needs mentioned above. | Learn more about sunscreen, watch here & here. REPURCHASES? No. Just because I currently have quite a few sunscreens to be used up, and this only works on my current dry winter skin. This mineral sunscreen is my summer sunscreen, it's mattifying and very well-loved last summer of 2019!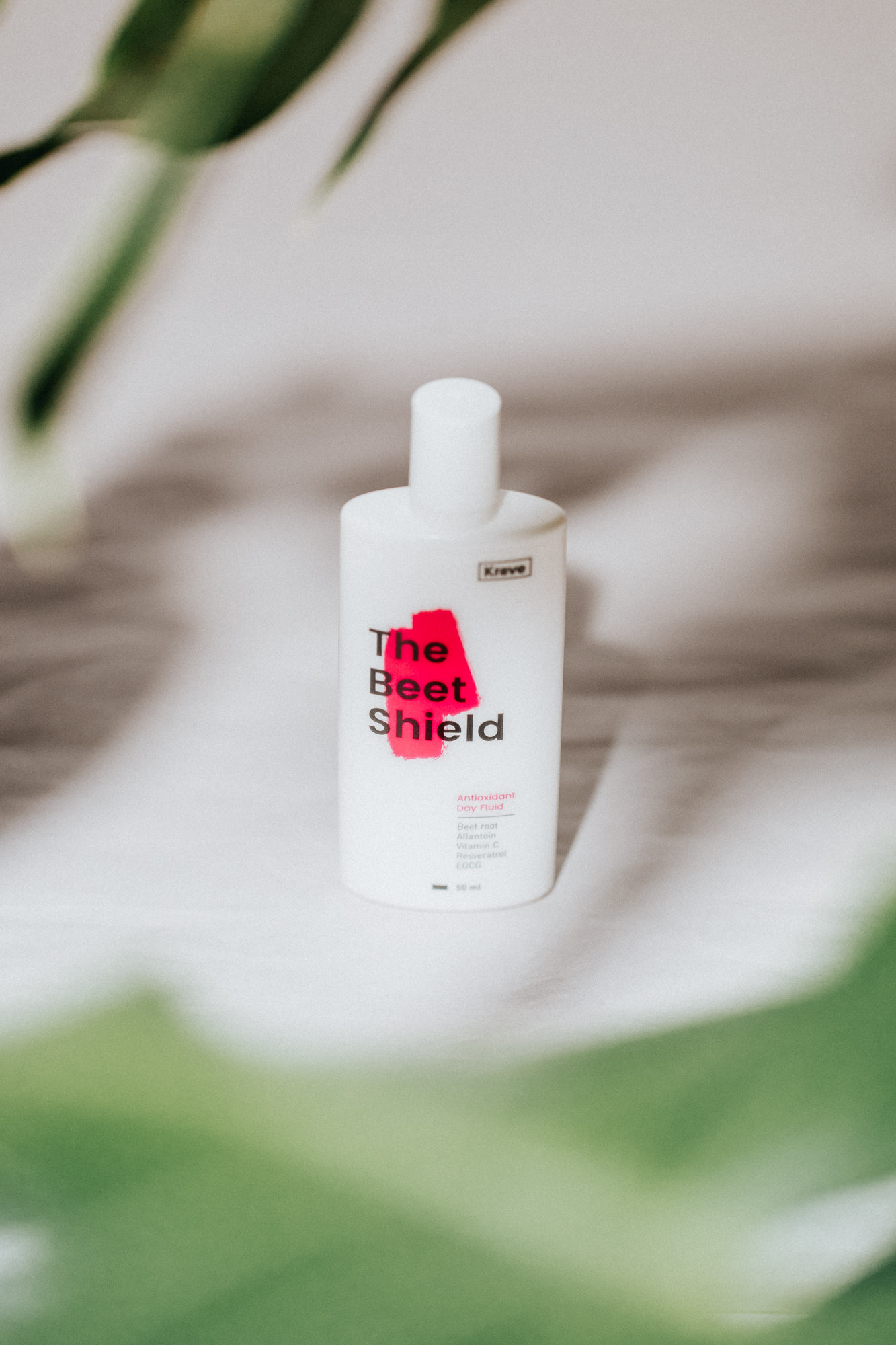 SUPPLEMENT SERIES
4. Great Barrier Relief
WHAT: Soothing serum for irritated skin (helps with sunspots, acne scars, & discoloration) – $28 – 40 ml/1.35 fl. oz.
HOW TO USE: Serum, used before moisturizer or any time in between any skincare steps.
KEY INGREDIENTS: Tamanu Oil, Safflower Oil & Rosehip Seed Oil, NMF + Ceramides, Phytosterol*, Squalane, Niacinamide. Read more, here.
MY REVIEW: Summer of last year, I often reached for this serum whenever my skin felt extra dry or after hours of sun exposure. Generally, it does a great job as a substitute for my other facial oils that I have and works beautifully with other skincare products in my routine both day and night. Honestly, my skin has always been quite good to me, and I don't ever feel the need to find products that 'restore' the healthy state of my skin but rather products that target specific needs. And not, it is premature aging signs such as wrinkles and dark spots. To me, that's when I seek out serums with specific ingredients that target specific current or future skin needs for me!
So this Great Barrier Relief is just an ok product for me!
It's a thick serum that melts into the skin like a lotion, but a bit stickier and oilier. As mentioned in Liah's video, it's an oil-in-water emulsion aka 'oil in water cushion,' hence the slightly sticky but not heavy consistency. Liah mentioned in her video that Great Barrier Relief is a great addition to have in the skincare cabinet at all times, but do I think it's an absolute must product to have? No! I currently have a plethora of different facial oil products or straight-up oils that are cheaper and are great to add to my skincare routine. If I had to choose, I'd rather reach for oils instead, like this affordable cold-pressed rosehip one and this squalane one from The Ordinary.
RATING: 4/5 – REPURCHASES? Maybe. This seems like a nice product to add on before moisturizer, but I could easily reapply my moisturizer if I need extra hydration. I like the scent, so maybe I will pick it up again if I need to add something in order to get free shipping. This will be that kind of product!
5. Kale-Lalu-yAHA
WHAT: Resurfacing chemical exfoliator – $25 – 200 ml 6.76 fl. oz.
HOW TO USE: I use it at least once a week on days that my skin peels or feels congested. And I use it with a soft cotton pad (that I get for such a great price from Daiso) after the cleansing and before the toner or essence step.
KEY INGREDIENTS: Glycolic Acid (Sugar cane derived) 5.25%, Dark, leafy greens (kale, spinach, parsley), Aloe + Hyaluronic acid + Vitamin B5, Allantoin. Read more, here.
MY REVIEW: I find that having Kale-Lalu-yAHA around is extremely useful. It is such an effective product to any skin type, really. For anyone who wears makeup and constantly struggles with taking off everything at night, this product is gentle yet amazing at helping to clear up the skin from leftover makeup grime and dead layers of skin cells. Even on days when I only have moisturizer and sunscreen on, a few gentle wipes of Kale-Lalu-yAHA will take care of making sure my skin is clear and my pores are unclogged. It's not a makeup remover, and I usually skip using toner when I use it. I'd say it's more like a hybrid between Thayers witch hazel toner and Bioderma micellar water.
I sometimes get a slight tingling sensation, but it's a sign of the product really working. Not stripping or irritating. It's such a great gentle yet effective chemical exfoliator to have, and I highly recommend y'all to give it a try! For the price, $25, and how long I've had it since last April until now, it's definitely worth it because I'm barely half-way in the bottle. Again, I use it once or twice a week (NOT every day!) and would soak 2/3 of a cotton pad, and that's enough to slough off the dead skin on my face and neck. I don't often give anything a 5-star review, but 4.8 is nearly a perfect score, well worth the price, and a yes on repurchasing!
RATING: 4.8 – REPURCHASE: Yes!!! But it won't be a while since a little goes such a long way!
CONCLUSION
That's all from Krave Beauty! In short, I do think that Krave Beauty is a good basic skincare brand, and I do love the message, branding, and what the brand is doing in terms of educating customers on ingredients and its ethos in keeping skincare minimal.
The product range is not bad for a new brand like Krave, and some products seriously need some more work or reformulation. Please do your own research yet don't be afraid to try new skincare products in order to find what works for you and your skin needs. I've found the majority of the time, products that I hear people rave so much on the internet can just be sub-par on my skin. I'd buy once to try but rarely do I find it's a must-have that I'd repurchase. And 2/5 products from Krave I've said I'd repurchase, and that is huge considering how small and new Krave Beauty is.
Take care and have a productive day!
SHOP KRAVE BEAUTY ON AMAZON: