It's common knowledge now (I hope) that the makeup removing step is an absolute must before you start your skin care regimen. It does not have to be long or complicated, and as long as you ensure your skin is clean, a moisturizer is good enough for your skin before bed.
Over the years, I've tried a plethora of makeup-removing products, from wipes, creams, balms, oils, and sometimes straight-up soap. And I've got to say, I have a pretty good line-up of makeup removers in today's blog post to share with you.
Please note that I have normal-dry skin, and it can get super itchy on cold days or irritated when I'm outside under the sun for too long.
Disclaimer: This blog post is not sponsored. Some links are affiliate links, and that means, I will make a small commission if you purchase from my links. Some products marked with (*) are PR products or products sent from the previous collab or gifted by brands. As always, all opinions are my own.
Bioderma Micellar Water makeup remover has been a must-have for me for years and years. I usually like to buy the twin pack and make sure I always have a bottle or two around. The big one lasts so long, and I love that they come in a small version that is super cute and travel-friendly. Note that the cap on the small Bioderma bottle is NOT removable. So you might as well just buy a big bottle and pour some into one of those reusable travel-friendly bottles that you have around.
There are fatty acid esters aka the constituent elements of micelles which are similar to the phospholipid bilayer of your skin. I'd like to call it 'magic water' because the main ingredient is water plus some magic stuff in it. It's gentle and so effective at removing dirt, grime, and even the most full-coverage long-lasting makeup including waterproof mascara. All you need is to pick up some cotton pads or reusable cloths, or what I like is the small round cloth that is made specifically for the face (linked below).
For cotton pads, I like the ones from Daiso as they're so soft and do not fall apart when they come in contact with water. If you don't live near a Daiso store, get these cotton pads from Shiseido as they're pretty well-known and loved by skincare many skincare lovers. If you're into a more eco-conscious route, I'd recommend these reusable bamboo round cloths. Make sure to be gentle when wiping across your face with these. Make sure to wash them right after any makeup removing step with any soap you have around, and hand soap is fine!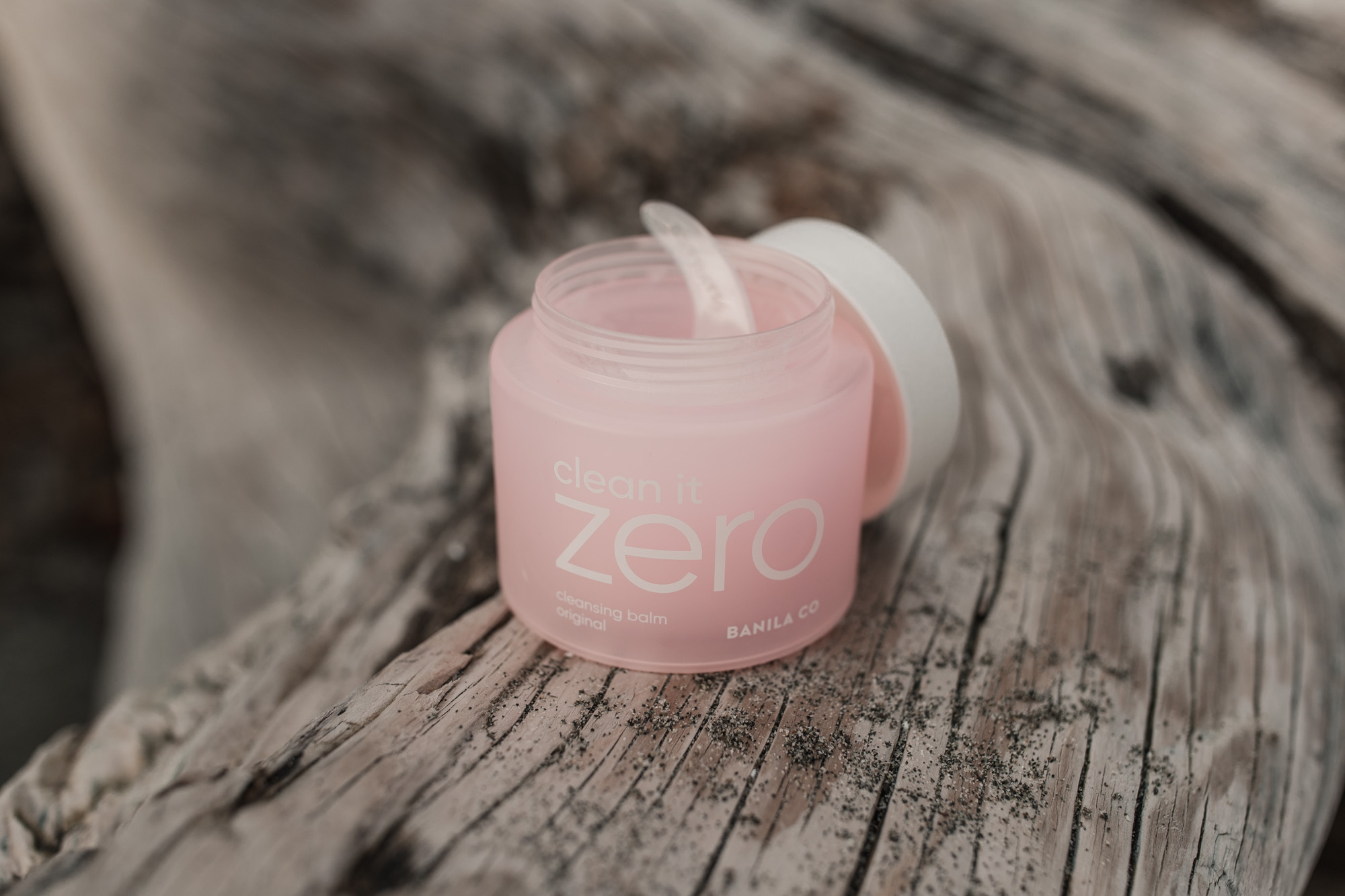 If you haven't heard of double cleansing, then definitely watch my skincare routine video where I feature a similar cleansing product, HERE, and how I double cleanse prior to starting my skincare routine at night.
Clean It Zero is a makeup removing balm, formulated with Active botanicals, Hot Springs Water, Vitamin E, and Vitamin C. There are no parabens, sulfates, phthalates, mineral oil, alcohol, or artificial coloring, and it's scentless and safe around the eye area. It has a sherbet balmy texture that quickly turns into a moisturizing oil when applied to the skin. 
I actually have the super-size jar and feel like it would take me years to finish it, and that's the reason why I call it my daily balm. But it really is a great and effective balm. 
Best tips: A scoop really goes a long way! I always make sure to warm the product up with the palms of my hands first then massage it around my eye area and then all over my face. It's best to wait for the product to really seep into the skin before washing it off with warm water. After that, I always follow up with a water-based or a gel cleanser, preferably in the shower, and lightly pat my skin dry. Then I'm ready for toner and an actual skincare routine.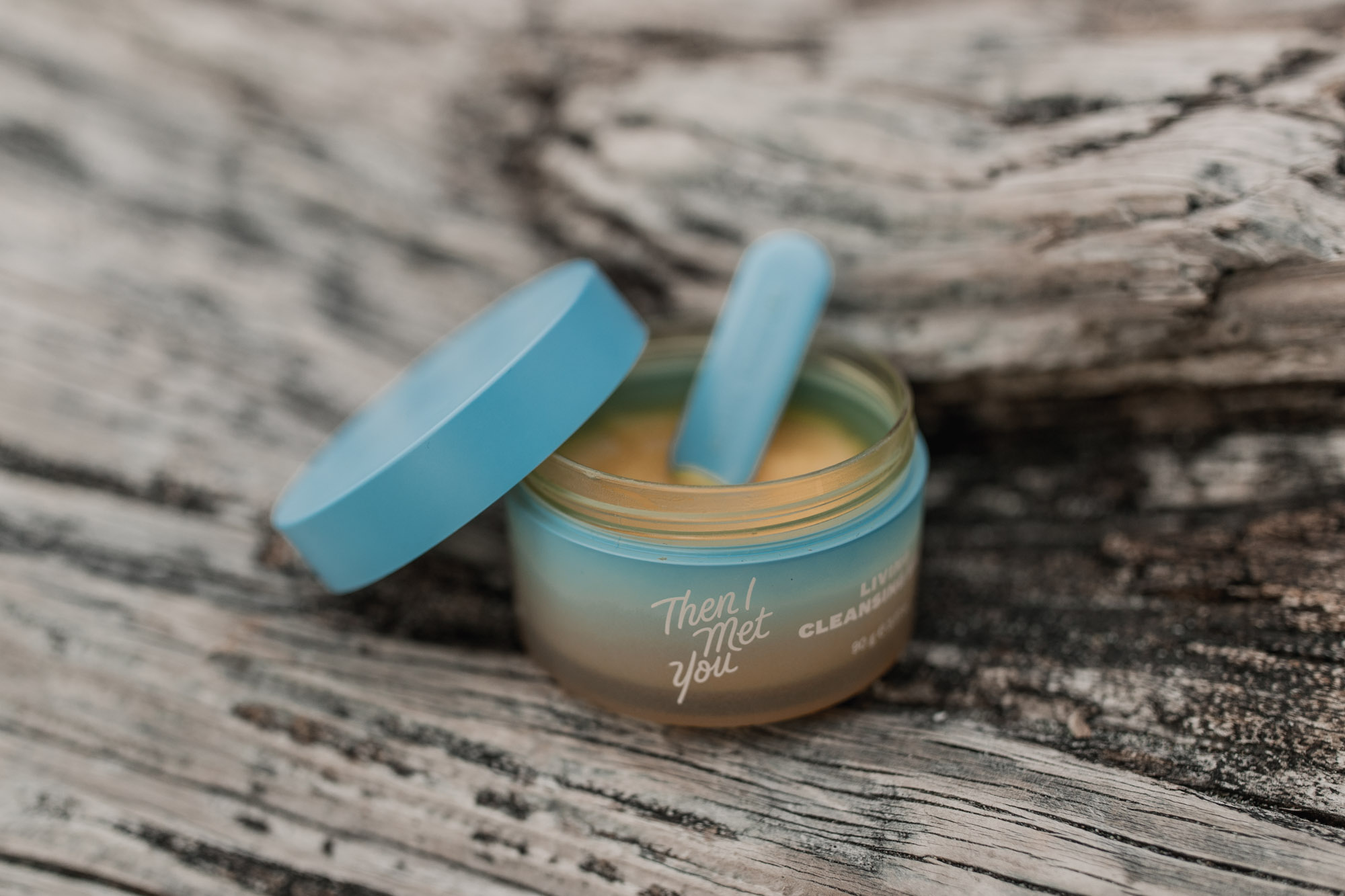 For $38, this Living Cleansing Balm might not be the most luxurious option out there in terms of price, but it is in terms of scent and texture. It is a 12x award-winning cleansing balm created by the founder of Soko Glam, an online retailer that sells Korean skin care products in the US.
It smells like a warm peach/persimmon. The texture is so soft, creamy, sorbet-like but not oily. The bright yellow color comes from the sea buckthorn oil, and it's an ingredient that is rich in antioxidants and fatty acids. It also has anti-aging and brightening benefits from the persimmon extract, nourishing olive oil, and vitamin E. It's free of polyethylene, mineral oil, alcohol, silicone, parabens, artificial coloring, and synthetic fragrance.
Again, this is a balm and pretty similar to the Clean It Zero balm featured above, however, this is almost twice more expensive. But to be honest with you, I will repurchase once I run out both of these balms because they're both that good. I just feel like I'd rather rely on great products that do most of the work for me already. I don't like to rub or tug too hard on my skin, and these balms do exactly that! It's hard to pick a favorite, and I like my options! So with this Living Cleansing Balm, think of it as a treat to your skin once in a while. It also makes a great gift to your fellow makeup and skincare lover!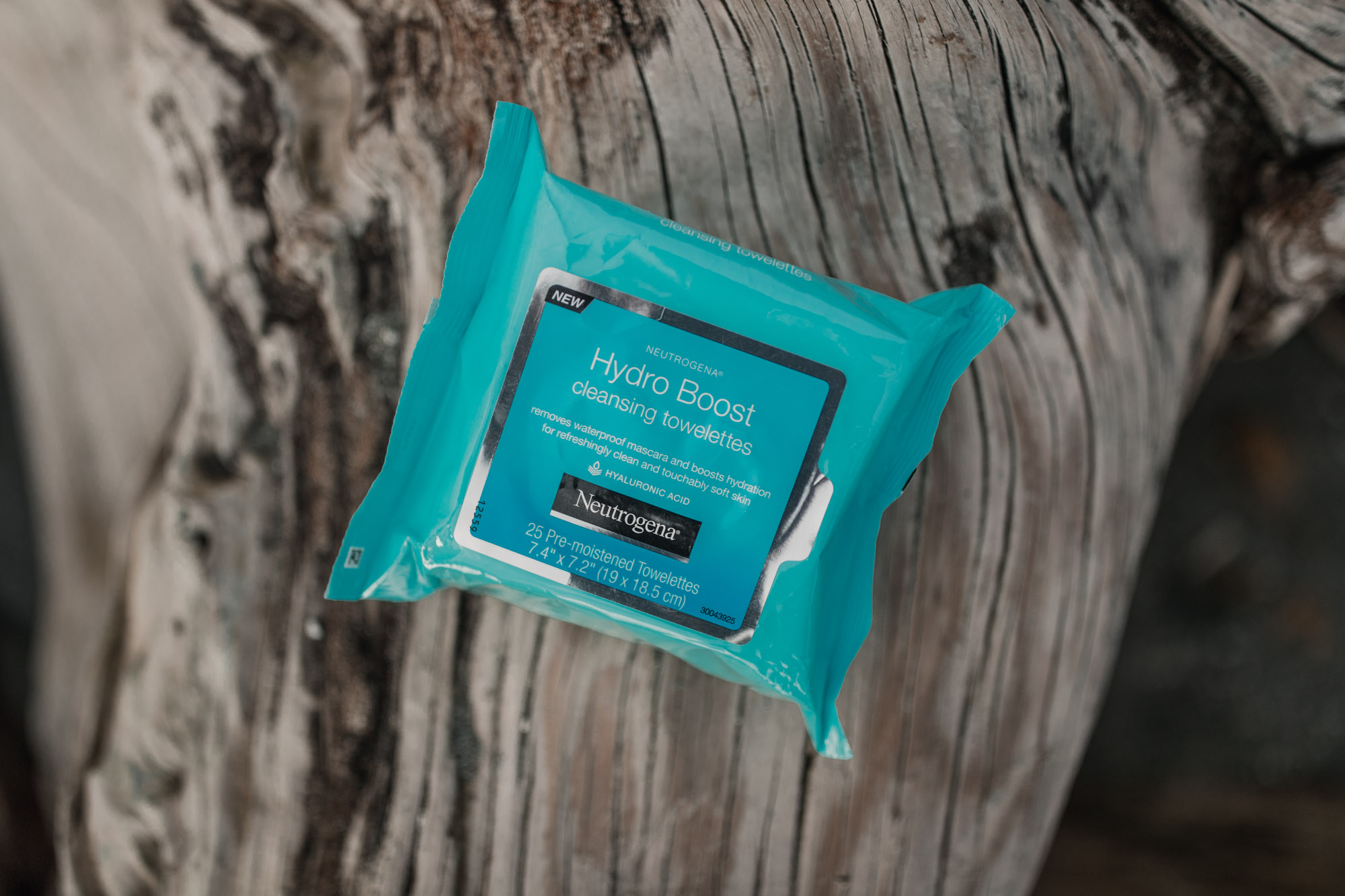 I love picking a pack or two of the Neutrogena makeup remover wipes at any local CVS stores since they often have deals and coupons. The new Hydroboost version scent can get a bit overwhelming, but it's so moisturizing thanks to the hyaluronic acid addition. I usually get the regular unscented ones, and all are great and effective, especially convenient as an on-the-go solution.
I know I talk often about sustainability and living a low waste life, and that is why I only recommend using wipes or one-time use towelettes for travels. There have been multiple occasions when I have to do my makeup in the car (in a driving car, and I'm on the passenger seat, of course!), and these wipes are so effective at removing all of the makeup and dirt off my face. It's great for camping and backpacking trips when clean water access is limited as well. Just make sure you pack out your used wipes and dispose of in the trash properly afterward.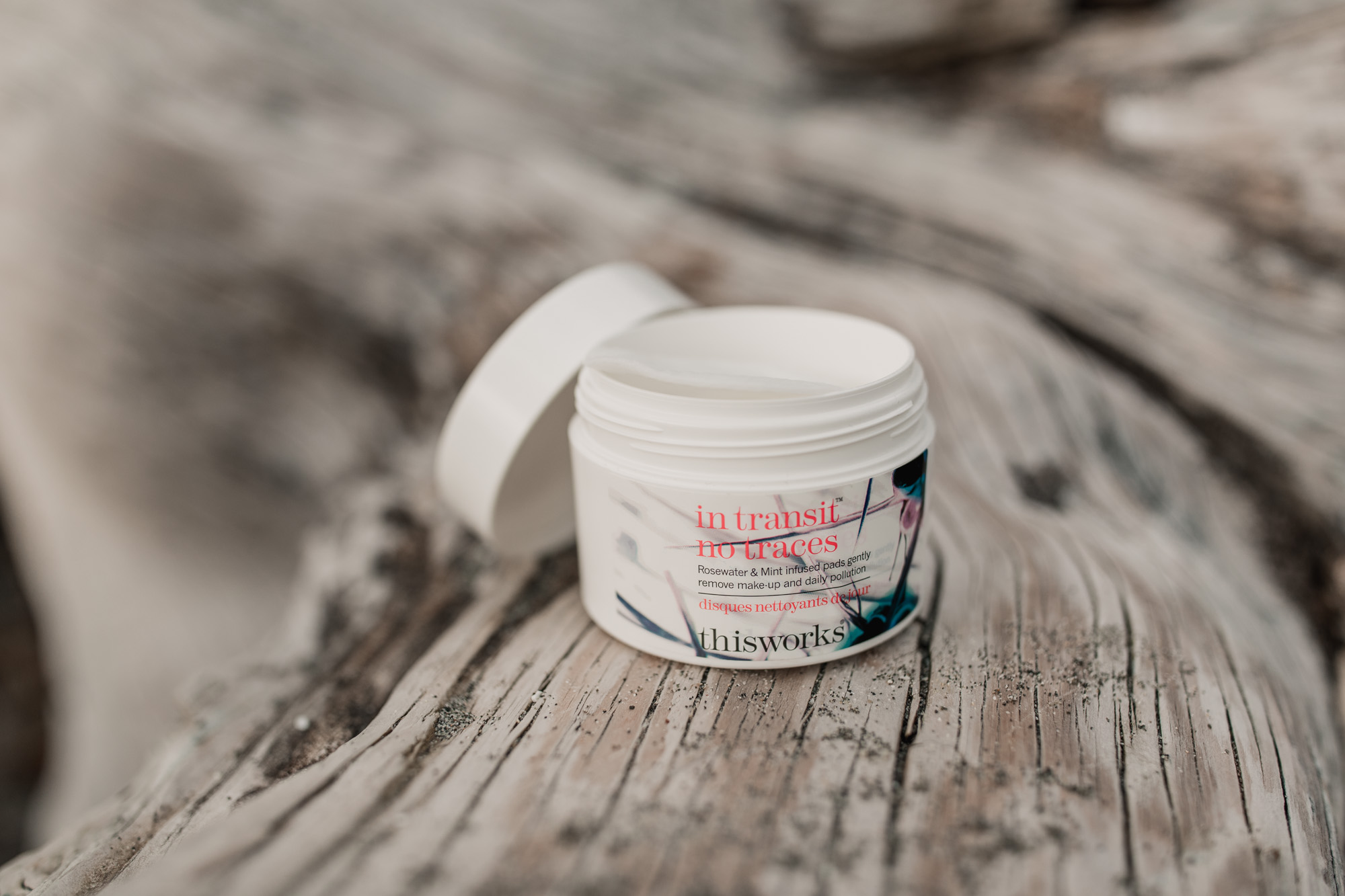 Thisworks sent me a PR box filled with so many amazing products quite a while ago, and I don't know why I have not mentioned them on my blog until now.
I love their Deep Sleep Pillow Spray, and as the name suggests, it is a spray. And you'd spray on your pillow on nights when it's hard to fall asleep. The roll-on bottle goes with me on pretty much all of my travels because it gets difficult for me to fall asleep these days. It smells like lavender, super calming and, it helps me fall asleep within minutes.
Now back to in transit no traces makeup wipes! A box contains 60 biodegradable cotton pads. The Rosewater and Water Mint pads are infused with naturally occurring alpha-hydroxy acids to remove dead skin cells, azelaic acid to help reduce blemishes, Vitamin B3 to brighten and Liquorice Root extracts to help calm inflammation. They're 98% natural, cruelty free and vegan.
I love that these pads are quite small and thin. A pad really does a great job at removing my entire face's makeup. One side feels like a gentle exfoliator while one side is smooth. Personally, I love this pad option more than a regular giant wipe since there's less material that goes in the trash. I wish thisworks sells these in smaller packaging because their jar is quite big to travel around with it.
Lastly, I've had this jar for a long time, and they don't really dry out. Not sure it's because of the plastic jar's closure or the ingredients that they use. Overall, I'm pretty impressed and highly recommend these pads!

SHOP THIS POST: