Today's post is going to be all about my current favorite hair styling products. It's been a journey of trying and testing so many different hair products, and I am very happy with this product list. If you have short hair with a fine texture like me, this post is for you.
If you follow me on Instagram, I'm sure you've seen me feature the GISOU unboxing. I have no idea how I've made it to GISOU's PR list, but I am very thankful. As of August 18th, GISOU is available at Sephora US and Canada! Such big news from a start-up brand! Congrats again, GISOU!
If you have no idea, GISOU is a hair-care brand founded by Negin Mirsalehi, a pretty famous OG influencer. If you know Negin, she's also known for her luscious long hair. After years of admiring her hair and her style, I have finally gotten around to try GISOU products. And I've got to say, they do live up to the hype, and I adore GISOU branding!
Disclaimer: GISOU products are gifted in exchange for reviews on the Sephora website as well as social media sharing. Most links are affiliate links, and that means I will make a small commission if you purchase through my links. All opinions are mine.
I hope hair oil is not a new thing to you, but if it is, you'd need to try this hair oil! Honey Infused Hair Oil is really the product that makes GISOU, GISOU. It comes in two sizes, and I have the bigger bottle.
Oil like this, specifically made for hair, adds moisture and helps to seal the ends of hair pre-heat styling which in turn reduces breakage.
I have been using Moroccan oil for years, and the big bottle lasts me so long! My hair loves this oil, but my nose dislikes the scent. It gets quite overwhelming at times, and that mainly is the reason why it has taken me so long to finish that bottle. That same scent is even stronger in their hair spray, so I recommend taking a sniff in-store before buying.
GISOU Honey Infused Hair Oil has a warm scent with subtle honey and floral notes! It just has a light fragrant scent to it, but nothing too strong or irritating. It has a thicker consistency, not as thick as honey but not runny either. I usually just add 2 drops on to the palm of my hand and apply it mostly on to the ends of my hair! I love to use it on my damp hair (after I've just washed my hair) for extra nourishment, before styling my hair as a heat protectant, or even after styling for added shine. It also helps taming baby hair and can be added to your favorite hair mask.
I love a good multipurpose product like this! If you have thicker and longer hair, three drops should be sufficient! Focus the product more on the mid-shaft and ends and definitely avoid the scalp just because your scalp does produce its natural oil!
Honey Infused Hair Oil 3.4 oz/ 100 mL $87
Cruelty-free, gluten-free, and comes in recyclable packaging. Made in The Netherlands.
This product comes in at such perfect timing because I've just run out of my Living Proof heat protectant spray. Just like our skin which needs SPF, our hair definitely needs protection when it comes to heat and sun damage.
Propolis is a compound produced by bees from the sap on the needle-leaved trees or evergreens. When the bees combine their own discharges and beeswax with this sap, they create a sticky, greenish-brown product called propolis. Bees use this to build their hives. the majority of the compounds found in propolis are polyphenols which are antioxidants, specifically flavonoids, and have healing properties.
Propolis Infused Heat Protecting Spray 6.7 oz/ 200 mL $41
Cruelty-free and comes in recyclable packaging. Made in The Netherlands.
I love how this spray distributes such fine and even mist, and the scent is just so lovely. I know that a bottle like this will last me months because I only need a little bit each time. With the regular use of hair oil and frequent haircut (I have short hair!), all I need are just a few misting prior to heat styling.
Mirsalehi honey is the 5th ingredient in the ingredient list, and it is the obvious theme of all GISOU products. It's sustainably sourced from Negin's family bee garden, and it's sweet seeing how her family heritage is carried out that way. What Negin is doing with GISOU, I think, is a smart move, especially using her family's bee garden as a marketing strategy. She also has a large following, so her brand does get a lot of love. I mean, GISOU products work! In addition, their packaging aka the products just looks so good sitting on my beauty vanity at home.
SHOP GISOU: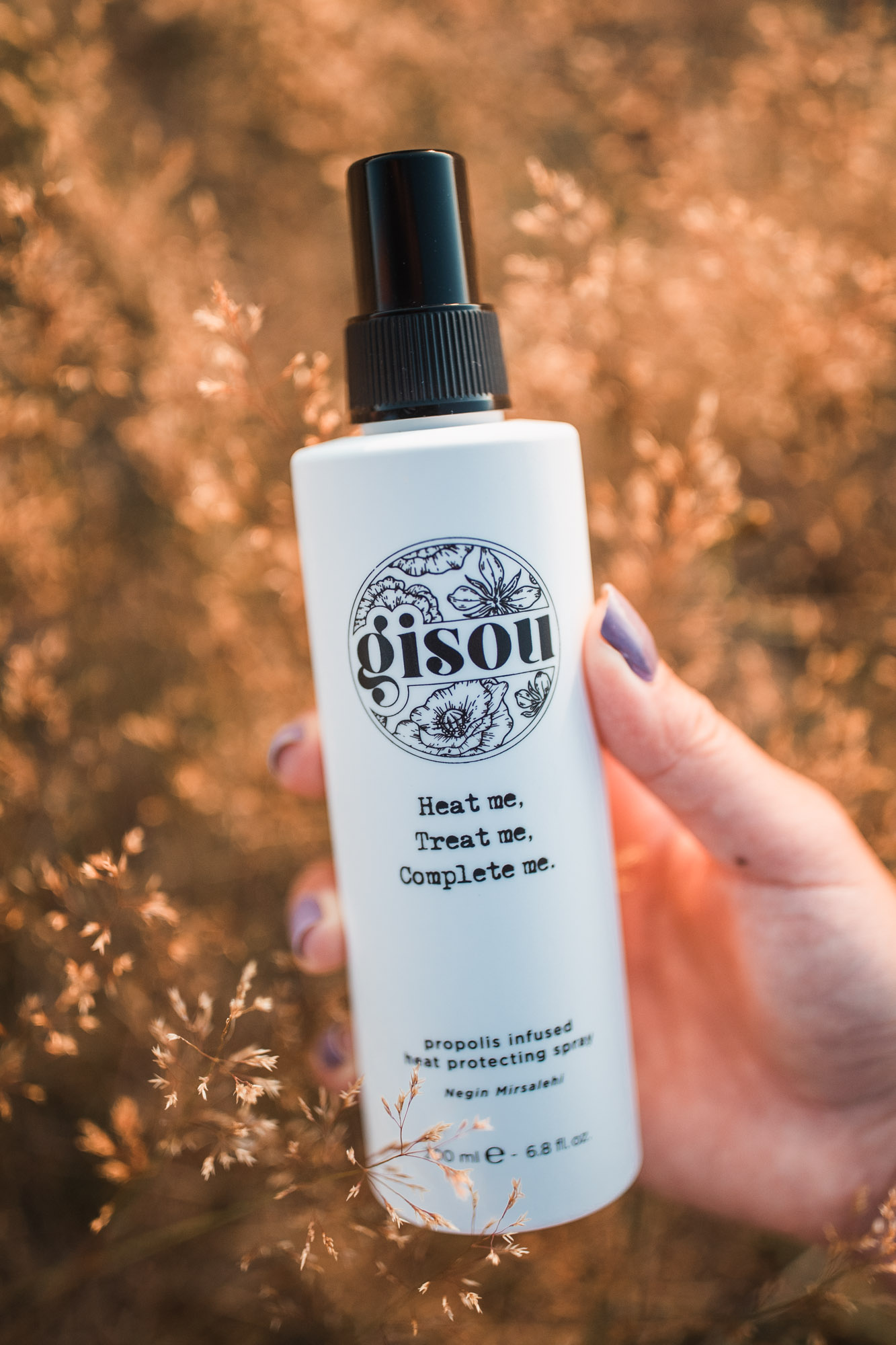 This OUAI Matte Pomade is my holy grail for my freshly cut and super short-hair days!
I usually like to ask my hairstylist (Nina from Blonde and Gold salon in Queen Anne, Seattle) to cut the back of my hair super short and leave the front a little bit longer. She always works her magic, and I get compliments on my short hairdo every time.
When it's that short, it's difficult to get the back part curls, and this Pomade is perfect to tame and get it looking nice.
I'd curl the front and side bits of my hair as best as I can and use this pomade to add texture to the shorter hair inside where the curler or straightener couldn't reach.
This pomade adds a perfect amount of gritty texture, not too heavy nor making my hair fee too hard. And a little bit goes a long way, as always!
I've also featured it along with other holy grail beauty products in the past, here!
OUAI Matte Pomade 1.7 oz/ 50 mL $24
Living Proof products and their scents are amazing!
I've actually got sent a few Living Proof products before, and that's how I get to know and fall in love with the brand. This Perfect Hair Day Body Builder is purchased with my own money, however!
A Sephora sale associate in the Portland store actually recommended this product. She specifically said to aim at specific spots in the back of my head or wherever I want to add volume. I tend to overuse these volumizing products because I always want immediate and obvious results.
But I've really learned to cut down on the amount that I use. It's been pretty interesting seeing how little products can do! If you pay attention to how hairstylists style your hair, they only use a little bit of product each time. It's all about how you apply the product, and with the right product, you'd be able to achieve anything!
I'd wholeheartedly recommend Living Proof products! I love the scent and how the nozzle distributes such fine and even mist!
SHOP LIVING PROOF PRODUCTS I HAVE TRIED AND LOVED:


Perfect Hair Day Body Builder 7.3 oz/ 257 mL $29
Ok, this hair spray is hands down one of the best hair sprays I have ever used, and it smells divine! It is pricy but worth every penny I swear!
I seriously wish for longer hair just because I've seen many people's incredible results after using this hair spray. It adds so much lift and volume, and the hair stays styled even days after.
Note that this product is also a dry shampoo. It shoots out tiny particles of patented polymers that absorb the oil at the roots. Definitely focus it more on the roots and mid-shaft of the hair and make sure you shake it well before using it as well!
Unlike other dry shampoos, there is absolutely no white residue nor sticky feeling with this one. I don't like dry shampoos in general for those exact reasons and would rather hop into the shower to quickly wash my hair if it gets too oily!
Anyway, this Oribe spray is a pricy product, so I wouldn't recommend you use a lot of it but rather use it selectively on areas where you want lifts and volumes. It's an incredible product for all hair types, lengths, and textures.
Oribe Dry Texturizing Hairspray 8.5 oz. $48
So those are the top 5 hair styling products for my short and fine hair! Comment below your favorite hair styling product as I am always on the lookout for new and exciting products to try! Make sure to let me know if you decide to try any of these products! Hope it's helpful, and as always, thank you for reading!
SHOP THIS POST: