Welcome to my first ever international travel blog post. I went to Toronto, Ontario, Canada for the first time in April of 2022 (April 27 – April 30). From where I live (Brooklyn, NY), it takes about 8 to 9 hours to drive to downtown Toronto. We rented a car in midtown Manhattan, so that took 9 hours to be exact. 
The goal of this trip is to go see the city for the first time and eat yummy local food. I took some recommendations from my Toronto followers on Instagram and also discovered a few other places on my own. Hope you enjoy!
GETTING THROUGH US – CANADA BORDER BY CAR
Must bring items, and this applies to everyone coming from the US.
Passport (US citizen)

Permanent resident: your country passport and green card

Physical vaccination cards

Download the ArriveCAN app (must upload vaccination card information and photos)

GreenP app (for downtown parking)
Leaving the US and entering Canada – You'll be asked to hand over your passports and any applicable documents that prove you're eligible to enter the country. Then they will ask the purpose of your travel, how long your stay is, and any questions that the border patrol officer wants to ask. Just answer truthfully and stay calm.
I didn't know about the Canada app, so we were asked to stop to download and get the app set up. Once we have an account on there, you should be good for any future travels to Canada.
Leaving Canada and entering the US – Fruits and live plants are strictly regulated. I bought a lot of exotic Southeast Asian fruits and tried to finish everything before we got to the border. I had two guavas and two mandarin oranges left, and the officer took and threw my oranges (not the guavas) away. Not sure what the rule is here, but just keep in mind since they don't want anything agriculture entering the US.
TOP SIGHTS
CN Tower – Iconic! It's very busy on the weekends, especially when there's a game. Parking is also very expensive. We didn't get to go closer and only got to see it from the car driving by.)

Nathan Phillips Square – Must grab a photo with the iconic 3D Toronto Sign!

Distillery District – Hip area with outdoor sculptures and cobblestone streets lined with restaurants, bars, and shops. Toronto Christmas Market is here.

Queen St W – Notable street with shops, restaurants, bars, and art galleries.

Kensington Market – a walkable artsy neighborhood with Victorian houses and small hip restaurants, vintage, and specialty shops.

Chinatown – Right next to Kensington Market. Lots of things to do here, plus it's so clean.

Casa Loma – Castle. Entering requires a fee.)

St. Lawrence Market – food, grocery, and local goods

Royal Ontario Museum – culture and nature exhibits. We only drove past.

Aga Khan Museum – We didn't go inside but were here for some outfit photos.

Waterfront Toronto: Toronto Music Garden, Queens Quay West – We went here for a sunset photo of the Toronto skyline)

Trillium Park – There are bike trails and spots to watch the sunset over the Toronto skyline.

Yorkdale Shopping Centre in Yorkdale – It's a huge indoor mall, so be prepared to walk a lot.

Scarboro Village Mall in Scarborough – This area has a lot of Asian food and all of the boba shops in one place.
There are a lot of cool glass apartment and condo buildings that line the entire city, so that's also very cool to see. You can also take a day trip to Niagra Falls from Toronto. I didn't have time, so next time!
CHINATOWN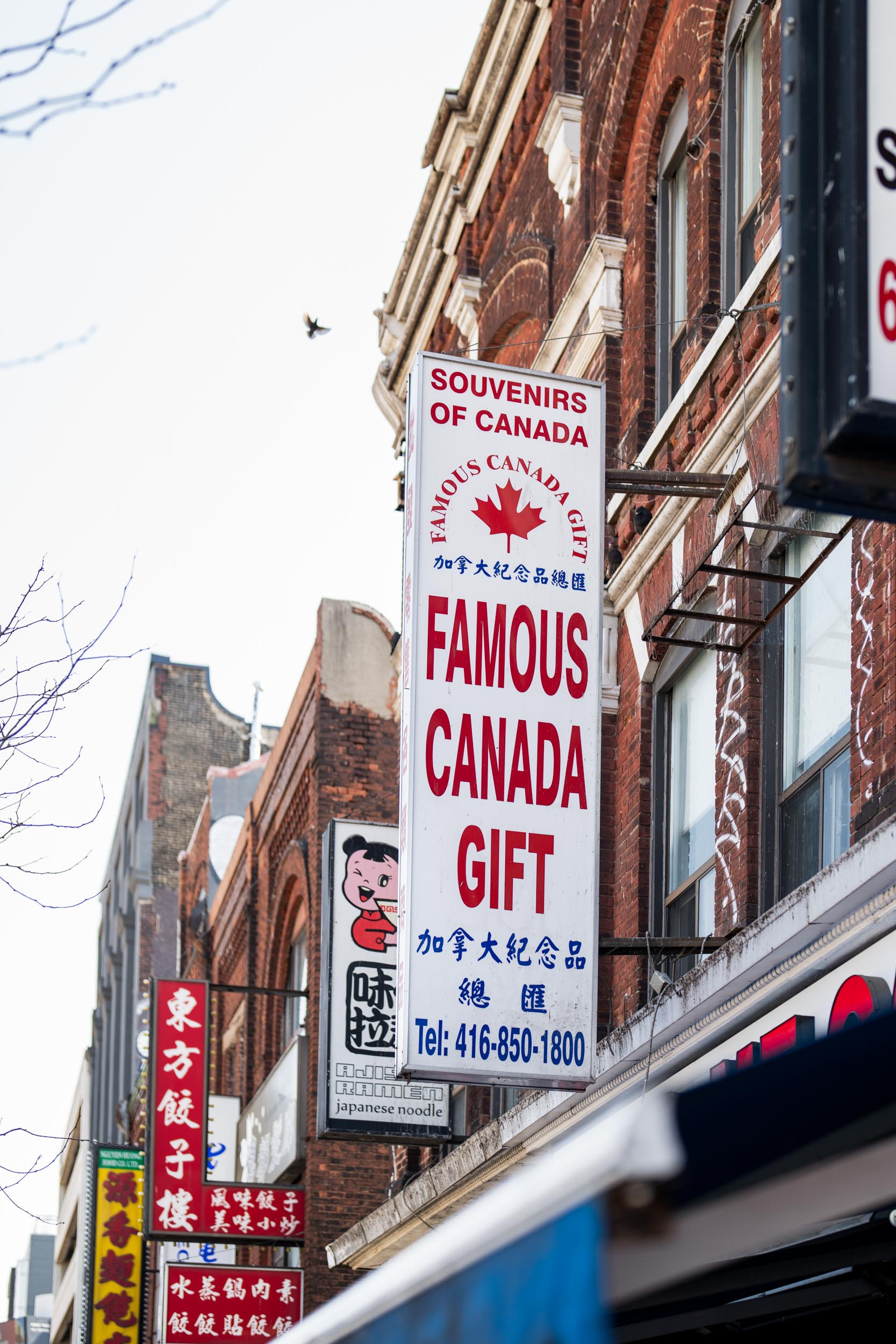 AGA KHAN MUSEUM
OUTFIT: top: Chinti & Parker (Rent The Runway Sample Sale) | trousers: COS | bag: vintage LOUIS VUITTON | belt: thrifted | mules: vintage PRADA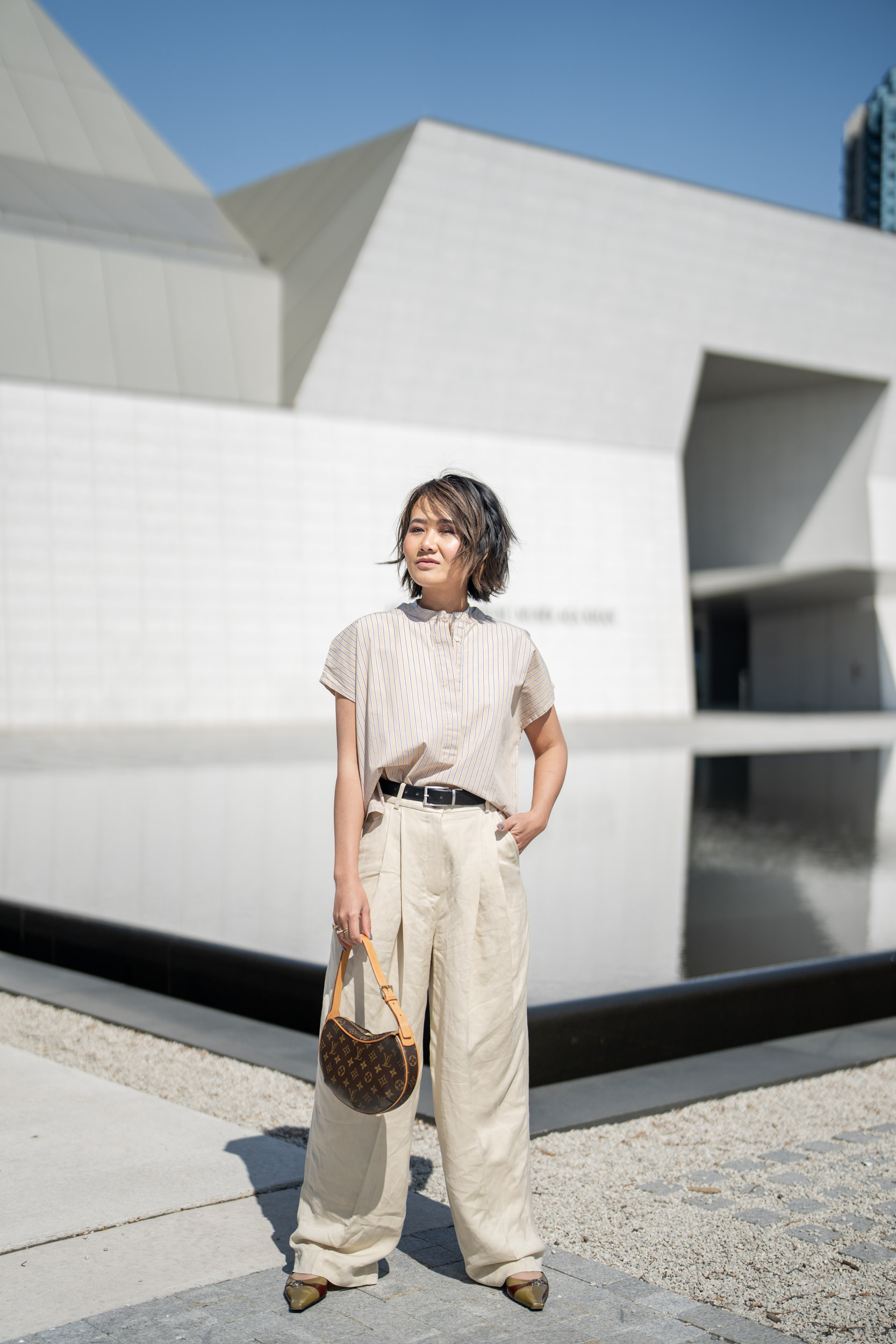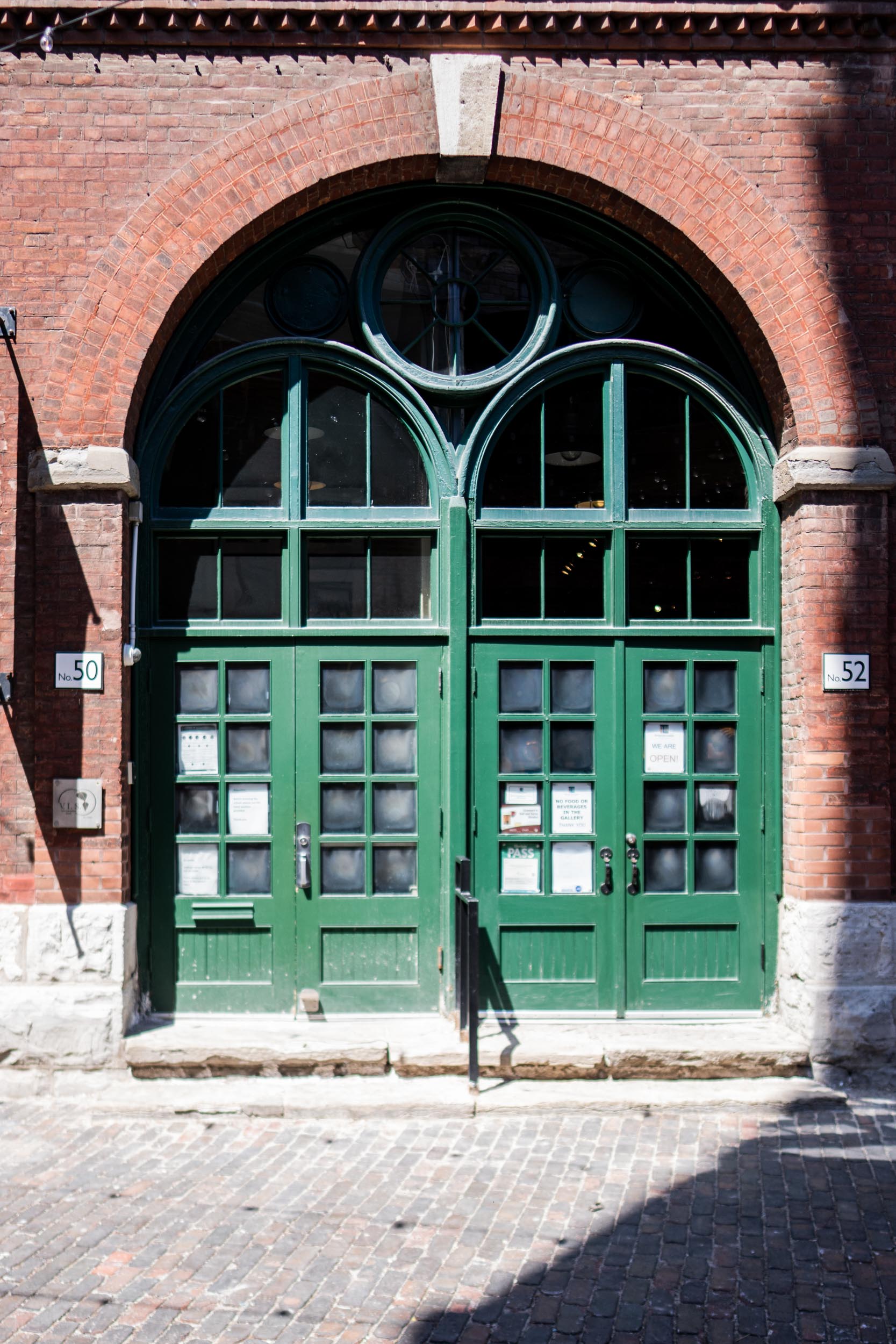 RESTAURANTS IN TORONTO
PAI (Thai) – A Toronto local recommended me this place, so we had it the first night we arrived. We were too hungry, so obviously, we over-ordered. It's not the best Thai place I've had, but it's still a great spot in downtown. Come if you crave Thai flavors!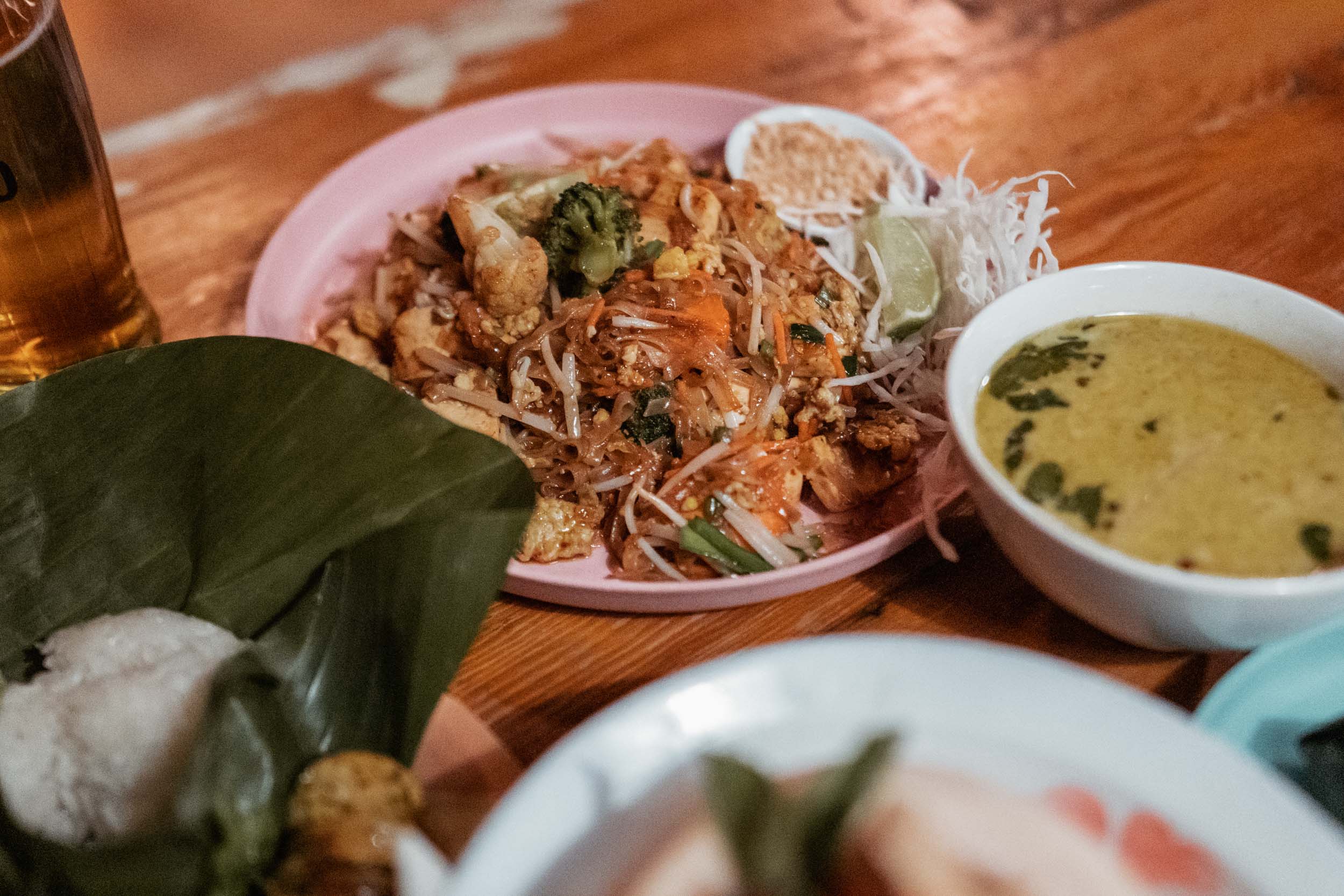 RICHMOND STATION (Canadian – modern) – I have to clarify this 'Canadian' label as new modern, not traditional Canadian food. I thought I'd get to try traditional flavors of what Canadian food was (if that even existed). If you're from America and have eaten food at New American restaurants, then this is similar. I heard from my waiter at Richmond Station that the famous chef-owner barely has any saying at the restaurant anymore. Food has an Asian influence, especially Japanese, and they source ingredients locally and rotate the menu often. There were some misses in the food, but overall, I enjoyed it.
JABISTRO (Modern Japanese) – The sushi was fresh, but they weren't as creative as I had hoped. The restaurant was clean, but I thought the service could be better. It was loud, and people kept walking back and forth behind us.
RAMEN ISSHIN – I personally love Tsukemen (noodles and broth are served separately) a little more than traditional ramen in broth. Here they serve broth in a boiling hot stone pot, and the noodles are served cold and perfectly chewy. One of my favorite meals in Toronto.
LA LA BAKESHOP (Vietnamese bakery) – I went to the Scarborough location, and it's right next to many great Asian eateries. This area has all of the boba shops you can ever think of in one. The baked goods themselves are good, but so custardy and rich. Try one of everything if you're here.