I'm excited to share with you a dedicated blog post all about my Camping and Road Trip Essentials. For hiking gears, specifically, scroll to the bottom of the post for my blog post link! There will be links to shop and a brief review of each product I recommend.
Note that I don't always have or bring everything, and I don't judge if you don't. Outdoorsy gears are expensive, hence it's taken me this long to have enough things to share with you. If you're just starting out, all you need are really just a few essentials to keep yourself comfortable and safe. Often time, you probably already have them. Make sure to do some research before heading out. Be safe and have fun!
CAMPING GEARS & ROAD TRIP ESSENTIALS
Your ID, Credit Cards, Cash, Phone, Camera, Laptop
for the car
Before you hit the road, it's worth it to have everything checked, especially on long-haul road trips. Get an oil change, top off fluids, and check the brake pads, rotors, headlights, signals, and tire pressure. Make sure you have the spare tire. It maybe is time to learn car maintenance basics, how to replace a flat tire, and what to do in a snow emergency, etc. Let someone you trust know your whereabouts.
Car Insurance
Travel Pillow – CASPER nap pillow (discontinued). I have it placed behind my back to support my lower back as it's especially helpful for long car rides.
Hard Cooler – PELICAN 20QT Elite Cooler in White/Gray. It fits in the car perfectly, and I can easily open it to get things inside easily. Our car is a Honda Hybrid Sedan.
Ice Pack

Soft Cooler (great for picnics, store cool lunches, drink cans, and small things) – I don't have one yet.
Sunglasses – I don't wear sunglasses when hiking, but for driving and traveling purposes, I'd always pack my regular sunglasses with me.
Sunscreen – I have one for the face, one for the body, and a spray bottle that applies super fast for when I go to the beach.

Hand Sanitizer – Must have in the car at all time.
Moisturizer – For when I need to moisturize my arms and legs!
Water Bottles – I have a case bought from Costco, and they come in handy for long hikes and road trips. I know it's bad to take bottles hiking like this, but they're lightweight and convenient for us.
Reusable Water Bottle – I love my Glossier x Seattle and Kinto water bottle.
Tumblers – Great to have since they keep iced water cold for a long time.

for Protection & Safety
Multi-tool – LEATHERMAN Rebar Multitool

Map – Some parks sell waterproof maps. I just use my Google Maps and directions straight from my Alltrails app for trails that are confusing.
GPS – I don't currently have one but will look into this when I have a backpacking trip planned.
Power Bank & Extra Batteries – AUKEY Power Bank – to charge phones, laptops, headlamps, etc.
First Aid Kit

Sun: Hat, Sunscreen, Sunglasses
Bandanas or Head Scarf – people tie them around their heads to trap sweat from running down their face. It's also an optional fashion thing.
Bugs: Bug Net, Bug Repellant, Cortizone
Ear Plugs – help when you have to catch some sleep in loud places
Spare Tire & Jack, Jumper Cables, Tire Pressure Gauge
Winter: Winter Tires, Tire Chain
Cash – $20, $10, $5, and $1 bills.
Coins – I reused an old Altoid tin can and stored quarters in there. They come in handy for air pumping, hot showers, or any coin-operated services.
Spare Parts to repair tent, sleeping pad, and pillow – They come with when you first purchase the items, so keep them around just in case.
Small Hammer, Rubber Mallet, or Tent Stake Hammer – to pound tent stakes into the ground since regular metal hammer would damage the stakes.
Duffel Bag
Learn about bear safety – You might need a Bear Vault depending on where you're camping.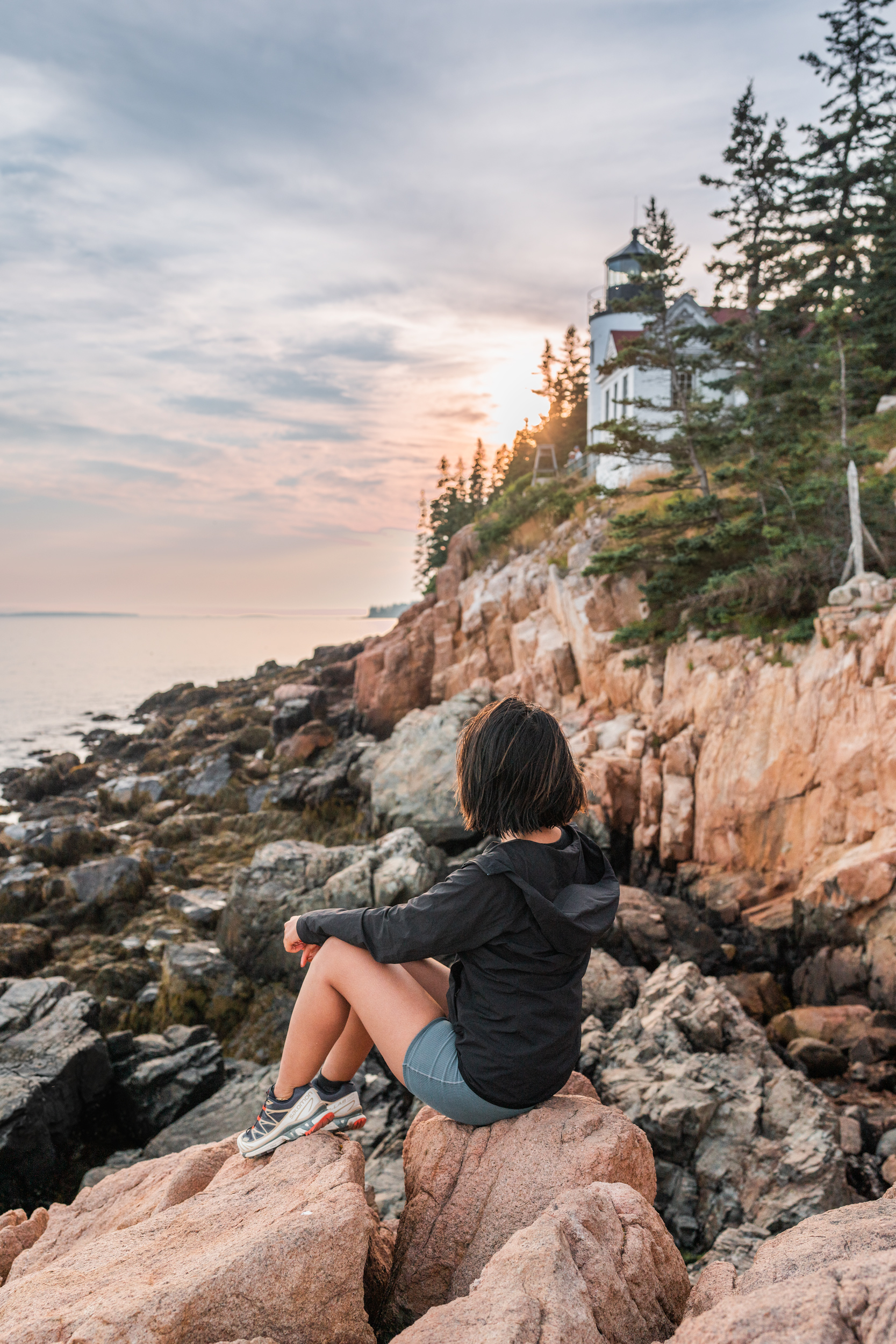 for Cooking & Eating
Food – REI has a large selection of brands for many diet options. We usually stick to fresh produce we can get at local grocery stores like stuff to make sandwiches, snacks, fruits, protein, or energy bars. We love stopping by gas stations to pick up snacks for the drive (and to pee, of course).
Tea, Portable Coffee Maker, Coffee Grind, and Your Favorite Mug – AEROPRESS Coffee Maker is great to take on the go! Just make sure you have coffee grind, not beans. If you fancy and would like to grind your beans fresh, there's a manual grinder option from Hario.

Large Water Jug – I always pack along 1 gallon of water and use it to wash the dishes or brush my teeth on nights when I don't have access to water.
Camp Grill
Camp Wood – usually sourced near the campground (please follow local guidelines!)
Camp Stove & Fuel – I have this portable stove, mostly for hot pot nights at home, but I also take it camping with me before.

Matches or Lighter
Pans and Pots – I have this STANLEY Cookset gifted by our friends.

Cooking Utensils – Chopsticks, a Large Spoon, or just a Spork

Knife and Cutting Board – SNOW PEAK Knife & Chopping Board Set in Medium

Plates and Bowls – SNOW PEAK Tableware Set

Eating Utensils – SNOW PEAK Fork & Spoon Set

Napkins, Kitchen Towels, Wet Wipes
Biodegradable Soap
Lantern
Camp Table
Camp Chair – We have 2 REI Flexlite Air Chairs (in Asphalt and Muted Sage) and do think they're the best and lightest compared to most chairs on the market.
Cushion for Inside Tent (I have it in my living room and use it every day!) – SNOW PEAK Cushion

Lastly, we try to pick up groceries ahead of time with a bag of ice to keep our food cold inside the cooler. We'd avoid having leftovers when eating out at restaurants or buy food that's spoiled too fast.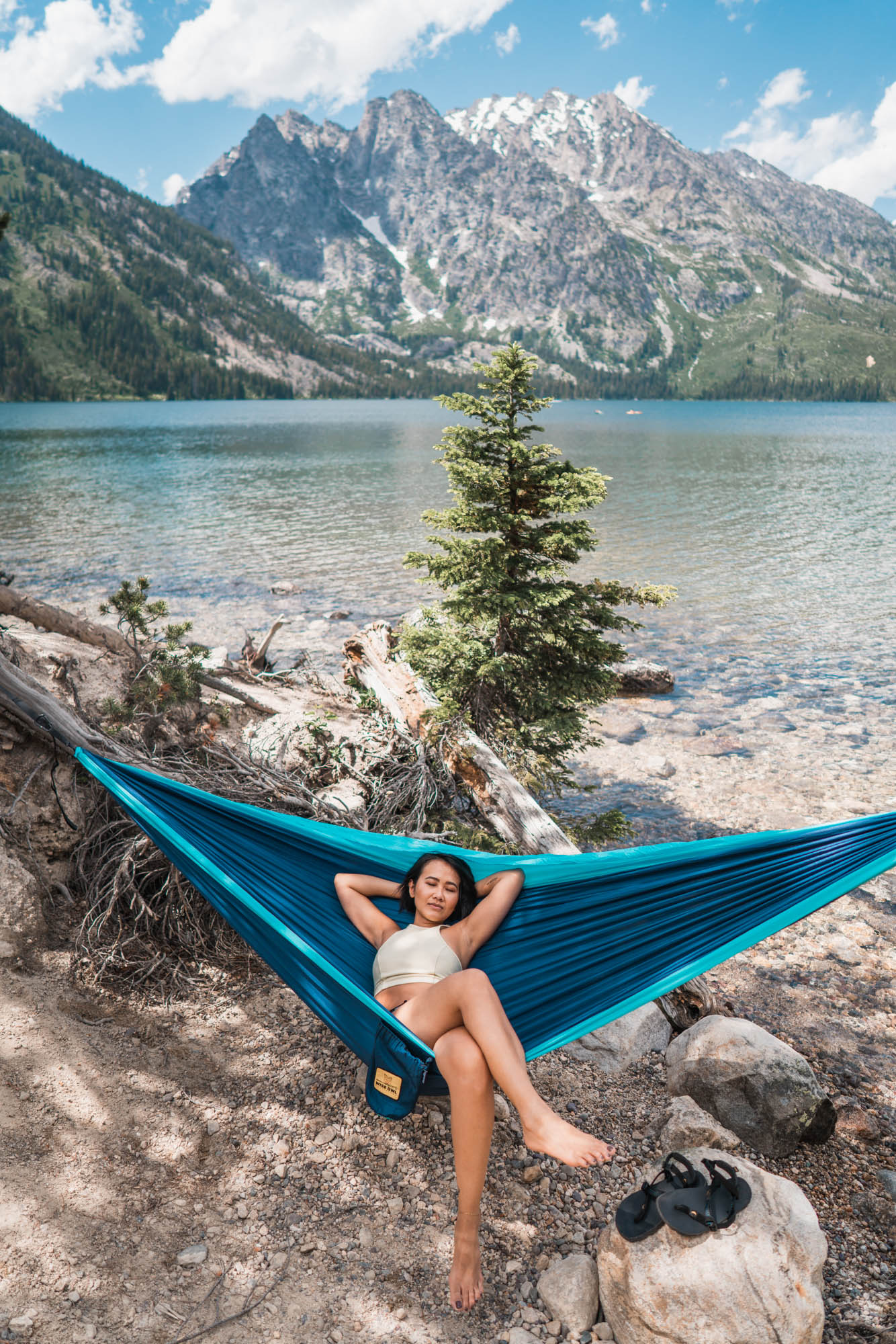 for Sleeping
Tent – NEMO Dagger 3P Tent. It's so quick and easy to put together and put away. It's so spacious, and honestly, it can sleep up to 4 people!

Tarp – A standard all-purpose tarp. I got it from REI. It's optional, but this will give your tent a layer of protection against dirt and rocky ground.
Sleeping Bag – NEMO Disco 15 Sleeping Bag – NEMO makes this model, one for women and one for men, and they can be zipped to make one big happy cuddle bag.

Sleeping Pad – Air: SLEEPINGO Sleeping Pad. Foam: NEMO Switchback Sleeping Pad

Camp Pillow – SEA TO SUMMIT Aeros Premium Pillow size Large

Camp Blanket – RUMPL NanoLoft Puffy Blanket – I have two in Patina Pixel Fade and Playa Fade.

Hammock – WISE OWL Hammock

Headlamp – Petzl ACTIK CORE Headlamp

Flashlight
Sleepwear – clean and comfy
Socks & Jacket for warmth if needed in case it gets cold in the morning.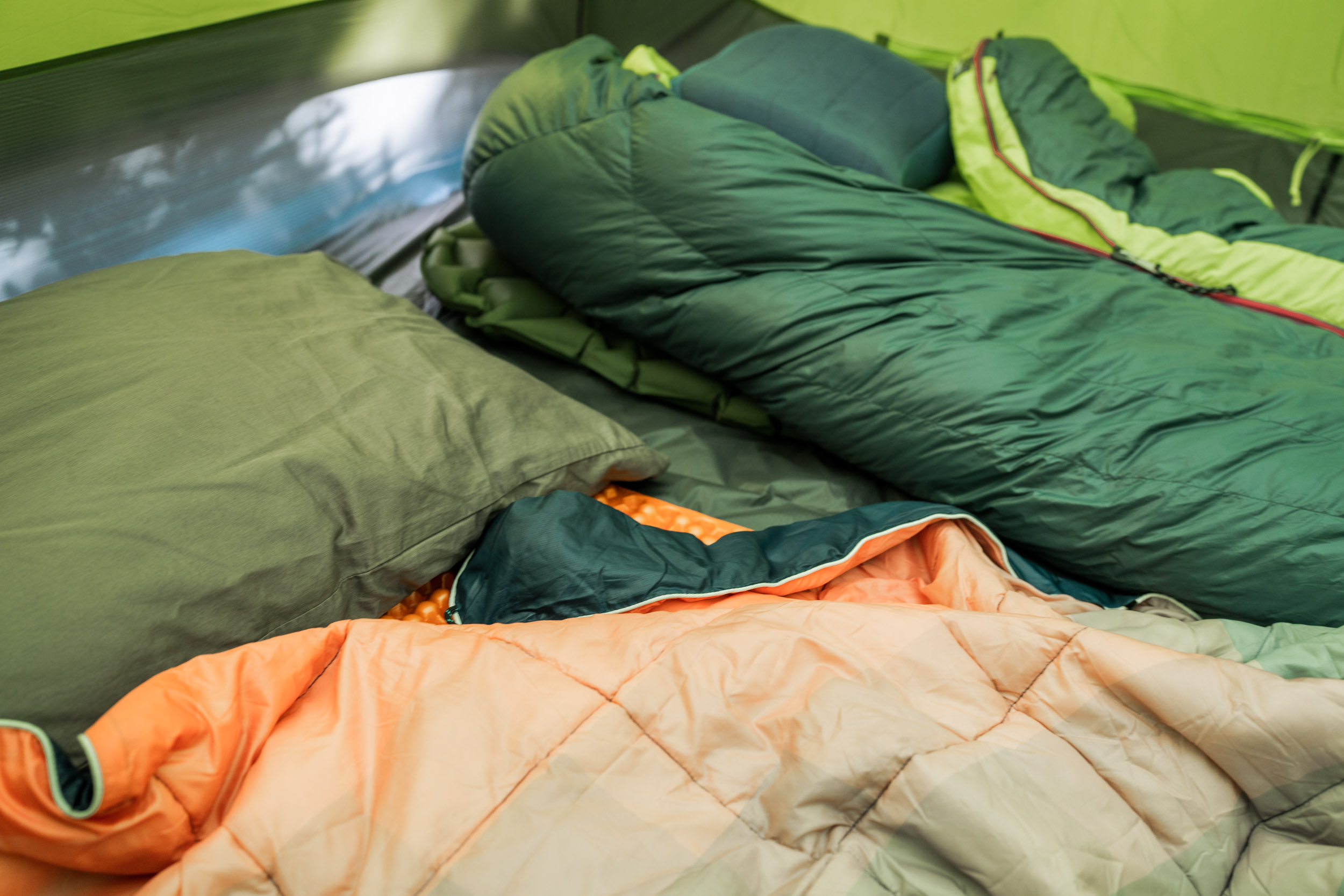 for Going to the Beach or Having a Picnic at a Park or by the Lake
Beach Towel – made from cotton or breathable fabric for you to lay on
Bikini/Swim Trunks
Sunscreen
Beach Umbrella
Beach Chair
Picnic Blanket – RUMPL Everywhere Mat in Ocean Fade. This doubles up as our Beach Blanket, too, since it's waterproof and also repels sands.
Reusable Towel (worn in the photo below) – I have two regular sizes in Ocean Fade and an Olukai collab Shammy towel, and a mini towel in Newport Swell.
for Going to the Bathroom & Shower – Toiletry
Toilet Paper
Wet Wipe
Pee Cloth
Pee Tunnel – Freshette Urinary Device. Yes, this exists! I don't have one, but I'd imagine you'd need it if you're car camping, kayaking, or fishing.

Ziploc Bags – Small ones with some toilet paper are great for backpacking trips since you're required to pack out your toilet paper. Big ones are handy to have if you need to store leftover camp food.
Backcountry Trowel – The Tent Lab Trowel – This is particularly useful for long hikes and when you're in the backcountry. Dig a hole, do the deed, and cover it up making sure you're away from the trail and water sources.

Reusable Quick-dry Face Towel
Reusable Quick-dry Body Towel – RUMPL Everywhere Towel. We have 2, and they're the best things ever!
*my affiliate link to shop RUMPL
Tooth Paste
Tooth Brush
Skincare
Moisturizer – EMBRYOLISSE Laite-creme Concentrate, KIEHL'S Facial Cream. I change things up, but I'd recommend going with something you know and love already to avoid breakouts or skin reactions.

Floss
Lip Balm
Face Wash – CERAVE Hydrating Cleanser
Makeup Remover
Reusable Cloth/Pads

Medications
Pads, Tampons, Wipes
Dry Shampoo
CLOTHING & FOOTWEAR
Moisture-wicking T-shirts
Underwear
Sports Bras

Dress – OUTDOOR VOICES Exercise Dress

Long-sleeved Shirts – for sun, bugs, and sleep on cold nights – LULULEMON Swiftly Tech. PATAGONIA Logo Shirt Men's.

Flannels – I mostly thrift these from the men's section.
Shorts

Light-weight Packable Shell Jacket – ARC'TERYX Gamma SL Hoody in Black
Pants – ARC'TERYX Gamma LT Pants in Black

Leggings – LULULEMON Align Pants
Windbreaker – COTOPAXI Teca Windbreaker
Fleece Hoodie, Jacket, and Pants – ARITZIA makes great fleecy stuff!
Rain Jacket
Hiking Boots – My 3 pairs for different terrains and occasions: KEEN Targhee III, SALOMON XT-6 in India Ink/Safari/Red Orange & DANNER Mountain 600 in Yellow Suede
Adventure Water Sandals – LUNA Mono Sandals, KEEN Astoria West
In-camp sandals or booties
Socks – Darntough Vermont Crew Socks. SmartWool Crew Socks.

Insulated Jacket or Vest – PATAGONIA Pack-in Jacket

Gloves – Great to have for rocky or parts of the trail where there are ropes you need to grab on to.
Mittens – for winter hiking
Beanie – Acne Studios Beanie. Uniqlo Ribbed Beanie.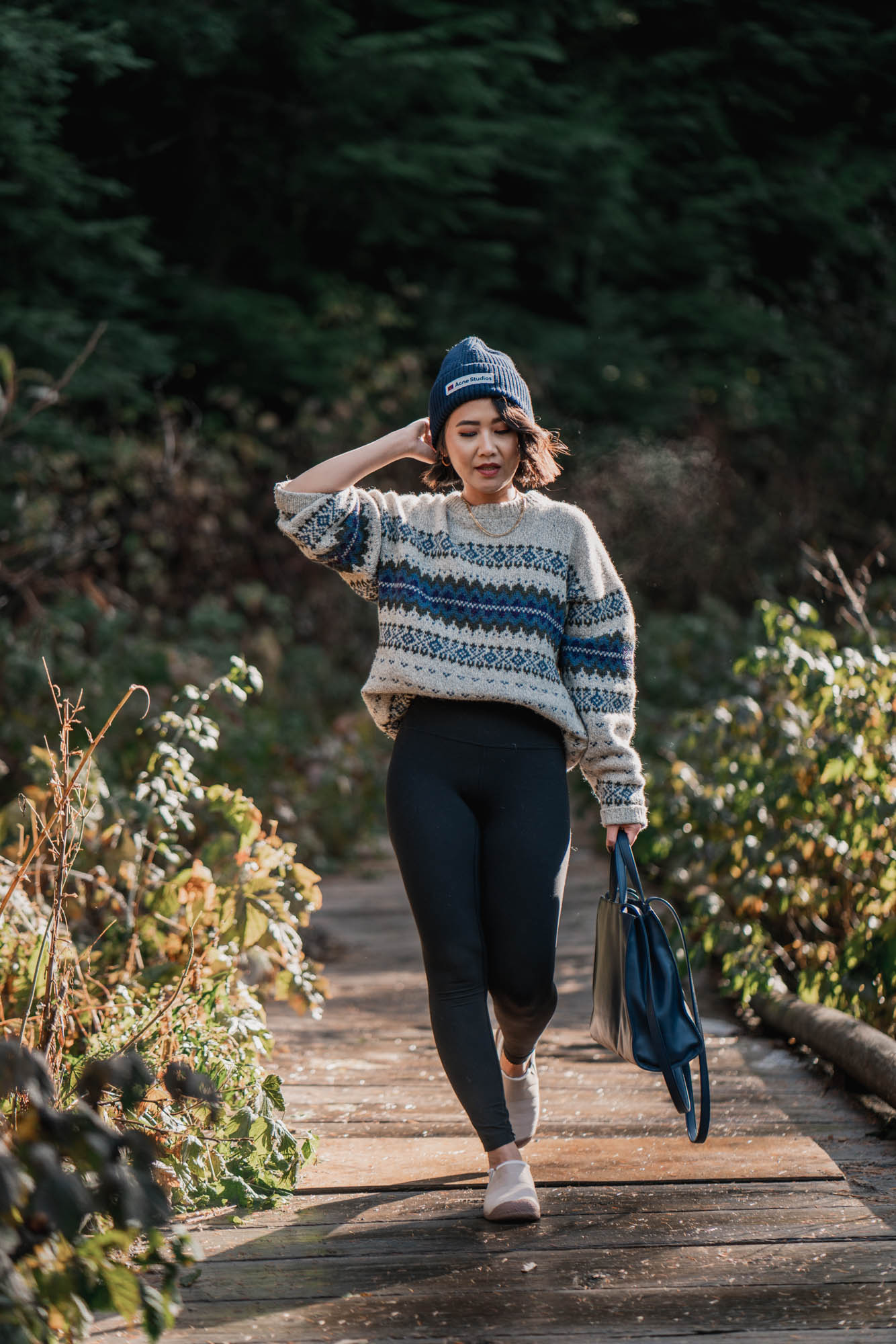 for Fun & Entertainment
Cards
Board Games
Marshmallow/Hot Dog Roasting Forks
Binoculars – to watch wild animals (Yellowstone National Park is a great place where you'd need one to view the wild animals from a safe distance)
Books/ Reading Material/ Audio Book/ Podcast (pre-downloaded of course)
Notebook & Pen – to journal
Portable Speaker – We have the SONOS Roam in Lunar White.

ROAD TRIP/TRAVEL APPS
Car Rental and Hotel Booking – We book via Expedia (offer points/reward) or Kayak since they have pretty good customer service. We do Airbnb when there's a group of friends to stay with and split the cost. For two people, we mostly just do hotels and sometimes car camp when we don't have enough time out of our schedule. Lots of gas stations have spots for cars and trucks to park overnight. We've slept at Walmarts' parking lot many times. Check BLM for free camping on public lands.
HotellTonight – last-minute hotel booking, good deals.

The Dyrt app – Tent & RV Camping with reviews and photos.

Recreation.gov – Campsite booking, parking reservation, and more.

iOverlander app – I've used this a couple of times to help find local boondocking spots, mostly for car camping.

SpotHero app – to find affordable parking garages in big cities at affordable rates! If we can, we always pick a hotel that's not downtown (cities nearby) and opt for a parking garage if it's cheaper or if the hotel doesn't offer free day parking or parking overnight.

Alltrails app – I have the PRO version which allows downloading trail maps, saving trails for future hikes, and leaving reviews for other hikers.

Hopper app – I use it to find and book cheap flights every once in a while.

Kayak app – to browse for flights obviously.
PASSES & PERMITS
America the Beautiful – Access to National Parks and Federal Lands. $80 annual pass. I got mine from REI.

Campsite reservation confirmation (usually in email, but printed version might be needed)