Choosing hiking boots is not the easiest task, but I am here to tell you it is not that intimidating.
After moving to the Pacific Northwest, it's almost a default that I'd become outdoorsy, and I'd need to invest in a pair of hiking boots sooner or later. Trust me, as a fashion person, I used to think hiking boots were bulky, ugly, and there's no way I could make them look cute!
After slipping and sliding off half of a snowy hike in Mt. Rainier in the spring of 2019, I knew it was time to invest in a proper pair. Yup, I had hiked in my Nike running shoes for a while.
HOW TO SHOP FOR HIKING BOOTS
7 Steps
First step:
The first thing I did was to go to a local REI store and tried on all of the styles that were available in-store. If you don't live near an REI, Cabela's, Dick's sporting goods, or any outdoorsy clothing and gear stores. I asked the REI staff a bunch of questions and was reminded of the importance of trying boots on with some thick socks. REI always has some laying around!
Step two:
Then I went home and did more research online. There were tons of helpful reviews on other retailer websites as well as outdoors technical review blogs.
In addition, I also got a ton of advice and recommendations from my coworkers as well as people on Instagram. I asked for brands and what types of shoes that they had.
Trust me, this process seems intimidating and takes some time, especially if you're a newbie and that you're shopping for your very first pair. Meanwhile, know that it is totally okay to hike in your Nike or Adidas shoes because, in fact, a lot of them are very comfortable and will serve your day hiking purpose just as well.
Step three:
KNOW THESE!
Types: There are tons of options ranging from hiking shoes, day hiking boots, backpacking boots, and mountaineering boots. REI has a great article explaining different types of hiking boots, HERE. There are also water shoes and performance sandals that offer support, protection, and traction on wet rocks that you will need for rafting, canoeing, canyon or river exploring.
Components such as uppers, lowers, midsoles, and outsoles of the shoes are essential parts to note. They might sound super technical at first, but the more you read and get to know these terms when you are first starting out, the better. Learn more HERE.
Materials matter! Just like clothing, materials impact the boots' performance and durability. For uppers: look for full-grain leather, split-grain leather, or nubuck leather (buffed full-grain leather) because leather gets softer and molds better to your feet. Leather also lasts longer! If you'd prefer vegan options, there are synthetic materials like polyester, nylon, and "synthetic" leather. For midsoles, EVA and Polyurethane are popular cushioning materials. Rubber us used on all hiking boot outsoles with deeper thicker lugs added for traction.
Breathability vs. waterproof: You also need to keep in mind these factors if your feet sweat a lot. Often time, boots with uppers that are made with waterproof/breathable membranes such as Gore-Tex or eVent are labeled as 'waterproof.' There are ventilating mesh options that are summer and sweaty feet friendly.
Fit is the absolute most important aspect because they need to hold your feet in place with little room for socks. Who likes blisters anyway? REI has the foot ruler in-store or get yourself a ruler or tape to measure your feet at home. It's best to take measurements of each foot before deciding on the actual shoe size. Ask questions in-store as well as comparing the size chart before buying as always. Absolutely do not buy boots that are too small because your feet will swell, and your toes will fall off (mine did!).
Toe room, how much? According to REI experts, I've learned that you should have a thumb's width of space between your longest toe and the end of the insole. So take the insole out of the boots and stand on them!
High or low cut shoes? Opt for high-cut shoes because I can guarantee that you'd want that ankle protection. Just like skiing boots, high ankled hiking boots will prevent ankle injuries and with high socks, they will help prevent rocks from getting in your shoes.
Step 4: Choosing a retailer
After deciding on which brand you want your first pair of hiking boots to be, it's always best to buy directly from the brand website or in their store if you live near one.
You might get your boots faster if you buy on Amazon, however, I think it's better to support smaller businesses in this day and age by buying directly from the brand.
Most of the time, I'd recommend people to go to a larger retailer like REI for more options because I like their one-year return policy. In addition, they have a cashback option with membership sign-up, and they pay their employees well.
Backcountry, Steep and Cheap, Moosejaw, Cabela's, Zappos, and Dick's Sporting Goods are some popular hiking boot one-stop-shop retailers.
For used shoes, look on Poshmark or REI Outlet and Used Gear section.
Step 5: Trying on 
After tightly lacing up your boots with thick high socks on, make sure to walk around and climb up and down an inclined surface. REI has these in their stores!
Soon you'd notice any discomfort, but I can guarantee you that these problems won't start showing until after a few first hikes. So as long as everything feels fit and comfortable, they should be good!
Step 6: Don't settle for an okay pair 
Know that you can return, trade, or sell your unwanted, ill-fitting, faulty, or old boots that no longer serve you well. Any outdoorsy brands will guarantee their products, and if not, RUN!
If you're tired of having too many options, just go with your gut and pick a pair that fits your budget and speaks to you. Ask yourself this question again, 'What do YOU need?'
Step 7: Don't expect your hiking boots to do everything.
For extended hiking trips and road trips, I always bring along a pair of performance sandals to switch out for short hikes, water-involved or light activities in general. I choose to not wear my hiking boots everywhere because they can get quite hot, and I really only want to wear my boots when I actually hike.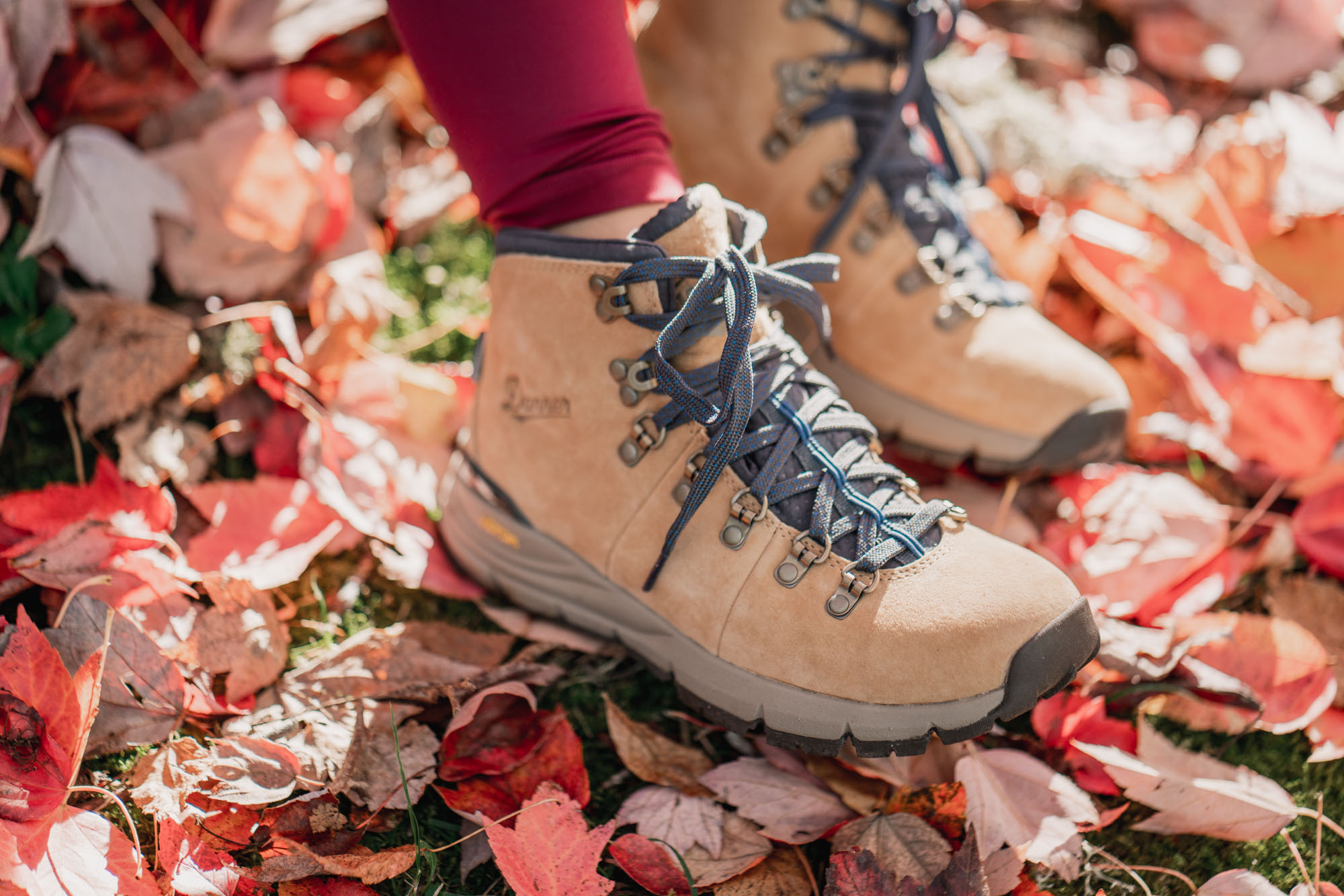 EXTRAS
SOCKS FOR HIKING: So! There is a wide array of sock that ranges from heights, fabrics, and styles. There are no-show, ankle, crew, and knee-high socks. Sometimes you don't need any cushioning, but light, medium, and heavy cushioning might be needed depending on the occasion. Materials are also important because they dictate comfort, warmth, durability, and they'd also need to be fast drying. In the end, I recommend DarnTough as the go-to sock brand for durability and versatility. I also love my Smartwool socks for skiing and hiking in the winter. In short, you'd need socks that cover your ankles entirely, not too tight nor too loose. I like my "crew" because they go past a few inches above the ankle bones and give me the ankle protection that I need.
INSOLE EXIST: Know that there are options for wide feet, alternate insole, and you can also lace your boots differently to make the boots work for you and your feet. Reach out for help if you need boots with extra room, protection, and insulation for extended backpacking trips and mountaineering. Look for gaiters as they keep snow, water, dirt, and rocks from getting into your boots.
BOOT CARE: Brush off dirt and debris after each use and store them in a cool dry place. Most boots can be hand-washed with light detergent and let air dried, just make sure you remove the laces and insoles and wash them separately.
Frequent waterproofing with wax or silicone treatments to help soften the leather making them more comfortable. Use boot trees to keep them in-shape during inactive seasons.
CONCLUSION:
Good luck in your boot buying journey. Make sure they are the right ones for you and your needs. If you need additional questions, feel free to leave them in the comment section or reach out to me in my DM. Other resources that I highly recommend are linked below.
SHOP THIS POST: