I have recently had the pleasure to collaborate with Supergoop! on a little Instagram Reel project, and I've also been featured on their skincare blog, The Bright Side, here. In this blog post, I will highlight some Supergoop! products that I own and give you a rating based on formulation, value, and overall performance. I have dry skin, but overall, it's pretty normal.
Disclaimer: All products featured are gifted, but I'm not required to write this blog post review. All opinions are mine. If you decide to purchase any products in this blog post by clicking on the links embedded, I might be able to make a small commission. Thank you for your support!
about Supergoop!
Founded by Holly Thaggard in 2007, Supergoop!, known as Experts in SPF™, was founded with a mission to normalize the daily use of sunscreen or sun protection products. Sunscreens used to be used at the beach.
Supergoop! makes sun protection products for all skin types from sunscreens, makeup, and skincare. All products are reef-friendly, cruelty-free, and made with clean ingredients. No oxybenzone, octinoxate, or parabens.
1. Daily Dose Hydra-Ceramide Boost + SPF 40 Sunscreen Oil PA+++
I love using oil to add some extra hydration, something that moisturizers cannot do since oil does penetrate deeper into the skin layers. Oil is skincare. All I need are three drops, one on my forehead and one on each cheek. I use it before or after morning moisturizer, and it's been a great addition that really helps lock in the moisture of my skin.
According to Supergoop!, you'd need to use 6 to 8 drops, and I think that's a lot of product considering how light the bottle feels. I'm afraid I will run out of it so fast if I use it that much. The rating below reflects the value for the price, and this is something I don't think I will repurchase. It's nice to have but not necessary.
I love the scent of the Daily Dose Hydra-Ceramide Boost Oil. It smells like a dessert 0r banana or something summery.
Formulation: Oil. Vegan. Gluten-free. Cruelty-free.
Key Ingredients:
– Ceramides- fortify the skin barrier and retain moisture
– Squalane – boosts skin hydration and locks in moisture 
– Hyaluronic Acid – formulated at different molecular weights to provide long-lasting hydration
Rating: 4/5

2. Superscreen Daily Moisturizer SPF 40
I've been reaching for the Superscreen Daily Moisturizer almost daily. It's so moisturizing and blends into my skin so effortlessly. I love that it has a bouncy texture with no scent, just easy and effective.
Formulation: Cream. Vegan. Cruelty-free. Gluten-free.
Key Ingredients:
– Cerium – a rare mineral element that reflects and helps shield from blue light
– Blue-green Algae – contains a naturally-occurring combination of moisturizers, antioxidants, and skin repair actives
– Moisture Binding Plant Fermentation Film – a moisture-binding barrier made from plant fermentation that acts as a shield to help protect the skin from atmospheric pollution.
Rating: 4.8/5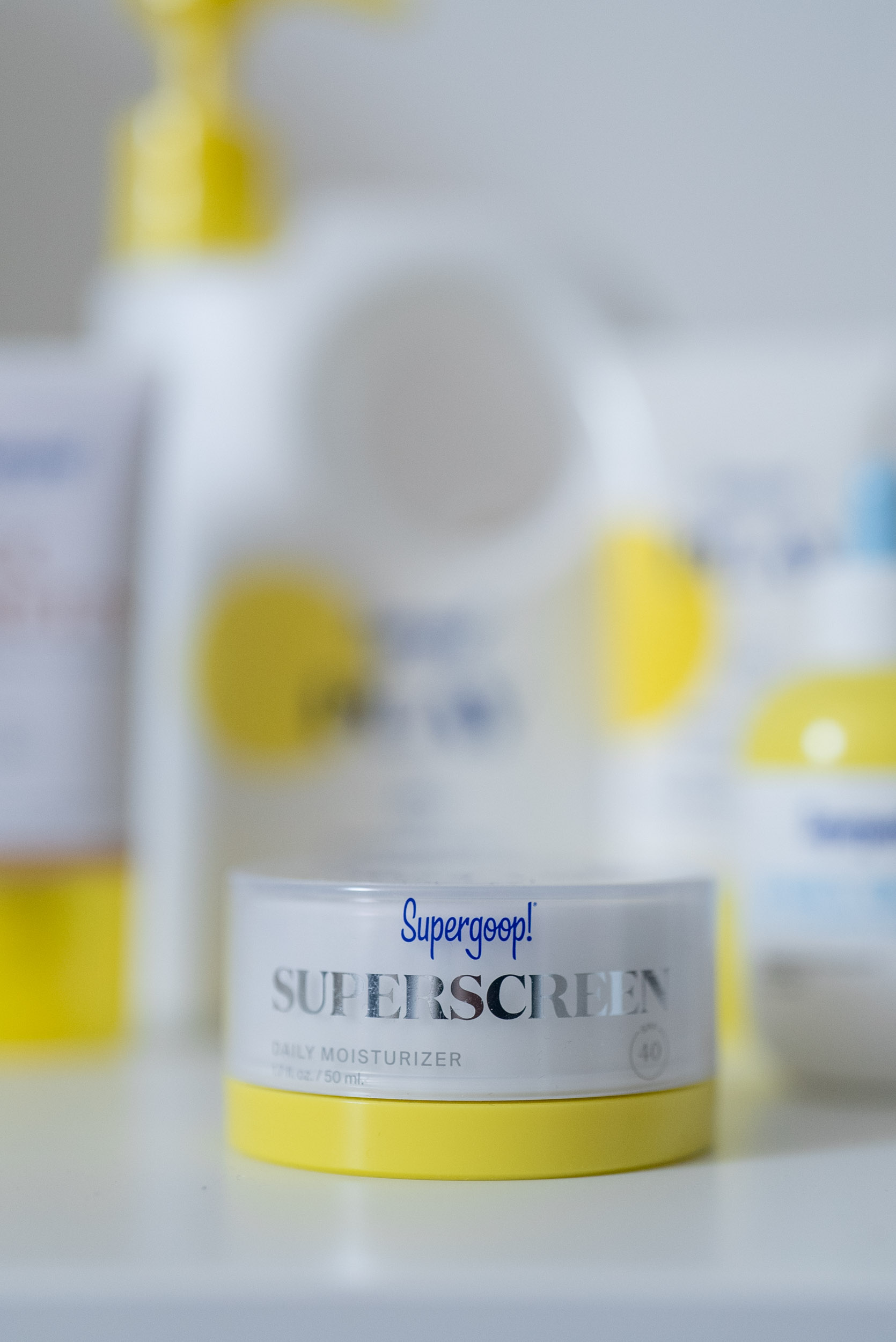 3. 
PLAY Everyday Lotion SPF 50 with Sunflower Extract
I love this lotion for the body just as much as the one for the face from Supergoop! It's got the creamiest but light and moisturizing formula with an ever so lightly scent. It leaves my skin a healthy glow, and I look forward to using it every day. It's winter now, so I've only been using it on my neck, shoulder, and arms. Can't wait until warmer weather so that I can lather my body in this. Love that it also comes in a mini travel size and bigger pump bottle (18 fl. oz.). 
Formulation: Lotion. Vegan. Cruelty-free. Reef-safe. Gluten-free.

Active Ingredients: Avobenzone (3%), Homosalate (10%), Octisalate (5%), Octocrylene (7.5%)
Key Ingredients:
– Sunflower Extract- rich in beta carotene and helps protect skin from external environmental elements
– Rosemary Leaf Extract – has a calming effect on the skin and is rich in antioxidants
Rating: 4.7/5

4. 
CC Screen 100% Mineral CC Cream SPF 50 PA++++
I was excited to try this CC Cream from Supergoop!, and after giving it some time with proper use, I feel indifferent about it. It has light coverage but feels quite sticky. It will cling to your dry patches if you don't moisturize your skin ahead. I love that the sunscreen ingredients used are mineral as they absorb the UVB rays and reflect the UVS rays.
I have a medium skin tone with an olive undertone, and the closest match to my skin is 315N – medium with neutral undertones. Normally, I love BB or CC cream for quick natural coverage, and this one is not my favorite. It might be because of the color match or the formula, not sure.
Formulation: Cream. Gluten-free. Cruelty-free. No D4 and D5 cyclical silicones, PEGs, talc, phenoxyethanol, or any potential skin sensitizers.

Key Ingredients:
– Non-nano Zinc Oxide – made of mineral particles that are larger in size and sit safely on top of the skin to absorb UVB rays and reflect UVA rays
– Apple Extract- helps the skin appear smoother and brighter
– Irish Moss/Red Seaweed Extract – protects against free radicals with vitamins and minerals needed to maintain healthy skin
Rating: 3.5/5

5. SUPERGOOP! UNSEEN SUNSCREEN SPF 40 PA+++
SUPERGOOP! UNSEEN SUNSCREEN has been my favorite sunscreen to use for years. It's a clear gel primer with SPF 40. It blends so easily into the skin, scentless, and completely invisible. 
When this sunscreen first came out, I remembered it was on a lot of people's favorite list. And it was true because it was one of its kind to be a sheer finished sunscreen. It doesn't leave a white cast, and formulation suits pretty much all skin colors. Besides the fact that it does feel silicone-like, I have no complaint. I love the lightweight, velvety, and slightly mattifying finish. It's been my go-to sunscreen for over 2 years, and I highly recommend it.
Formulation: Gel. Oil-free. Cruelty-free. Gluten-free.
Key Ingredients:
– Complex Derived from Meadowfoam Seed – increase hydration levels, even skin texture
– Red Algae – protect against blue light emitted by electronic devices
– Frankincense – soothing

SHOP THIS POST:

READ MORE:
What's in My Travel Makeup Bag