Welcome to my Brooklyn apartment.
In this post, you'll be able to shop everything in my apartment. Links are affiliate links, and that means I'll earn a small comission if you decide to purchase.
My Brooklyn Apartment
DESIGN SERVICE I'VE USED:
I've utilized Havenly design service. The design process helps me figure out my design style, and the designer helps narrow it down to pieces that I need within my budget. Use code STYLEANDSENSES for 25% off of your Mini & Full Package HERE.
LIVING ROOM
SOFA: 
Floyd SOFA Sectional – 2-Seater with Left Side Chaise, color Off-white
Two-tone Linen Pillow Cover (20″x20″)
Mariposa Pillow Cover (12″x21″), 12″x21″ pillow insert

White sands Pendleton Blanket – Twin size. I have this draped on the sofa and use it as a decor piece only.

SIDE TABLE: 

RUG: 
CB2 Bass Handloomed Rug – size 5'x8′

LAMP: 
Noguchi Akari A10 Lamp – I bought this lamp at the Noguchi Museum store, blog post HERE and Tik Tok video HERE. It's said sold out online, but you might get lucky if you check it out at the museum store.
SCENTS:
Diptyque Figuier/Fig Tree Candle & BAIES/Berries Candle

GALLERY WALL:
I work with FRAMEBRIDGE on this (used to be at my first NYC apartment –  currently in storage).
WORK-FROM-HOME DESK SETUP:
noho chair – Color: Ironsand
Fully Desk Frame (Tabletop is purchased separately on IKEA. Link below!)
Frame color: White

Desk height: 2 Stage (from 29″ to 48.3″ (without top))

Handset: Standard Up/Down Switch

Frame width: narrow

IKEA white tabletop (47″ x 23.5″)
SHOE RACK: 
Open Spaces Entryway Rack – Color Cream

KITCHEN
SHOP MY KITCHEN & PANTRY AMAZON LIST
POTS & PANS:
Caraway Cookware Set – I have the Cream & Sage set. BLOG POST UNBOXING AND REVIEW HERE.

Le Creuset Gold Knob – If you bake sourdough bread at home using your Le Creuset pot, you'd need to either remove the knob. I've replaced the original one with this stainless steel gold knob, and it's totally safe in the oven.

Le Creuset Round Dutch Oven 3 1/2 qt (3-4 servings). Color: Cerise. 

COFFEE:
FELLOW Stagg EKG Electric Kettle for Pour-over Coffee
KRUPS Grinder (current coffee bean grinder)

GLASSWARE:
PYREX Containers with Air-tight Lids

Le Parfait Familia Wiss Terrine Glass Containers
Le Parfait Jam Pots with Snap Lids
Le Parfait 750ml Glass Air-tight Jar for Pickling

Crate & Barrel glass – I have both, the 10 oz and 16 oz. 

12 oz Square Glass Cup Retro Drinkware 


CHARCUTERIE BOARD SET-UP:
Bento Matte Black Rectangular Platter
Helms Black Cheese Knives Set of 3
Bento Matte Black Square Platter

STAND MIXER:
KitchenAid Artisan Series 5-Qt

BLENDER:
Vitamix Explorian E310 Blender

CUTTING BOARD
John Boos Block 20 in x 15 in x 1.5 in
Boos Oil & Cream (for cutting board care & maintenance)

Brita Water Pitcher 10 Cup, size Large 

Juice/Tea Bottle (Same design as my cold brew bottle, but the lid is white.)


ICE ICE ICE:

BAKING ESSENTIALS:
Dowan 6 oz Ramekins Set of 6 (creme caramel & creme brulee)





Organic Shaped Bowls – I have both of the 6″ and 8″.

Cookie Sheet Pan Set – Aluminum Sheet Pan, Silicone Baking Mat & Stainless Steel Cooling Rack 

Duralex Glass Bowls – Set of 10

BASKETS:
Bendt Iron Square Basket – perfect to store root veggies, and it can fit a lot! 

Mesh Colanders Set of 5 

SINK SETUP:
wahoo 3 Pairs PVC Dishwashing Cleaning Gloves
Scotch-Brite Greener Clean Kitchen Sponges

MISCELLANEOUS:


Mrs. Meyer's Clean Day Multi-Surface Cleaner Spray – I have an electric stove top, so this has been handy to keep all surfaces clean.

Simplehuman 35L dual Compartment Trash Can – great for a small apartment like mine since it fits under and inside my apartment's tiny sink.

More of my KITCHEN ESSENTIALS HERE
DINING ROOM
My dining room is just a corner, not a proper room. There will be framed art to cover the electrical unit and a big Stendig calendar hung on each side of the wall. More updates soon!
DINING SET-UP:
George Oliver Dining Table – 40 in
Dining Chairs – Frame Color: Dark Walnut 

KOLBJÖRN Metal Cabinet – It's currently holding my stationery, office stuff, equipment, boxes, and tools.
SHOE RACK:
Yamazaki Tower 6-tier Wood Top Shoe Rack – color white
Open Spaces Entryway Rack – color cream


CAKE STAND:

BAR SET-UP:
J.K. Adams Ash Wood 12-Bottle Wine Rack
Barstash Bartender 17-piece Kit

Tour red wine glass 24 oz, Tour 10 oz glass, Edge White Wine Glass, Level White Wine Glass

BALCONY
Outdoor Portable Table in a Bag
Woods Camping Lounger Chair in a Bag – Color Dijon
REI Camping Chair – Color Sage

BEDROOM
MY BED:
AVOCADO Green Mattress – Size Queen with Pillowtop added
AVOCADO Green Pillow – Size Queen (it's a hard pillow, but it can be customized because it comes with extra filling.)
AVOCADO Molded Latex Pillow – Size Queen (my current favorite pillow – I'm a back sleeper!)
Read my AVOCADO mattress and pillow blog post review HERE. I also have 2 Casper pillows: the Original and the Foam pillow. My partner is a stomach sleeper, and he really likes the foam one.
Pact 100% Organic Cotton Bedding Set (old)

Brooklinen Luxe Hardcore Sheet Bundle in Cream size Queen (literally the best cotton sheets ever – my current fall/winter sheets)
*use code styleandsenses20 for $20 off $100 purchases
TEKLA Linen Sheet (sleep cool – great for summer, awesome quality)
Parachute Fitted Linen Sheet size Queen (sleep cool – great for summer)
BED FRAME: 
Floyd in Birch size Queen and white hardware (I got it secondhand!)
GUEST MATTRESS:
Japanese Futon Mattress – For guests! I got the size queen, so it sleeps 2 – 3 guests. I've tested and slept on it for a week, and it's great. Note that I'm a back sleeper, so it's got the perfect amount of plush.

MY TABLE LAMP:
Table Lamp Dimmer Switch (6ft extension cord)

CHAIR:

MIRROR:
CB2 Infinity Mirror (white, 32″ x 76″) – my current mirror

Full-Length Floor Mirror (old mirror – small and great for small apartment)

Yamazaki Standing Makeup Mirror (white)

METAL WALL SHELF:
DIY Cartel – currently holding plants and candles. It's heavy-duty steel and very durable.

DRESSER:
NORDLI 4-dresser in white
ACCORDION PAPER CHRISTMAS TREE – Set of 3

CLOTHING RACK & STORAGE:
Tower Leaning Shelf Coat Hanger – This holds about 10 coats max, but I love that it fits perfectly in the corner of my bedroom. I store nicer shoe boxes and bags on top. 

Clothing Rack (old one, currently holding clothes that I put up on sale on Poshmark @styleandsenses)
MUJI Oak & Stainless Steel Shelf – Mine is the L  (tallest, 4 compartments), Regular version, W22.8″xD16.1″xH69.0″. It also comes in all stainless steel and Wide style. Note that this exact style might not be available online, but check your local MUJI store as they might have it in-store. I got lucky and was able to pick this up at the MUJI store in Hudson Yards in New York.
Velvet Hangers – Slim, set of 100, color Black 

MUJI Acrylic Drawers for Makeup: HERE & HERE 


PLANTS
HANGING PLANTERS (I have both Beige and Black colors 7 inches)
My Avocado plant vases are both one KINTO: Aqua Culture Two-Part Vase & 7.5 Inch Luna Vase
Planter with Tall Legs (11 in x 31 in)

Organic Fertilizer for Indoor Plants
Organic Fertilizer for Cacti & Succulents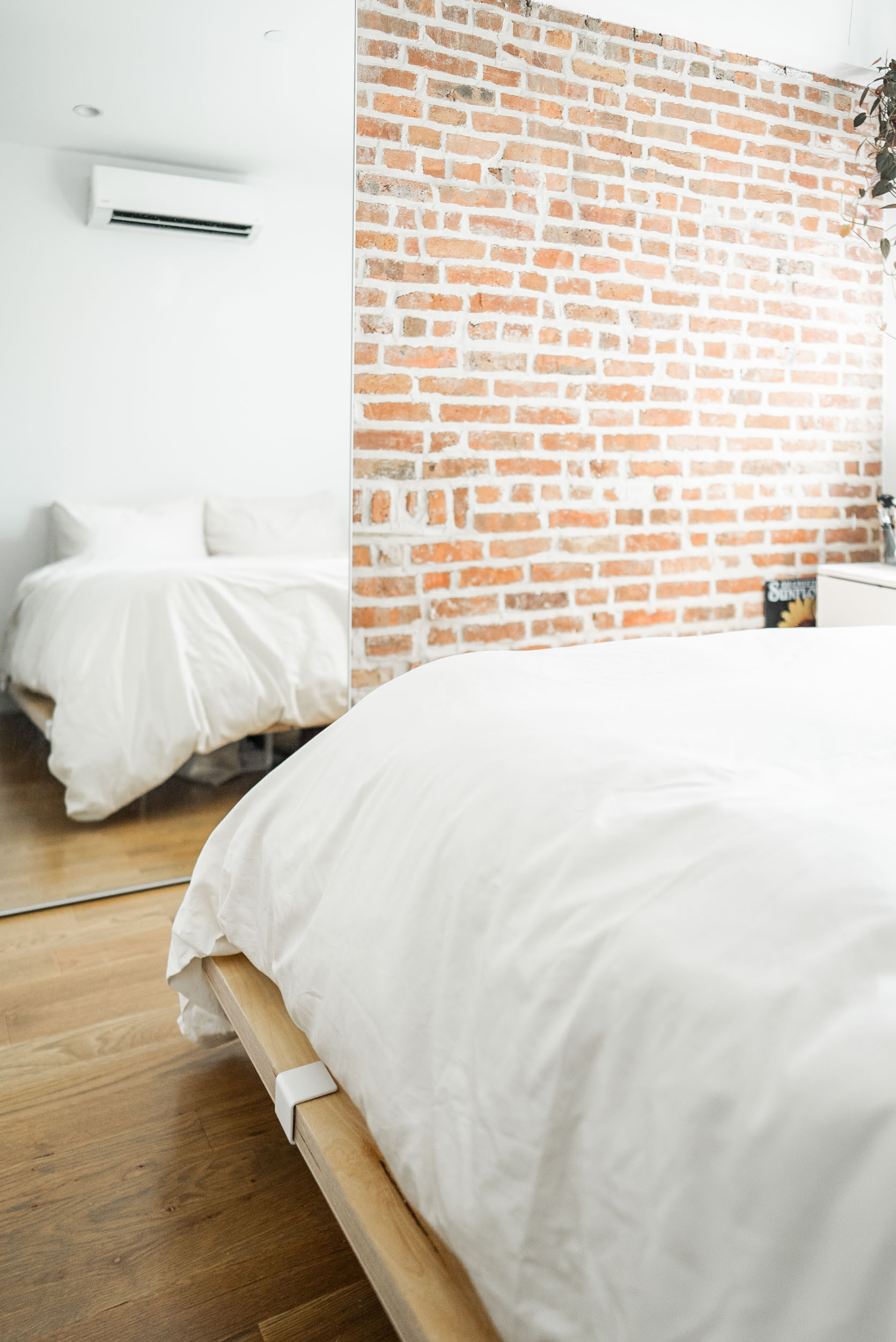 BATHROOM
Rylan White Reversible Bath Rug 18″x24″ 

MY TOOTHBRUSH
Listerine Gum Therapy Mouthwash
Nécessaire shower gel & lotion

Glossier face wash 

Billie Razor & Flamingo Razor (I love and recommend both of them!)

Callus and Heel Treatment: I love Footlogix products, try this and this.
CLEANING PRODUCTS
OXO Brush (I use this brush to clean the shower walls, kitchen, and bathroom sink. The bristles are hard, and I like that I can just use one hand to clean everything.) 


Bar Keepers Friend Powder Cleanser – great multi-purpose powder that actually cleans! I use it to clean the toilet bowl, bathroom shower walls, sinks, and the bottoms of my Caraway cookware set).