Christmas is near, so I thought I'd update you on my 2020 Christmas tree while sharing some Christmas memories and traditions.
In Vietnam
Back home, Christmas has always been so near and dear to my heart. One of the fondest memories that I had was with my siblings in Vietnam as we would gather and decorate the Christmas tree. We would play the karaoke Paris By Night DVD, the Christmas edition that my dad bought after that.
The majority of the Vietnamese population are Buddhist, but I was born and raised in Ho Nai 3, Bien Hoa city in Dong Nai province, Vietnam. Ho Nai 3 is known for the big Catholic population and churches that are very close to each other. So yes, I'm Catholic and do celebrate Christmas by going to church, participating in Christmas play, and decorate the house for the holidays.
In Minnesota
My uncle and aunt in Minnesota whom I used to live with a few years ago also liked getting a tree. They let the kids do the decorating while my uncle put up the actual wood fire in the fireplace, so cozy. I feel like Christmas just feels a little better when I'm surrounded by family. Even though I do agree that snow makes Christmas just a little special, but overall, it's really how you make of it, isn't it?
In Seattle
Winter in the PNW is actually not that bad because it's much safer to drive. If you'd prefer a white Christmas, Leavenworth is famous for that since the whole town is decked out in lights. It takes a few hours to get to snow-covered mountains or ski resorts where there are plenty of snow-related sports.
In the Seattle area, there are plenty of Christmas tree lots and festive opportunities for family and friends. This particular year, due to the pandemic, it's best to opt for drive-in light installations and keep things within our households.
Buttonwood Farm U-Cut Christmas Trees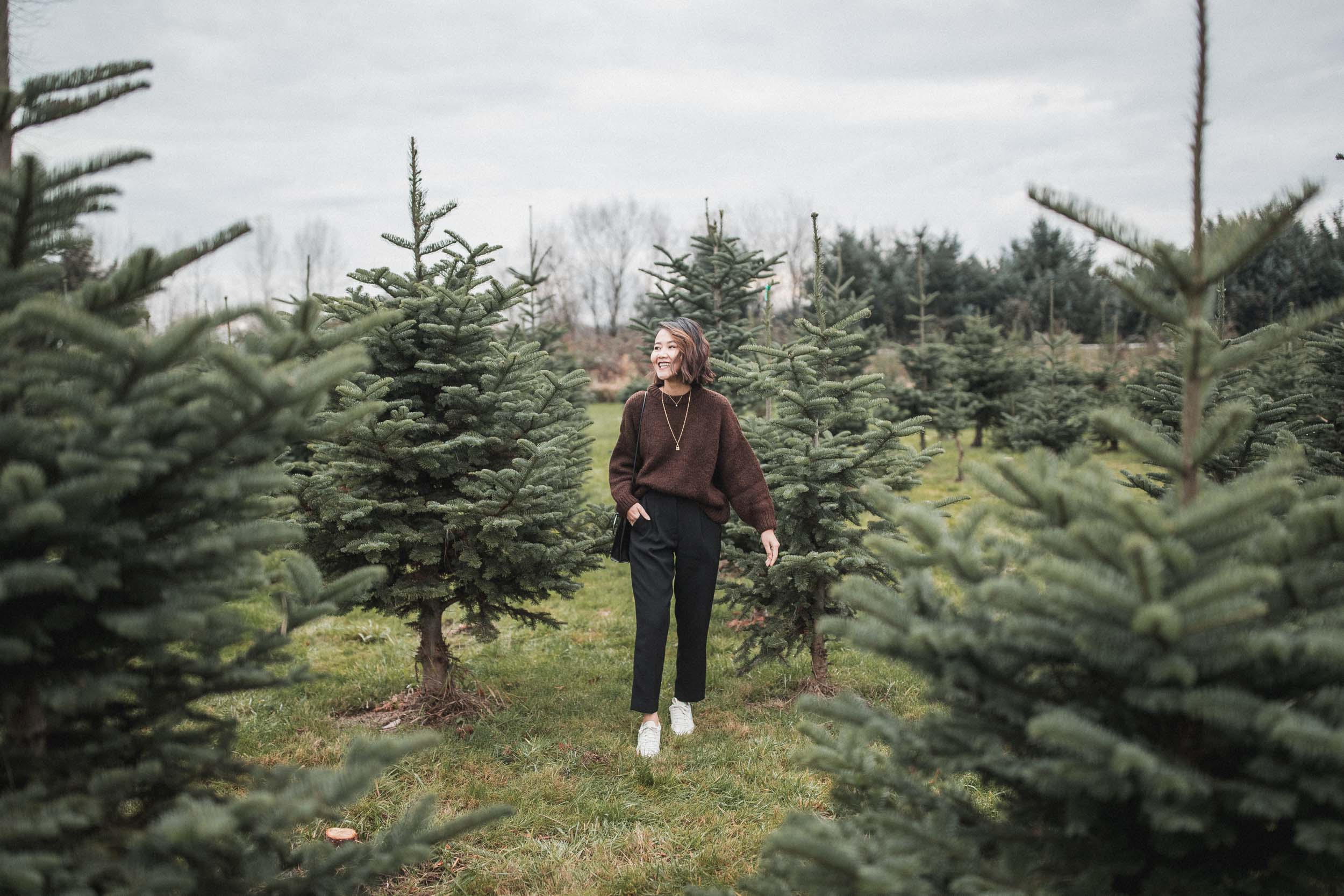 Where to Get a Real Christmas Tree in Seattle
Below are some Christmas tree lots that I have gotten my trees from. I love a freshly cut tree, preferably Noble Fir because it smells so good and lasts so long. Noble Fir costs about $15 per foot, and a 6-foot tall tree is perfect for our small apartment. In addition, my apartment does discard the tree for us, so we don't have to pay extra for tree collection.
Our 2018 tree – Buttonwood Farm U-Cut Christmas Trees (14500 NE 116th St, Redmond, WA 98052) – It's an actual farm here where they sell organically grown trees, and you could ask for a saw to cut down your tree or they would cut it for you. It's the most expensive option, but it is a fun activity for the family, especially if you have small children and want to start a family tradition this way.
Our 2019 tree – Curry Family Xmas tree lot (210 NW 101st St, Seattle, WA 98177) – It's a small lot, and I'm not sure if they're still in business in 2020.
Our 2020 tree – Andy Smith Christmas Trees (210 NW 101st and, Holman Rd NW, Seattle, WA 98177) – friendly and fast service with tons of tree options of different types and sizes.
Other popular solid options for anyone who lives North of the Seattle area: Seattle Christmas Tree, Country farms Edmonds, Swanson's Nursery, Molbak's Garden Plus Home, and of course any local nurseries, Home Depot, QFC, Fred Meyer, or Lowe's.
My 2019 Christmas Tree
My 2020 Christmas Tree (with the new tree skirt and a lot more ornaments)
Let's Get Decorating!
My tree is quite small, so I currently have it standing in a small tree stand that I picked up at the tree lot in 2018. I'd add some water to keep it fresh a little longer. I have three sets of lights from Home Depot, and my tree skirt is new from CB2 (I got it on sale, and the gray one is available here). Most of my ornaments are from West Elm and CB2, and I'd like to keep them in black, white, and gold theme.
Flake Velvet White Tree Skirt (sold out in white, but the gray is still available)
My initial AT & T ornaments, horse, and a few others are sold out.

READ MORE:
The 2020 Style & Senses Holiday Gift Guide Edit