I have a confession to make. I am obsessed with candles!
Ever since I moved to Seattle, I became obsessed with home decor, furniture, and would gravitate toward any candle sections at the stores. Candles to me do not only serve as aromatherapy but also are beautiful home decor pieces. In today's blog post, I am sharing 5 candles and a brief history behind each brand. So let's get comfy!
1. diptyque BAIES
Size: 6.5 oz., single wick candle
Burn time: 50-60 hours
Source: Made in France
Ingredients: Blackcurrant leaves, Blackcurrant buds, Bulgarian roses, Ambergris
BAEIES is no doubt one of the best-selling scents from Diptique. It is fresh, fruity, and the scent literally fills up my bedroom so quickly. I have it right on the left side of the bed where I sleep and would smell hints of it even when it is not lit. It is a $65 candle, expensive, and that is why I try to burn this super slowly.
They recommend burning the candle until the whole top is liquid with wax before blowing it out. This is to ensure an even burn next time! And when you are done, clean out the leftover wax and recycle the jar. Use it as a brush holder, Q-tip holder, literally anything. More ideas: HERE

Size: 7.2 oz., cotton wick candle
Burn time: 40-50 hours
Source: Made in CA
Ingredients: 100% natural soy wax, phthalate-free fragrance blends
I bought this candle for $20 at Woonwinkel, a really cute stationery shop in downtown Portland last year. Amber and Moss has amber and musk base notes which I like. There is a hint of an orange and lavender scent that is very fresh and clean.
P. F. Candle Co. is an LA-based husband-and-wife-owned company, founded in 2008. They are known for the amber glass jars and their beautiful smelling things such as candles, reed diffusers, room sprays, incense, and unisex perfumes. Locally, you can find P.F. Candle Co. candles at CB2 stores and Verde & co. 
I've also picked up this diffuser, and it is now in my corner of the bedroom. It smells amazing and lasts so long.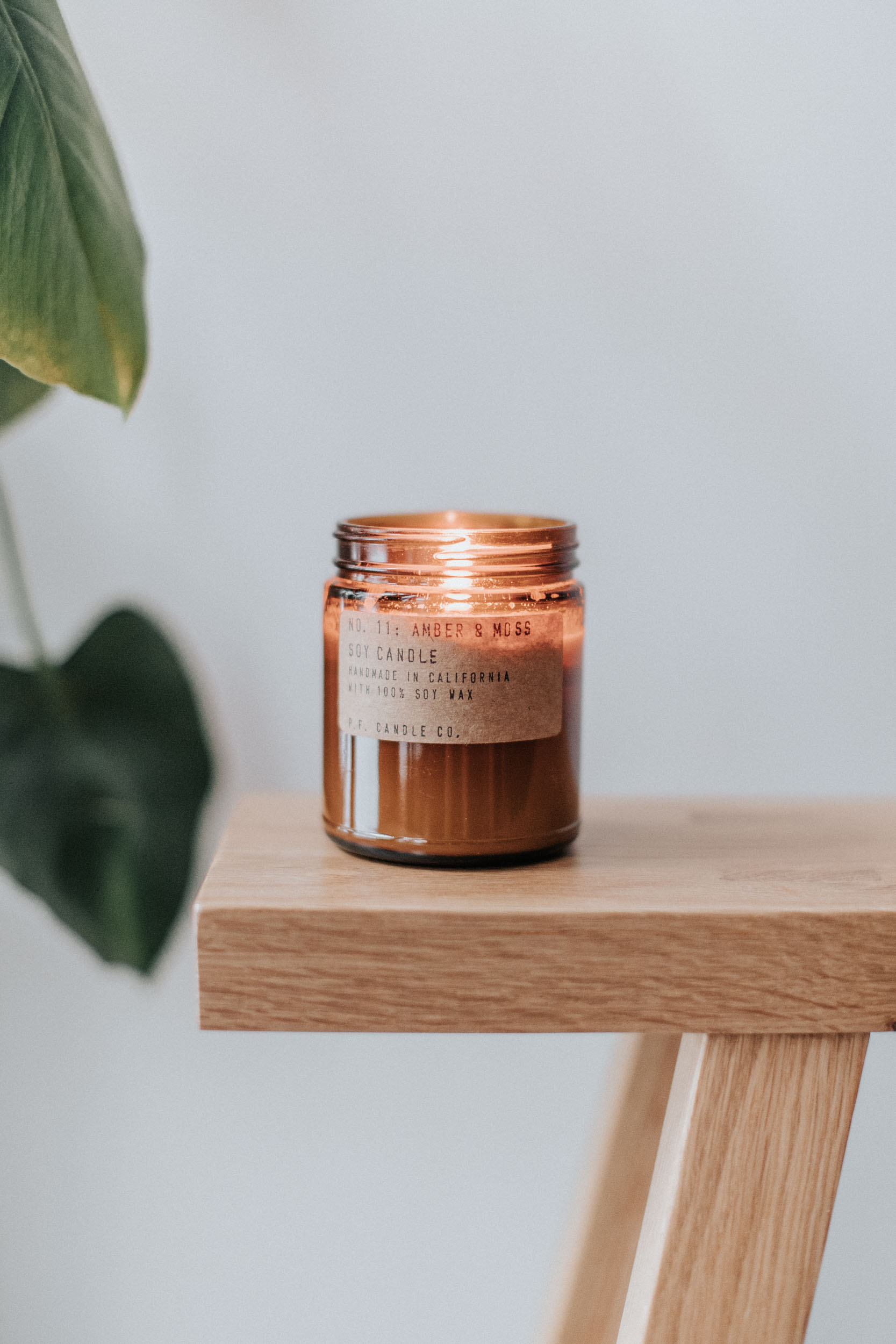 Size: 5.29 oz.
Burn time: 50 hours
Source: Made in France
Ingredients: mineral wax and paraffin
This Bougie No1. Cologne scent really caught my attention right when I walked into the A.P.C store on Melrose in LA. It is strong but not overwhelming and smells jut like men's cologne like expensive men's cologne. And I love it! Their store has a small outdoor section with huge cacti, pretty cool! A.P. C stands for Atelier de Production et de Création. Founded in Paris in 1987, their clothing is known for rarely having their logo visible, military and androgynous.
I bought mine at NEED, and they ran out of business at the end of 2020. Shopbop does have them here.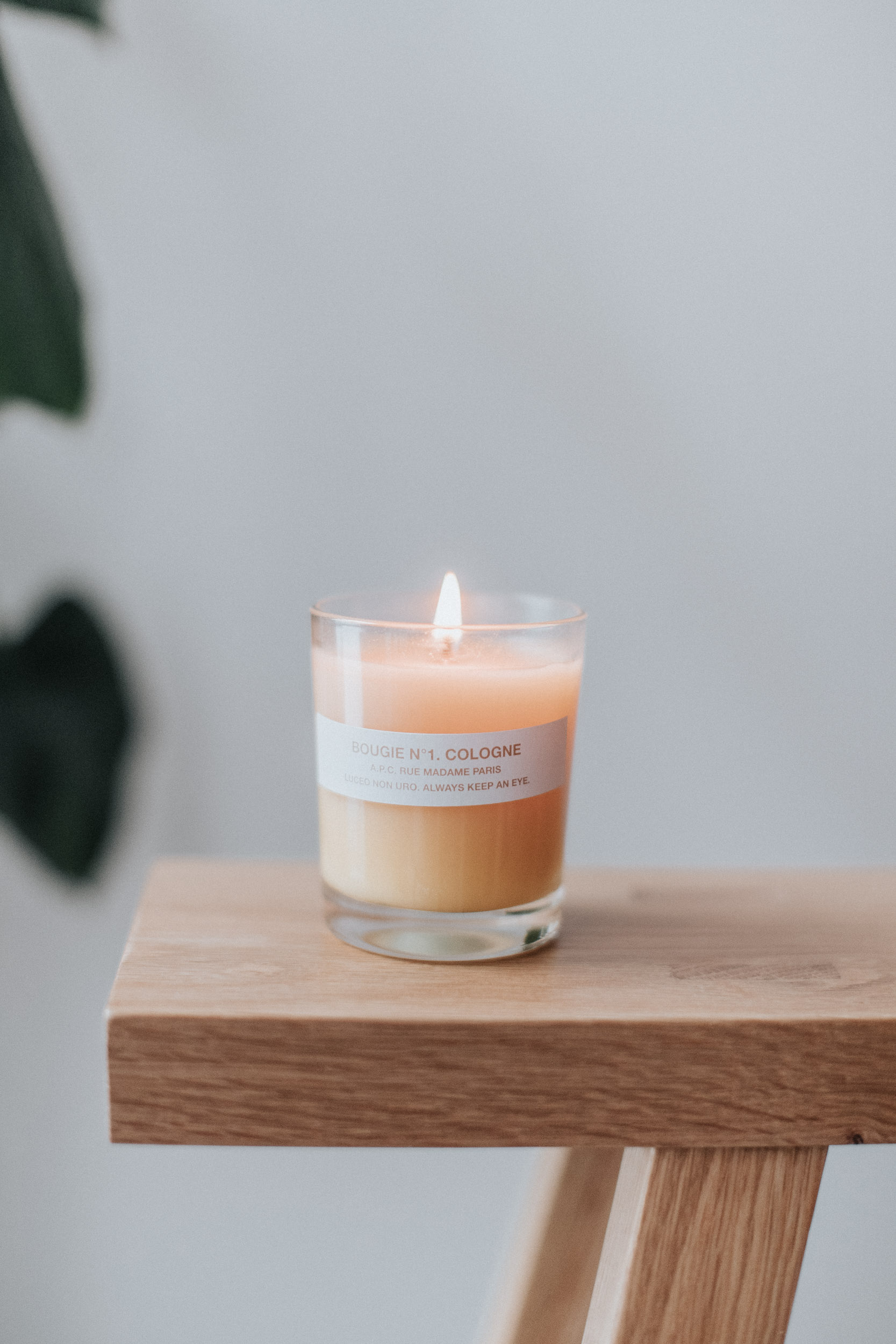 4. Lulumière
Size: 8 fl oz.
Burn time: 50-60 hours
Source: Made in Seattle, WA
Ingredients: US grown soy wax, 100% therapeutic grade essential oils & a cotton paper wick.
I met Linda, the owner and candle pourer behind the PNW-inspired Lulumière, at a product show last year in downtown Seattle. I thought it was funny that she recognized and said that she saw me at the Forever 21 event (guessing from my Instagram stories posting). So glad I got to meet her in person and knew about her gorgeous candle line. Linda kindly gifted me this candle, and I had been wanted to feature her candle in one of my posts for a while. I love that her soy candles are hand-poured from 100% therapeutic essential oils with no synthetic ingredients and lots of care. The Bergamot & Tangerine candle has smooth citrus and a juicy tangerine scent. Green and fresh!
Check out many other candles from Lulumière, HERE.
Lulumière's Instagram: HERE
5. Boy Smells
Size: 8.8 oz.
Burn time: 50 hours
Source: Made in the USA
Ingredients: Coconut wax/beeswax/cotton wick/glass
I have heard and seen the LA-based Boy Smells candles many times before and wanted to pick one up for so long. And I finally did! REDHEAD comes in their signature pink box and black glass jar. The brand's most known candles are Cinderose (smoky rose scent), Gardener (tomato and floral scent), or Kusk (cannabis scent). Those were quite too strong when I smelled them in-store, so I settled for this REDHEAD scent. I would say there is a slight hint of pomelo and warm woodsy cedar scent. It is $32.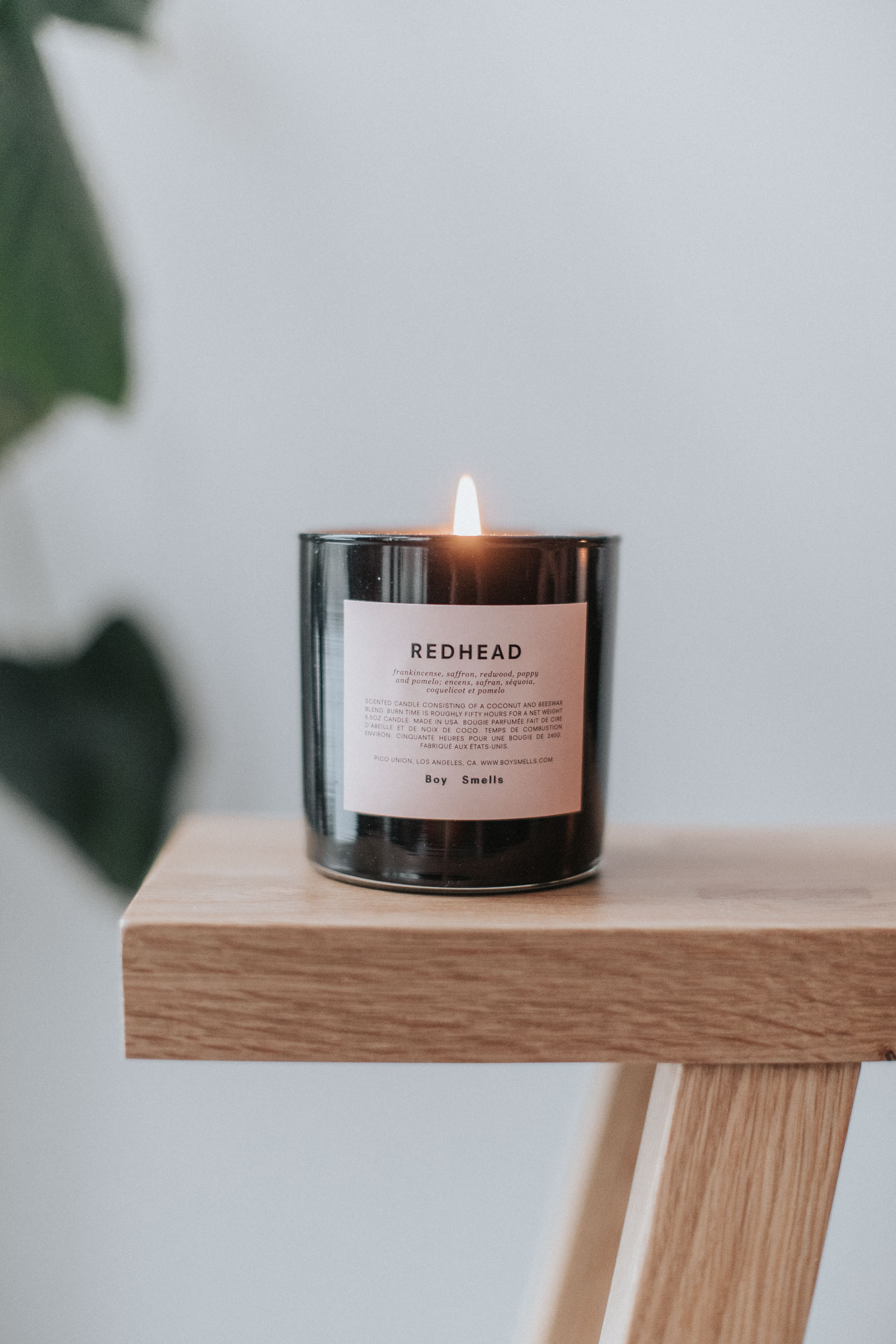 I love a good candle browsing session at stores during my travels, and I've picked up a lot especially at stores in New York and LA. Just like fashion, I like to take my time to really get to know the brands and make sure I do enough research prior to making any purchases. I know a few candle suggestion above is pricy, but I love every single one of them.
I hope this will inspire you to pick up a few candles to add to your home and burn one on occasion as a treat to yourself. I love my me-time moments with a candle burning, face, and hair mask in a hot bath. This I've found has been helping me so much to wind down at the end of the day, especially on crampy period days.
READ MORE:
My Favorite Kitchen Tools & Gadget – Part 1