Travel  /  Pacific Northwest
January 21, 2021 by an trieu
Washington is home to so many beautiful hiking trails ranging from snow-covered mountains, stunning waterfalls, and turquoise aquamarine lakes. Ever since moving to Seattle, hiking has been one of the best things that help me stay active and stress-free. With that said, I am not a pro nor do I say I know it all, but I love sharing my journey with you guys.
In today's post, I'm finally sharing my list of the 10 best hikes that I've done in Washington. This list includes hikes that are mostly rated from intermediate to hard. It is personal to me and my fitness level, so for you, I'd recommend taking precautions and some planning ahead if you intend to hike any of these. In the end, my goal is to help you plan for your perfect hiking adventure, and you can achieve it all if there is a will. Have fun and be safe out there!
TOP 10 HIKES IN WASHINGTON:
Note that this list ranges from moderate to difficult (in no particular order) and might require some hiking experience. All are within driving distance from Seattle and done as a day trip because I've done these all without staying overnight anywhere.
Colchuck Lake, Central Cascades
Blanca Lake, Central Cascades
Lake Ingalls, Snoqualmie Pass Region
Rachel Lake, Snoqualmie Pass Region
Hidden Lake Lookout, North Cascades
Maple Pass Loop – Lake Ann, North Cascades
Chain Lakes Loop, North Cascades
Mt. Ellinor, Olympic Peninsula
Mt. Fremont Fire Lookout, Mt. Rainier Area
Pinnacle Peak Loop Trail, Mt. Rainier Area
1. Colchuck Lake
Colchuck Lake is located in the Central Cascades, Washington. It is an extremely popular and trafficked trail since it is one of the two gateways to the Enchantments, and the trailhead also accesses Stuart Lake. Note that it is rated as moderate, so make sure to read reviews and plan ahead. Definitely wear good shoes, bring enough food, and water.
It is about 3 hours from Seattle, so I highly recommend planning an overnight stay near the area to avoid the long commute from Seattle. Leavenworth is a great touristy place with tons of lodging options, but otherwise, car camping is just as fun. 
Parking Pass/Entry Fee: Northwest Forest Pass
Best seasons: summer and fall
Be on the look for the Colchuck Lake Trail #1599 sign at the fork, straight route is to Lake Stuart.
You'd need to apply for a permit to camp along the lakeshore as there is a strict regime in this area.
Length: 8 mi. roundtrip | Elevation Gain: 2,280 ft.| Highest Point: 5580 ft.
2. Blanca Lake
Blanca Lake is hands down the most stunning lake I've ever seen. Some might argue that Colchuck is better but really depends on the lighting and weather conditions. The lake color on the day that I did this hike was milky turquoise. It is mesmerizing and insanely beautiful!
From Seattle, it is about 1 hour and 45 minutes. Without counting the amount of time we tried to get to the right trailhead, the whole hike took about 8 hours, so it is the hardest one I've done until this date. Access to the trailhead is confusing, so please refer to my blog post (will link it here) and IG -stories for more details.
Same as Colchuck, Blanca Lake hike is extremely popular, so please plan your toilet trips accordingly and pack out your trash and remind others in your group to do so. It is rated as hard, so please read reviews and be prepared with plenty of food and water. 
Parking Pass/Entry Fee: Northwest Forest Pass
Vault toilets are available at the trailhead, as well as a pit toilet at Virgin Lake before you reach Blanca. It's a super long trail, so please pack your toilet paper out if you need to go at some point along the trail. REI has a good article about going to the bathroom in the woods, here.
Length: 7.5 mi. roundtrip| Elevation Gain: 3300 ft.| Highest Point: 4600 ft.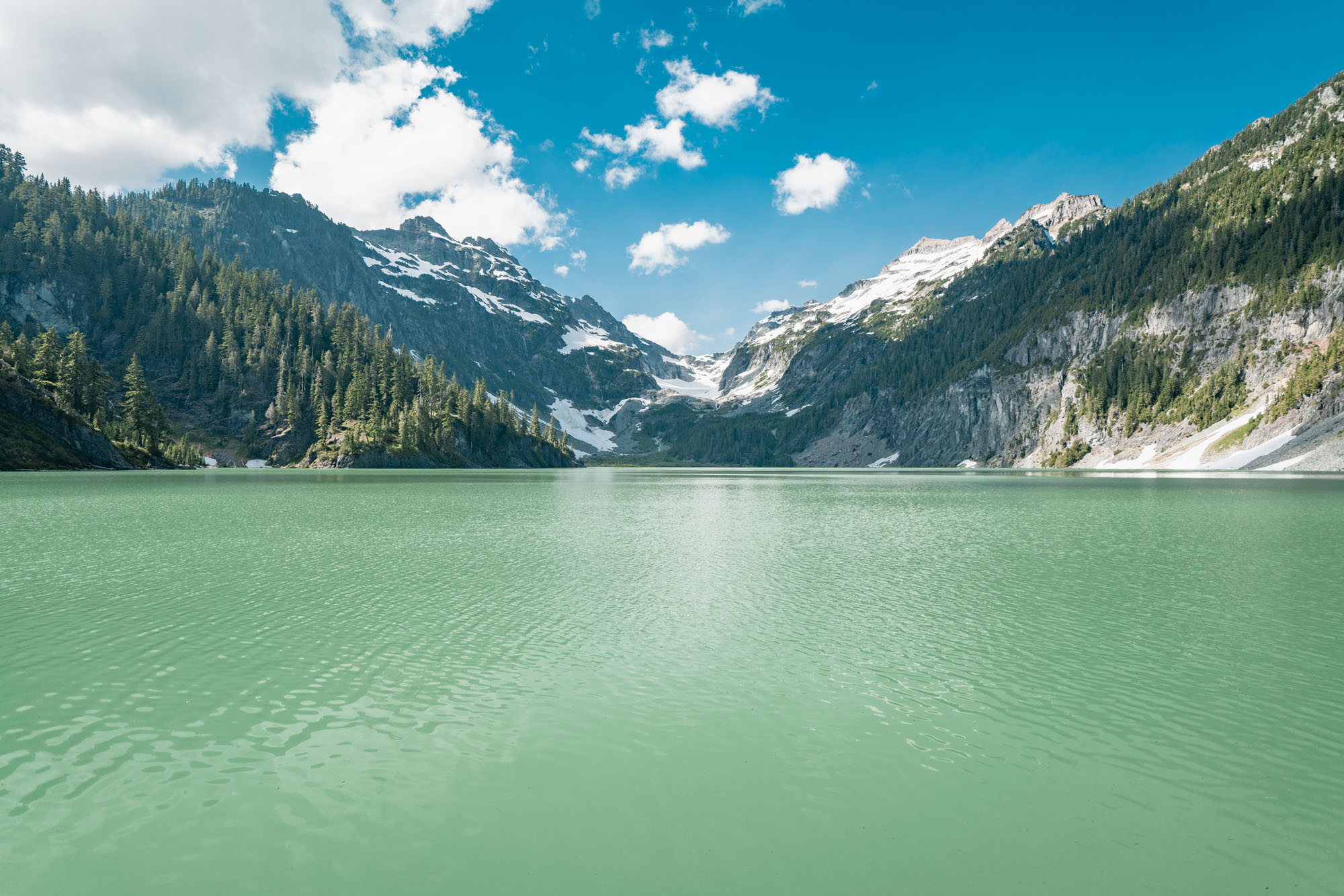 3. Lake Ingalls
Lake Ingalls is located in the Alpine Lakes Wilderness, the Snoqualmie region, an extremely popular and crowded area. It is arguably the best trail in Washington for larches in the fall.
The trail is rated as hard, but it is not as long and hard compared to Blanca Lake I feel like. Please pack plenty of water, wear good shoes, and bring hiking poles if you have them.
Parking Pass/Entry Fee: Northwest Forest Pass
Camping is prohibited at the lake, but before reaching the lake, you'd pass the actual campsite at the Headlight Basin.
Dogs are not allowed at Lake Ingalls
Length: 9 mi. roundtrip| Elevation Gain: 2500 ft.| Highest Point: 6500 ft.
4. Rachel Lake
Rachel Lake is located in the Snoqualmie region, Washington. Out of all of the lake hikes that I've done in Washington, I am the luckiest when it comes to weather that day. Snow adds such magical touches, and the view at the lake is just like a Colgate commercial.
If you hike Rachel Lake early in the day, definitely consider hiking further to Rampart Lakes, Lila Lakes, and Alta Peak.
Parking Pass/Entry Fee: Northwest Forest Pass
Permits Required: Wilderness permit. Self-issue at the trailhead (no fee)
There are a number of false trails along the way, most of which have been blocked off, so consult your map often and go with your gut.
Waterproof shoes are recommended because it's a wet hike and you'd be crossing streams.
There are some campsites at the lake.
Length: 8 mi. roundtrip| Elevation Gain: 1600 ft.| Highest Point: 4600 ft.
5. Hidden Lake Lookout

Hidden Lake Lookout offers an intimate view of the heart of North Cascades. In some parts, it felt like I was on top of the world, and in other areas, I felt like I was in Iceland or somewhere far far away from this earth.
This is rated as hard, so please plan ahead. I did sprain my knee and fell on my butt once. This hike was before I got my actual hiking boots, so that explained a lot.
Some of the things I will never forget are the wildflowers, the stunning granite slabs, and the 360 views of mountain peaks at the top when I reached the lookout. I'd do this hike all over again and will hike earlier in the day. Because of the geographical location of the Hidden Lake, I'd recommend hiking early. Do try to make it to the lookout though!
Parking Pass/Entry Fee: None
Camping at Hidden Lake (or anywhere between the lake and the ridge line) requires a backcountry permit.
Dogs must be kept on leash.
Length: 8 mi. roundtrip| Elevation Gain: 3300 ft.| Highest Point: 6900 ft.
6. Heather – Maple Pass Loop – Lake Ann
I've done Maple Pass – Lake Ann trail twice in the fall, and I'd absolutely do this over and over again because it is that stunning.
From Seattle, it takes about 3 hours and 15 to 30 minutes. Make sure to stop by Lake Diablo's Lookout since it is just half an hour before reaching the Maple Pass parking lot.
There are two ways to start this trail, and I highly recommend counter-clockwise direction for a slower start if you're not so much of a morning person like me. You'd be hiking along the ridge looking down to Lake Ann, the gorgeous alpine meadows, larches (in the fall), and snow (late fall). If you have time, take the detour to Lake Anne since it's just a flat 0.6 miles round trip. 
Going clockwise, you'd get the steep part of the trail out of the way early in the day and a more gradual descent at the day's end. I've never done this route, but regardless, I guarantee that you will love this trail!
Parking Pass/Entry Fee: Northwest Forest Pass
People also snowshoe here in the winter, but I cannot speak for that since I don't hike in the winter.
Length: 7.2 mi. roundtrip| Elevation Gain: 2000 ft.| Highest Point: 6650 ft.
7. Chain Lakes Loop
I hiked Chain Lakes Loop in the fall of 2018 and started at the Artist Point's parking lot. From here, you could hike as far as you want and turn back to the same way that you're from. If it's a clear day, do stop by Picture Lake for some classic Mt. Shuksan pictures before or after starting your hike!
I'm not a snow hiker, so I personally wouldn't recommend going here in the winter. WTA has tons of reviews from the actual PROS who would brave the snow and winter conditions, so that's a good start if you're interested in snowshoe or skiing route.
Parking Pass/Entry Fee: Northwest Forest Pass or pay a daily fee at the parking lot.
I usually park at the Artist Point's parking lot, but there are 3 ways to start this hike, read more on WTA here.
Dogs allowed on leash
Length: 6.5 mi. | Elevation Gain: 1820 ft. | Highest Point: 5400 ft.| Route Type: Roundtrip
8. Mt. Ellinor
Mount Ellinor is located in the southern-most point on the eastern front of the Olympics in the Olympic Peninsula, Washington.
Mt. Ellinor trail is extremely well-kept, and it is all thanks to the skills and diligence of the Mount Rose Trail Crew. With that said, it is a freakin' Stairmaster as there are a lot of stairs to climb, but I loved it so much. There are two ways to start this trail. The lower trailhead starts at 2,600 ft. while the upper trailhead starts at 3,500 ft. I did the latter, and it was still a tough one! 
Be sure to look around for Mt. Rainier and Lake Cushman far to the southeast. Once you reach the top, the 360-degree views at the summit area are incredible, but I recommend the spot at a lower elevation where I get the closer intimate view of Lake Cushman.
Northwest Forest Pass is required at the upper trailhead and none is required if you start at the lower trailhead.
Bring some layers, and hiking poles will be your lifesavers!
Length: 6.2 mi. roundtrip from lower trailhead & 3.2 mi from the upper trailhead | Elevation Gain: 3300 ft. | Highest Point: 5944 ft.
9. Mt. Fremont Fire Lookout
If you've never been to Mt. Rainier National Park, I highly recommend doing the Sunrise Visitor area first!
Mt. Fremont Fire Lookout hike starts at the Sunrise visitor center's parking lot, and there are a few ways to start this hike. My favorite is definitely the alpine wildflowers, wild animal sighting, and the fire lookout at the top. Plan your hike on a clear sunny day because there is really no point hiking on a cloudy day when Mt. Rainier is hidden.
Access is via Mt Rainier National Park's Sunrise Visitor Center.
National Park pass is required.
Kid and family-friendly.
Bring binoculars to look for mountain goats, black bears, and wildflowers once you're at the lookout. Don't feed the wild animals.
I'd recommend Tolmie Peak Lookout – Eunice Lake if you don't want to pay for a National Park pass because the view of Mt. Rainier there is equally as stunning.
Length: 5.6 mi. roundtrip | Elevation Gain: 1200 ft. | Highest Point: 7200 ft.
10. Pinnacle Saddle Peak
Pinnacle Peak Loop Trail is a local secret. It took us a lot of researching, zooming in and out of Mt. Rainier map area to find out this spot. Pinnacle Saddle Peak trail is a short but rated as moderate located in the Paradise area, Mt. Rainier National Park.
One thing to note is even though the trail is short (only 2.5 miles round trip), the hiking window in this area is smaller due to the snow. I'd recommend reading reviews on Alltrails for updates on trail conditions.
Parking Pass/Entry Fee: National Park Pass. I highly recommend purchasing America the Beautiful pass online or at any National Park entry gate. For cheaper, you can also purchase a daily or weekly pass.
Parking is at Reflection Lake, and trail access is just across the street. No bathroom here and the nearest bathroom is 10 minutes away.
Kid and family-friendly.
Dogs are also able to use this trail but must be kept on leash.
I hiked this trail end of summer in 2020, and there was still plenty of wildflowers along the trail. Once you reach the saddle, you have a few options to hike off-trail or just return to where you come from. To the left and right are climber's trails to nearby peaks. Make sure to bring layers and stay on the trail because of the fragile meadows.
Length: 2.5 mi. roundtrip | Elevation Gain: 1000 ft | Highest Point: 5920 ft.
I hope this blog post is helpful. I challenge you to complete them all (if you live in the Seattle area) or check the list off one by one (if you're from out of state) and let me know how it goes. For easy hike recommendations, please stay tuned for my next blog post.
Thanks for reading and please stay safe out there! Feel free to reach out to me via DM on Instagram or comment section below if you have any specific questions as I'd love to recommend you a specific hike that is suitable to your fitness level and what you want. Thanks for reading!
SHOP MY HIKING BOOTS: Keen Targhee III & Danner Mountain 600