I get so many questions over the years regarding Lululemon's best items to invest money in.
In case you don't know or that you're new to the brand, they're a Canadian brand that makes yoga-inspired technical apparel for men and women.
about Lululemon
Lululemon was founded by Chip Wilson in Vancouver, Canada in 1998.
Luon is Lululemon's trademarked fabric. It has higher microfiber content compared to usual fabrics. In 207, they teamed up with Athletic Propulsion Labs to sell footwear in 23 states in the US and created a luxury streetwear 'Lab' in some stores. I've been to a Lululemon Lab in New York once. 
In 2020, the company bought Mirror, a new fitness mirror with interactive features for at-home workouts. 
Despite how the name Lululemon came about and its founder's many controversial headlines, Lululemon has been the leading brand when it comes to quality athleisure apparel. And pricy price tags, of course!
Is Lululemon Worth It?
Believe it or not, I get this question all the time every time I feature something from Lululemon on my blog or Instagram. And my answer is always, 'It depends on your expectations and needs, budget, and how much you'd want to spend on something!'
Lululemon is the brand that its founder from day 1 who has made it clear that their specific targetted customers are fitted, rich women. That, as of 2021, is no longer true (I hope so!). The brand has said that they have evolved, and after its founder has stepped aside, their stuff is no longer just for the slim.  
Years ago when I first knew of Lululemon as they opened their store near where I lived, I did walk in the store a few times. However, I remembered the not-very-welcoming vibe. Their stuff surely feels like they're made for yoga people. People who can afford yoga classes are typically wealthy white people, and as an Asian, I certainly didn't feel the need to buy from.
Not until I moved to Seattle and started to get into hiking, I needed some good-quality leggings, so I decided to give Lululemon a try. After trying on 7+ pairs, I finally went for two pairs of black leggings. They were the Align leggings and the Fast and Free leggings. One is a soft and comfortable everyday type of leggings, and one is more figure-hugging and durable. great for high-impact workout and heavy-duty. It's been about 4 years now, and they are still with me, going strong. Honestly, they did stretch out a bit, and there's some pilling and the reflective details have worn off. But in general, they're still in great wearable condition, and they still fit me!
So to me, Lululemon is worth it!
wearing Fast and Free leggings in black
My Lululemon Collection
I am 5ft5 120lbs with a 25 waist, so I'm a 4 at Lululemon (most tops and bottoms).
$98
I have these Align leggings in black, and they've been my ride-or-die pair since 2018. In case you don't know, Lululemon's Align collection is made from Nulu™ fabric. It is lightweight, buttery soft, and so durable. 
Nulu™ fabric
Body: 81% Nylon, 19% Lycra® elastane
Buttery soft & weightless
Sweat-wicking
4-way stretch
Breathable

Added Lycra® fibre for stretch and shape retention

Pocket inside waistband for credit card

Care: wash with like colors, machine wash cold and tumble dry low.
The Align is best for low-impact workouts like yoga or when you want to feel comfortable. If you're looking for a pair of simple no-fuss leggings that you can wear as it, under dresses, or with sweaters and boots for fall and winter, these are the ones! They are incredibly versatile.
REVIEW: 
As mentioned above, I'm 5ftt 120 lbs, and size 4 fits me perfectly. The fabric is indeed buttery soft and stretchy. I think as long as you take some time to find out the right size, these should be opaque. I've never had any problems when it comes to sheerness with these leggings.
The high waist fits me comfortably and snuggly, nothing too loose or too tight. They're so comfortable that I've lounged around in them, traveled everywhere in them, and even worn them to sleep. That speaks a lot because I hate wearing long pants to sleep since they can get very uncomfortable.
With that, do know that they are not the best pair of leggings in the world that they will look good and last forever. Those don't exist!
One important note to take into consideration is the fact that these Align pants do PILL!
I think I started noticing the pilling after about 2 years. Note that I don't wash my athletic clothes separately from other clothes, but I do always make sure to wash everything on COLD and tumble dry low. 
Solution for pilling problems
Get a fabric shaver!!! I'd recommend putting them on and shave off the pilling to the best of your ability. Make sure to check for any snags and avoid cutting those off. They will make holes if you shave them off! So just like fixing a sweater, you'd want to fix any snags before using a shaver. But shaving definitely helps freshen up the old leggings!
RATING: 9/10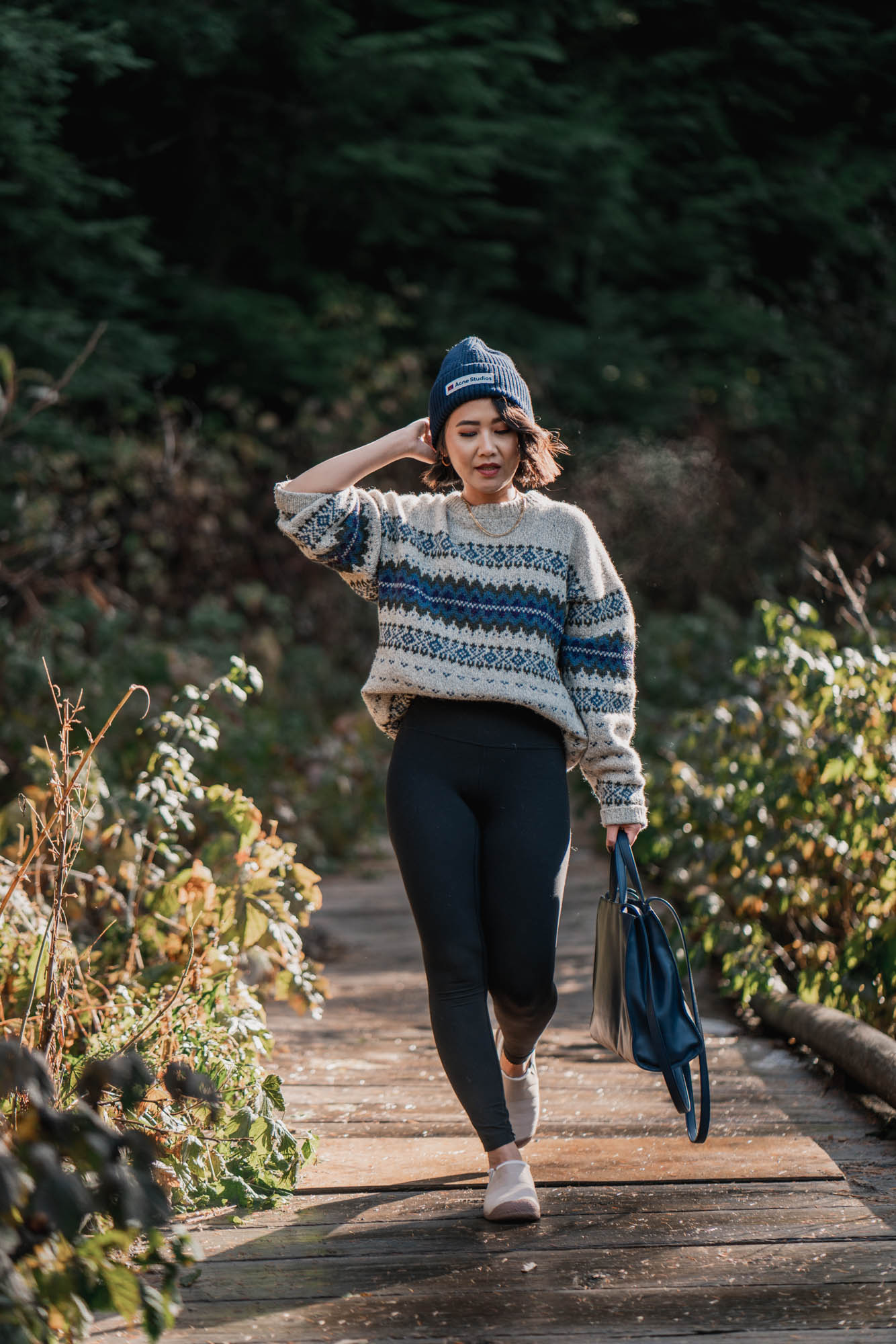 $58
Same 
Nulu™
fabric as the Align leggings
These 6-inch shorts are my newest addition, and they're my absolute favorites to wear around the apartment and even to run errands in. They come in the 4″, 6″, 8″, and 10″, and I have the 6″ True Navy. 
Initially, I got these in the 8″ length, but they felt too close to my Girlfriend FLOAT biker shorts. I have the Midnight color which is a very similar navy to these Align shorts.
Read my FLOAT review HERE. 
In fact, the Align and FLOAT are very similar in fabric, fit, and feel, so in case you're looking for something cheaper, go for Girlfriend FLOAT shorts and leggings. For that reason, I decided to exchange for the 6″. Personally, I love the look and the idea of the 4″ shorts, however, they don't look so great on me. My thighs are on a chunkier side, and the shorter shorts tend to roll up on me. The 6″ shorts are a lot more wearable and practical.
In conclusion, if you're looking for a great pair of shorts to lounge around the house, wear outside, and even hike or work out in them, I highly recommend these in the 6″ length. I love them so much!
RATING: 9.5/10
3. 
Fast and Free Tight 28″ 
$128
I'm pretty sure both of my black and navy Fast and Free Tight are the reflective version based on the line of silver dots running across one of the legs and the silver strip that lines the side pockets.
Lululemon seems to only have these in the non-reflective version now online.
Nulux™ fabric
weightless coverage that passes the squat test
4-way stretch
Quick-drying
Sweat-wicking
Feels sleek and cool to the touch
Added Lyca fibre for stretch and shape retention
With these, I think it's best if you give these a try in-store. I've tried on a bunch of these similar Lulux leggings but in different cuts, and I'm positive that not all are made and cut the same. Other pairs that I tried were either too tight or just didn't flatter my figure. 
Note that the 28″ is the full length, and with these, they're meant to rest at the ankles.
I love these because they hug my butt and thighs in all of the right places. The waistband fits just slightly below my belly button, and it doesn't dig in. Whenever I feel like wearing something figure-hugging, I'd reach for these! They're great to wear on hikes, and I think the side pocket addition is great for phone and snack access. 
RATING: 8.5/10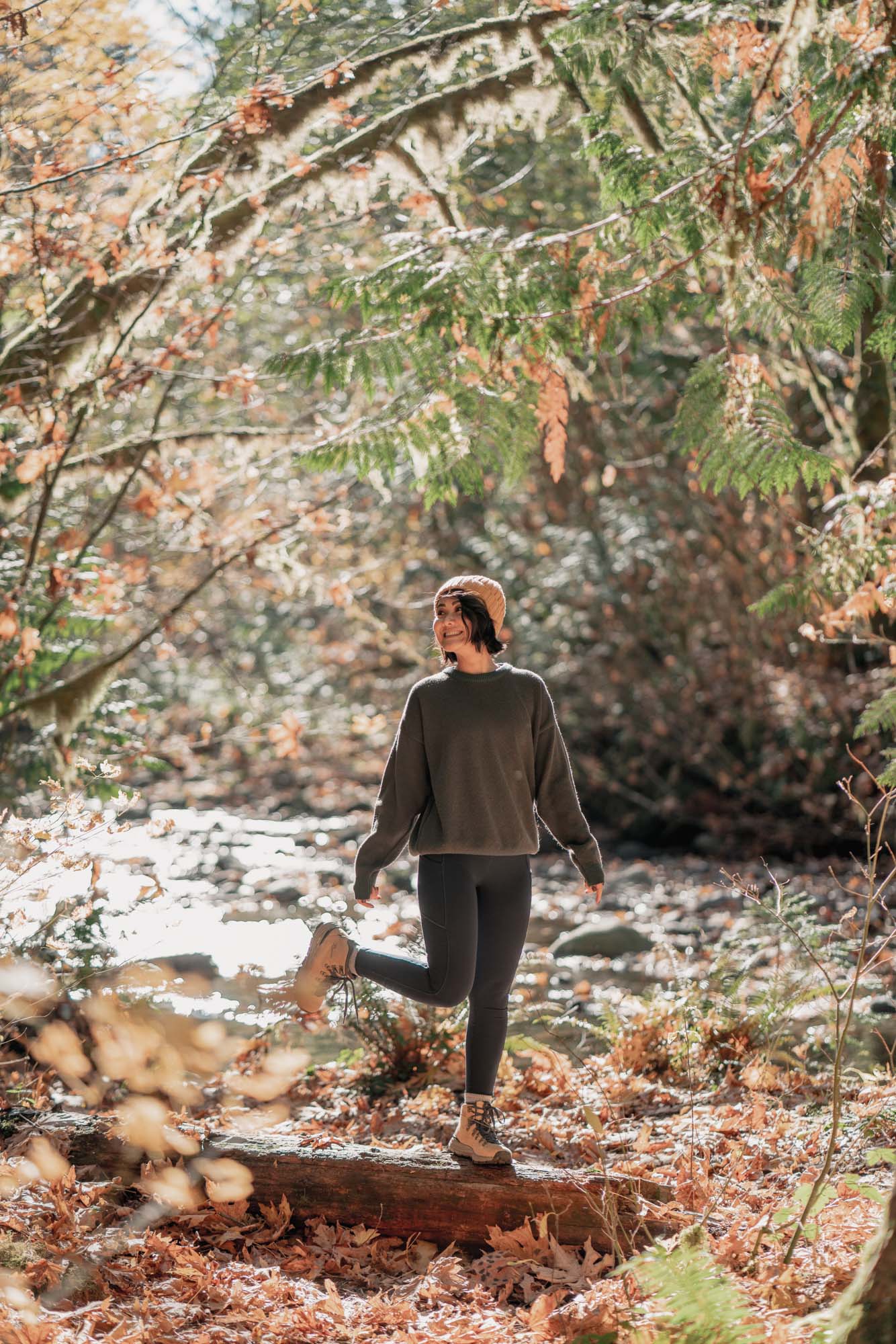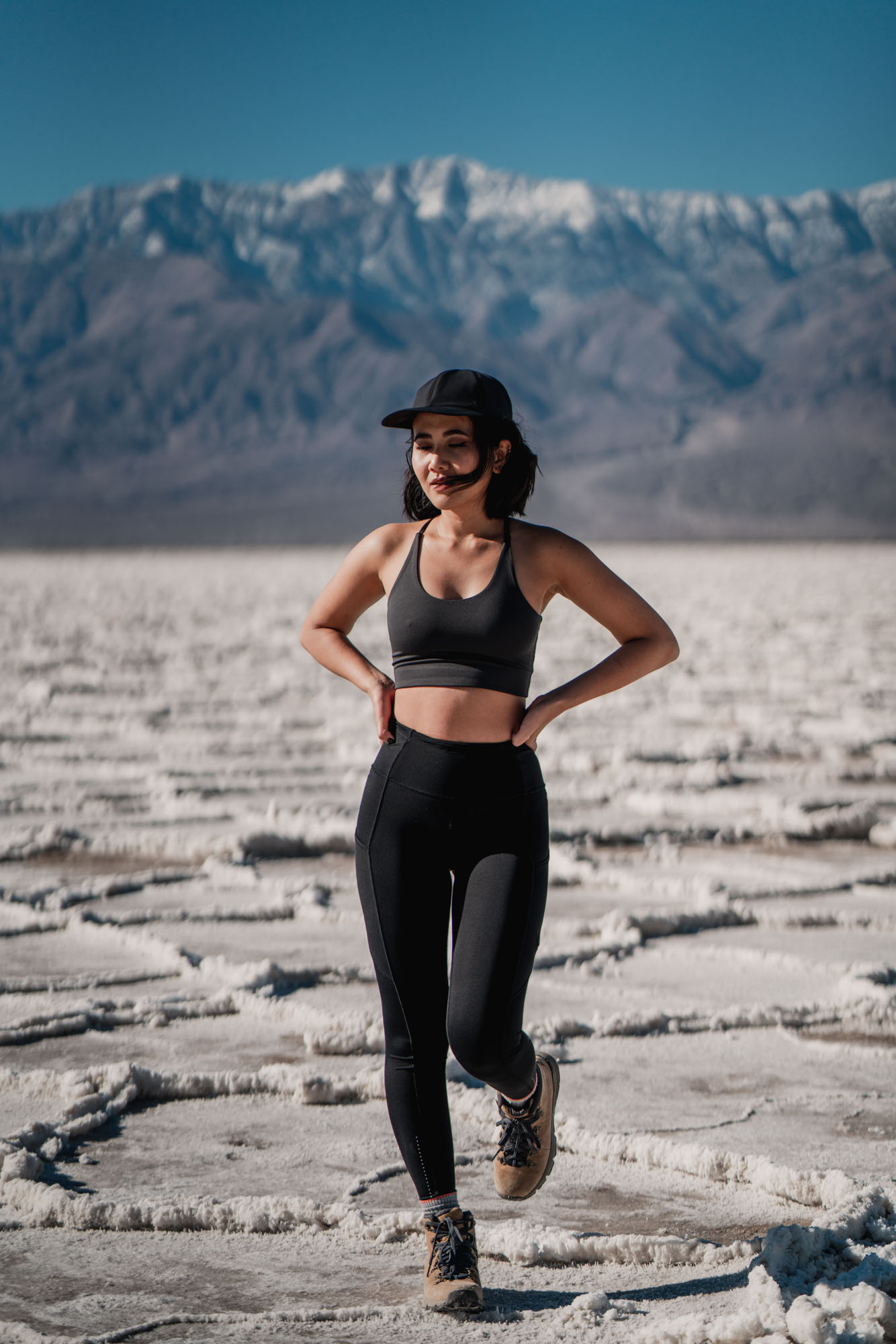 $78
I had been eyeing this shirt for months and months and couldn't seem to justify the price tag. But thanks to my amazing and thoughtful friends during our trip to Portland last year, they gifted this shirt to me. They got it using the healthcare worker discount that Lululemon offered, and in Portland, there was no sale tax. 
Silverescent™ technology, powered by X-STATIC® 

inhibits the growth of odour-causing bacteria on the fabric

Thumbholes

Materials: 54% Nylon, 40% Recycled polyester, 3% Elastane, 3% X-static® nylon

Care: wash with like colors, machine wash cold, and tumble dry low
Mine is size 4 in the color black. It's so breathable and sweat-wicking, and the sleeves are fitted and long. I love the thumbholes and use them a ton. In addition, I've worn this on long road trips and hike in it all day, and it's so comfortable to wear all day. 
Personally, I think the $78 price tag is a bit too much for a long-sleeved shirt. However, there is nothing like this or as good as this. This kind of shirt is something I see lasts forever, and I will continue to reach for it for years to come!
RATING: 9/10
[et_pb_wc_images _builder_version="4.8.2″ _module_preset="default"][/et_pb_wc_images]
$48
I have this tank size 4 in the color dark terracotta. It's the newest addition to my collection, hence I don't have any photos of it on me yet. However, I've worn it around the apartment and out to errands before, and I love it so much. I love the color, and the cropped length is perfect for me. Note that I always wear high-waisted leggings or shorts, and this hits me at a perfect length as it's not too cropped nor too long.
Same Nulu fabric as the Align collection
Body: 81% Nylon, 19% Lycra® elastane

Care: wash with like colors, machine wash cold, and tumble dry low
6. 
Cool Racerback II 
Nulu
$48
This tank is the exact tank I've mentioned above, but it's the longer length. Mine is the black color, and again, I'm a 4 at Lululemon.
Personally, I'd prefer the shorter length since I only wear high-waisted pants. And I can't seem to tuck it in either since it's quite long. I don't do yoga, but I'm sure yoga people would appreciate the extra length like this a lot more. This longer length is more flattering on those who like mid-rise or low-rise pants. 
7. 
On the Fly Ball Cap
$38
Again, another pricy item from Lululemon, but it is so worth it!
Warpstreme™ fabric is quick-drying

Inner front panel: 58% Nylon, 27% Polyester, 9% Lycra® elastane, 6% X-static® nylon

Lining: 100% Polyester

Sweat band: 58% Nylon, 27% Polyester, 9% Lycra® elastane, 6% X-static® nylon

Body: 100% Polyester
What I love about this hat are its fabric and its minimal design. It's a men's hat, but it's adjustable and does not look too manly at all. My partner and I have a small collection of hats like this, and we love wearing hats on bad hair days. With this specific kind of hat and due to its fabric, I can easily dress it up as well!
That's my Lululemon collection. I hope you've found it helpful, and as always, feel free to let me know if you have any questions. Do you have a Lululemon favorite that you think I should try? Let me know!
SHOP THIS POST