Inspired by our Instagram and blogger friends, Emily and Berty from The Mandagies, and their Idaho Hot Springs post, I wanted to stop by a hot spring while in Idaho. And I did!
Due to COVID-19 and health concerns, many natural and commercial hot springs in Idaho are closed temporarily or indefinitely. I have a long list of Idaho's hot springs, but that will have to wait.
I saw some recent reviews on Alltrails, meaning it's open and accessible. So I know I have to do Goldbug Hot Springs first when I am in Idaho!
In case you don't know, I just got back from a week-long road trip from Seattle to Idaho, Wyoming, and Montana. I have never been to those states, so I took some screen time off and went for a drive. You can watch my Instagram-stories, titled July RT 1 & 2 on my bio, here, and I am still working on the full itinerary, Blog post goes live on Wednesday, July 22, so stay tuned!
In this post, I am sharing with you everything about Goldbug Hot Springs including the exact location and what to expect there. There is also A Practical Guide to Hot Springs Etiquette at the end, so make sure you read till the end.
1. Goldbug Hot Springs, Idaho
Goldbug Hot Springs is a chain of 6 or more hot springs or pools with truly epic mountain views. The pool temperatures vary from chilly to toasty, so make sure to dip your toes or fingers to choose the perfect one!
FIND IT
You have to plug in your Google map: Goldbug Hot Springs Trailhead, and not Goldbug Hot Springs because Google GPS will take you to the wrong place! That happened to us while trying to navigate the area and where the trailhead was. And don't forget to download the map area since phone service is pretty limited here.
From Seattle, you'd take I-90 E and US-93 S since it's the shortest distance in time and mileage. We did this route!
You'd notice the huge and wiggly Salmon River, and you pretty much drive along the river until you reach near mile marker 282 on Highway 93. Turn left or east onto a dirt road called Warm Spring Road and the Goldbug Hot Spring trailhead parking is within a short distance. You'll notice as there are cars parked on both sides of the streets.
HIKE IT

Goldbug Hot Springs is a 3.5 mile heavily trafficked moderate trail.
It is a short but quite challenging hike, especially on hot summer days. There are very limited shades, so wear sun protection: sunscreen, a hat, and a light clothing layer so that you won't get burnt.
Always check for weather, trail conditions, and read reviews, HERE, before heading out.
The restroom is located at the trailhead, so go before you start the hike. Do not pee in the pools since you do share the pools with many people.
Camping is allowed in flat areas. And in fact, I saw two groups of people setting up tents and hammocks at two locations near the hot springs. I would totally be back and camp here for one night! You can haul your camping supplies in a wagon because I've seen other people do so.
Bring lots of water, snacks, and take your time. I've seen some people packing their portable coolers with cans of juice, White Claws, and beers, too. So jealous! The scrambling and elevation at the beginning and the end of the hike were pretty hard, so take lots of breaks!
Clothing: Swimsuits must be worn here! Well, unless it late at night and you're the only people there without kids.
I'd suggest you wear your swimsuits underneath your hiking clothes. If not, bring them along because you can change behind the bushes or trees up at the hot springs.
In the summer, I love wearing a linen button-up over shorts and crop top pairing. My Luna sandals always make perfect adventure sandals as they are perfect for short hikes like this. They dry within minutes, and I don't have to take them off while pool hopping at all.
OUTFIT DETAILS: swimsuit: MATTEAU (bikini top HERE – brief HERE)| linen shirt: UNIQLO (men's, size M – styled differently before HERE) | shorts: PATAGONIA | sandals: LUNA SANDALS (gifted) | bucket hat: PATAGONIA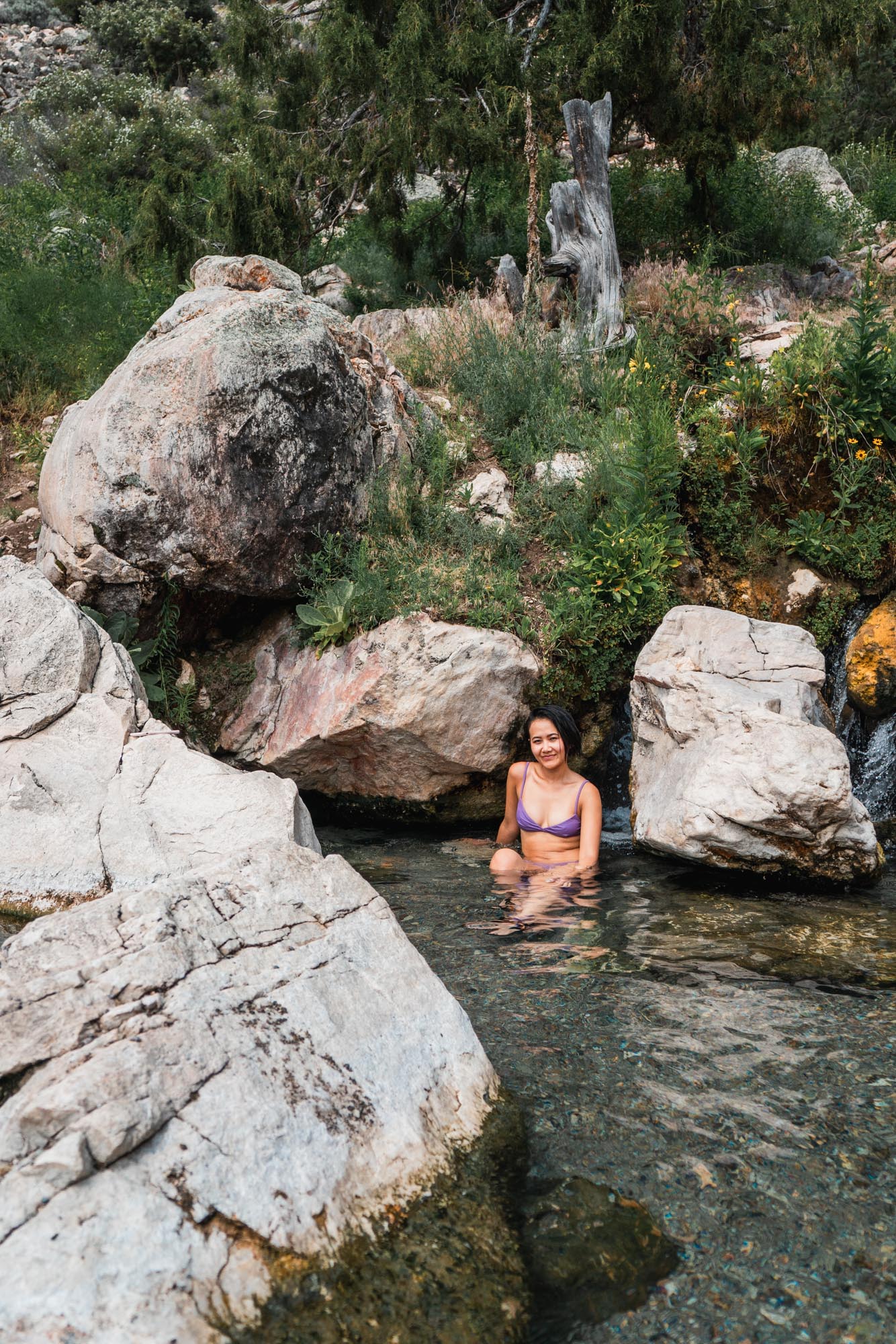 SOAK IT
The water at Goldbug Hot Springs is extremely clear. By the time I got to the top, lots of people including families with kids were about to be done with their soaking. The best tip to avoid the crowd and the heat is to hike here super early in the morning or late at night. The best is to camp here for 24-hour spring access, and I will definitely be back to do the latter!
I waited and walked around to check out other pools. The middle and biggest pools seem to have the most perfect temperature and view. I ended up staying there for almost 2 hours, of course, after taking a ton of photos. It rained a little bit, but luckily, the sun was shining right at around 3 – 4 pm. I didn't even bring a towel, and my clothes were all dried up by the time I got back to the parking lot.
From here, we flew the drone to capture the mountains and the iconic Salmon River. What a great way to start off our trip! We drove to Idaho Falls where our hotel for the night was, showered, and got ready to head to Jackson Hole the next morning.
Enjoy the rest of the photos, and happy soaking!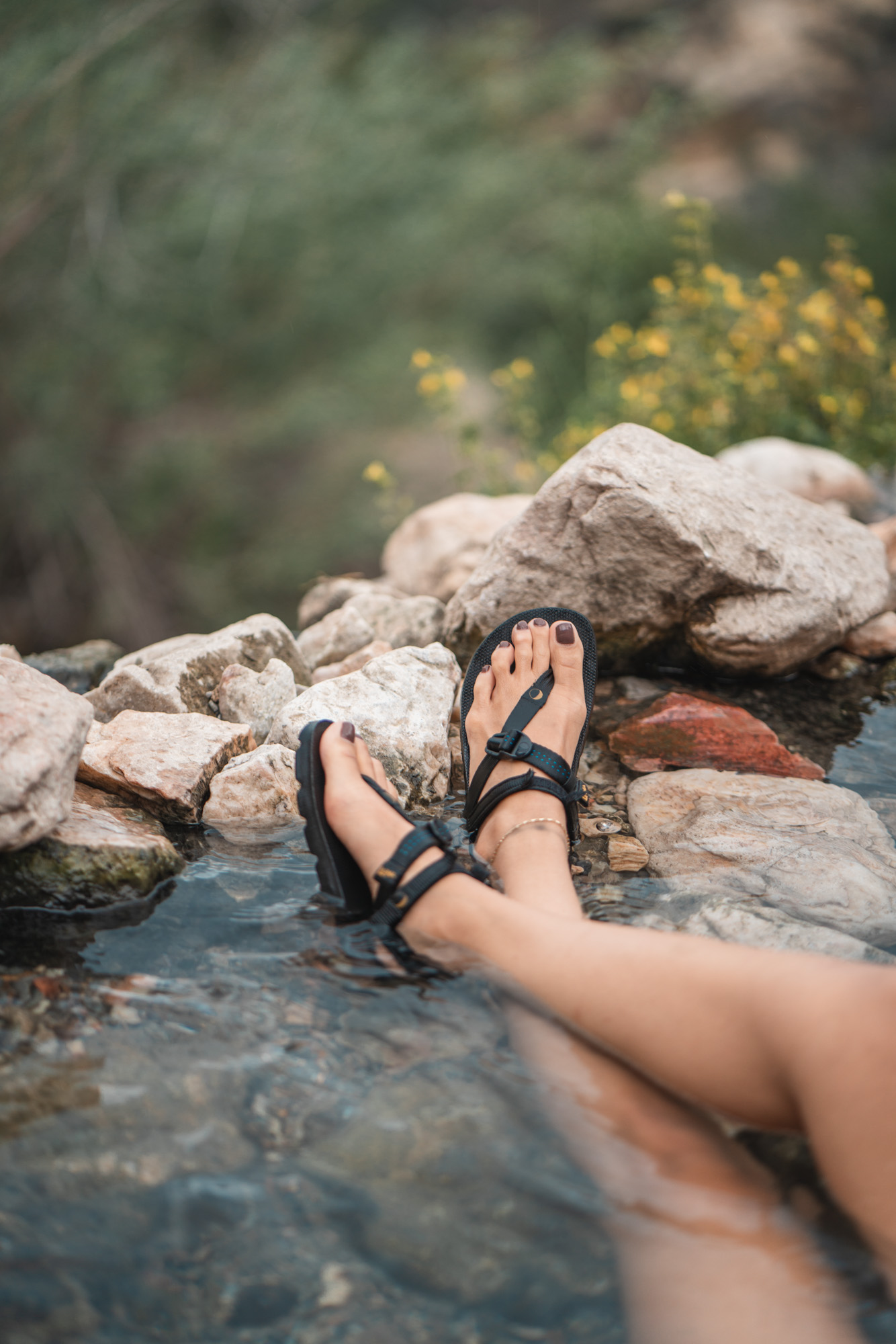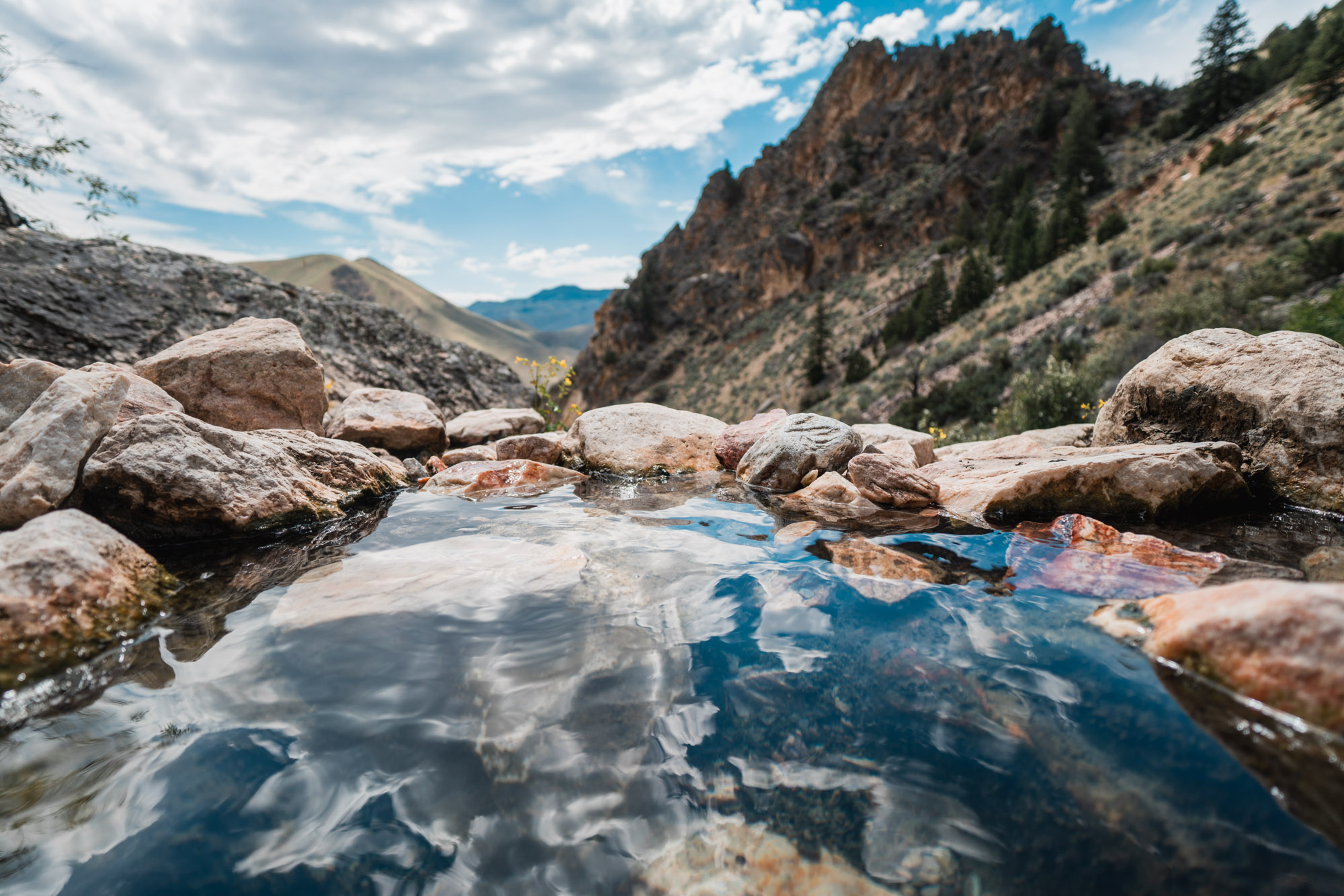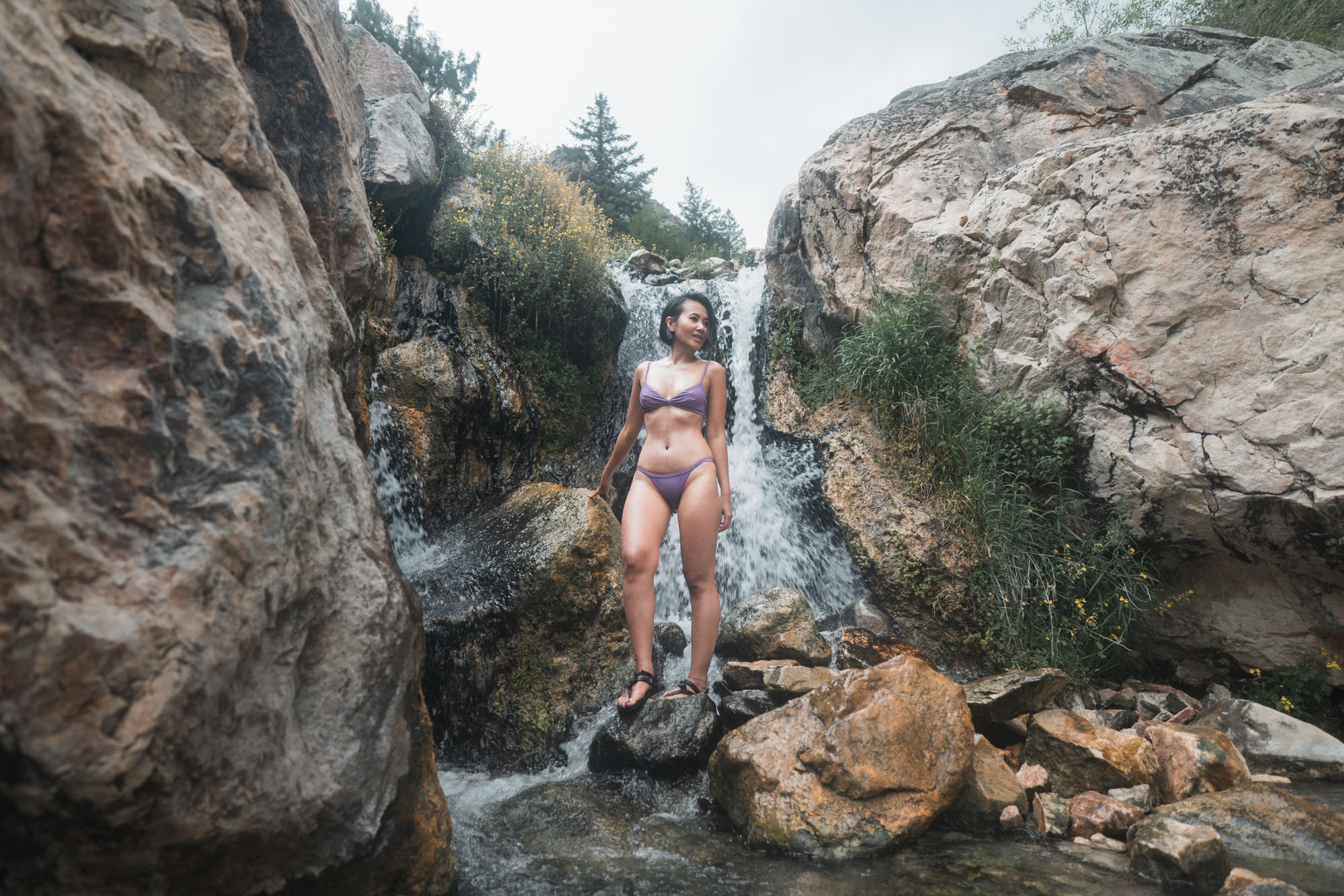 2. A Practical Guide to Hot Springs Etiquette
Visiting natural hot springs is one of my favorite experiences to add whenever I am in the area where hot springs are plenty. I have been to a hybrid hot spring with my friend when we traveled to Colorado before. And Godbug is my second.
One of the reasons there is not a lot of information about hot springs is because people want to keep it natural and less crowded. Hence, I have to do tons of research and digging around the internet in order to know what to expect from such places. Knowing how to be respectful of other people and the space that you are in will help you with the most enjoyable experience that is worth all of the effort. So here are my tips:
Keep it chill. Don't blast music and avoid gathering in large crowds.

Be prepared to share the pools.

Nudity. Lots of private paid hot springs or those that are located in the backcountry, clothing is optional. Before you go, make sure to check in with the owners on clothing policy or read reviews. At some hot springs, nudity is illegal, especially those kid-friendly ones. So be mindful and at least wear your swimsuits underneath your normal clothes if there's a hike required. Then you can take your clothes off and soak with your swimsuits on only when you're in the pools soaking.

Be mindful of others around you, and don't stay in too long so that others can enjoy the pools as well.

Pack it in, pack it out.
3. Idaho's Best Hot Springs in My Bucket List
Kirkham Hot Springs (the most well-known in the state! $5 parking fee)

Boat Box Hot Springs

Bowery Hot Springs

Jerry Johnson Hot Springs

West Pass Hot Springs

Loftus Hot Springs

Rocky Canyon Hot Springs

Sunbeam Hot Springs

Pine Flats Hot Springs

Chattanooga Hot Springs

Prince Albert Hot Springs

The Springs Mountain Resort

Burgdorf Hot Springs

Gold Fork Hot Springs

Trail Creek Hot Springs

Hot Spring At Mountain Village Resort
Finally, check out IdahoHotSprings for even more hot spring recommendations, updates, closures, and tips! I cannot wait to explore more of what Idaho has to offer. Goldbug Hot Springs really set a high standard, and I am truly impressed with the experience.