My July 2020 road trip from Seattle to Idaho, Wyoming, and Montana itinerary is here! In this blog post, I'm sharing with you my 25 must-stop recommendations along with tips for car camping, park permits, my outfits, and lots of photos.
Disclaimer: Due to health concerns regarding the global pandemic, I do not recommend you to travel if you don't feel safe. National Parks are open, but you have to do your part to protect yourself and others by WEARING A MASK, WASH YOUR HANDS OFTEN, AND TRY TO KEEP AT LEAST 6 FEET DISTANCE. Know that there is always a risk out there, so please abide by the park's rules and stay safe!
Please note that we intentionally plan to sleep in the car one night and get a hotel the next, that way we can wash up and charge our electronics. Staying in the car means we can get to enjoy the sunset and make it out early to sunrise the next morning. To us, Airbnb and booking a campground require booking and reservations ahead, and they tend to be more costly and less private compared to disperse camping and booking hotels. Feel free to choose lodging options that are convenient and comfortable for you.
JULY ROAD TRIP ITINERARY
DAY 1 & 2: DRIVE TO MISSOULA, GOLDBUG HOT SPRINGS, AND IDAHO FALLS
On Thursday, July 2, 2020, we picked up our van for the week and left Seattle at around 4 pm. Knowing we got a late start in the day, we initially wanted to stay somewhere near Spokane but ended up pushing the drive further. We got to a rest stop in Missoula, called Muralt's Travel Plaza, at 2 AM, so that it was a little closer to Goldbug Hot Springs.
MUST TOP 1: GOLDBUG HOT SPRINGS, Idaho
You'd be driving along the giant Snake River and notice tons of water recreational hubs around. The phone signal might not be reliable around here, so make sure you download the area map in advance. I recommend preload some music, podcast episodes, drinks, and snacks that will help ease the long drive.
Check out my Goldbug Hot Springs blog post for the exact location and tips to hot spring etiquette. It's a short but quite challenging hike, especially the scrambles near the top. But the views make it all so worth it!
We spent a total of 4 hours of hiking and soaking at the hot springs. So relaxing and it's easily the best natural hot springs I've ever been to! I highly recommend checking out hot springs if you're ever in Idaho. Now I want to go back to cross off a few more hot springs in my bucket list this fall and winter.
The drive from Goldbug Hot Springs to our hotel was not too bad. We picked up to-go dinner at The Bee's Knees Pub & Catering Co., Idaho Falls. There were not a lot of good options since it's such a small town. Hotels are cheaper here than anywhere near Jackson Hole, so we stayed at a Hampton Inn, showered, and got our electronics charged.
GOLDBUG OUTFIT – swimsuit: MATTEAU (bikini top HERE – brief HERE)| linen shirt: UNIQLO (men's, size M – styled differently before HERE) | shorts: PATAGONIA | sandals: LUNA SANDALS (gifted) | bucket hat: PATAGONIA
DAY 3: DRIVE TO JACKSON, EXPLORE JACKSON HOLE & GRAND TETON NATIONAL PARK
What is the difference between Jackson and Jackson Hole?
Jackson Hole refers to an entire valley that includes Jackson, Teton Village, Wilson, the Aspens, Moran Junction, Moose, and surrounding areas.
Where to watch fireworks in Jackson Hole?
Snow King Mountain Resort in Jackson and at a lot in Teton Village.
MUST STOP 2: TOWN OF JACKSON & TETON VILLAGE, Wyoming
Jackson, known locally as the "Village" is adjacent to Grand Teton National Park, so you can rent a bike here and explore the park. Don't forget to take your photos in front of one of the 4 Jackson Hole's Elk Antler Arches and pick up some bakery at Persephone Bakery.
Teton Village is just about 12 miles away from Jackson, and it is where the famous Jackson Hole Mountain Resort is. You can take the free aerial tram at the JH Mountain Resort here to view the entire valley that is Jackson Hole or Jackson's Hole.
We did go back and forth and explored different areas inside and outside of Teton in one day and a few hours the next morning. I would highly recommend at least 2 days in Grand Teton and pick up a park map!
MUST STOP 3: MORMON ROW, Grand Teton National Park, Wyoming
Moulton Barns in Mormon Row was our very first photo stop at Grand Teton National Park. The gable-with-shed style barn took John and Thomas Alma (T.A) Moulton 30 years to finish. It's an iconic and mus stop destination for a reason. Just look at the incredible background of the Teton Range!
MOULTON BARN OUTFIT: BOOTS: CHOOKA (gifted – Exact boots will be available to buy at Sam's Clubs on August 1, 2020) | crop top and shorts: old AMERICAN APPAREL | linen work shirt-jacket: thrifted | hat: LACK OF COLOR | sunglasses: RAY-BAN
MUST STOP 4: JENNY LAKE, Grand Teton National Park, Wyoming
After having our late lunch, we drove to Jenny Lake and took a short break. The lake can get crowded, so I recommend walking a little bit past the ferry station. Right at the fork before you enter the trail, turn right and follow the path to this end of the lake. We saw some people sunbathing in their bikinis and read their books. We got ourselves a pretty good corner to hang up our hammock. Super quiet and relaxing!
You can hike Jenny Lake Trail from here or take the boat ride across Jenny Lake to hike the more famous Cascade Canyon Trail. Taggart Lake Loop is another easy one I will be doing the next time that I am here!
JENNY LAKE OUTFIT: hammock: WISE OWL (I got the 2 person size, and it held up with 2 people quite well.) | crop top: OUTDOOR VOICES | shorts: NIKE running | backpack: PATAGONIA | hat: FJALL RAVEN | sandals: LUNA SANDALS (Retro mono is the best Luna!)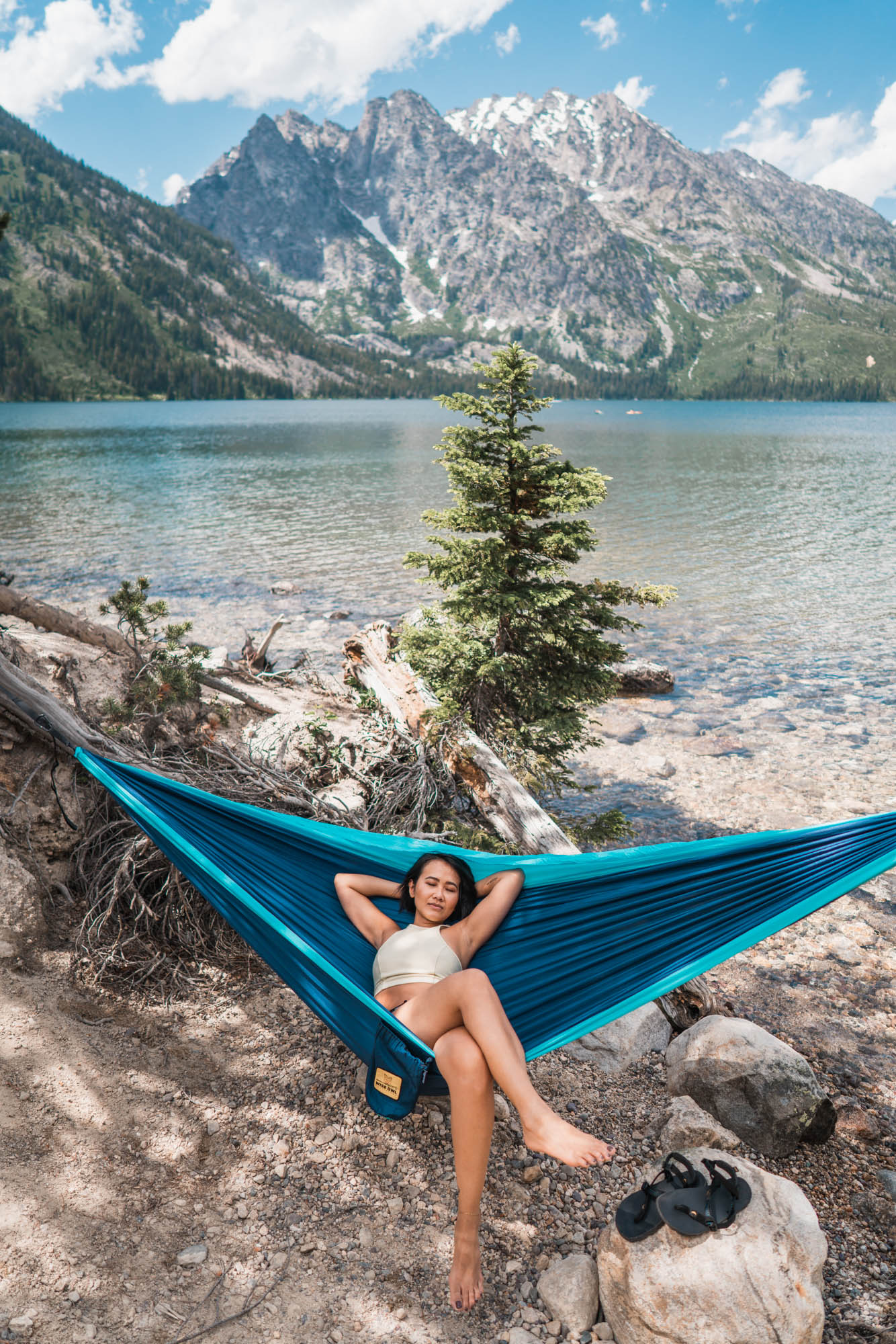 MUST STOP 5: OXBOW BEND, Grand Teton National Park, Wyoming
Oxbow Bend is a popular sunset and sunrise spot, especially for photographers. On clear days, you'd see Mount Moran's reflection on the water! Don't miss that crescent-shaped section of the river in your Oxbow Bend shots!
MUST STOP 6: SNAKE RIVER OVERLOOK, Grand Teton National Park, Wyoming
Despite such a gloomy and rainy day, we got lucky and got some really cool shots when the light hit the Teton. Snake River Overlook is the perfect roadside pullover!
MUST STOP 7: SCHWABACHER LANDING, Grand Teton National Park, Wyoming
Schwabacher Landing is by far my most favorite photo spot to view the Teton range. Grand Teton National Park is known as a sunrise park for a good reason, and I am so glad that I get to be here for sunset once in my life! It's truly a breathtaking moment, and I HIGHLY RECOMMEND IT!
I've shared all you need to know about this neat little spot on my IG HERE.
MUST STOP 8: NATIONAL ELK REFUGE, Jackson Hole, Wyoming
Located at the South end of Grand Teton, Nation Elk Refuge is home to one of the largest elk herds on Earth along with bison, trumpeter swans, bald eagles, wolves, and bighorn sheep. Bring BINOCULARS!
We didn't stop by National Elk Refuge since we ran out of daylight! A day in Grand Teton is definitely not enough. I think Grand Teton is incredible, and you should stay at least 2 days and hike a few trails.
DAY 4: SCHWABACHER LANDING FOR SUNRISE AND DRIVE BOTTOM LOOP OF YELLOWSTONE NATIONAL PARK
After spending about an hour at Schwabacher for sunrise, we were headed North to Yellowstone National Park's South entrance. It was quite early in the morning, so there was not a lot of people around the park entrance
Two days that we were here were definitely not enough to explore the entirety of the beautiful Yellowstone, and I wish I could stay for the 3rd day! Know that Yellowstone's driving route is a figure 8, so lots of people take their time to do a loop drive one day at a time. There might be road closure which restricts you from making full loop routes, so make sure to pick up the park map and learn how to use it.
MUST STOP 9: WEST THUMB GEYSER BASIN, Yellowstone National Park, Wyoming
Located right near the South Entrance of Yellowstone, West Thumb Geyser Basin is one of the 5 largest and must-stop areas. I love that it's just a casual stroll looking at amazing colors and cool features of hot springs and geysers. The boardwalks are so romantic, too, I think!
MUST STOP 10: OLD FAITHFUL, Yellowstone National Park, Wyoming
Old Faithful is a cone geyser, named for its frequent and predictable eruptions since discovered in 1870. In 1872, Yellowstone became the world's first National Park.
Old Faithful is located in Yellowstone's Upper Geyser Basin in the southwest section of the park. There are a lot more cool features to explore in this area, and I highly recommend you to at least watch the Old Faithful erupts. Eruptions normally last between 1.5 to 5 minutes and happen around 20 times a day. And 60-110 minutes is the range in between eruptions of Old Faithful.
MUST STOP 11: MIDWAY GEYSER BASIN, Yellowstone National Park, Wyoming
From Old Faithful, drive north and you'd pass the Upper Geyser Basin, Midway Geyser Basin, and then Lower Geyser Basin. For more details, download Yellowstone Park Map with locations for major geyser basins.
Grand Prismatic Spring, the largest hot springs in the US and the third-largest in the world is located here! Its bright vivid colors are caused by microbial mats which tend to be orange and red in the summer and dark green in the winter. The center of the pool is sterile and blue due to extreme heat.
In order to view Grand Prismatic Spring from above, you'll need to hike the Grand Prismatic Overlook Trail, mentioned in Must stop 12.
GEYSER OUTFIT: bra: OUTDOOR VOICES | leggings: OUTDOOR VOICES | shirt: UNIQLO men's | shoes: KEEN (gifted) | water bottle: COTOPAXI | hat: PATAGONIA
MUST STOP 12: GRAND PRISMATIC OVERLOOK, Yellowstone National Park, Wyoming
Grand Prismatic Spring Overlook is an easy 1.2-mile roundtrip trail. Access to the overlook is via the Fairy Falls Trailhead.
From Midway Geyser Basin, you'd need to drive South for about 1 mile and park at the Fairy Falls trailhead. Parking is very limited, so stay patient!
MUST STOP 13: ARTIST PAINT POTS TRAIL, Yellowstone National Park, Wyoming
Artists Paintpots Trail is a 1 mile heavily trafficked and easy loop trail. Do not miss the white bubbling Artist's paint pots and really take your time to take in the view from above.
MUST STOP 14: GRAND CANYON OF THE YELLOWSTONE, Yellowstone National Park, Wyoming
The Upper and Lower Falls of the Yellowstone River have overlooks that do not take you long to uncover the grandeur of the unique geologic and historic treasure of the park.
MUST STOP 15: HAYDEN VALLEY, Yellowstone National Park, Wyoming
Hayden Valley is centrally located in Yellowstone. There are several turnouts with scenic overlooks, so make sure to bring binoculars or your longest super-telephoto lens.
MUST STOP 16: YELLOWSTONE LAKE, Yellowstone National Park, Wyoming
We made it to Yellowstone Lake at the end of Day 4. Yellowstone Lake is the largest body of water in Yellowstone National Park and is the largest freshwater lake above 7,000 ft (2,100 m) in North America. There were lodging and fishing activities at the Fishing Bridge, Lake Village, and Bridge Bay that we did not get to check out.
So if you're following along Yellowstone Park Map, we've finished the lower loop drive. From here, we decided to U-turn and spent the rest of the sunset hours at Hayden Valley. Luckily, it was when thousands of bison were crossing the street and swam across the Yellowstone River to the other side (photos above). It was the coolest thing to see!
Campsites in Yellowstone are pretty booked, and other lodging options were too expensive. We decided to get a room at a hotel in West Yellowstone. It's a bit of a drive, but it's at least somewhere in the middle of the park. Also, note that you are not allowed to park your car overnight inside the park because of the wild animals.
DAY 5: DRIVE UPPER LOOP OF YELLOWSTONE NATIONAL PARK
From West Yellowstone, it takes about 48 minutes to our first destination, Norris Geyser Basin, on Day 5 of our trip.
MUST STOP 17: NORRIS GEYSER BASIN, Yellowstone National Park, Wyoming
Norris Geyser Basin is the hottest, oldest, and most dynamic of Yellowstone's thermal areas. Don't miss Steamboat Geyser, the tallest geyser in the world at 300–400 feet, and Porcelain Basin where you'd get to experience the sound, color, and smell all at once!
MUST STOP 18: LAMAR VALLEY, Yellowstone National Park, Wyoming
Lamar Valley is located in the northwestern corner of Yellowstone. From Mammoth Hot Springs, take Grand Loop road east past Tower-Roosevelt. In addition to large herds of bison, pronghorn, badgers, grizzly bears, bald eagles, osprey, deer, and coyotes are often seen here!
We drove to about 2/3 of the way of Lamar Valley and made a U-turn to explore Mammoth Hot Springs for the rest of the evening.
MUST STOP 19: MAMMOTH HOT SPRINGS, Yellowstone National Park, Wyoming
Mammoth Hot Springs is a must-see feature o Yellowstone because it looks like a cave turned inside out. You can start your hike from the Upper Terrace parking lot and follow the boardwalks and stairs to the Lower Terrace or the other way around. Definitely do not miss features are Canary Springs (Upper Terrace) and Spring Palette (Lower Terrace).
MAMMOTH OUTFIT: crop: ARITZIA | shorts: PATAGONIA | hat: FJALL RAVEN | water bottle: HYDRO FLASK | sneakers: MUJI | socks: MUJI
MUST STOP 20: GARDINER, North Yellowstone, Montana
Yellowstone's North Entrance is the only entrance that is open year-round. And Gardiner is located right before entering the park from its north entrance.
As I was leaving, I saw signs for the Boiling River and the iconic 1903 Roosevelt Arch but did not have time to stop by. We dined in at Wonderland Cafe & Lodge and spent the night in Bozeman, Montana.
DAY 6: DRIVE TO GLACIER NATIONAL PARK
And everywhere else was CLOSED! ALWAYS CHECK GLACIER'S CURRENT CONDITIONS and weather before heading out. Always have a back-up plan if the road access is closed due to full parking lots. Go hang out at the towns nearby since there are tons of things to do around here.
Definitely do Going-to-the-Sun road, hike Hidden Lake trail, explore Logan Pass, Many Glacier, and St. Mary if they're open.
MUST STOP 21: AVALANCHE LAKE, Glacier National Park, Montana
We started Lake Avalanche hike around 4 pm on the first day that we were here! It's a 4.5-mile heavily trafficked moderate trail. Luckily, the sky cleared up. After the morning crowd left, they started reopening the road back up near Lake McDonald Lodge. We finished the hike and made it back to Lake Mcdonald before sunset. It ended up being such an amazing day despite the rain and cloudy sky earlier.
AVALANCHE LAKE OUTFIT: rain jacket: | leggings: LULU LEMON | hat: APPLE | boots: KEEN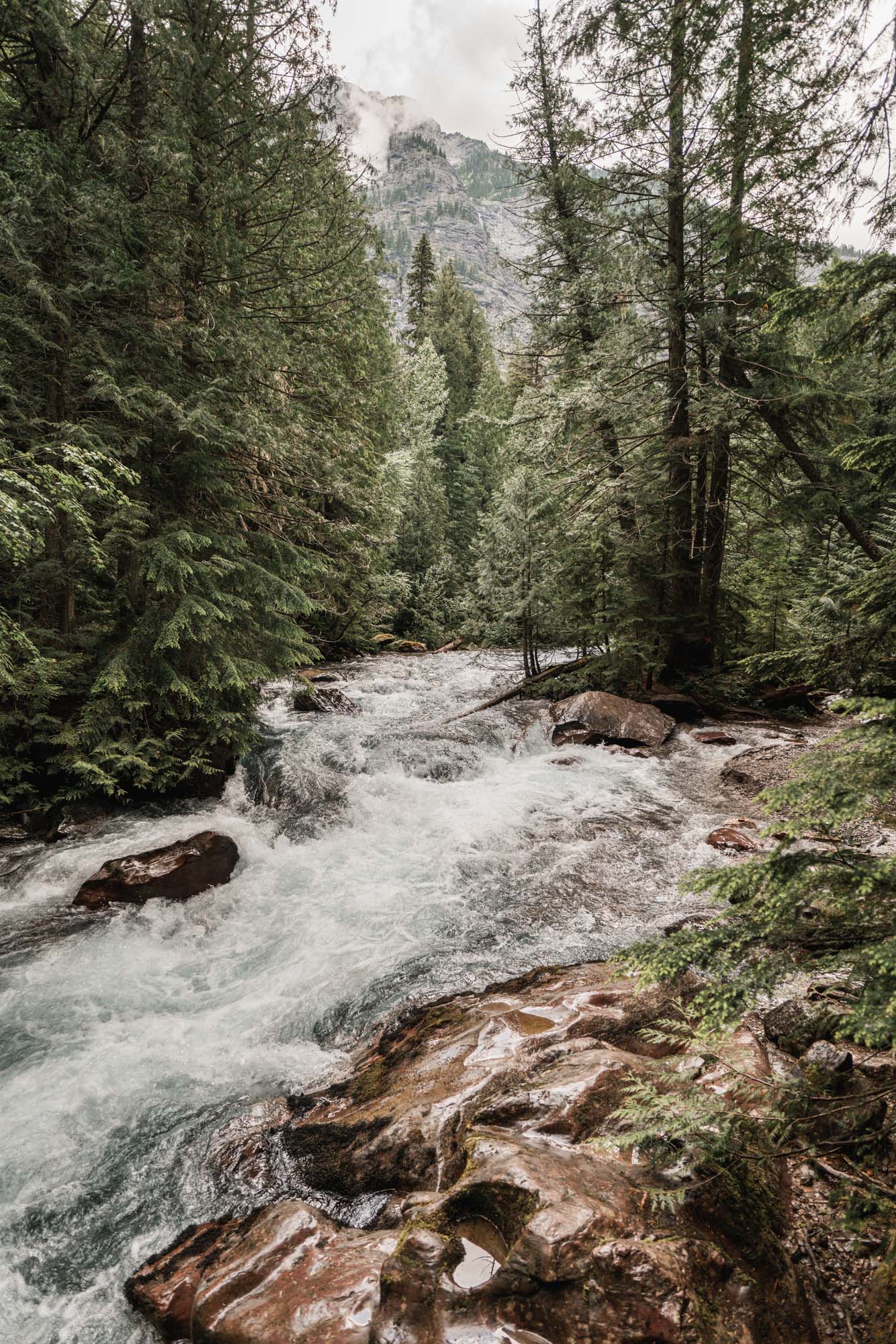 MUST STOP 22: LAKE MCDONALD, Glacier National Park, Montana
MUST STOP 23: LAKE MCDONALD LODGE, Glacier National Park, Montana
The Lake McDonald Lodge is a historic lodge located on the southeast shore of Lake McDonald. We picked up some huckleberry treats for the family and hung around in the area while waiting for the road to Avalanche Lake to be open.
DAY 7: KAYAK AT LAKE MCDONALD & EXPLORE MORE OF MONTANA
MUST STOP 24: APGAR VILLAGE, Glacier
We stopped by Apgar Village twice and managed to get a kayak from Glacier Outfitters to Lake McDonald. The Cedar Tree gift shop is the largest gift shop in Glacier National Park. And lastly, don't forget to pick up a cup of coffee and pick up a cute T-shirt at Eddie's Cafe & Mercantile. It's the best cup of coffee I've had this entire road trip!
KAYAK OUTFIT: Montana T-shirt: Eddie's Cafe & Mercantile, Apgar village, Glacier NP | biker shorts: GIRLFRIEND | sandals: KEEN | hat: PATAGONIA
Before leaving Montana, I made sure to stop by a few thrift shops, and my favorite was the Southside Consignment & Antique in Kalispell. There are two stores, so make sure to look around for the other store in the same parking lot. I wish I had more time to check out some other local thrift stores, but at least I walked out with a real elk antler caught by a local hunter here in Montana. Southside store has a ton!
We made it to Spokane just in time before restaurants were closed. I had Chicken N More on my list, so I knew I had to pick some to-go. It was by far the best Southern-style fried chicken I've had. We then drove about an hour and spent the last night in our van at Love's Travel Stop in Ritzville. This rest stop was SO CLEAN, however, it was way too busy with too many cars coming in and out. I wish I had some earplugs.
Below are some drone shots of the beautiful Canola flower fields seen everywhere in Montana.
DAY 8: PALOUSE FALLS & DRIVE BACK TO SEATTLE
From Love's Travel Stop, it only took us another hour to get to Palouse Falls. We made it before sunrise, however, it was a bit dark. I think it would have been much better at sunset.
MUST STOP 25: PALOUSE FALLS, Washington
Read my Palouse Falls tips, HERE.
TIPS FOR SLEEPING IN YOUR CAR
Not everyone can live the #VanLife, but I think almost anyone can sleep in a car. I've slept in my car countless times before, so I do know a few tips and hacks to make it cozy.
Car rental: If you don't want to add mileage and ruin your car, I recommend renting one. Opt for a safe four-wheel-drive option in colder months. Extending the rental is an option, but it's best to stay within the initial agreement to save money. We got a week van rental deal from Costco and were able to return the van right on time. Our van was a Dodge Grand Caravan, super spacious for two people when the back seats were all pushed down.

Camping Essential checklist. I loved my portable stove as it came in super handy for simple tasks like boiling water for ramen and frying eggs. I bought it and some butane gas canisters from a local Asian grocery store since it's much cheaper. A cooler with some hotel ice to keep fruits and drinks cold, sleeping pads, sleeping bags, pillows, headlamps, hammock, knives, toilet paper, hand sanitizer, a multitool, camping chairs, wet wipes, first-aid kit, sun protection are some of the things I pack along and use the most. Food and water should be BEYOND minimum expectations, and you can always stop by a grocery store along the way to pick up things you need.

Stay organized. Invest in a box with secured lids and label to help you easily locate things, sorta like a mental map. Remember to lock your laptops and electronics in a less visible corner in your car.

Personal hygiene is crucial if you don't want to stink up your car. I always have things like makeup remover, cotton pads, and a tiny Bioderma to remove my makeup, toothpaste, toothbrush, floss, wet wipes (feminine wipes and wipes that are safe for both face and body.) I always make sure to stop by a grocery store that is open late to brush my teeth and wash up the best I can before parking the car at an overnight parking lot that has no running water or bathrooms.

Keep electronics charged. There are dashboard solar panels and campgrounds with plugs. We did stay in hotels every other night and packed our portable power device, so this was not a problem.

Know where to park safely and legally. Look up Allstays, Hipcamp, or simply google search and read reviews for Walmarts, casinos, and rest stops along the routes you're taking. Make sure to not block the way for others and display any required passes or permits, and there are tons of FREE alternative lodging options called DISPERSED CAMPING on U.S. Forest Service roads to overnight parking and camping.
PASSES AND PERMITS
American the Beautiful gives you access to all National Parks. Each National Park also sells park access that usually lasts 7 days. I buy my pass every year at a local REI store.
Discover Pass is required on any Washington state recreation lands. It's $35 for an Annual Pass, and a One-day pass is $11.50. You can buy it online in advance, and there's also a pay booth at the parking lot. Note that it is required to park your car, and fishing or shellfishing licenses are separate.
Please note that we did not stay overnight at any campgrounds during this trip. If you do, plan to reserve a camping permit in advance. Look for lodging and campground options within the park. I know you can also walk-in to claim your spot, but you'd really need to hustle and wake up super early.
SHOP THIS POST:

Congrats for making it till the end of this lengthy blog post! I hope you've enjoyed scrolling through my Travel diary. Feel free to leave me a comment below or DM me with any questions that come your way while planning for a similar road trip. Thanks for being here!
MORE ROAD TRIP IDEAS: