Spring is coming, and there is no better time to start planning your visit to the Pacific Northwest than NOW! Come visit Seattle, rent a car, and go on a little road trip.
In this blog post (as the title suggests), you'll find out all of the amazing flower places that I've been to in Washington and Oregon. Add them to your bucket list and hope you'll enjoy!
SPRING
1. Chery Blossoms
March is the cherry blossom season. The main area to check out is the QUAD at the University of Washington, (Pierce Ln, Seattle, WA 98195 – Live campus webcam to peek at cherry blossoms' bloom state.) but don't forget to drive around the streets around Seattle. They're filled with blooming cherry blossoms and more!
For 2021, UW is not encouraging cherry blossom visitors to their campus due to COVID-19. Instead, enjoy the bloom virtually via their Cherry Blossom CAM, HERE.
If you're in Tacoma, Washington, I highly recommend W.W. Seymour Botanical Conservatory (316 S G St, Tacoma, WA 98405). It's a 27-acre arboretum and public park and has tons of seasonal blooms including cherry blossoms in the spring.
The QUAD, UW spring 2018, 2019, 2020
random street with straight rows of cherry blossoms and a swing in Central District, Seattle, WA
W.W. Seymour Botanical Conservatory, Tacoma, WA
2. Tulips
As of March 2021, capacity is limited, and you'd need to purchase tickets online if you want to visit the famous Roozengaarde (15867 Beaver Marsh Rd, Mount Vernon, WA 98273). If you love tulips and daffodils, you will be in heaven because this place is huge! I've been coming here every year since 2018, and my favorite is definitely near golden sunset hours.
For 2021, you're required to book tickets online, to Roozengaarder HERE, Tulip Town HERE.
Roozengaarde, Mt. Vernon, WA
3. Daffodils
Daffodils are famously known as Golden Trumpets of Spring. Upon doing research about daffodils in Washington, I've learned that Dutch Master is the world's most popular daffodil. Daffodil crops are rotated every 3 years versus an every-year rotation for tulips.
La Conner Daffodil Festival happens every March in the Skagit Valley, La Conner, Washington (same area as tulips)
daffodils at RoozenGaarde, Skagit County, Mt. Vernon, WA
bright cheerful fields of daffodils in Skagit Valley, just a few weeks before tulips are in bloom (not sure the exact location)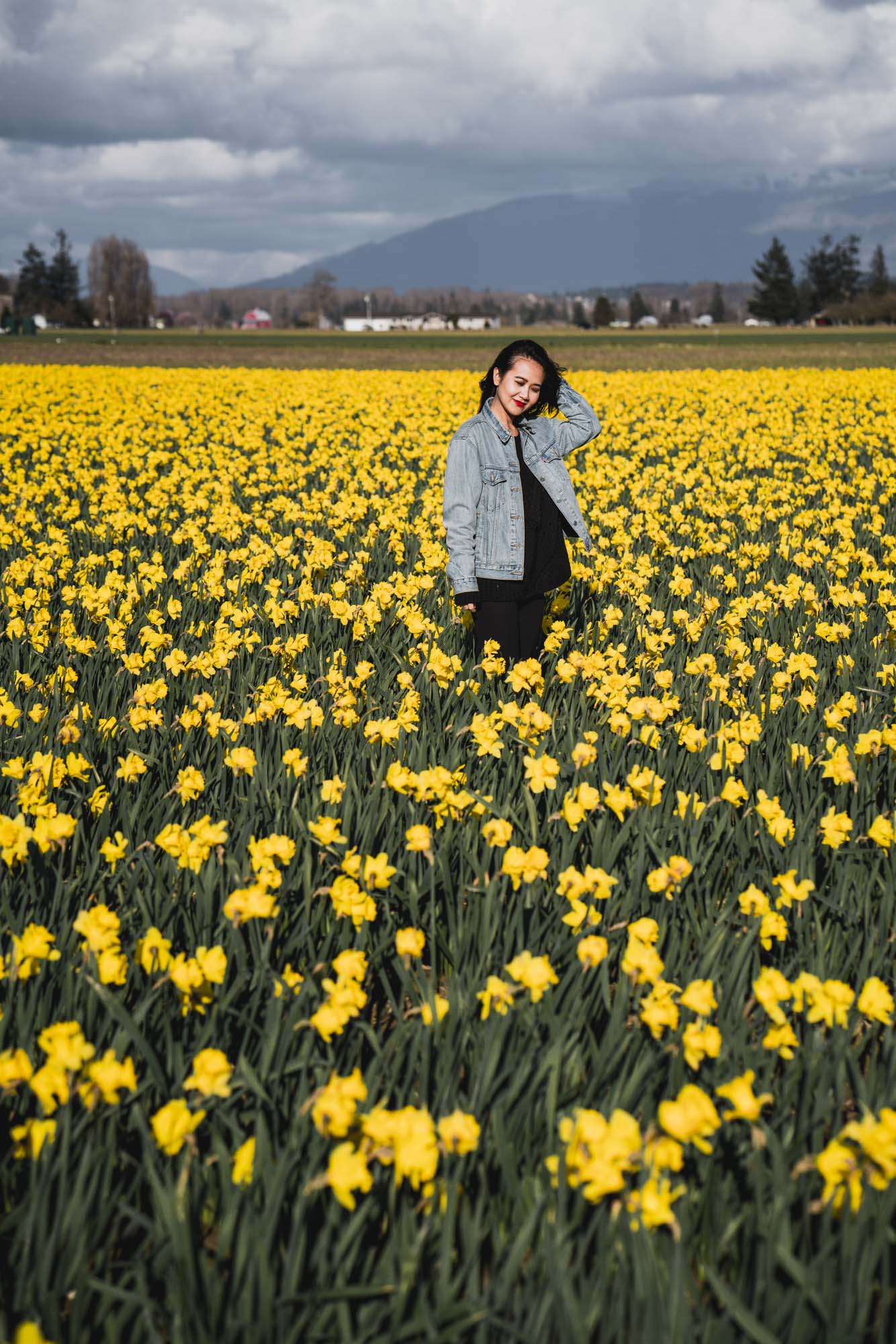 bright cheery daffodil field like this is everywhere in Mt. Vernon. I just happened to drive through Mt. Vernon last weekend (March 29, 2021) and decided to drive around town for these fields. 
SUMMER
4. Lavender
The best time to see the lavender fields in bloom is in mid-July. Generally, lavender plants would start blooming in late June and last for a couple of weeks.
Because of COVID, I highly recommend checking out websites and making calls to make sure these places are open. Lavender festivals are most likely canceled in 2021, but the farms themselves might stay open and offer limited entries, so call or book ahead to reserve a spot.
Sequim in the Olympic Peninsula, Washington, is the place to go when it comes to lavender. Sequim Lavender Weekend (July 17-19) is world-famous! I highly recommend driving Sequim Lavender Trail since it connects all Sequim lavender farms. List of farms and giftshops, HERE. Usually, most farms here are free to visit all summer long with an exception of a few that charge a small fee to cover band music, food, and activities.
San Juan Island, Washington is also home to a large lavender farm Pelindaba Lavender Farm: 45 Hawthorne Lane, Friday Harbor, WA 98250. Call 866-819-1911.
Oregon's McKenzie River Lavender Festival (July 10-12): 40882 McKenzie Hwy, Milepost 15.5. Call For A Visit: (541)736-8575
I have yet to visit Pelindaba and McKenzie River, but they're definitely on my list. 
B & B Lavender Farm, Sequim, WA
Graysmarsh Berry Farm, Sequim, WA
5. Roses
Portland is known as the 'City of Roses' because the weather is ideal for growing them. If you've ever been to Portland in the summer, do plan an hour or two to visit the International Rose Test Garden and The Portland Rose Festival, HERE.
In Seattle, you can find rose bushes at many parks, and of course, be on the lookout while you're driving around its neighborhood, too. You will be delighted, especially when spring and summer come around.
Centennial Park (2711 Alaskan Way W, Seattle, WA 98121) has a small rose garden and is located in the Elliot Bay area. I

t's regarded as one of the premier waterfront parks in Seattle.

Carl S. English Jr. Botanical Garden (3015 NW 54th St, Seattle, WA 98107) is located in Hiram M. Chittenden Locks, and access to the gardens is free.
International Rose Test Garden, Portland, OR
Centennial Park, Seattle, WA
Carl S. English Jr. Botanical Garden, Seattle, WA
6. Poppies
The Pacific Northwest is certainly not known for poppies, and I'd say to look down south a little bit which is California. Their peak bloom happens in March, and I'm giving it a close watch for their 'superblooms' at the Poppy Reserve (15101 Lancaster Rd Lancaster, CA 93536) HERE.
With that said, you might get lucky and spot some poppies literally everywhere in the Pacific Northwest, but not in a high concentration. I spotted a bunch of these poppies blooming during my min-road trip to San Juan Island early summer of 2020. Read my blog post: Top Things to Do in San Juan Island – Travel Washington
San Juan Island, WA
7. Daisies
I'd consider daisies as wildflowers or weeds because they grow everywhere and anywhere in the summer. Magnuson Park is a lovely park that I frequent, and I spotted this field of white daisies there. 
Magnuson Park, Seattle, WA
8. Hydrangea
Kubota Garden (9817 55th Ave S, Seattle, WA 98118) is a 20-acre Japanese garden in the Rainier Beach neighborhood of Seattle. It's a public park and is maintained by the Seattle Parks and Recreation as well as the Kubota Garden Foundation.
Formal Gardens at Shore Acre State Park in Coos Bay, Oregon. It's known as the Gardens for All Seasons, and in fact, they do have a lot of flowers blooming all year round. To access the garden, you'd need to pay a parking fee, but if you're ever in the area, I highly recommend it. Call 541-888-3732 to talk to a member of the garden if you're wondering what flowers are in bloom. I was here late fall and got a peek at some dahlias, hydrangea, daisies, and even roses.
Kubota Garden, Seattle
Shore Acre State Park, Coos Bay, OR
AUTUMN
9. Sunflowers
Sunflowers come in a wide range of varieties and can be seen following the sun throughout the day. Their peak bloom is typically late summer and early fall.
In Washington, sunflower fields are mostly in Eastern Washington.
Birch Bay Home Farm Sunflower Festival

Bob's Corn & Pumpkin Farm Sunflower Experience, Snohomish

Stocker Sunflower Festival, Snohomish

Thomas Farm Sunflower Festival, Snohomish

Schilter Family Farm Sunflower Experience, Olympia

Sterino Farms u-cut sunflowers, Puyallup

Sunflower Festival at Maris Farms in Buckley
Photos below are from my visit to West Union Gardens during my trip to Portland, Oregon.
10. Dahlia
The Volunteer Park Dahlia Garden is just s short stroll from the Conservatory. It might be a small corner, but you'll be surprised as to how many varieties there are.