Spring is here in full force, and what's better to celebrate these glorious sunny spring days in Seattle than me sharing my favorite location list to view the Seattle skyline.
This blog post includes a full list with addresses and reasons why these locations make it to my favorite list. I've left out popular places that cost money to go on like the Space Needle, the Seattle Great Wheel, Smith Tower, and popular bar and restaurant rooftops. Leave me a comment if you'd like a part 2.
Enjoy the video, like, comment, and subscribe!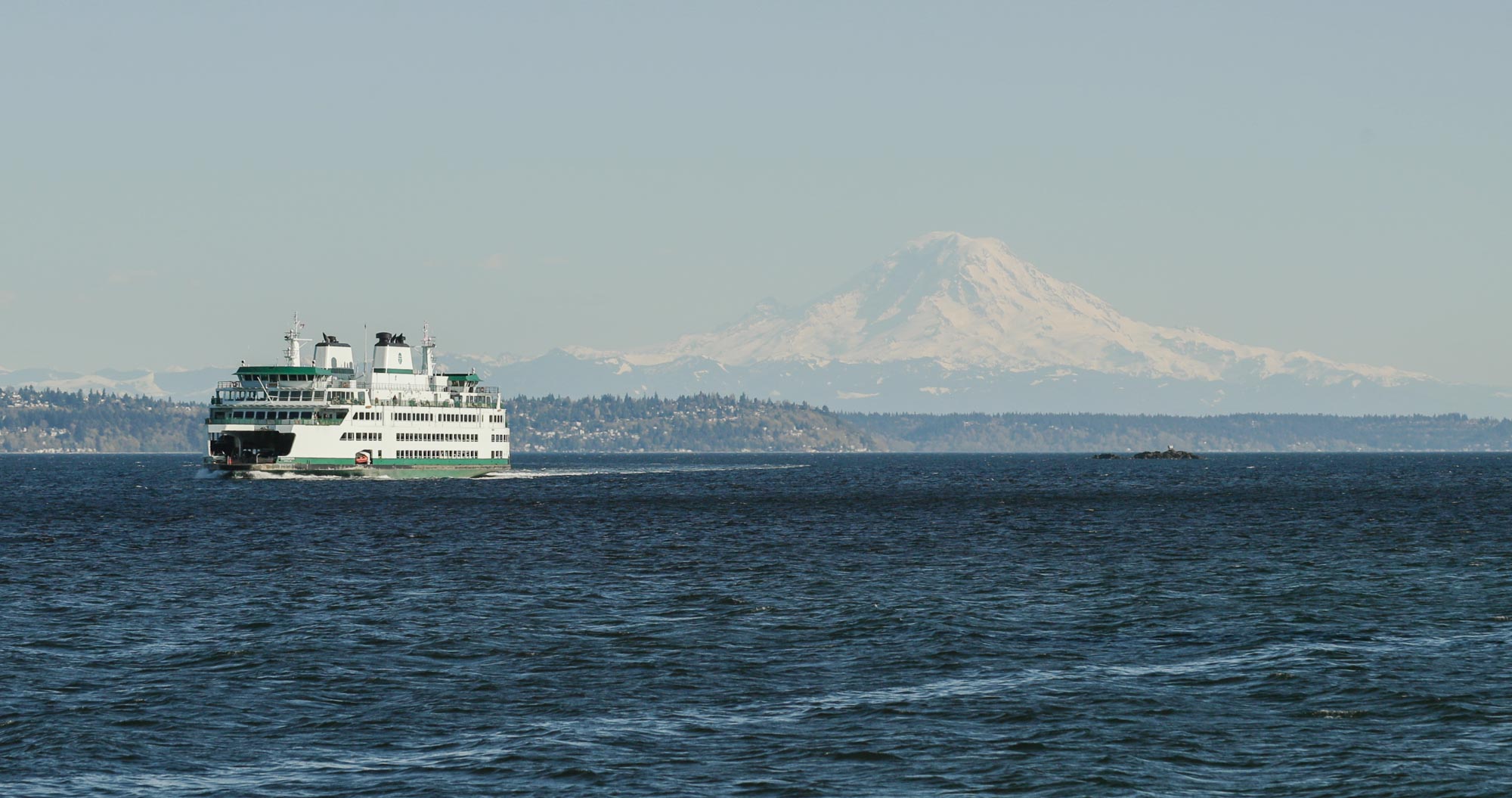 1. Ferry from Seattle terminal
Seattle Ferry Terminal: 801 Alaskan Way, Seattle, WA 98104
View on the ferry from Seattle to either Bainbridge Island or Bremerton has got to be the first in my list because you will not get it anywhere else. As the ferry departs, you can get an outstanding view of the skyline. I always take a bunch of photos and records clips of the city views at different decks on the ferry.
Many people who visit Seattle don't know that there is so much more to see besides Seattle's hot touristy spots, and all you need is a car or simply hop on a ferry to nearby islands. Over the years, I've done countless day trips nearby islands like this, but it just never gets old. 
PRO TIPS: Make sure to look up the ferry time and arrive at least 30 minutes before departure time. You can pay the ferry fee ahead online, and yes, you'll be charged for both two-way trips. I'd recommend to plan for at least a day trip as there are a lot to do on Bainbridge island or Bremerton. I always make a list of new coffee shops, restaurants, and short local trails to do.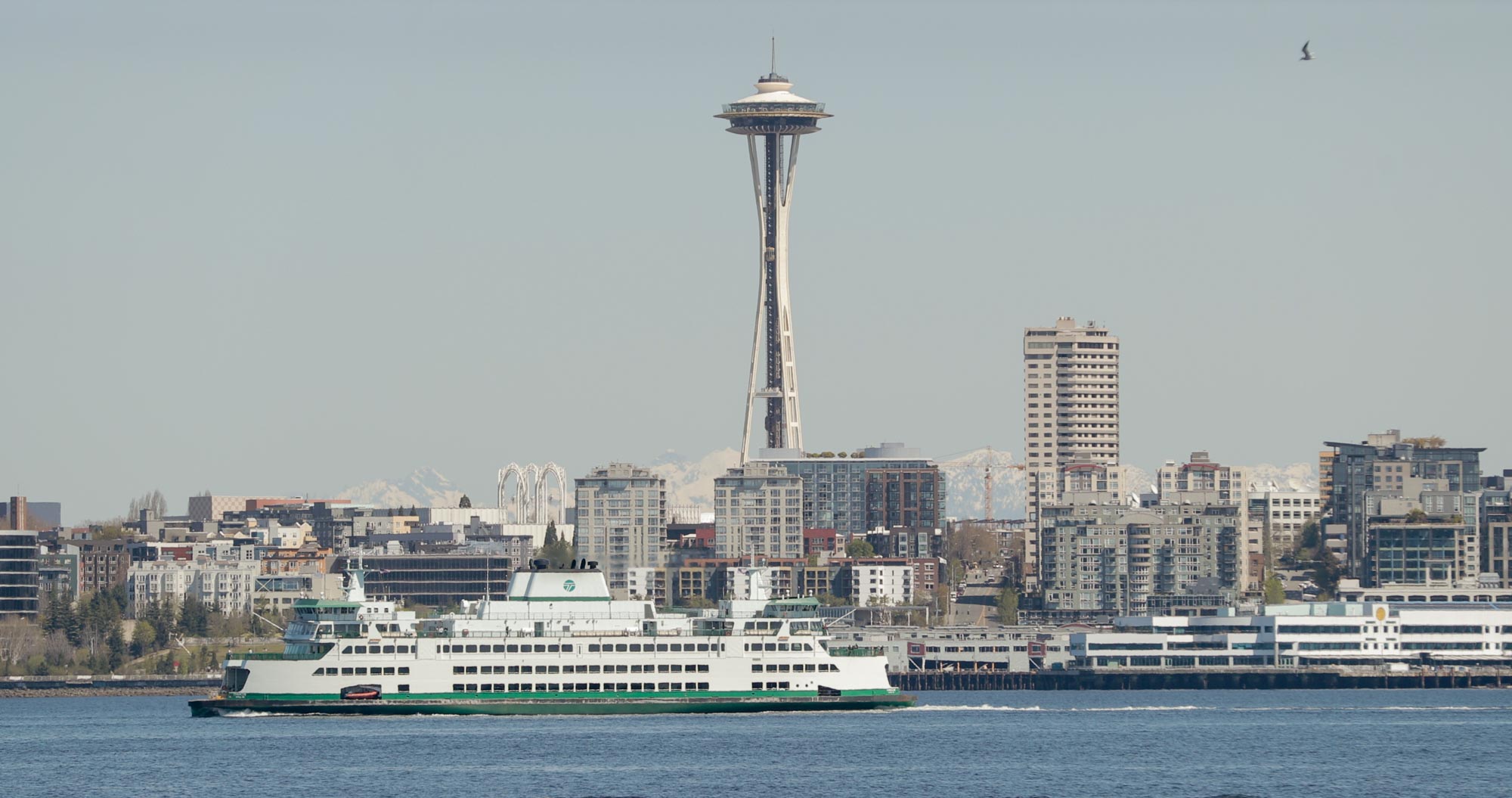 2. Harbor Ave Viewpoint
Harbor ave viewpoint: Alki Trail, Seattle, WA 98126
Harbor Ave is a viewpoint near Alki Beach in West Seattle. You can see the entire skyline, Elliott Bay, the harbor, and the Cascade Mountains across the body of water from this side of the city. It's great on sunny days and nights.
From here, you can walk or drive down the street to Alki Beach Park. In the summer, the beach feels just like one of those Californian beaches to me. You'll see tons of people who are just out there enjoying the sun, having a picnic, playing volleyball, biking, rollerblading, and kayaking. There are also many restaurants just across the street.
3. Jack Block Park
Jack Block Park: 2130 Harbor Ave SW, Seattle, WA 98126
If you're in West Seattle and want a quiet and tucked-in spot to view the skyline, I'd recommend Jack Block Park. It is a 15-acre park in the West Seattle neighborhood, just a few minutes away from Harbor Ave Viewpoint. There's beach access, stairs, and paved paths that are wheelchair accessible. The view from the 45-foot high Observation Tower is my favorite as it kinda reminds me of a corner of New York.
From here, you can view the old Termination 5 operation where it used to be a wood treatment plant and shipbuilding facility, Seattle skyline, and Mt. Rainier. 
4. Dr. Jose P. Rizal Bridge
Dr. Jose P. Rizal Bridge, Seattle, WA 98144
Dr. Jose Rizal bridge is one of the first permanent steel bridges in Seattle, named after a Filipino hero, a strong advocate for Philipines' independence from Spain, Dr. Jose P. Rizal. It connects the International District to the Beacon Hill neighborhood. There's a park with a playground, picnic area, and a small play area for dogs, but you'd want to walk to the bridge for the sweeping views of downtown Seattle including the 2 huge stadiums, classic i5 traffic, and i90 traffic, and Olympic range in the background.
Parking is on both ends of the bridge, and from here, make sure you stop by Chinatown and Little Saigon in the International District as it's only less than 5 minutes away. There are tons of good restaurants and shops, and I go there almost every week.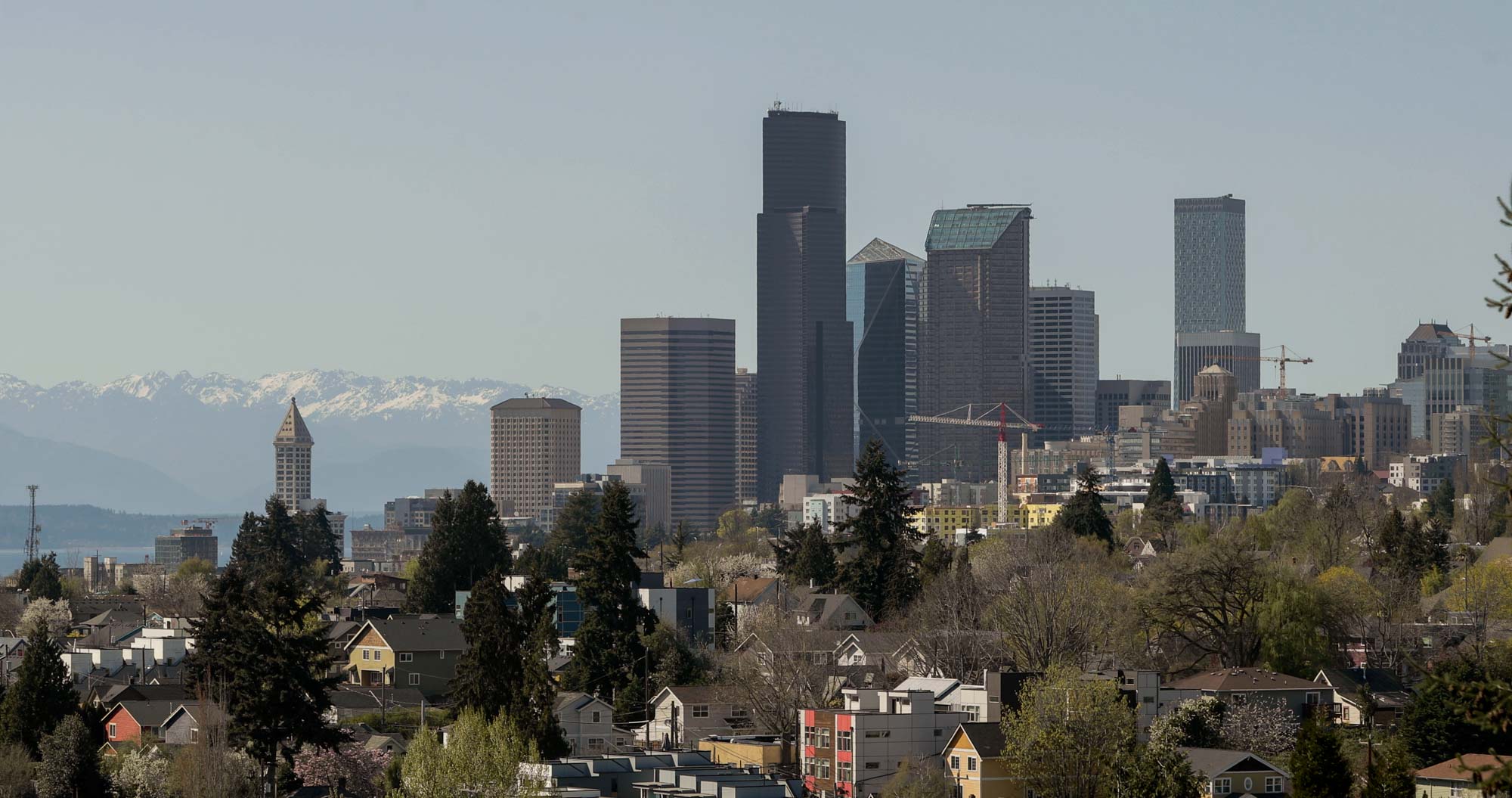 5. Mt. Baker Ridge Viewpoint
Mt. Baker Ridge Viewpoint: 1403 31st Ave S, Seattle, WA 98144
This is another spot you can add to your list for great views of downtown, Puget Sound, and the Olympics to the west. Constructing the park was a community-driven effort and activism of 10 years.
This unique little place is known as the "sunset marking instrument" with sundial stones build on the platform. It's one of a few spots in Seattle that locals gather to enjoy the solstice sunsets as the setting sun would align perfectly to one of the sundial stones. There are two benches and a bulletin of information about the Mount Baker neighborhood, so make sure to not miss it when you're there.
Parking is on the street, so it's definitely worth a stop if you're in the Mount Baker neighborhood area.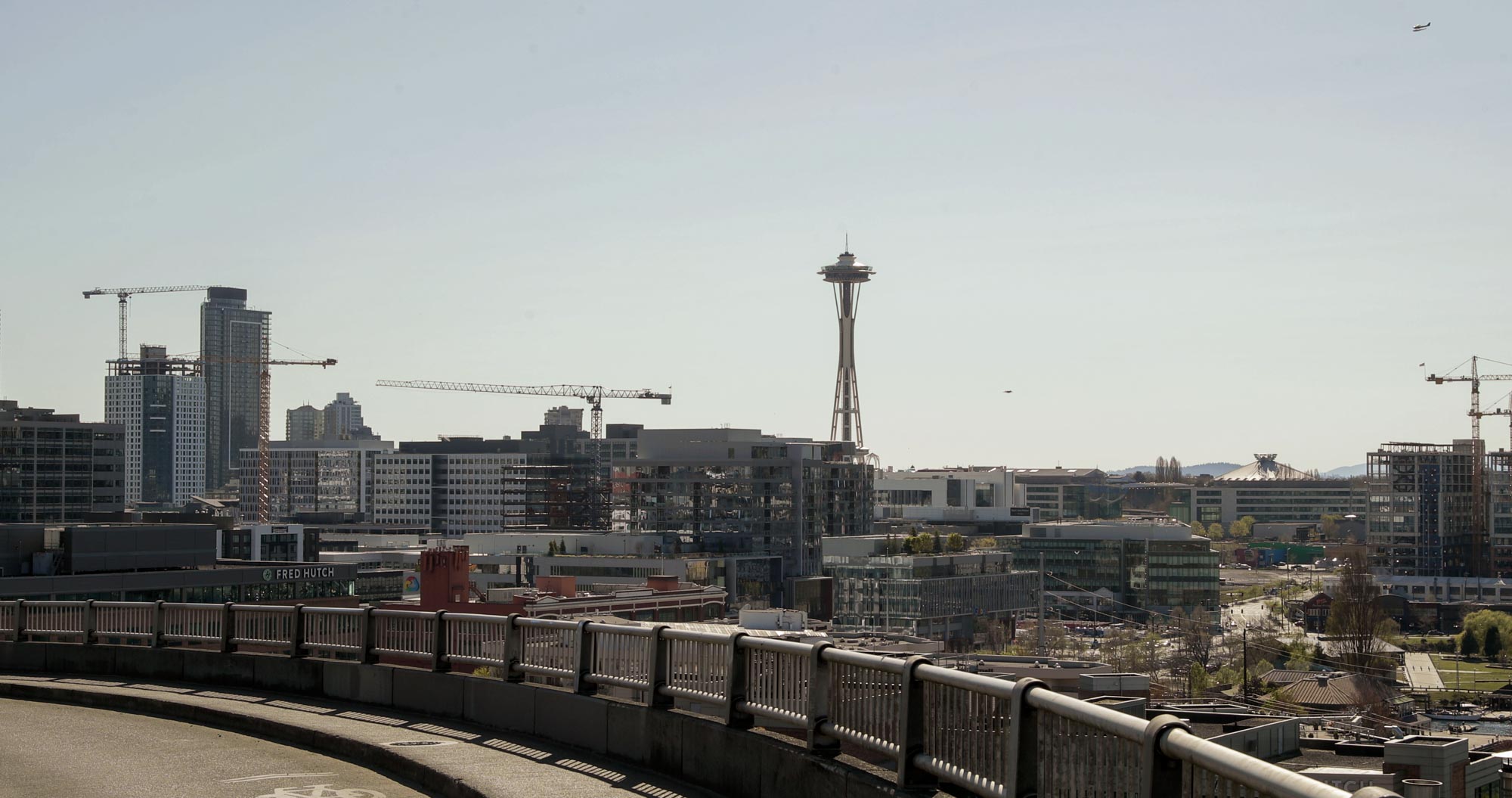 6. 
Lakeview Blvd Viewpoint
Lakeview Blvd Viewpoint: 967 Lakeview Blvd E, Seattle, WA 98109
Lakeview Blvd Viewpoint is located on the Lakeview Blvd bridge sitting on top of i5 connecting South Lake Union and Capitol Hill neighborhood.
It's a great place to view the city light at night, especially during events with fireworks. It's a great place to photograph the city or view the city light at night, especially during events with fireworks.
You can find a small parking lot on the East side of the bridge, or park a few blocks North East of the bridge and walk down to an up-close panoramic view of Southlake Union and the city.
7. Gas Works Park
Gas Works Park: 2101 N Northlake Way, Seattle, WA 98103
Gas Works is one of my most frequent and favorite parks in Seattle. It's a postcard-perfect shot of Seattle, and I still find it impressive regardless of how many times that I've been there. To get that picture-perfect shot, you'd need to walk up the grassy hill. From here you can catch lots of people enjoying the sun, kayaking, or sailing off from the south lake union shore.
The 19.1-acre public park is on the site of the former Seattle Gas Light Company gasification plant, located on the north shore of Lake Union at the south end of the Wallingford neighborhood.
There's a large free parking lot as well as plenty of street parking, so definitely make gas work the first place to visit if you've never been here.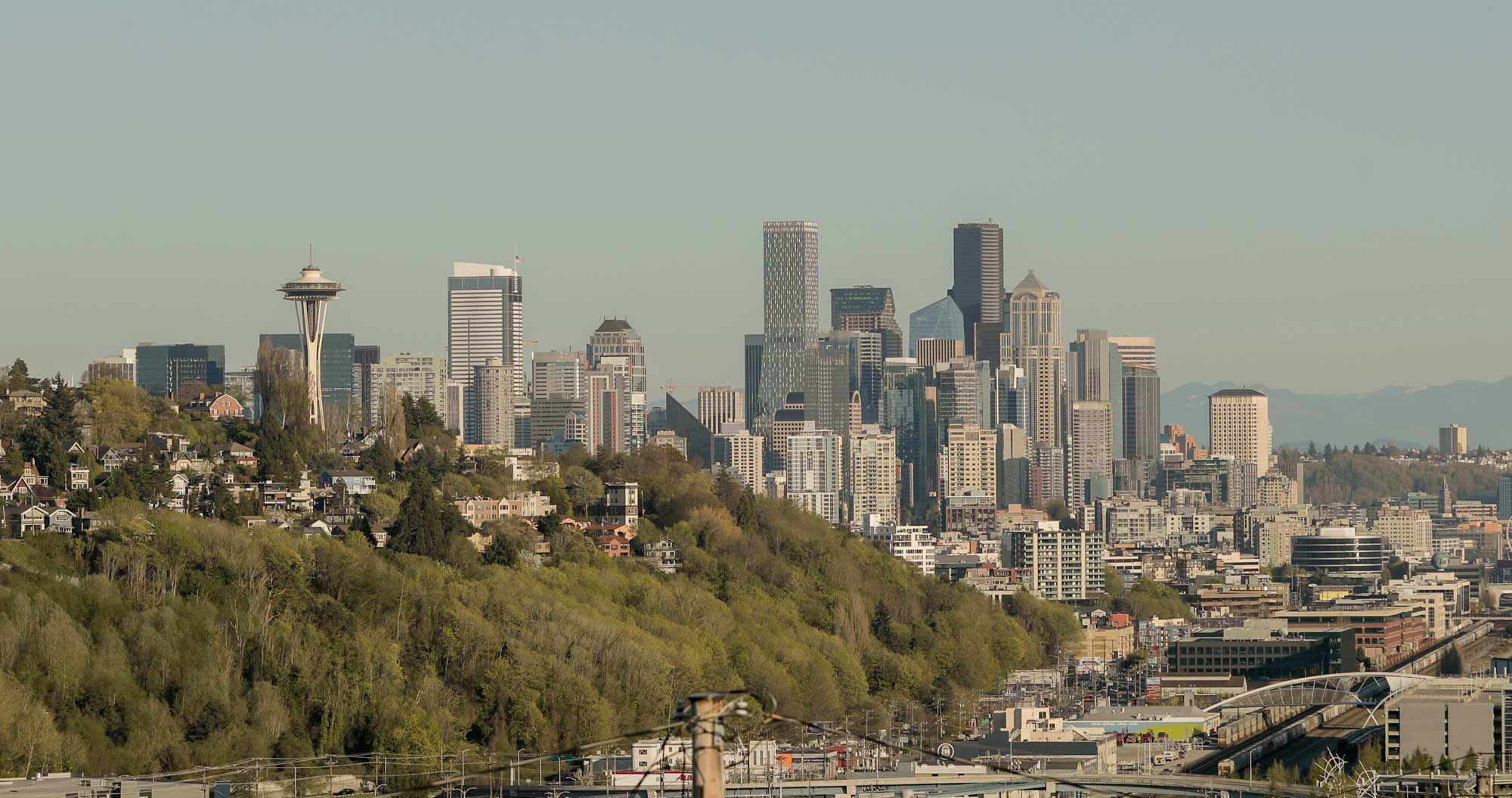 8. Ella Bailey Park
Ella Bailey Park: 2601 W Smith St, Seattle, WA 98199
Ella Bailey is one of my favorite parks in the Magnolia neighborhood. It's a local hidden gem if you want that classic Seattle skyline with a jaw-dropping view of Mt. Rainier minus the crowd.
There is a gently rolling hill with walking paths, a play area, picnic tables, BBQ stations, and tons of space to just sit and relax. I'll definitely go here for July 4th and NYE fireworks instead of Kerry Park next time.
GO ON A SUNSET PICNIC WITH ME HERE: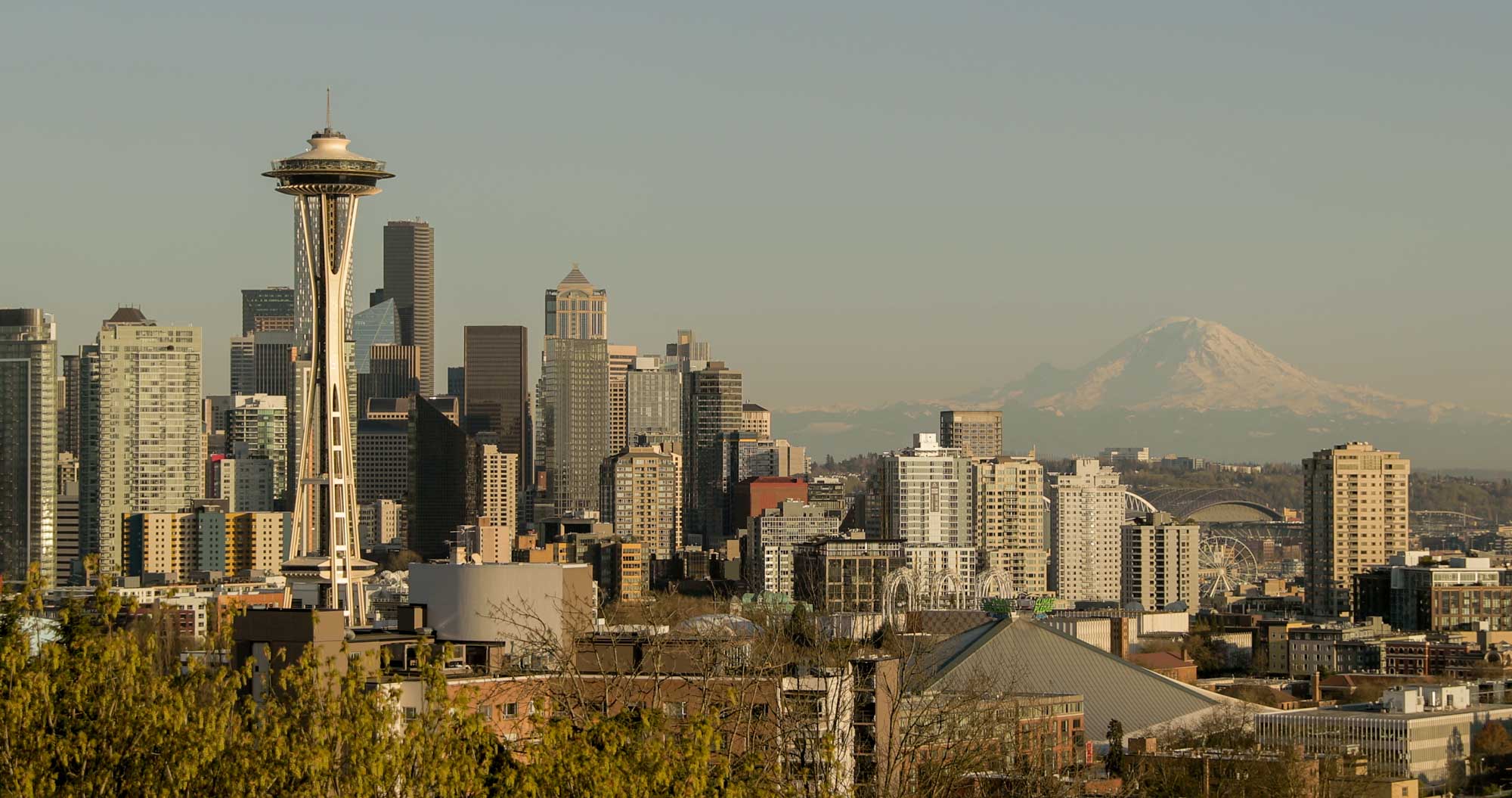 9. Kerry Park
Kerry Park: 211 W Highland Dr, Seattle, WA 98119
Kerry Park is another postcard-perfect shot of Seattle, and I always take out-of-state friends and family here. It's a small public park and viewpoint on the south of Queen Anne Hill in Seattle and overlooks downtown Seattle, Elliot Bay, and Mt. Rainier on clear days.
There is free parking along the streets and a couple of benches to sit and enjoy the view. With plenty of street parking, it's a quick stop from downtown which makes it a super popular tourist location.
10. Pier 62
Pier 62: 1951 Alaskan Way, Seattle, WA 98101
The newly rebuilt Pier 62 is a public floating viewing platform located on the Seattle Waterfront. From here, you can take in the view of Elliott Bay, the Olympics, and the Seattle skyline in a much more personal and close-up perspective.