SUMMIT One Vanderbilt is a new and highly trafficked observation deck located in Midtown Manhattan, New York. It's also a permanent art installation called Air, created by Kenzo Digital, a fully immersive and multisensory experience through city and nature. There is music, mirror reflection, flashing lights, and more.
Disclaimer: I wore my mask the entire time except when I had some of these photos taken. It was a brief minute, and I made sure to wait until no one was around.
SUMMIT One Vanderbilt
Address:
45 E 42nd St, New York, NY 10017
Location:
Grand Central – 42 st on the 91st through 93rd floors of the One Vanderbilt building in Midtown Manhattan. 
Price: 
SUMMIT Experience – general admission $39

SUMMIT Ascent – general admission + glass elevator journey to 1200 ft $59

Ultimate SUMMIT – general admission + glass elevator + a signature cocktail $73
I booked two SUMMIT Experience at 3 pm for December 31st, and they came out to be $50 each. The total was $112.15 after tax and fees. I think I got like a $5 discount as a New Yorker, and the extra was because it was around sunset hour. There was no sunset that day, so definitely avoid going at sunset hour if it was a cloudy gloomy day.
Entrance:
Once you arrive at the One Vanderbilt, on E 42nd St., look for the TD Bank sign that says "Grand Central Terminal", and enter to the right. You should see signage that says "Observation Deck". Go down the stairs or elevator (not the escalator) and turn right towards the SUMMIT One Vanderbilt Entrance.
If you're coming from inside Grand Central Terminal, the entrance is located on the Main Concourse.
What to Wear:
Opt for pants and tights and comfortable shoes. You'd be required to wear shoe covers to protect the glass and mirrored floors. For daytime or on bright days, bring sunglasses.
THE EXPERIENCE
Air by Kenzo Digital – Kenzo Digital is known for creating mind-bending, resonant, and emotionally powerful stories in physical space. Inspired by the city of New York, he wants Air to be a space that is "challenging, eye-opening, and euphoric."
Levitation – Two glass ledges suspended 1,063 feet above Madison Avenue. 
Ascent – The outdoor Elevator experience that takes you to the upper level of the One Vanderbilt building.
Après – A bar lounge with food, a revolving door that leads outside to the terrace, and a gift shop.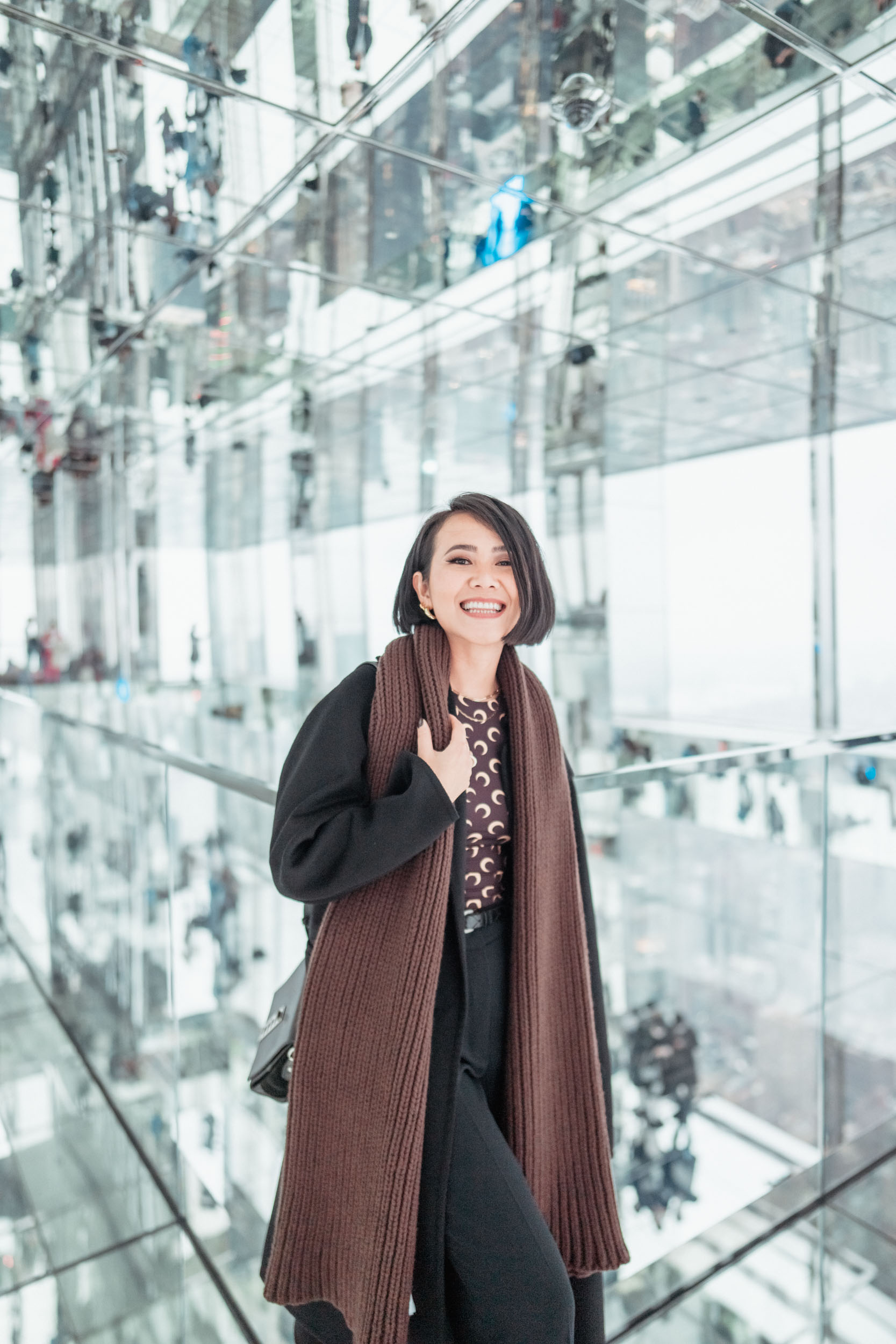 REVIEW
Navigation/Direction: 
I live East of Brooklyn, so I only need to take one train to get to Bryant Park and One Vanderbilt nearby. There are instructions in terms of Point of Entrance in the welcome email, and I have missed it. All I know before entering is to not wear a skirt and opt for comfortable shoes because the floors are made from glass and mirror. And I did have to run around trying to find the entrance.
Entrance:
Right at the entrance, I was asked to show my vaccination card and ID. And there were like a hundred of people also trying to check-in, but they were ahead of us already. Everyone was given a wristband, and you'd only need it to scan for photos.
The waiting line then led us to a small room with a large screen. I quickly realized that it was just a promo video of the place, so I left to see what the next "check-in" step was. Again, another confusing part was the photo areas. You'd be asked how many people are in your groups, and there seem to be 3 cameras, all installed on the ceiling. Weird angle, I thought, because you'd need to look up. You could preview the comp photos at the photo booths at the end right before you exit. They're not bad photos, but we just didn't want to buy them.
After that, you're required to put on these fabric shoe covers. These are to protect the glass and mirrored floors, and you'd need to wear them the entire time. They're black, so if you want them to look kinda blend in with your outfit, I'd recommend wearing low ankle shoes or black shoes so that your shoes don't peak out or look funny in photos.
Then you'd need to show the e-ticket in order to enter the next photo opt or to get inside the line to the elevator. This time, you'd be standing in front of a screen that scans your face. I was also confused as to what the purpose of it was. Turned out, you'd get a cool photo at the end with your face in the cloud. There is a room called Unity with a big screen with moving clouds on the upper floor right before you exit the Experience.
The chaotic entrance sets us off in such a weird mood. I thought the staff could have done a much better job at explaining or giving instructions instead of rushing everyone. I was confused as to what I was supposed to do next. 
The Air Experience:
I thought the Elevator with flashing lights that took you up to the Experience was quite cool. That made me excited for Air until I entered the first glass and mirrored floor/room packed with people, called Transcendence 1. I was shocked as to how many people were there like lots of strollers, jackets, and bags of stuff that people were carrying laying around, and people laying on the floor taking pictures. It was chaotic and overwhelming.
Then I quickly noticed and definitely felt annoyed by the sound/resonance that they had on. It was supposed to enhance the experience, but it gave me a headache the entire time. The sound is a mix of sounds you hear from when the plane is about to take off, when you're on a train, and someone is sawing a big piece of wood altogether. Weird and annoying.
There are tons of opportunities for pictures since you can look out to the city skyline from here. However, there were too many people, and it was impossible to take a photo without having people in the background. The entire time, I kept on trying to find a spot to take photos, navigating through a sea of people, and the whole thing made it impossible to enjoy or take it in. 
The next room is smaller, Reflect, and it has mirrored and stainless steel blobs or shapes on the floors by Yayoi Kusama. Cool but not memorable. There are also floor-to-ceiling windows with city views.
Next, Affinity, a room has circular silver Helium-filled balloons. The room was not at all filled with balloons as I had seen on social media. Some people kept on hitting the balloons like they were really trying to deflate or smash them. It was loud and chaotic, and the staff just stood there and said nothing.
I was able to get some photos after waiting for this couple who took a legit 10 minutes to take selfies at the same spot and angle. I feel like this place gets a weird mix of people, and there are a lot of people out there who aren't aware of the surroundings or know etiquettes/common sense at places like this, at all. If it's a photo spot, take a few photos, be quick, and let the next group have it. 
After this, we headed upstairs to Transcendence 2, and to me, this was the best floor for photos. I was able to have a corner all empty without people running and walking in the background. Interior views are a lot better from up here! There are portals which you can look down to the lower floor from here. We sat on the ground hoping to see the sunset, but the sun didn't come out that day. At around 5 pm, they started to announce the closing time, and people left pretty quickly.
We totally skipped Unity, the room with a big screen of moving clouds, because there were too many people. I've heard that you're supposed to scan your wristband and find your face in the cloud/screen.
The last part is the Après, a bar with some food options and a revolving door that leads you outside to a terrace, Levitation – a transparent "skyboxes" which costs extra to go on, and a Gift Shop.
It's a cold day, so we rushed to East Village for an early dinner. 
Bathroom: I went to the one on the upper level at the very end of the Experience. It's clean and quite possibly the best bathroom I've been to in New York because of the views from the big window. You could see Central Park on the far left.
The iconic Empire State Building view from Transcendence 1, but look near my feet.
What's up with all of the cables?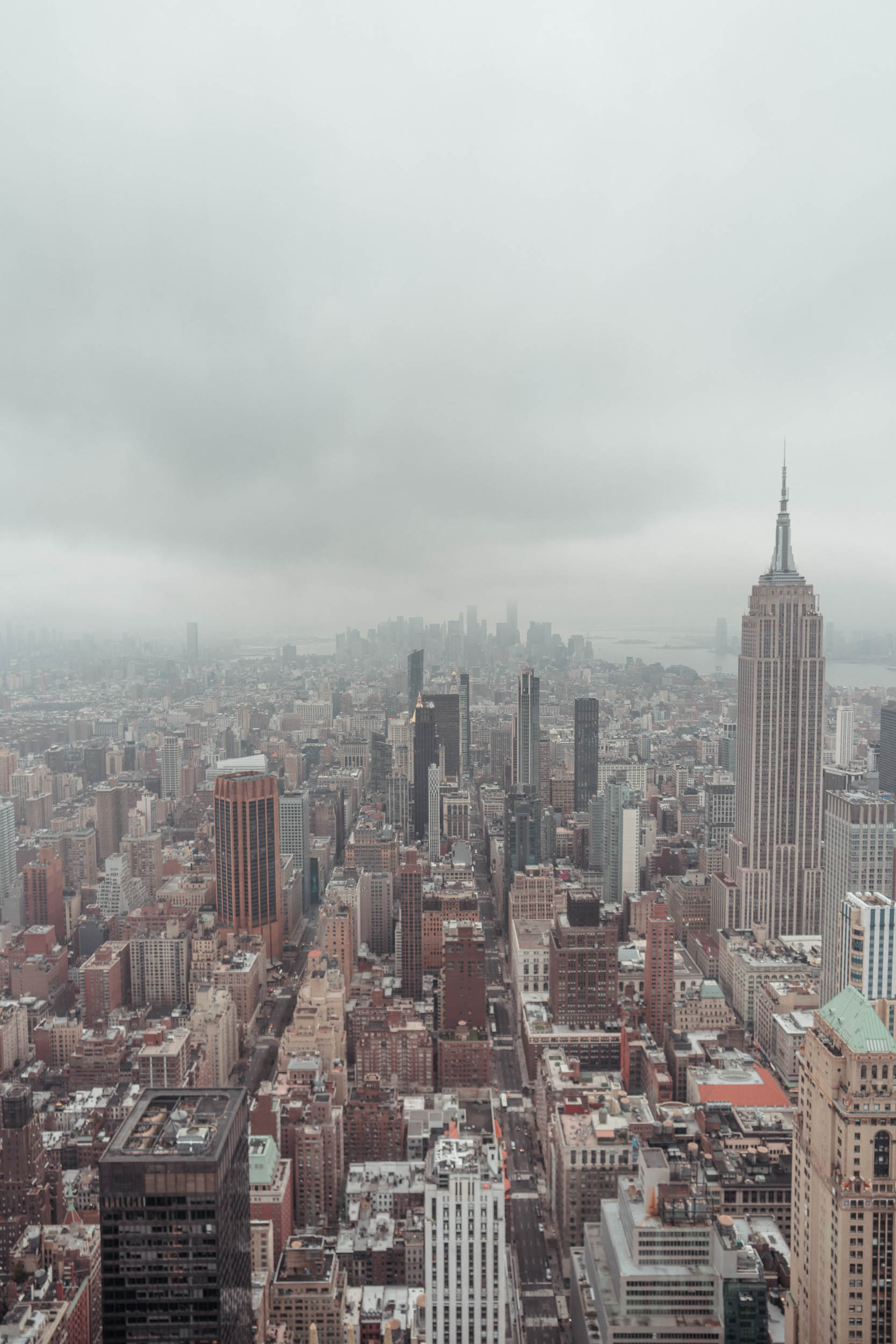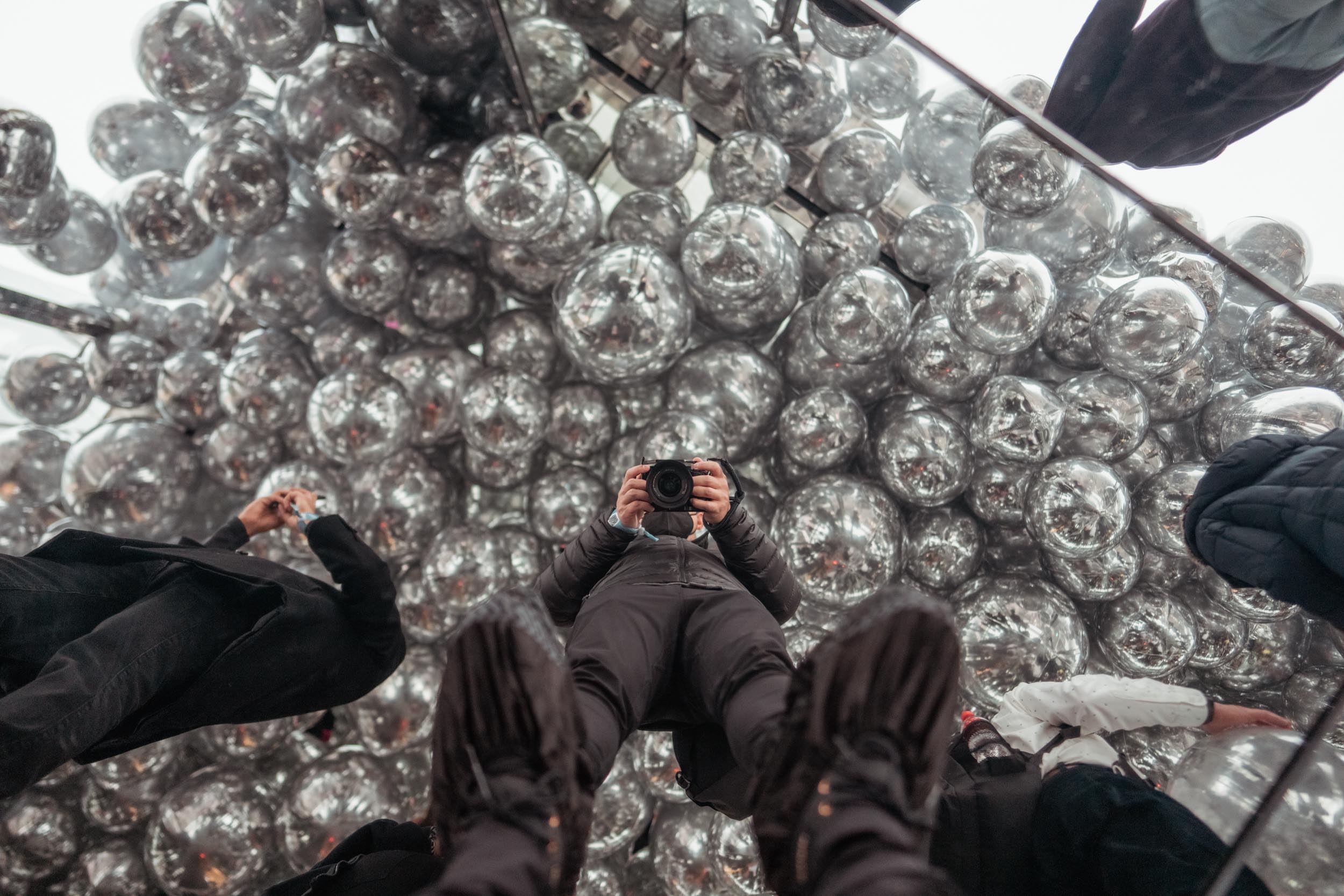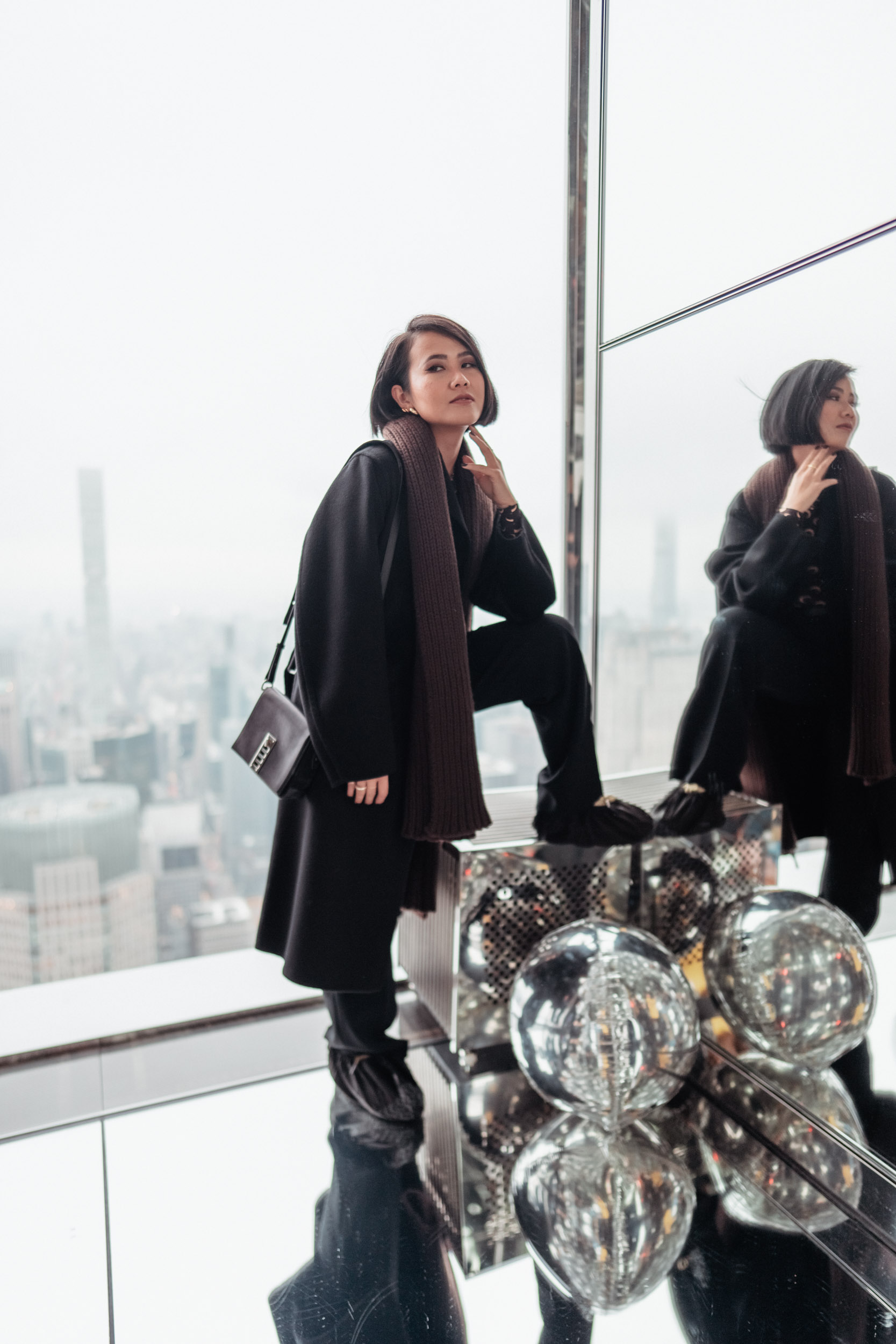 Transcendence 2 – my most favorite floor!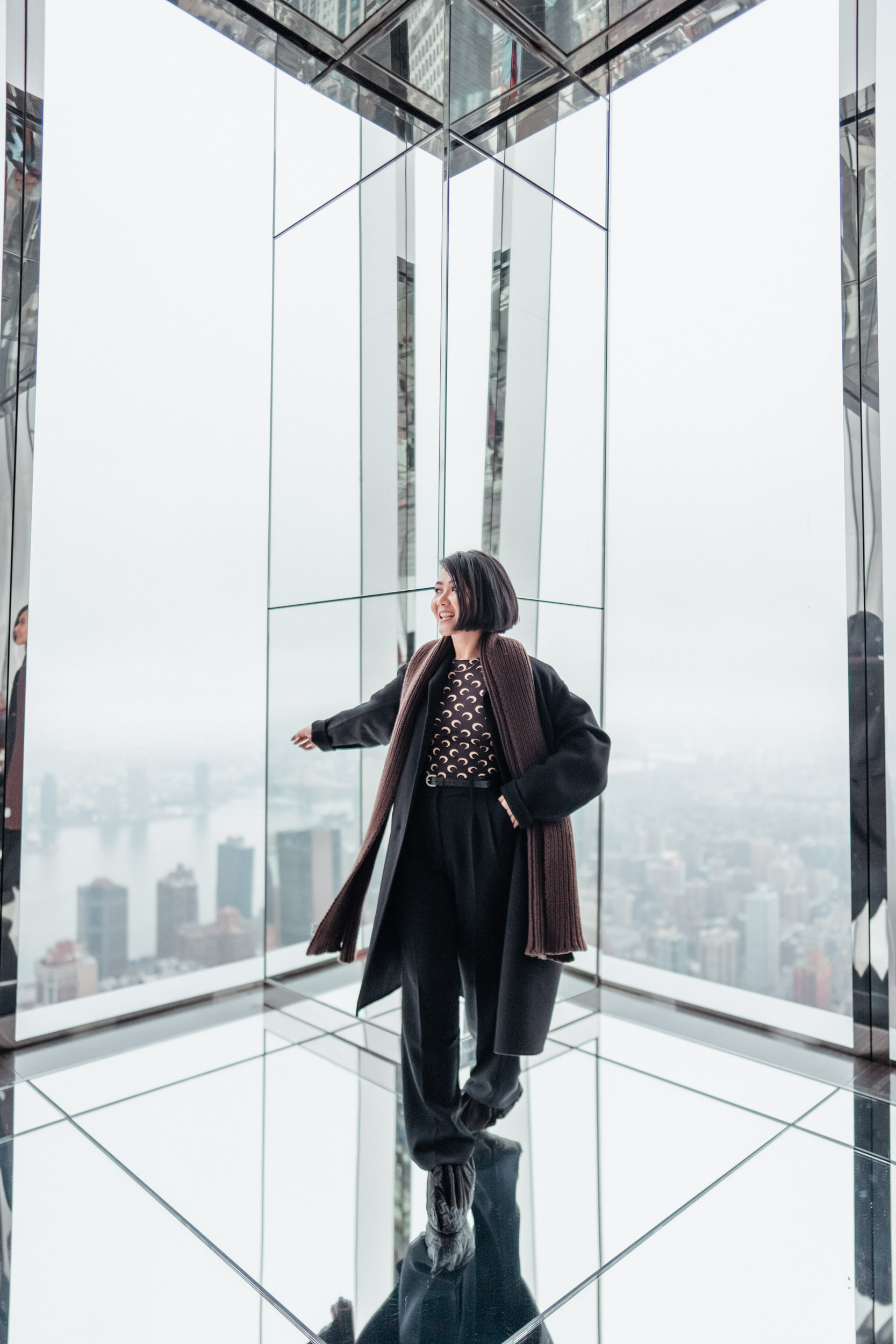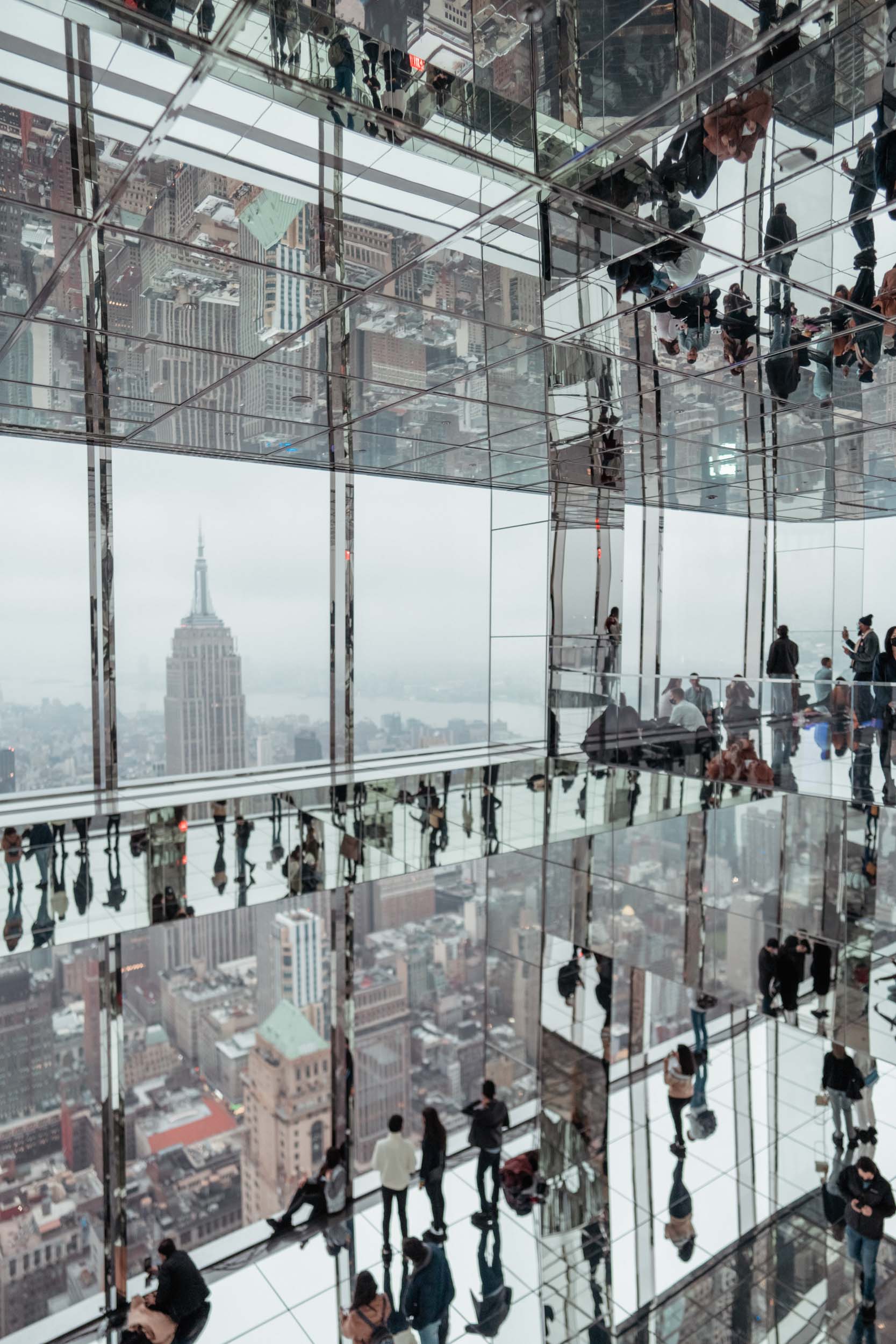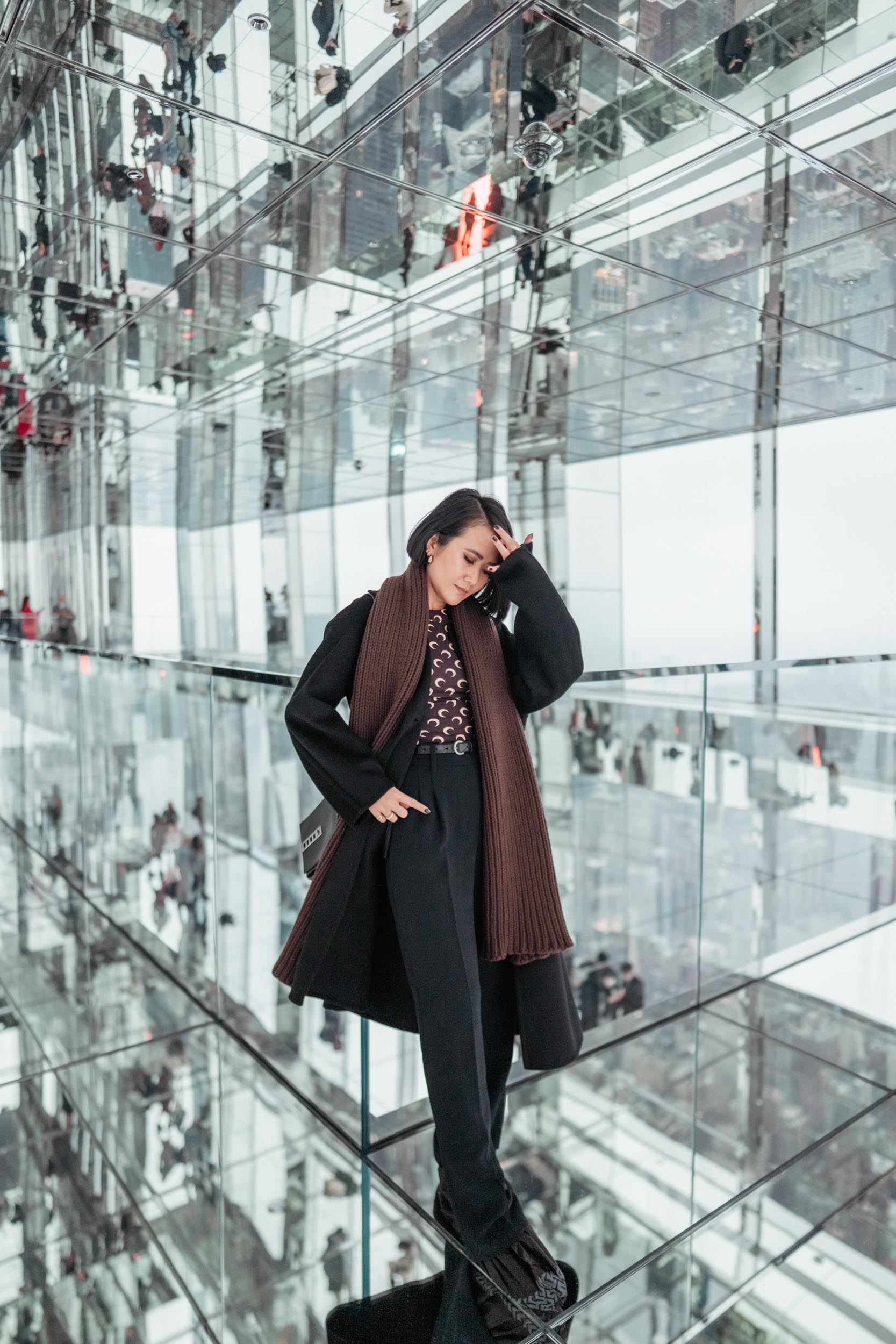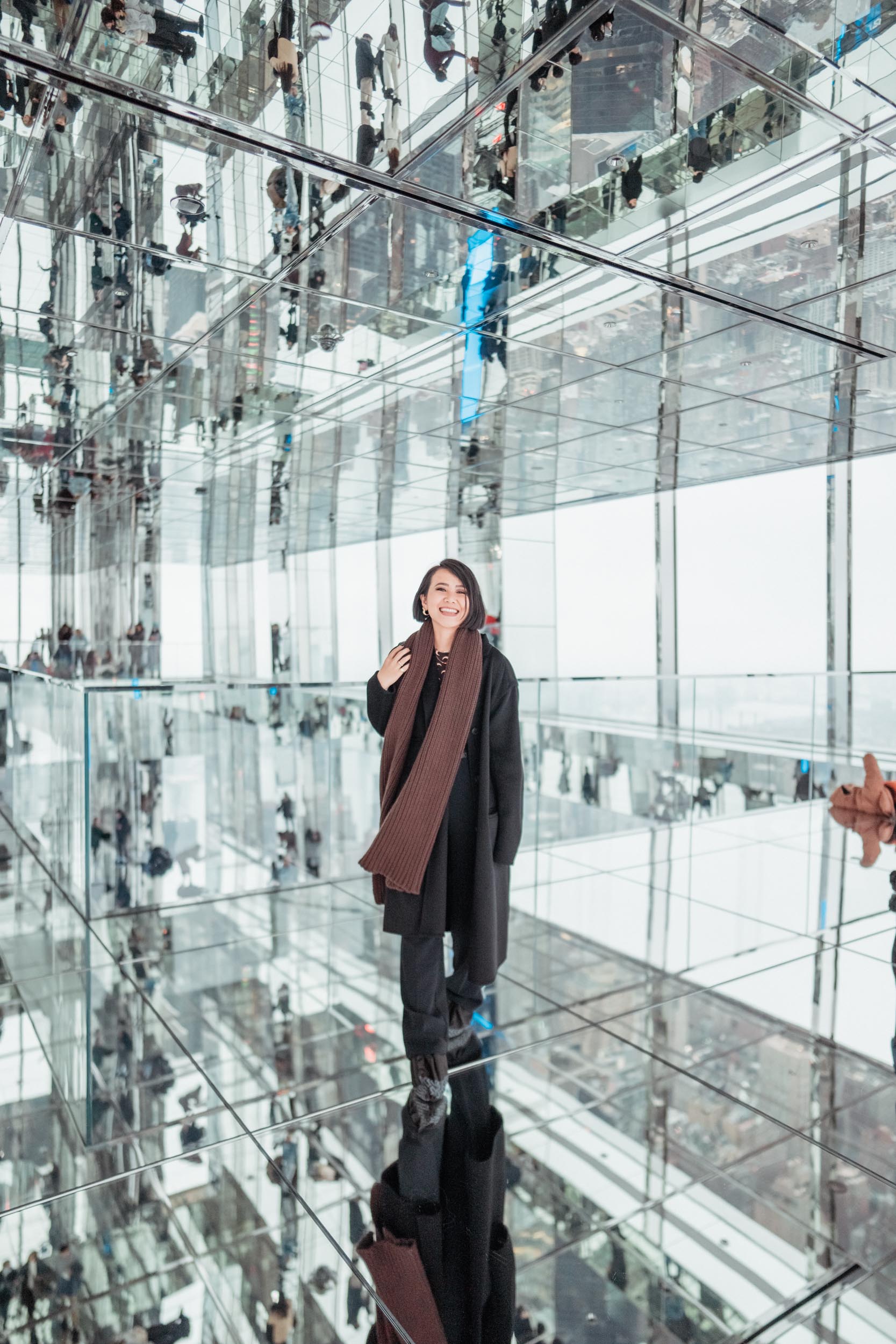 Final Thoughts:
I thought the Experience was pretty cool and unique. However, it could have been improved if SUMMIT One Vanderbilt limited how many people could enter at certain at once. Have a designated slot of time or have the staff guard off "photogenic" corners or photo ops throughout the experience. Change out the music/sound and use something calming and relaxing instead.
Compared to Top of the Rock, the only observation deck I've been to in NYC before this one, NYC skyline views from SUMMIT One Vanderbilt are much better. BIG views and a lot of the iconic buildings are visible and centered! Top of the Rock is a classic, must-go, and One Vanderbilt offers a different perspective with slightly better views.
My overall rating: 4/5
If I have family or friends in town who want to go on an Observation Deck, I'd go back here again if it is on a nice sunny day. I think regardless of the weather, the city looks different every time, but aim for sunset hour if you want a good photo. Lastly, unless you want to do the whole thing, I'd recommend skipping the add-ons. Plan your Experience for about 2 hours. It's best at sunset, always, but if you want to avoid the crowd, go in the morning!
Comment below your thoughts! Will you go?
Other observation decks in NYC you should check out:
The Edge at Hudson Yards – The

highest observation deck in New York City! (next on my list)

One World Observatory at One World Trade Center

The Empire State Building – The oldest observation deck out of the 5 in NYC. 
MY OUTFIT: Moon top: MARINE SERRE | trousers: ARITZIA The Effortless pants | scarf: BASERANGE | belt: thrifted | bag: PROENZA SCHOULER (old) | coat: UNIQLO J+ | shoes: CLARKS (not shown but worn underneath)