I want to sneak in a review of the new Leki Micro Vario Cor-Tec TA Trekking Poles that I've got from REI before posting my Blanca Lake blog post (coming up in a few days). I used these new trekking poles on that hiking trip, and they worked out beautifully.
my First Pair of Trekking Poles
If you've read my Stuart Lake blog post, remember that my first trekking poles are the white ones, the Leki Cressida Cor-Tec Trekking Poles. Unfortunately, I returned them because one of the external locking levers broke.
I got them in-store at the REI Co-op store in Seattle months before I actually got a chance to use them on trail. Luckily, REI accepted returns and only deducted the cash-back amount that I earned from purchasing them last year. I ended up going for Leki again, but this time, I decided to get the Leki Micro Vario Cor-Tec TA Trekking Poles.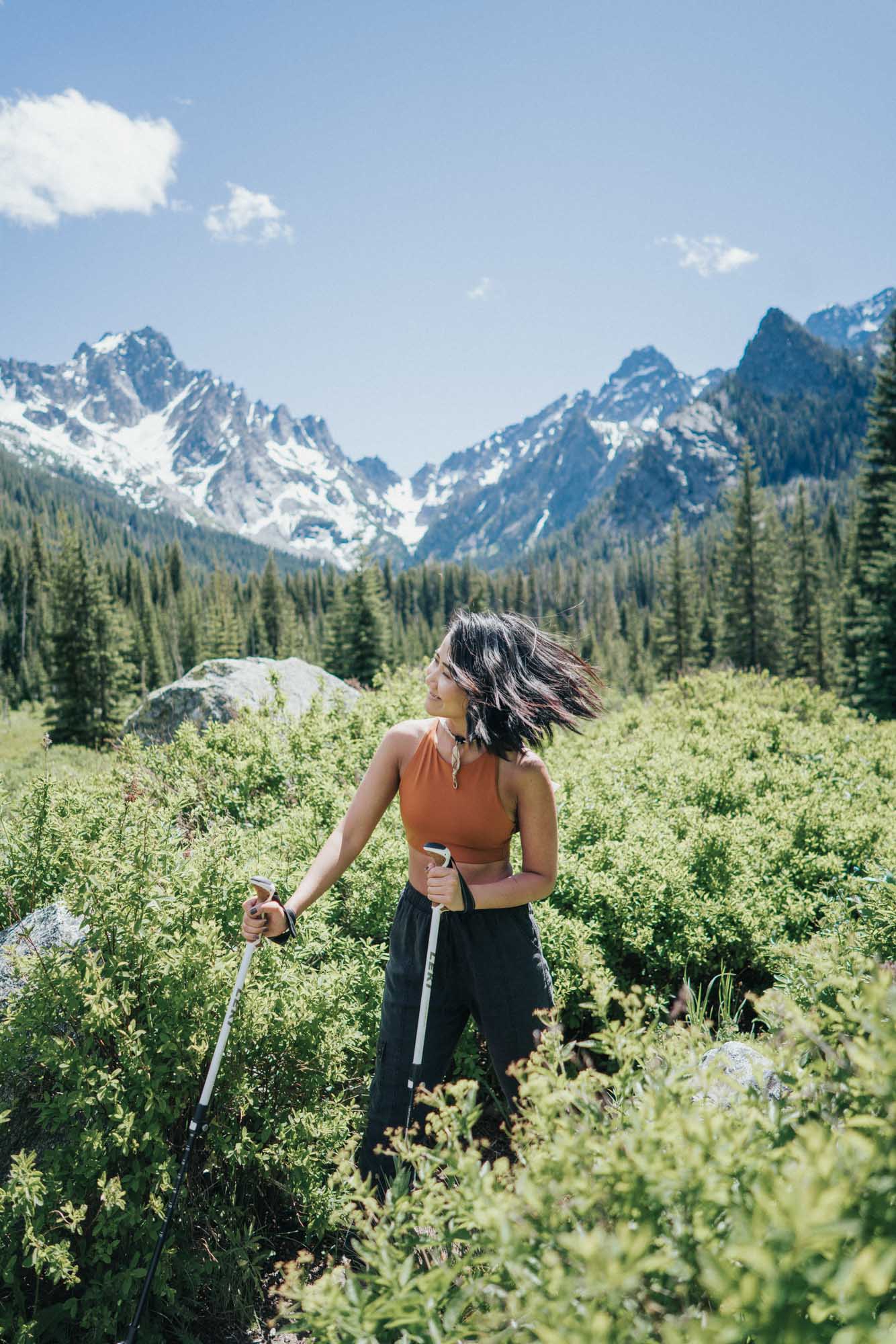 my Second Pair of Trekking Poles
I like that all Leki trekking pole designs are so sleek and lightweight, and the grips are super comfortable. Similar to my first pair of trekking poles, the Cressida, the Micro Vario Cor-Tec TA Trekking Poles, the women-specific trekking poles, have overall smaller dimensions which are perfect for me! I'm 5ft5.
TECHNICAL SPECS (WOMEN'S) 
Maximum Length: 48 in
Minimum Length: 40 in
Collapsed Length: 15.5 in
Push-button release mechanism
Weight: 1 lb. 3.2 oz.
Shaft: 7075 HTS 6.5 aluminum
Grip: hollow core, 80% natural ground cork & rubber
Locking Mechanism: external lever lock
TSA-friendly
While the Cressida is shortened in length, the Micro Vario Cor-Tec TA can be folded and collapsed to 15.5 inches, a lot more compact than the Cressida. I initially thought the folding construction looked funny and wouldn't be durable enough in the long run. Well, I definitely have not owned these long enough to testify for that, so expect an updated review in a few years down the line.
These are so easy to assemble, and I always make sure to adjust them correctly at the beginning of each hike. I keep the silicon tip covers on and store the poles in the trunk of my car.
Lastly, as I slowly invest in hiking and camping gear, I realize that all hiking backpacks are designed with straps or loops so that you can hang your trekking poles. These are so easy to attach to my day hiking backpack, and I can go hand-free if I want.
How to Properly Tighten and Adjust the Poles:
Note that there's a learning curve on how to properly tighten and secure these poles! Make sure to properly adjust them before each hike otherwise they will slide down.
Since the Leki Micro Vario Cor-Tec TA Trekking Poles are foldable, you'd need to assemble all parts and extend/pull until it clicks. To tighten, you'd need to unlock the lever, turn the screw slightly clockwise, and then flip the lever to tighten. Do not try to turn the dial without unlocking the level, it won't work! I did it, and the lever on my first Leki poles broke!
Lastly, you'd need to push the poles down to check to make sure the locking system holds during usage. Make sure the handles are at the comfortable level where your arms are resting at a 90-degree angle.
When going downhill, of course, you'd need to extend the poles. Having the poles longer will help with balance in this case.
Is It Worth $139.95?
If you're reading this and wondering why would I spend that much of a pair of trekking poles. My answer is YES because I consider this an investment for life.
First of all, buying from REI gives me at least a year to test try the poles, and I can return them if they don't work out for me in a year. For spending this much on a pair of poles from a popular brand like Leki, I know I will be able to sell them at a good price later on. Who knows what the market for these will be like in a couple of years, but I am happy with this purchase.
Besides the usual affordable REI-branded ones, Black Diamond is another option that REI has. I don't like a few of their design features, and their prices are also a bit up there for me. However, I will absolutely consider them for the future!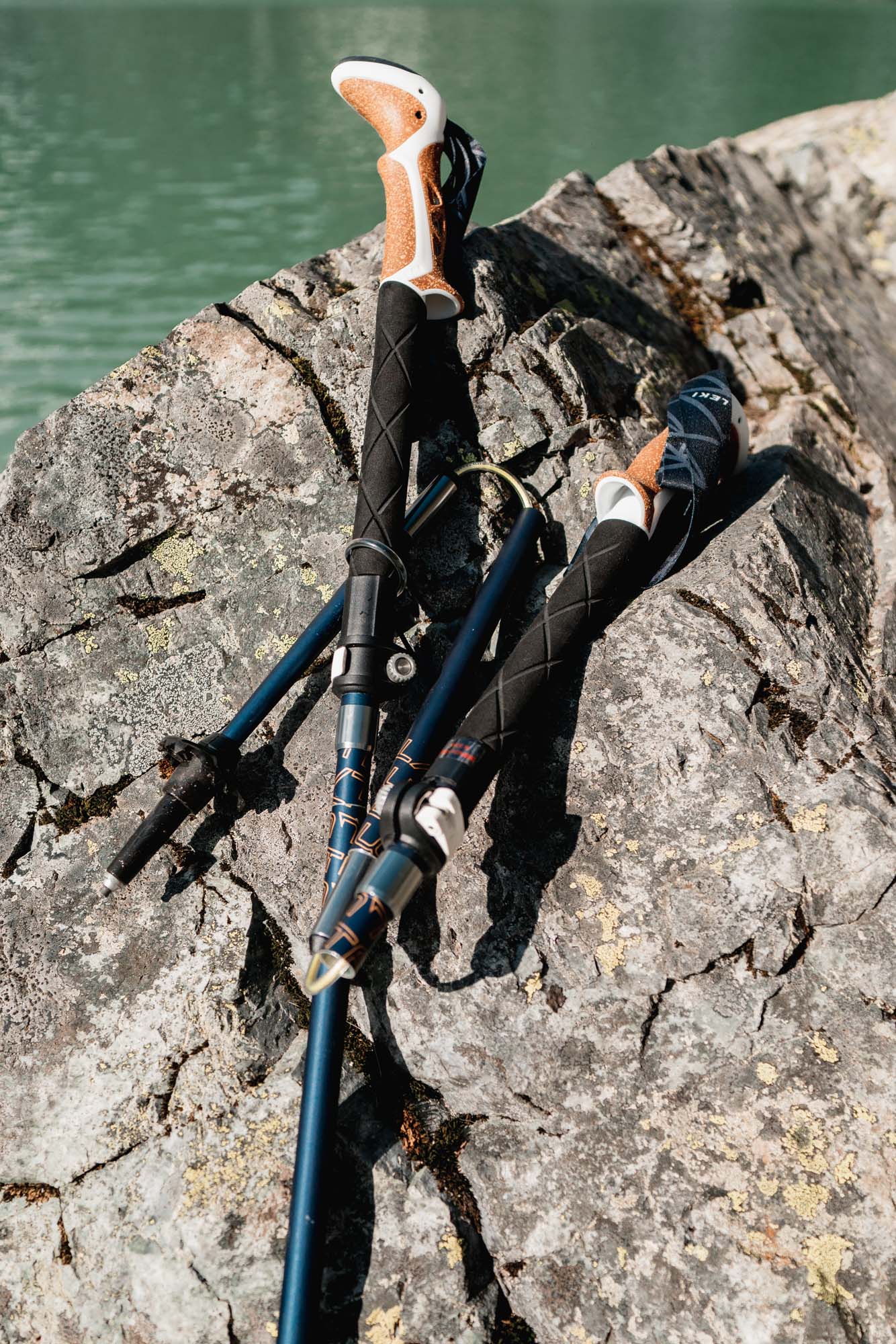 Conclusion:
The Leki trekking poles (the women-specific ones) have the advantage of having small and comfortable grip handles that are perfect for me. I love the sleek design and how they are so lightweight yet feel sturdy on trails.
I am happy with the decision to go for the foldable trekking poles. The Leki Micro Vario Cor-Tec TA Trekking Poles are super easy to assemble and put away! I love how compact they are, and there are no loose things around.
Lastly, I hope that this review is helpful. I just want to put this review up letting you know how much having a pair of trekking poles has helped me and my legs this past year of being out on the trails!
They definitely help with balance, especially when going downhill, speed, and provide a place for my hands to rest which in turn helps with the blood flow. Make sure to lengthen the poles when going downhill and make sure you're comfortable! Make tools and gears work for you and your need!
Be safe and have fun on the trails!
SHOP THIS POST:
my first trekking poles (left), my second trekking poles (middle), my partner's trekking poles (same as mine, but his are the men's ones that have slightly bigger handles and longer built.)

READ MORE: