Blanca Lake is by far the most strikingly beautiful lake that I have ever hiked to in Washington. Its milky turquoise color is just mesmerizing, and I don't think there is anything as rewarding, especially after a very difficult hike!
According to the US Department of Agriculture (USDA) Forest Service, you'd be climbing 37 switchbacks and gaining 2,700 feet in 3 miles. It's by far the HARDEST HIKE I have ever done.
Location: Central Cascades, Stevens Pass
Distance:  7.5 mi., round trip, 7+ hours
Elevation Gain: 3300 ft. Highest Point: 4,600 ft. at Virgin Lake (You'll see Virgin Lake at the top before arriving at Blanca Lake.)
Parking Pass: Northwest Forest Pass required. Day Pass and ePass: $5/car or America the Beautiful Pass works, too. However, it was free the day that I went because of COVID.
I did this hike on Sunday, July 19, 2020. I definitely did not anticipate how difficult this hike was, but I was glad I pulled it through. It took a total of 8 hours, 3 hours from the trailhead to the lake and 2 hours back. Once arriving at the lake, there were plenty of spots to rest, sunbathe, and swim. I saw some people on their floaties and inflatable kayaks and having a great time!
GETTING THERE:
Once you plug in Lake Blanca Trailhead from Seattle, DO NOT FOLLOW GOOGLE MAP at 2/3 of the way. DO NOT EXIT ON INDEX ROAD BECAUSE IT'S A DEAD END. YOU MUST ENTER FROM THE EAST SIDE AKA THE "NEW" TRAILHEAD.
From Monroe (or if you're coming from Seattle), keep on driving EAST on US Hwy 2 until you pass the town of Skykomish. Turn left on FR 64 or Beckler River Road.
After driving about 12 miles on Beckler River Road (you'd be seeing some people camping along the tiny creek), take the second left at Jack Pass – a 5-way junction. Then keep on driving for about 2-ish miles, take a right on FR 63 at FR 63 and Garland Mineral Springs Road. Go for another 2 miles and you will see the trailhead shortly.
LOGISTIC – PLANNING:
I'd highly suggest you download the map area ahead of time (how-to- HERE) because there's very limited internet access in this area. That way, after you exit on Beckler River Road, you can just follow the GPS to the trailhead. Warning: rough unpaved road!
The toilet at the parking lot was also CLOSED when I was there, so I had to find a secluded spot off the trail to pee, like twice! Note that there's a toilet at the top (again, it is quite a hike up there!), so definitely try to go before you start this hike! PACK YOUR TRASH OUT INCLUDING TOILET PAPER!!!
There was some snow at the top near Virgin Lake, but no spikes needed (at least I was able to carefully pass through!).
Bring at least 3 bottles of water per person, a nice portion of lunch, and plenty of snacks. I usually buy a banh mi, pack energy or protein bars as well as hardy fruits like mango or nectarines if I have them around.
Definitely bring an emergency kit just in case of blisters and accidents.
Sunscreen and bug spray is a must because you will need to re-apply them as you go.
Wear hiking boots but consider bringing a pair of sandals because you can cross the lake to the other side. I've seen this guy wearing his Luna sandals and definitely am jealous of that!
Pets are allowed.
It's a very popular and crowded trail, so consider hiking Blanca on a weekday or super early on the weekend.
I really enjoy hiking through the forest as a lot of the trees remind me of sequoia and redwoods. So definitely GO HUG A TREE!
Bring a swimming suit, floaties, or inflatable kayak. It's a swimmable lake!
Lastly, check the weather and read the reviews HERE before you go and please be safe!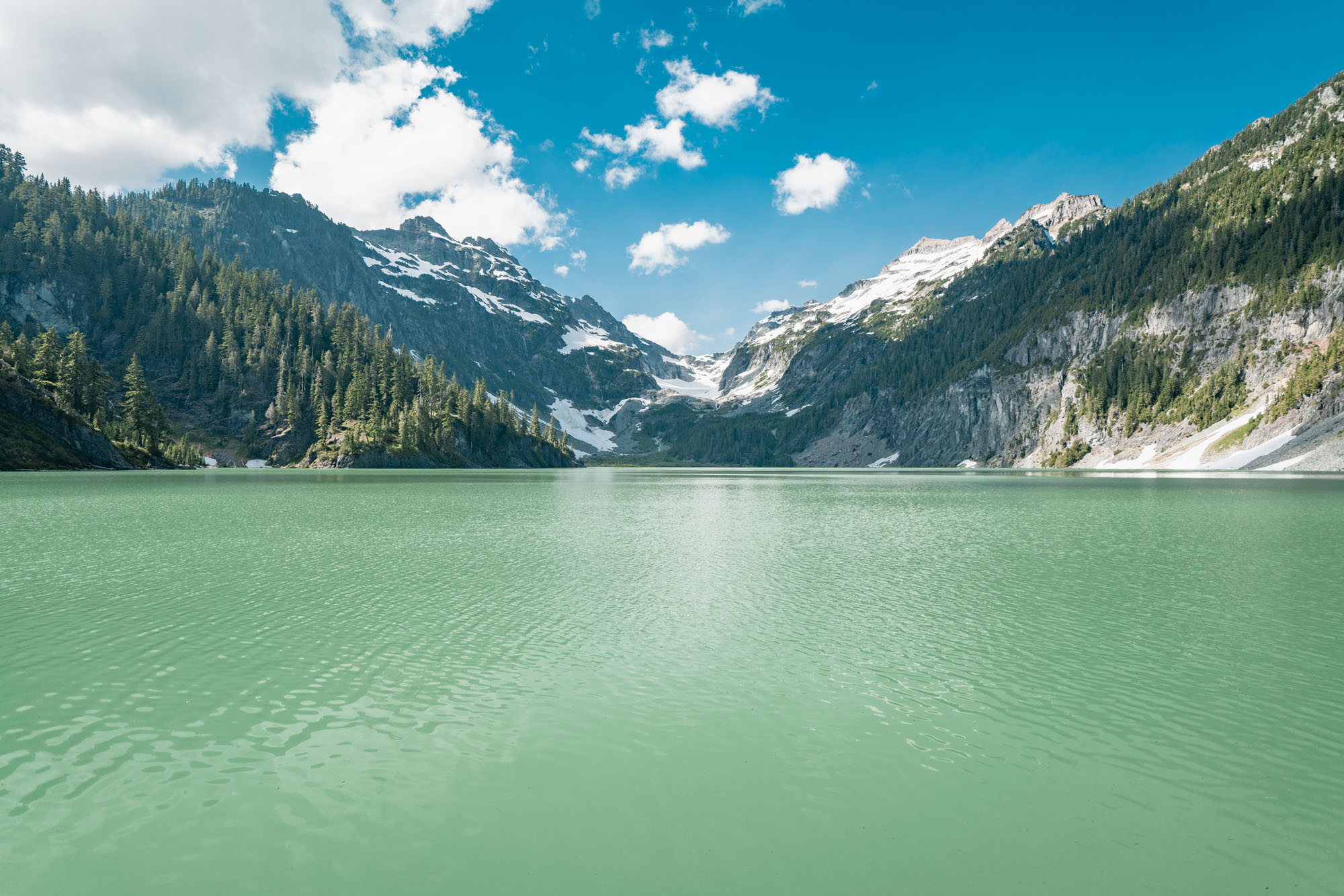 MY OUTFIT: tank top: HANES (thrifted) | shorts: NIKE running | bucket hat: ACNE STUDIOS | backpack: PATAGONIA | boots: KEEN | socks: DARN TOUGH
MORE WASHINGTON TRAIL HIKING IDEAS: