Realisation Par is an Australian label founded by Alexandra Spencer and Teale Talbot in 2015. The brand name means 'Made By, Styled By' in French.
About Realisation
Realisation is known to create individual season-less (rather than collections) silk dresses, tops, and skirts. They do have a cap of $250 which means the most expensive thing is $250.
I think the reasons why they get quite popular are their Instagram presence with a have a long list of celebrities and models wearing their pieces.
SILK
Silk is a natural fiber, and you can easily Google what silk is, how it is made, and why it is so expensive. It is one of my most favorite fabrics to wear in the summer because it's breathable, and I love the way it drapes on my body.
I know that silk is a delicate fabric and have respect for those who can cut, construct, and sew silk pieces well. I've worked at my aunt't tailoring shop for years and learnt that dealing with silk needs an experienced hand and a sewing machine with special needles. All of that is why silk is so expensive.
Realisation silk is silk crepe, a cheaper type of silk, cheaper than silk satin or silk chiffon, hence their silk pieces are sorta on the cheaper side. I have a few items from them, and the quality of each piece is defintely different from each other.
IS IT WORTH IT?
It took me a while and lots of back-and-forth thoughts, 'is it worth it?'
I finally pulled the trigger after over a year of being obsessed with everything they've put out and worn by so many favorite bloggers of mine. Being a fashion blogger also gives me a perfect excuse to buy things and try out new brands, so I did. I thought everything is worth it because they rarely lower their prices. In addition, the only way to get your hands on their items is their website. It creates a more inclusive and harder-to-get kinda feel, and I respect brands for that!
SIZING
Realisation runs from XXS to XL. I'm 5ft5, wear US size Zero or XS-S. I don't like silk pieces to be super fitted on me, so I think Realisation Par's XS works fine for me.
SHIPPING & RETURN
There is a return address located in California for those who live in the US, but everything is shipped from China.
This was something I was surprised by but not too surprised by knowing the fact that China is known to work and make silk for millions of years. I hope that their stuff is made by hands of people who get fair compensation from the manufacturers and Realisation.
Realisation offers free shipping on any order over $300 otherwise it's $15 to ship internationally. I just hate paying for shipping, so I just order two things. Keep in mind that exchange is accepted, but they will charge you that $15 shipping fee once you return something.
My Realisation Par Collection:
1. The Amelia in Poison Ivy
$210. Size XS
I adore the fit of the Amelia, the square neckline, the tiny spaghetti straps, and especially its green color with white florals all-over it. It's refreshing for the summer and easy to transition to the fall with a light layer of a cardigan or a leather jacket. It is a midi-length which is my favorite length to wear! I've seen people styling it with sneakers for a casual look which I've tried to do here, but I do think Realisation Par dresses are much better paired with slim-heeled sandals.
2. The Bianca in Wild Cherry
$140. Size XS
This wrap top came by surprise as I did not expect that style of wrap top. It is tied in the middle, and there is not stopping as you can tie it as tight or loose as you'd like! However, it does run super low, so I'm not quite sure it would work for bigger chested girls. I used the long necklace trick to kinda cover that low neck cut, and the knot got loosen a few times when I first wore it. So double knot it is! The red cherries are super cute, and below are two ways I've styled it with, shorts or jeans, flats or heels. Again, Realisation pieces are super easy to dress up or down, and I love the versatility of each piece.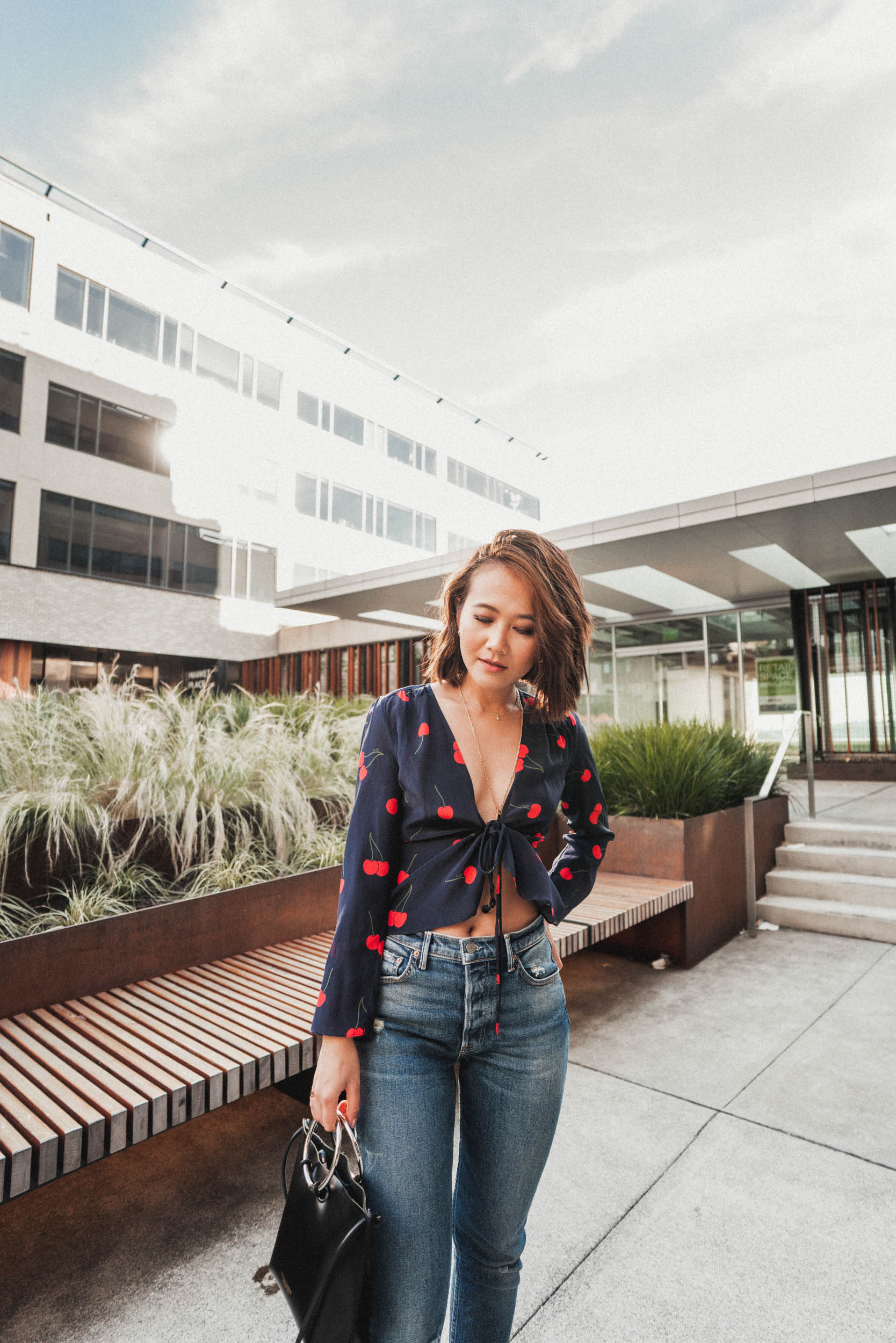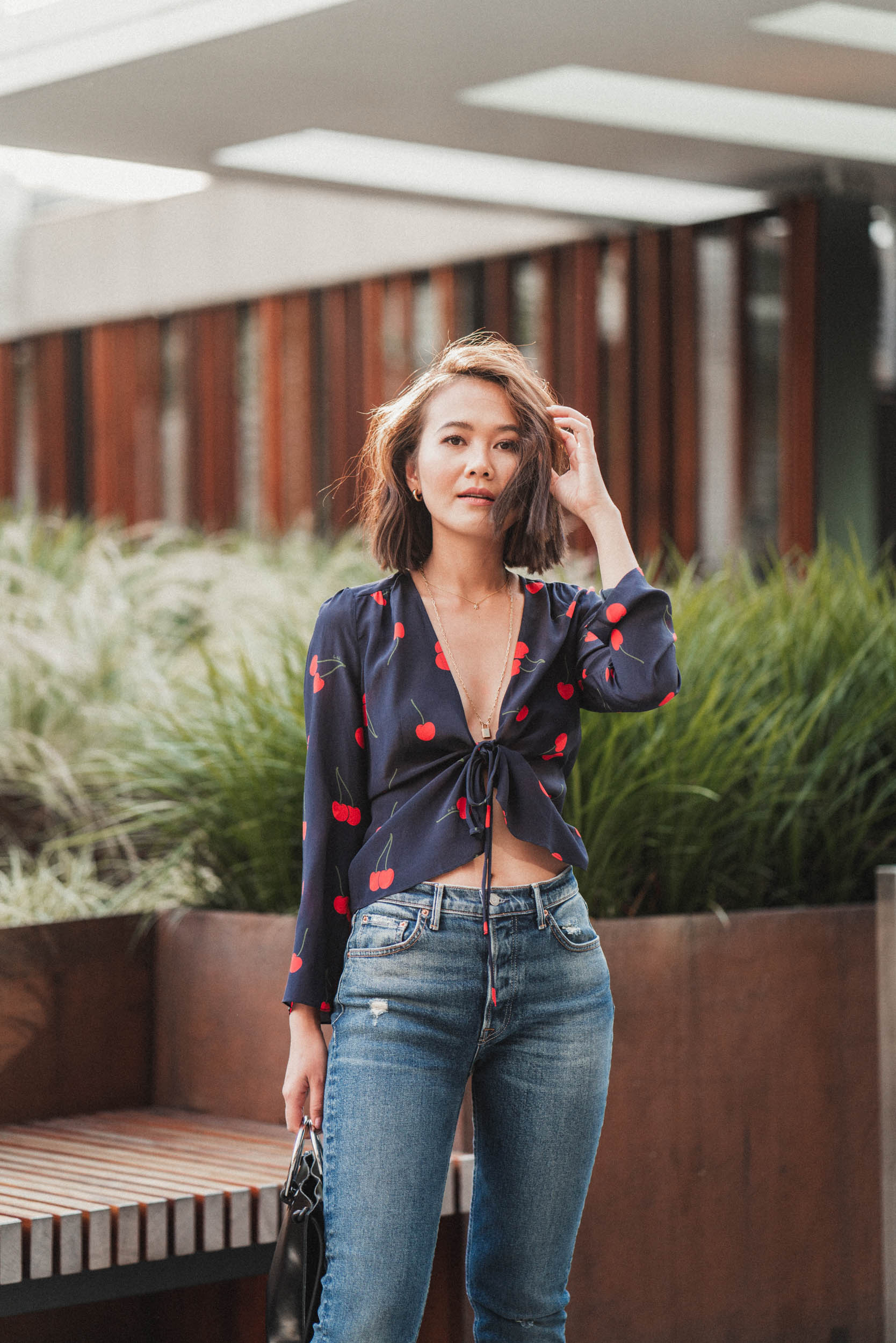 3. The Stevie
$150. Size XS
Did you know that I have a sunflower tattoo on my left inner ankle? I love sunflowers, so this print is an instant love! It's got the similar wrap string style as the Bianca, so it is on a slightly more revealing side. I love how subtle it is in person, and it's so cute when paired with denim shorts and regular denim as well.
4. The 1996
$250. Size XS
This dress is the ultimate dress for weddings and special events. I'm obsessed with the gold embroidery, and every detail on the dress is just adorable. Slip dresses liek this are so versatile, and my favorite ways to style a slip dress are to layer a thick knit over it or simply throw over a blazer or jacket.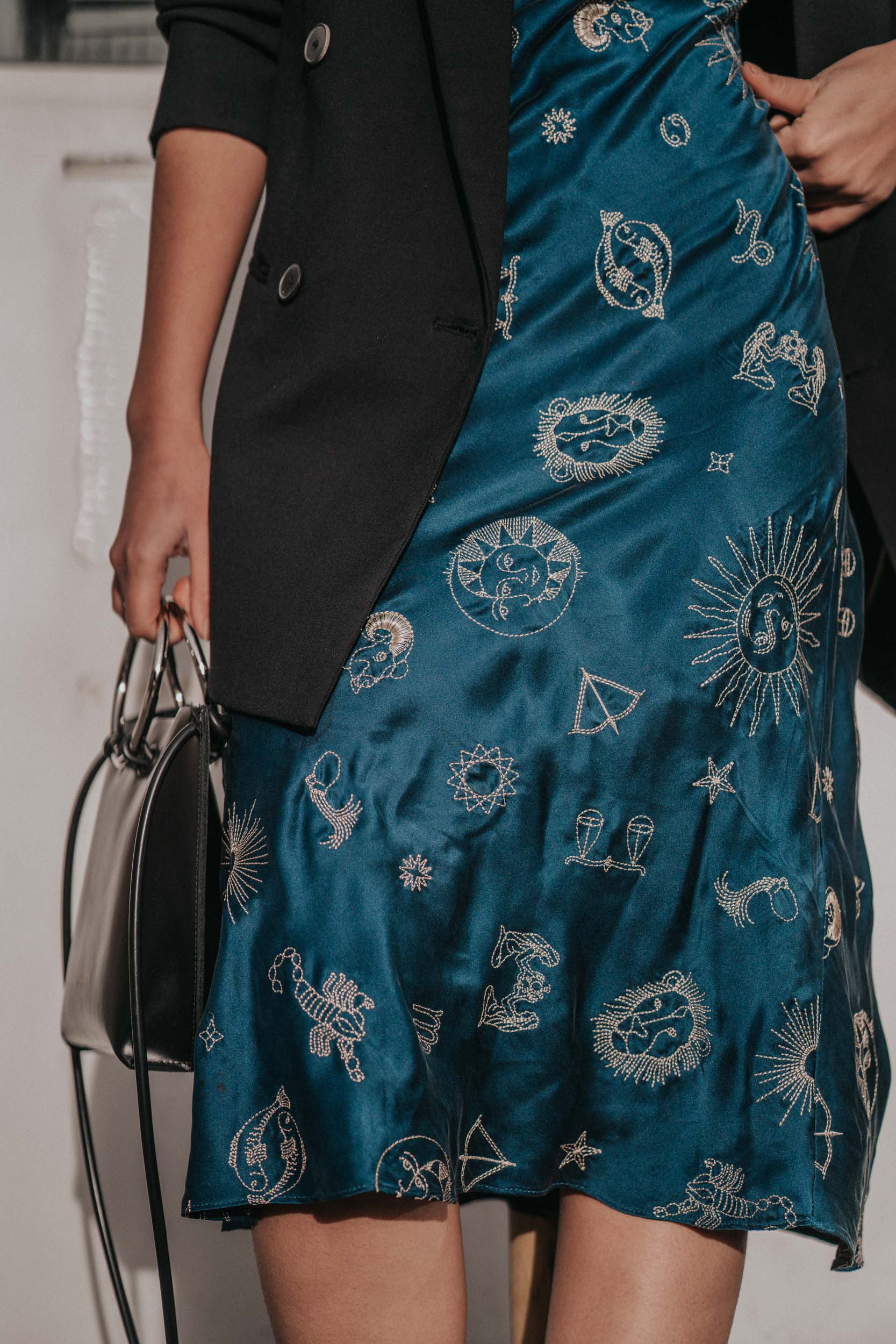 5. The Violette

$225. size XS
I believe that the Violette that I have in Summer Loving Green is a discontinued style. It has the exact print as the Kate, but longer version. One thing I need to point out is the fact that its fabric is on a slightly thinner side, so be aware of that and wear nude underwear udnerneath. I love the shape, the print, and how it drapes on my body. I've worn it to a wedding before, and I've gotten so many compliments every time.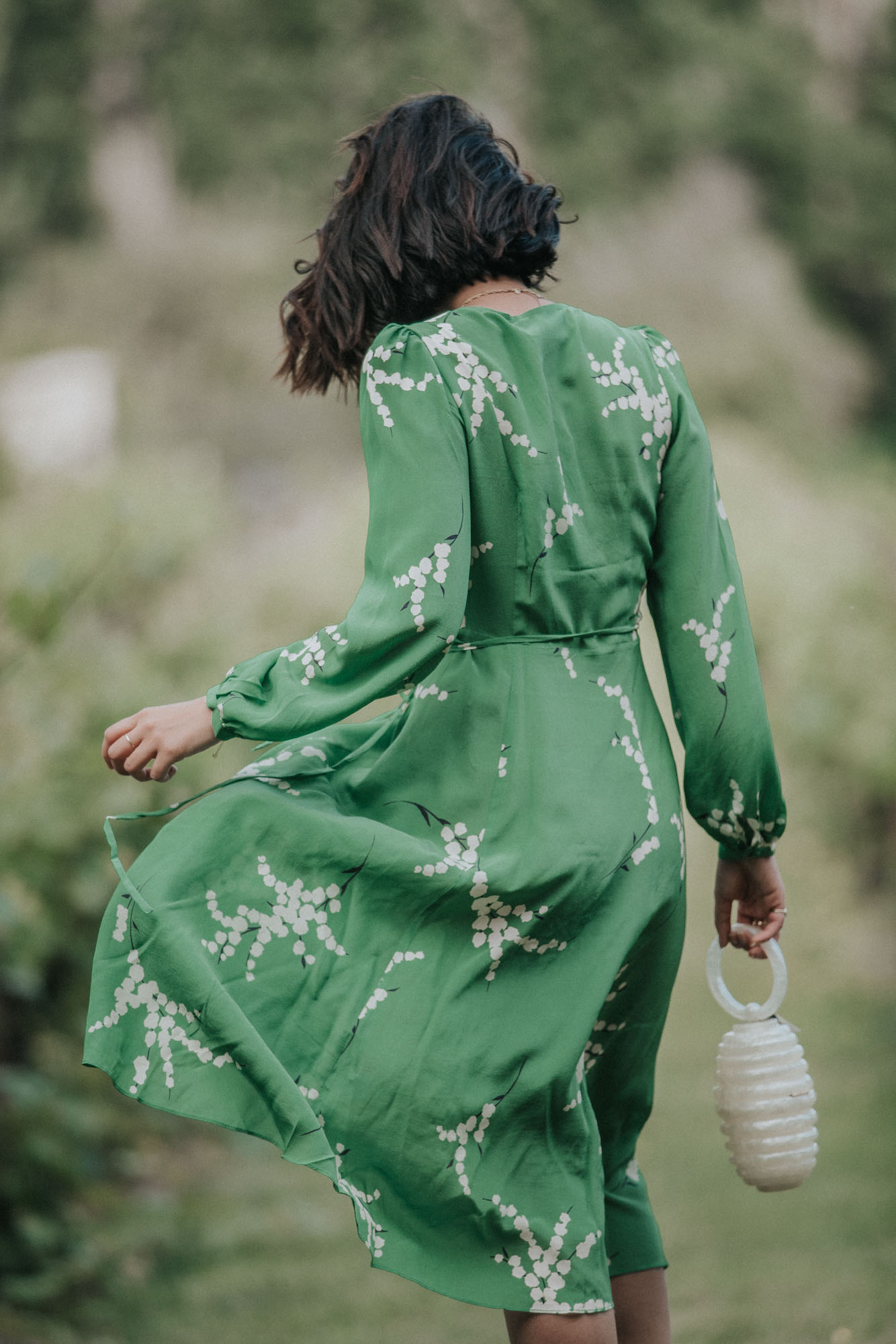 6. The Kaia
in Voodoo $180. Size XS
This black top is just so special, and again, Realisation Par has nailed it with every detail. I absolutely love the long puffy sleves with alternating zin-sang bottons. It also comes with a dress and skirt form, super cute!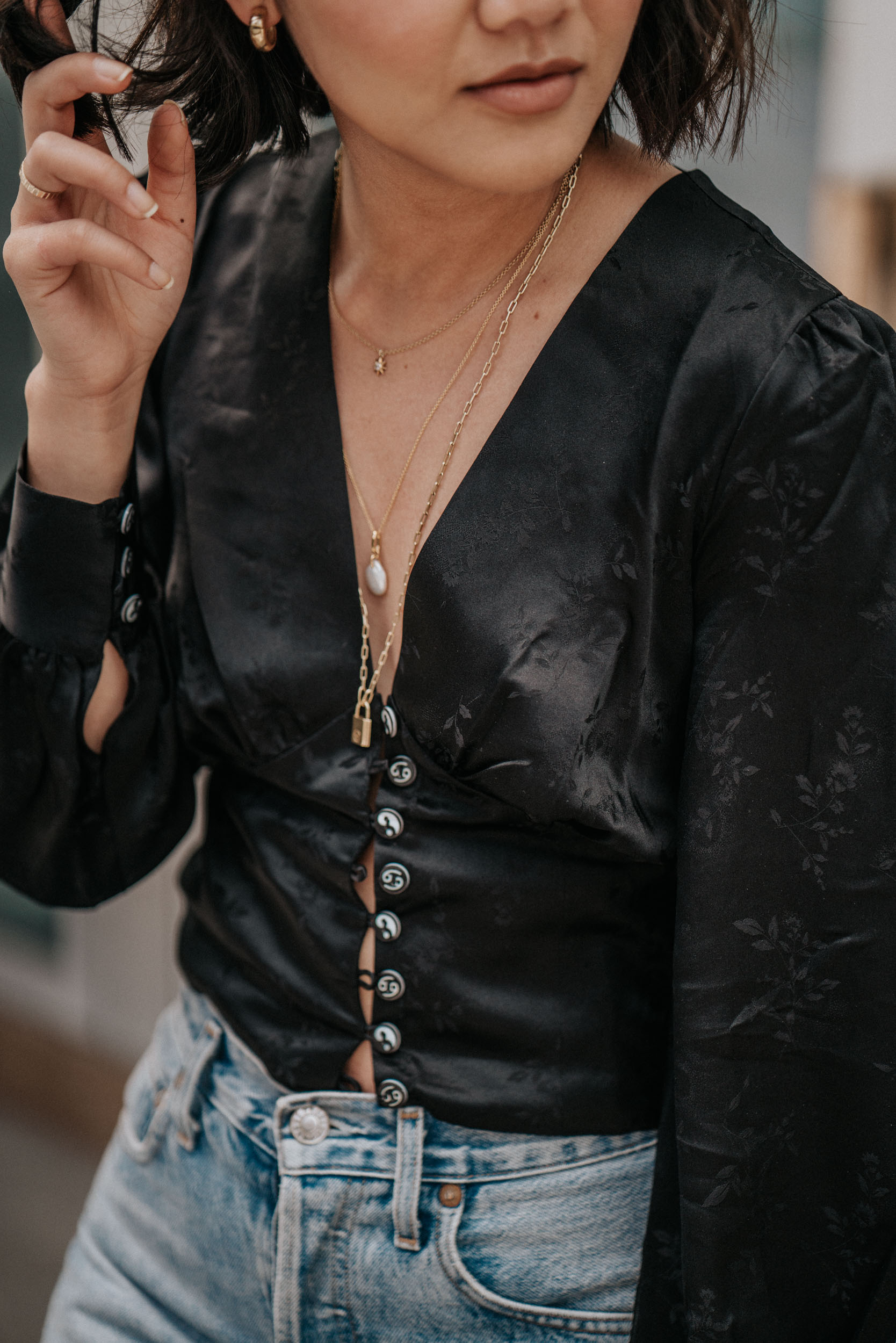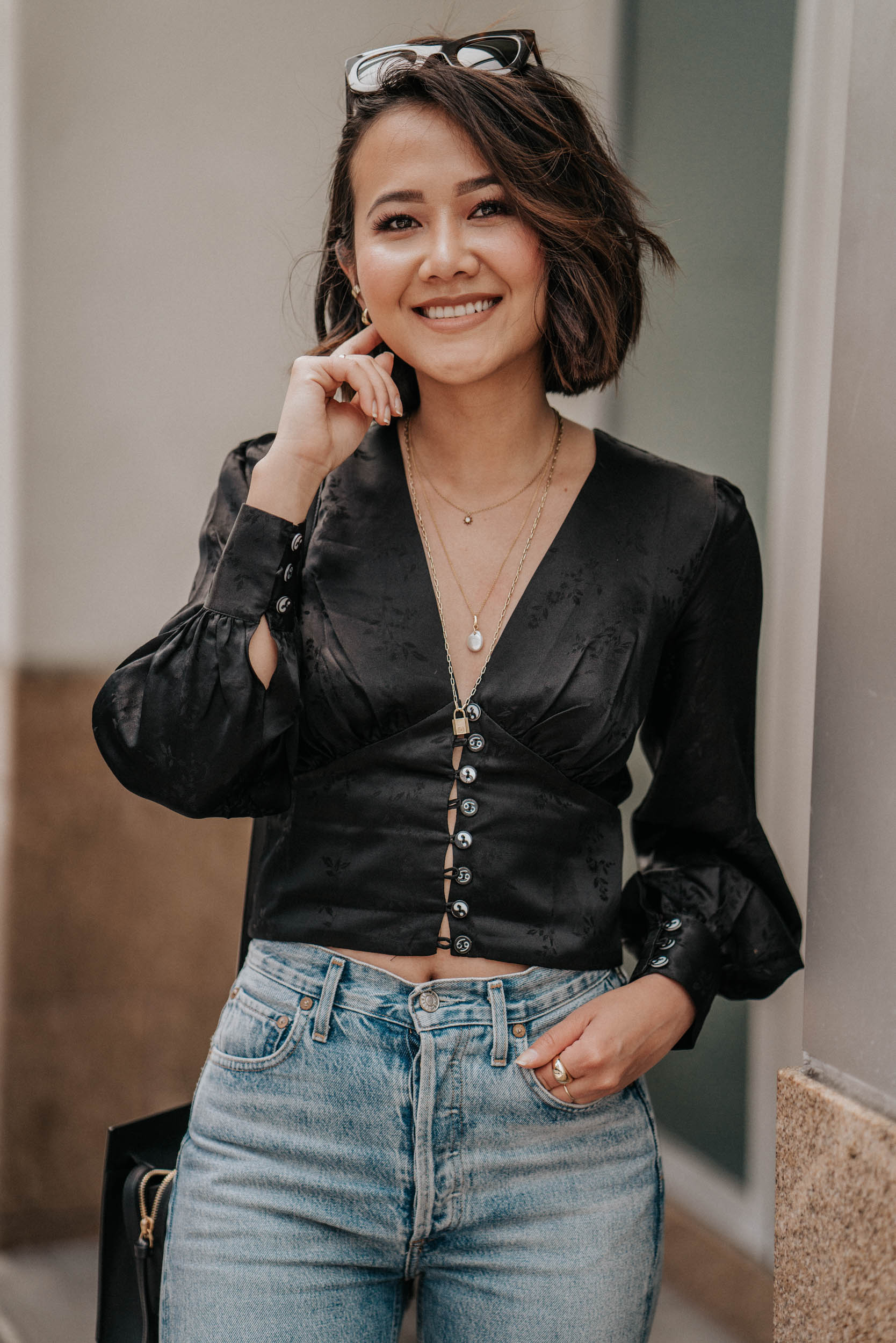 Q&A:
I asked you guys on my Insta-stories to submit any questions you have about Realisation and got a very interesting one which I'd like to discuss more about:
Casey @dresstocode asked: I just noticed the top dozen or so images on the hashtag (I did use the #realisationpar in the question box, so she clicked on it and saw countless photos of girls Realisation animal print skirt, a very popular piece end-of-summer and fall season). When do you feel that an item is oversaturated?
My answer: It is pretty obvious that from searching a hashtag #realisationpar, you can literally see thousands or more girls wearing the same thing. Realisation Par doesn't sell a lot, hence the same stuff is seen on so many girls. I also know that they do send their stuff to Instagram influencers, popular bloggers, and celebrities, so that is the reason why they're 'everywhere.' So it's all about the advertising strategy, and I think the girls behind Realisation are pretty smart when doing this!
But hey, I know that it doesn't matter because my intention to buy and wear Realisation is not to look like everyone else or to stay trendy and cool. I don't believe nor follow any trends, and as I said above, silk is one of my most favorite fabrics to wear. And lastly, they don't often put their stuff on sale, so I feel like it's worth investing in their stuff.
Conclusion
I don't mind paying $200 or more on a dress that I know I will reach for again and again. As outfit examples shown above, I can really dress up or down Realisation pieces and would totally rewear and could style them endless ways. They're still great pieces, and I love looking at them on my clothing rack.
Before I go, I really hope that they would start featuring more normal and BIPOC people. I think, ultimately, it should be a default, making their brand more appealing to the general population, not just those white skinny girls. 
In conclusion, yes, I think their stuff is worth it, and I would buy from them again.
What do you think about Realisation Par? Will you buy or pass? Share it below in the comment section as I'd love to hear your thoughts!
Thanks for making it till the end! You're awesome! Talk soon!