Today's brand focus is the one and only Rothy's, the shoes and bag brand with everything that is made from recycled plastic bottles. If you've followed me on Instagram, I'm sure you've seen or heard of me talking about them all the time.
I was, indeed, contacted by Rothy's and asked to create some Seattle-related content for them to use in social media. Later I was invited to join their affiliate program and received some more shoes and bags.
Disclaimer: I am not sponsored nor paid to write this blog post review. Some links are affiliate links, and I might earn some commissions in the form of store credit if you decide to buy from them. All opinions are my own.
about Rothy's
Rothy's name comes from Hawthy, Stephen Hawthornwaite's nickname, and Roth in Roth Martin, the duo who founded the brand in 2012.
Their mission is to create shoes and bags that are versatile, chic, and durable with the little waste and impact to the environment as possible. Everything is machine-washable (with no heat, of course!).
MATERIALS
Rothy's signature knit uppers are made from 100% post-consumer plastic water bottles. The bottles are washed, sterilized, and fused into fiber and then knitted into yarn.
The soles are made of recycled carbon-free rubber, and the insoles are made of recycled plastic from water bottles and recyclable foam. Also, only vegan and non-toxic adhesives are used. All Rothy's shoes and bags are shipped in a recyclable box, and the shoes are recyclable at the end of their lifespan. Lots of recycled/recyclable words, I know!
PROCESS
Rothy's shoes and bags are knitted by machine and crafted by hand.
Their shoes are seamlessly constructed using a 3D knitting process that precisely knit to the exact size of each pair. Hence, no excess waste.
Shoe designs and prototypes are created in San Francisco and made in Dongguan, China.
CARE
Rothy's are machine washable in cold water. Avoid heat because it will shrink and cause the shoes to lose shape.
My Rothy's Collection
The Sneaker
The Chelsea
The Point
The Flip Flop
The Knot
Bags: The Mini Handbag, The Mini Catchall, & The Essential Pouch
$125
The Sneaker are the best wearable shoes from Rothy's in my opinion.
The outsole of The Sneaker is made of recycled TPU (thermoplastic polyurethane) and made in-house. The Sneaker has a removable Midsole (the black extra piece under the knit insole built-in for extra comfort) that is not recommended for washing. Besides that, the shoes including the removable insoles are totally washable.
They are really comfortable, however, I do have to mention the fact that they do occasionally slip off my feet. I got these in my size 7.5, and they fit me perfectly and comfortably even with a pair of thin no-show socks. I don't usually wear socks with shoes, and with regular ankle socks, my feet will just slide off the shoes.
Even though they hug my feet perfectly, I feel like the knit does have some cons and do wish that the ankle bit goes a bit higher.
I love these for airport wear and run errands because they're easy slip-on and no fuss type of shoes. With my lifestyle (very casual), I definitely prefer these over the Pointy 100%.
I love that all Rothy's shoes don't require a break-in period, and these are true to size.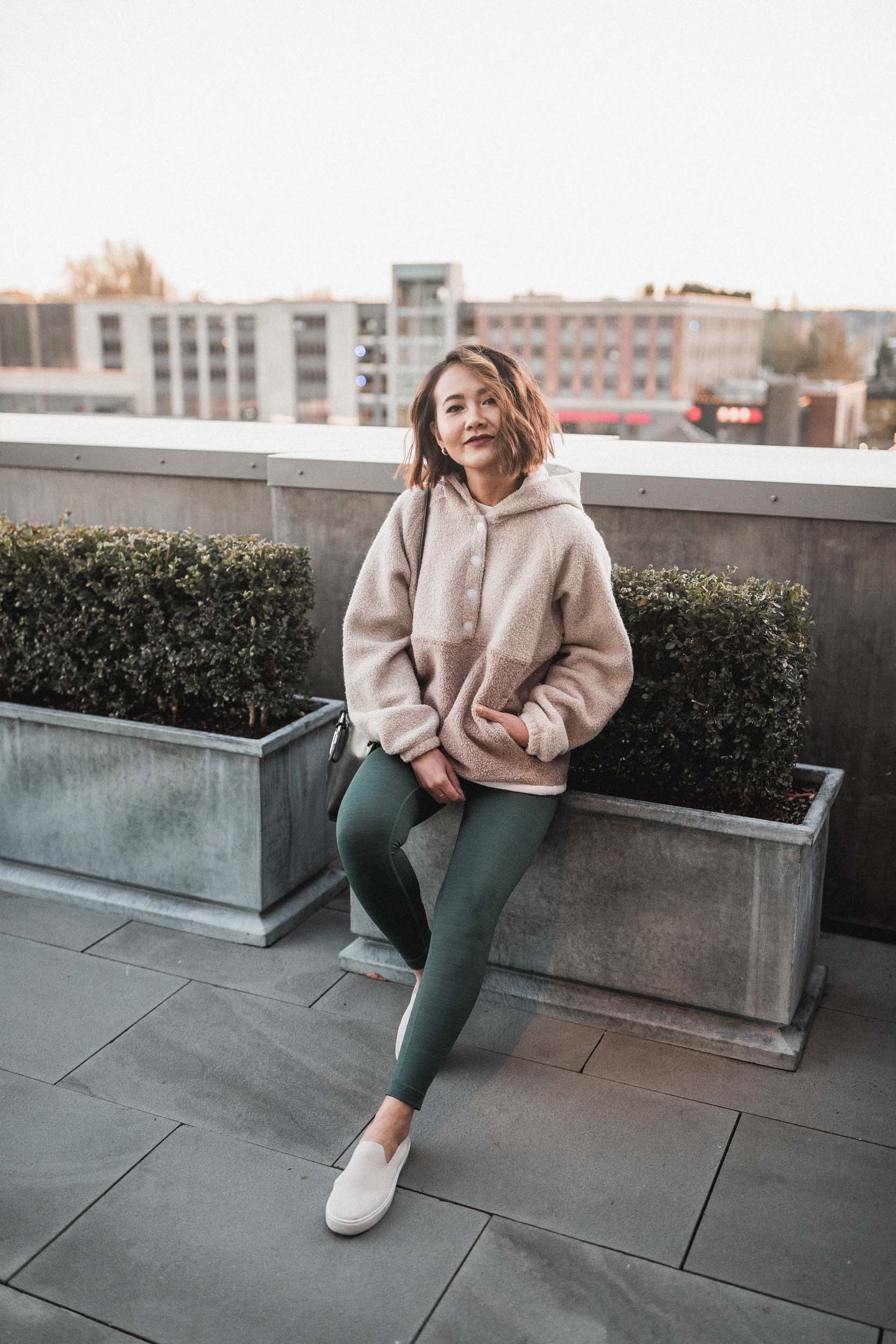 If you're a fan of the Sneaker but want to wear comfy socks and stay extra comfy, especially when the cold weather comes around, the Chelsea is perfect!
Styling on these can be a bit tricky, but if you remember to show some ankle skin, you'd be fine. Personally, I'd prefer pairing them with midi dresses and jeans rolled up. With this particular Chelsea style, I can finally wear socks and walk around town all day. They don't slide off my feet at all.
Again, these run true to size, but size half of a size up if you want to wear socks underneath.

Knit from Rothy's signature thread (spun from plastic water bottles)
Slip out insoles.
Washing: Pop shoes and insoles into the washing machine. Use cold water, mild detergent, and the delicate cycle. No heat, and always let your shoes air dry.
I'd recommend The Point for anyone who works in the office if an office casual or dressy dress code is required. These are perfect for class presentations, interviews, or any company or work events when you need to look professional.
I used to work in a research lab environment, so even though these are close-toed shoes, they wouldn't able to safely cover my feet from any spillage. I also commuted by bus and had to walk for a bit, so these didn't work out for me at the time. In addition, I took my gray pair to New York and walked around town for half of the day, and my feet were in pain.
The Point fits my feet so snuggly, and there's absolutely no blisters or break-in period required!
I love the orange pop of color (Persimmon) when wearing neutral clothes and gray color (Flax Birdseye color) does go with everything. They're not the whole-day walking shoes but make great shopping and office shoes for sure!
Lastly, size up if you have wide feet. I am wearing these all in size 7.5, my true size.
$65
Knit straps: ocean-bound marine plastic
Footbed: algae-based foam
Bright orange upper and footbed.
The Flip Flop's sizing can be confusing. For some odd reason, Rothy's team kept sending me sizes that were too large. I got these in size 8 even though I had told them my regular size was 7 and 7.5.
With flip-flops, however, especially with these, they are forgivable. And these could have worked either way: size up or down. These in size 8 end up working out for me, and the little bit of shoe space in the back of my feet isn't that noticeable overall. So according to Rothy's, these are only available in whole sizes. If you're in between sizes, size down!
The straps are on the slim side, and they're super comfortable, with no rubbing at all. Simple and chic! I love that the soles have a little bit of padding and comfortable to wear even for a long period of time. Lastly, styling-wise, you can see how many ways I've styled them below.

5. The Knot
The Knot is so chic, and I love the knot design. 
Unfortunately, I got sent these in size 9, and they were big on me. Again, I'm a 7.5. With that in mind, I still wanted to test walk them and did wear them to the park. The underneath part of the knot did rub on my skin, and the soles didn't feel as comfortable compared to the Flip FLop. These just feel slidy and off, so I'm not sure if I would recommend these. I wish they would work for me though!

6. Rothy's Bags
I have the Mini Handbag in the white color and have worn it traveling a few times. It's got similar dual straps, and that's the type of bag I always reach for. It's great for travels because I can go hand-free and worry-free since it's not a designer bag.
Not too long after Rothy's released even more bags, I bought this Mini Catchall with an intention of storing my jewelry and maybe travel with it. Same with this Essential Pouch! I bought it with an intention of storing my work essentials and out it in my work tote. However, COVID hit, and I didn't get to really use both of these. I wish I were back to work so that I could rock this Bucket Bag. I thought it's a cute and practical style.
Overall, all of these are great essentials to add to your Rothy's collection.

Conclusion:
Rothy's is a cool brand, and I absolutely recommend you guys to give them a try if you've been looking for a sustainable shoe brand to buy and support. Their colors and prints are super cute and wearable, and it's fun spotting Rothy's signature blue halo stripes everywhere in Seattle. I'm sure there is a style and a color for everyone.
Personally, I think Rothy's pricing is a little bit stiff, but they are truly durable and the cost-per-wear will make it worth it. The Sneaker and the Flip Flop are definitely it!
If you work in an office environment and don't walk around a lot, go for the Point. The pointy toes will absolutely look good with any office or dressy attire,
Get the Sneaker if you're a student or have to commute to work.
The Flip Flop are amazing, and I highly recommend them!
If you need shoes to walk around or stand-in ALL DAY? Rothy's shoes aren't the comfiest shoes.
Lastly, all of their bags are also cute and durable alternatives if you're looking for something casual.
I hope you've found this post helpful. Let me know what you think about Rothy's in the comment section below as I'd love to know!
GET $20 OFF YOUR ENTIRE ROTHY'S PURCHASE HERE!