As I get older, putting on jewelry has become such an important part of my daily dressing ritual. I do not feel complete if I don't have some earrings, necklaces, or rings on. Moreover, I always make sure I have a gold watch for any important events because it surely adds to the smart and classy vibe that I have going on recently. So make sure to scroll until the end of this post!
Over the years, I have worked with so many amazing jewelry brands and am lucky enough to hand-pick every piece that I own. I don't own costume jewelry, so all of my jewelry featured in this post is gold vermeil and 14k solid gold. 
Disclaimer: This blog post is made in collaboration with Nakturnal as they kindly gifted me some pieces from Aurate. I've also directly worked with Aurate before on a few Instagram campaigns, so I trust and swear by their quality. I am also a Mejuri Edit team member, and that means I will make a small commission if you decide to purchase via my link. All words and opinions are my own.
RINGS
1. Aurate Open Link Ring and Infinity Ring:
In case you don't know, I've worked with AuRATE on a few Instagram campaigns before, and I especially love their collection of gold rings. The Open Link Ring is my newest addition, and I love to layer it next to the Infinity Ring on my right ring finger. They're both gold vermeil from AuRATE and size 6.
If you don't know your ring sizes, I highly recommend you getting this ring sizer or this one. Or if you happen to be at the mall, you can come in a jewelry store and politely ask for your ring sizes measured. Just pretend that you're interested in getting something there in the future.
wearing Aurate Open Link Ring on top of Aurate Infinity Ring
2. Mejuri Square Signet and Star Signet
It's my third year working with Mejuri as a part of their Edit team, and I whole-heartedly recommend the Square Signet. I love the design, and how perfectly it complements me and my style. The Star Signet is a cheaper option, and it's the first piece of jewelry from Mejuri that I own. I got it in size 3, a bit tight on my pinky, hence I don't wear it as often anymore.
The Square Signet size 4 is made from 14k yellow gold, and the Star Signet size 3 is made from gold vermeil. They both have signs of wear and scratches because I wear them so much. However, if I have to choose, the Square Signet is definitely my most favorite ring that I have in my collection.
3. Mejuri Stacker Ring
You cannot go wrong with a dainty and delicate ring like the Stacker Ring. It reminds me of my dad and mom's wedding band, so I am glad to have one in my collection that reminds me of that. I always wear it on my middle finger, and it's made from 14k yellow gold and size 7.
GET 10% OFF YOUR FIRST PURCHASE AT
wearing Mejuri Square Signet and Mejuri Stacker ring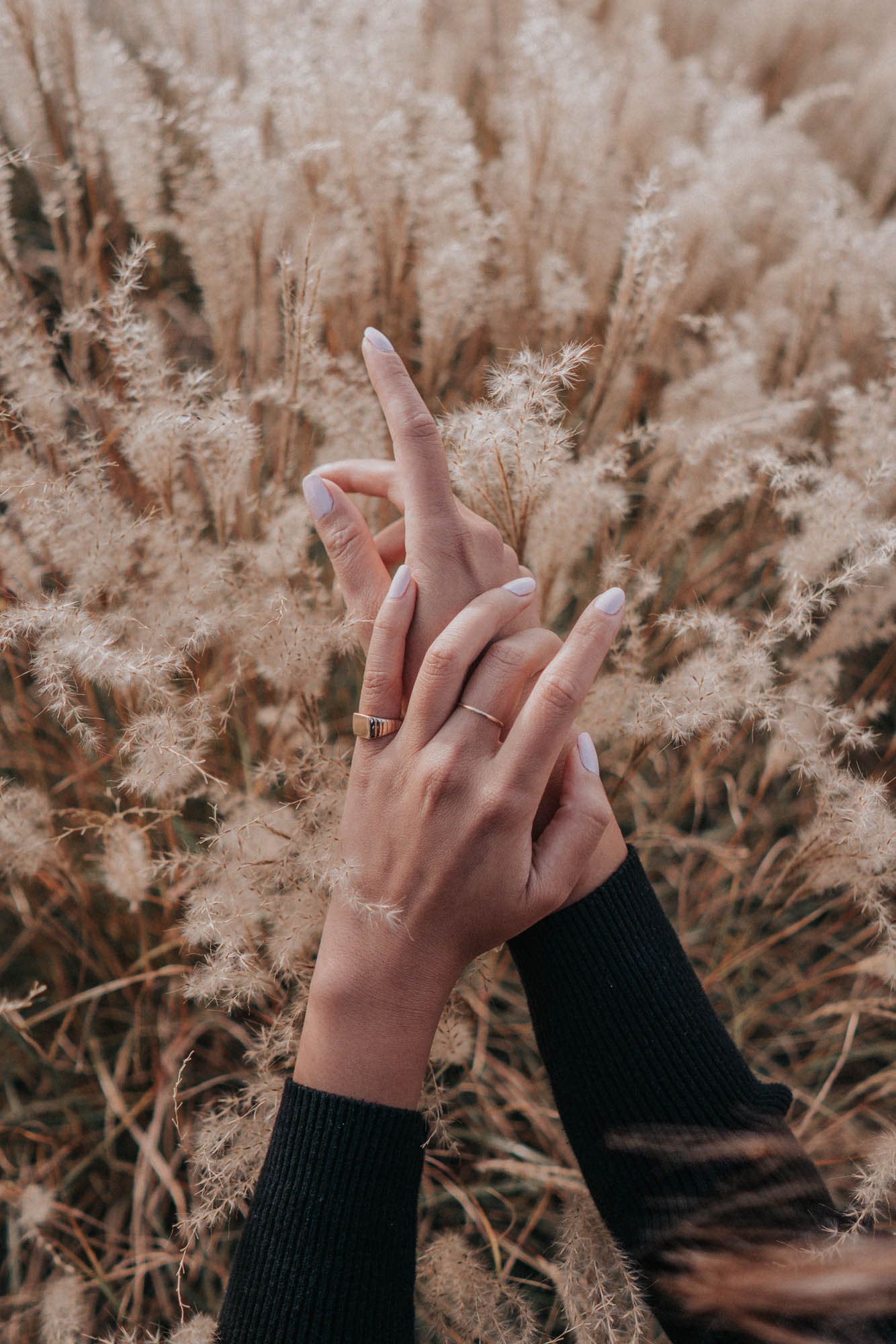 4. Mejuri Dôme Ring
The Dôme Ring is such a statement ring! I'm sure you've something similar everywhere on the gram for the past few years. I love this Dôme design from Mejuri because it's hollow and lightweight. I wear it on my pointy finger and more often on my middle finger. It's made from gold vermeil, and I am wearing size 7.
I also have a pair of matching earrings, the Dôme Hoops, and I'm sure you will spot it along this post and everywhere on my Instagram.
wearing Mejuri Dome ring & Mejuri Star Signet 
NECKLACES
5. Aurate Medium Chain Necklace
The Medium Chain Necklace is made from gold vermeil, and mine is 18 inches. It's got the perfect size of chain link, not too long nor too short.
6. Mejuri Double Curb Chain Necklace
This gold vermeil piece is the most durable and most worn piece in my Mejuri collection. I love that it had an adjustable chain length from 16 to 18 inches. Great to just wear as is or layer with other necklaces.
wearing Mejuri Double Curb Chain and Aurate Medium Chain Necklace 
7. Mejuri Tarot Sun and Tarot Moon Necklace
Two is better than one, and that is true when it comes to these sun and moon necklaces. The gold vermeil Tarot Sun and the Tarot Moon have exactly the same dainty chain and charm design, except one is the sun and the other is the moon. I can't pick a favorite here and always wear them together.
8. Mejuri Organic Pearl Necklace
I love the organic pearl idea and for sure have gotten a few compliments from strangers! Mejuri uses cultured pearls from oysters and freshwater mussels, so each pearl is unique.
wearing Mejuri Tarot Sun and Moon Necklace
EARRINGS
9. Aurate Tribar Ear Jacket
The Tribar Ear Jacket earrings are another unique pair from Aurate that I truly love and recommend. Just make sure you don't tighten the backing too tightly and let them move! These are made from gold vermeil, and I love that you have an option to buy singles on Aurate.
10. Aurate Ear Chain Threader
I also have this 14k yellow gold Ear Chain Threader from Aurate and don't think I've talked a lot about it with you guys before. I part my hair on the left, so having one earring dangling off from the right ear is such a cute touch. You can pick your birthstone and choose your metal options from yellow, rose, and white. Mine is just a tiny square with a pyramid shape at the end.
11. Mejuri Editor Hoops
Mejuri Editor Hoops are their best-selling hoops for a reason. I love that they have a slim and flat profile, perfectly subtle yet statement-making at the same time. These are gold vermeil, so they're pretty affordable. I highly recommend these if you're looking for midi sized hoops like these.
12. Mejuri Double Sapphire Chain Earrings
I m currently wearing these Double Sapphire Chain Earrings on my two new lobe piercings on the right ear. They're dainty, fuss-free, and just so cute especially when worn right next to each other.
wearing Mejuri Editor Hoops and Mejuri Double Sapphire Chain Earrings
13. Mejuri Dôme Hoops
The Dôme Hoops are made from gold vermeil. Similar to the Dôme Ring, despite their bulky appearance, they are hollow inside and not heavy at all.
14. Mejuri and Beatti Mini Hoops
I have two cartilage piercings on my left ear and two new lobe piercings on my right ear that I don't think I've shared on here before. Personally, I like the look of a lot of tiny hoops lining up along the earlobe. I have these mini hoops from an Etsy shop, Beatti, and love my Mejuri Mini Hoops equally. The Mejuri ones can get a bit difficult to take in and out, but they're slightly smaller than the ones from Etsy.
wearing Mejuri Dome Hoops
WATCHES
15. Nordgreen the Philosopher Watch
I have this gorgeous Philosopher watch in the 40 mm size. I would definitely pick the 36 mm because of my small wrist, but it was not available at the time. It's big, bold, but not at all bulky. I love how easy it is to adjust the length of the strap and its stunning minimal design. Highly recommend!
16. Rosefield the Boxy Watch
I think this small rectangle watch shape that Rosefield makes is pretty iconic. The Boxy is the most worn watch in my collection for sure because I've had it for almost 2 years now! Again, same adjustment strap as the Nordgreen one, but the watch face is smaller on this one. It's minimal and lightweight. Super adorable!
17. Newgate the Atom Watch
The Newgate's Atom watch is a small-wrist-friendly watch that I absolutely love and recommend. Mine is the rose-gold metal and nude pink leather color. Newgate is a British watch and lifestyle brand that I've been so fortunate to work with on a few Instagram campaigns before. Check them out because I do think they have some gorgeous watch and clock designs for modern homes and city people.
ANKLET
18. Mejuri x Tamara Mellon Chain Anklet
Lastly, the last item I want to give an honorable mention to my Mejuri anklet from the Tamara Mellon collaboration that I don't see available on the Mejuri website anymore. It's been on my left ankle for nearly two years, and it's shown no signs of damage, pretty sure thanks to the 14k solid gold. It's so durable and cute, just perfect, and I love it so much!
I hope you've found this blog post helpful. Have a productive work week and make sure to go out and enjoy some gorgeous sunshine.
GET 10% OFF YOUR FIRST PURCHASE AT