Today's Brand Focus is going to be about my current favorite sustainable brand, Organic Basics. I will highlight the brand story and share my honest reviews of their ethically made products: TENCEL Lite Bralette & TENCEL Lite Tanga.
Disclaimer: This blog post is not sponsored. Products worn and reviewed in this blog post are kindly gifted by the brand, Organic Basics, as it's a part of our Instagram collaboration. I am also an Organic Basics affiliate, and that means I will make a small commission if you buy from my link and/or use my code: ANTRIEUOBC. Note that you pay no extra cost if you use it, and even better, code ANTRIEUOBC will give you 10% off. All opinions are my own.
about Organic Basics
Organic Basics is a Copenhagen-based brand that specializes in underwear, loungewear, and activewear. all are ethically made with organic cotton, TENCEL, and recycled materials.
I love that Organic Basics clearly sets high standards for their sustainable business model from materials to production.
How Organic Basis reduces their impact:
Organic Basics:
Use certified materials that reduce environmental footprint but have lifetime durability. Organic Basics only use Class A and B fibers and the most responsible fabric and technology available: natural, renewable, recycled, biodegradable, and/or low-impact textiles. Now, their collections include organic cotton, recycled nylon, TENCEL Lyocell, recycled wool, SilverTech, recycled cashmere, and seamless knitting.
Partner with CHOOSE – an organization that makes businesses and individuals carbon balanced by investing in UN verified or Gold standard CO2 reducing projects in developing countries. Learn more about it, here.
Is a B-corp meaning Organic Basics belong to a group of businesses that meet the highest standards of verified social and environmental performance, public transparency, and legal accountability to balance profit and purpose.
Has recently joined 1% for the Planet, committing to giving 1% of gross sales each year to approved nonprofit partners.
By now, I hope you've got some ideas on Organic Basics' business model. Let's jump right into their product review!
A quick note about TENCEL™
TENCEL is an eco-friendly fiber that is sustainably sourced from wood pulp.
These wood pulps come from fast-growing Aspen and Birch trees that are planted on low-grade land in central European forests. Compared to conventional cotton and traditional industry practices, these trees take less than 80% of water to grow, and the process to produce these fibers also needs fewer chemicals and saves more CO2.
TENCEL™ Lite Bralette & TENCEL™ Lite Tanga 2-pack
In recent years, I have completely ditched the uncomfortable push-ups and underwired bras. My underwear of choice is always thongs.
95% lyocell TENCEL™, 5% elastane
Machine washable.
Made in Portugal
Colors: black, dusty rose, soft pink, ocher, navy, cloudy blue, and white
Sizes: XS to XL
Size & Fit: 
Bra: I am a 32B in most bras and wear the TENCEL™ Lite Bralette in size XS. And it fits me perfectly!
Underwear: I'm a 25 in jeans and wear most bottoms in size XS/S depending on brands and styles. My TENCEL™ Lite Tanga underwear is S, and I wish I got them in size XS instead.
Comfort:
I really wish you could feel and see this TENCEL fabric in person because it is soft and super durable. The bra is lined. The bra's cutout bit in the front is quite unique, and the straps are adjustable and don't dig into my skin. However, this fabric does not work as undies, unfortunately. It is single-layered and quite thin, and a lot of the time, my down there hair would peak through. However, it is not really a big deal for me since I usually wear these undies underneath jeans and trousers.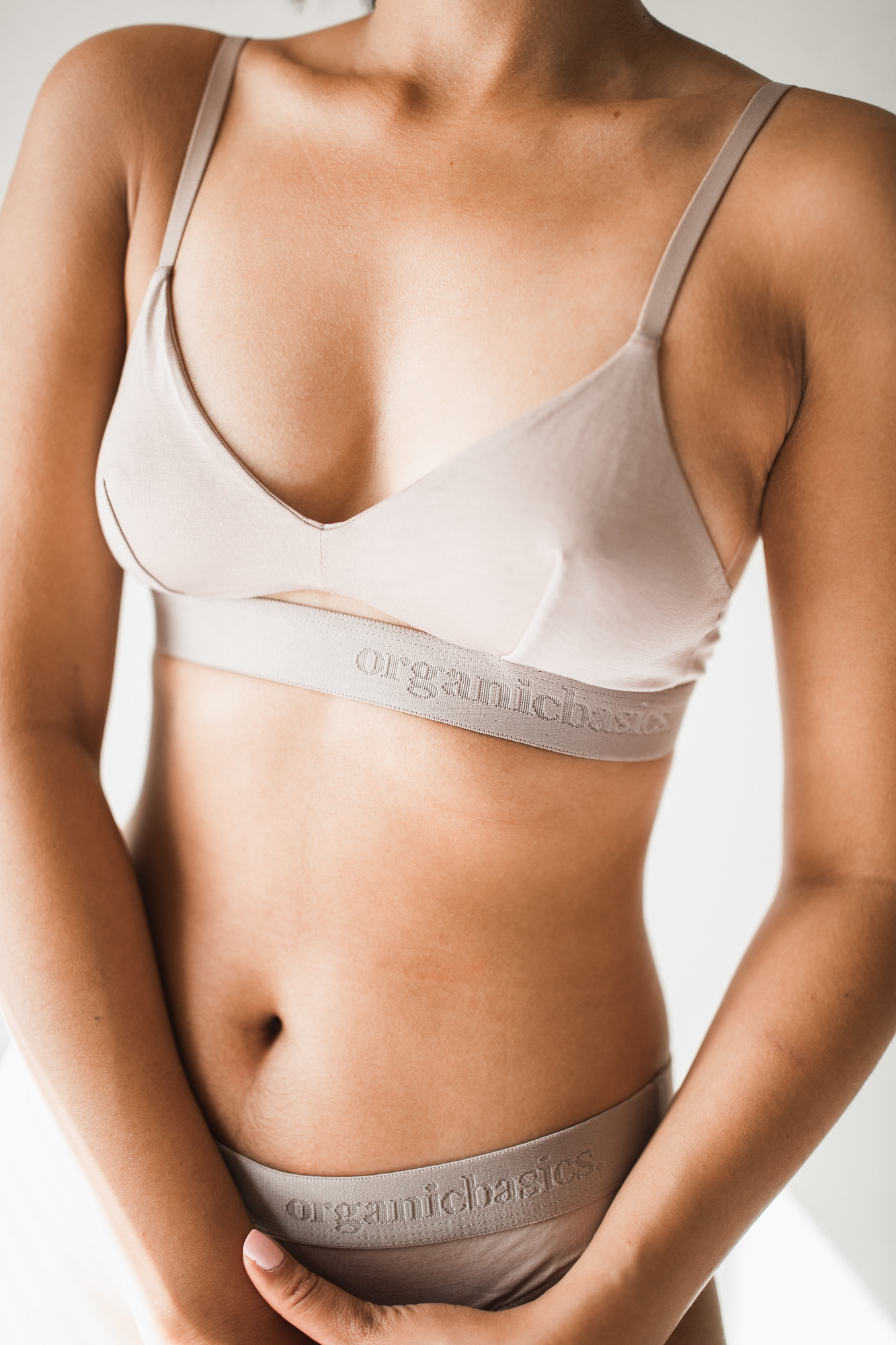 Final thoughts:
My most favorite piece has got to be theTENCEL™ Lite Bralette. It is my most favorite bralette that I have in my collection thus far. The Organic Basics branding on the elastic band is pretty subtle, and I think it's done right, very stretchy, not too thick nor too tight on at all. Size down on the TENCEL™ Lite Tanga!
Personally, I think the TENCEL material used on this bra is even better than the Everlane bralette made from cotton (it used to be my top favorite!). Now the TENCEL™ Lite Bralette clearly takes the spot!
Get the set if you're someone who likes to match, and I like me a set once in a while as well! Note that the TENCEL™ Lite Tanga undies are Organic Basics' thong style, and they come in a 2-pack. They also have the brief version, here.
SHOP ORGANICS BASICS HERE – USE CODE ANTRIEUOBC FOR 10%
I hope that this review is helpful. Note that if you're shopping from the US, their shipping can take a while. But good things are worth the wait, you know!
Organic Basics is a great sustainable and ethical brand with design aesthetic and business model that I stand for. Be sure to use my code and let me know what you end up purchasing!
Have a great productive week, and thank you for reading!
READ MORE: