It was the easiest yes when Lexus invited me to test drive one of their newest vehicles via the Drive on Demand Program. Keep on reading to find out my experience and how you can participate as well.
Drive On Demand by Lexus is an all-new, innovative way to experience the latest Lexus Vehicles, and I am so flattered to be one of the first people to try out this program. And now you can, too, for free! Just follow the link below to sign up and make sure to use my code so that way Lexus knows that I've sent you!
http://dplr.tech/lexus-seattle-antrieu
Each drive is an hour-long with a Lexus Specialist who will bring the car to a location of your choice in a no-pressure environment.

Upon completing your registration, under the "Special Instructions/Referral Code," please use code LEXUSRESERVE07.

Locations: exclusively in Seattle, Washington, and Las Vegas, Nevada area (for now!).

Participants must 18 years or older with a valid U.S. driver's license.

Please note that this program ends on August 4, 2019.
Disclaimer: This post is NOT sponsored by Lexus, and all opinions are my own. I, however, will make a very small referral commission if you use my code and complete a free test drive during this promotional period which will not last long. #InvitedbyLexus #lexusreserve
My Drive On Demand by Lexus experience:
There were a variety of Lexus vehicles available in the Seattle area ranging from SUVs, Sedans, Hybrids, and Coupes that I could choose from. I opted for the white 2019 Lexus LS 500 (Luxury Flagship Sedan) since the design caught my eyes at the dealership when I came in to for a test drive a couple of months ago.
The registration form was easy to follow. I picked out the date and time, filled out my address where I wanted the car delivered, and reserved.
Upon the drive date, I received a reminder email, and Chris, the Lexus Drive Specialist, even showed up at my apartment 5 minutes early. I was greeted with a smile and the best professional driving assistant ever. Chris made the experience so easy, safe, and informative. I learned all about the special features that the 2019 LS 500 had to offer and got to test drive it around Seattle that evening. We drove to a parking garage to capture some beautiful content that you see here and ended up at the Elliot bay for sunset.
The 2019 LS 500's exterior and interior designs are sleek with angular lines, bold yet futuristic. My family member owns a Lexus, and I've driven a few Lexus cars before. Besides all of the new cool features, I could assure you that this new model still feels pretty much like a traditional Lexus inside and out. I especially love the quiet and comfortable driving experience, the massage seats, and the vanity mirrors even for passengers in the back seats. Not to mention that the stylish design is very 'me' and my style.
Drive On Demand by Lexus is such a convenient way to test drive a vehicle of your dream without the hassle of going into a dealership and waiting around, and there is absolutely no pressure to buy. I will definitely make another reservation to check out another model, possibly a hybrid one since we are in the market for a new car at the moment.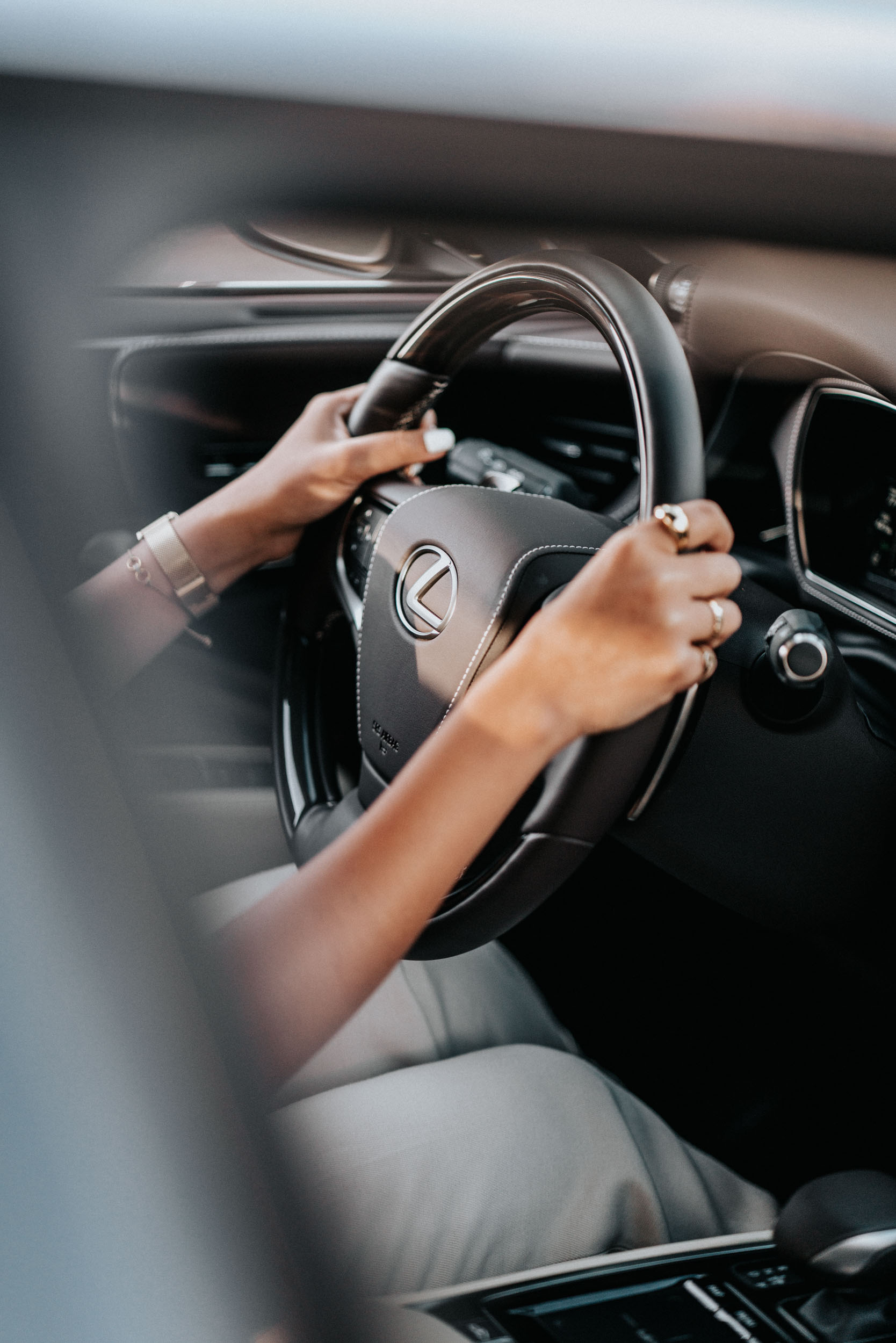 I hope you've enjoyed the photos, and thank you for being here. I feel humbled for this amazing experience: to get to work with Lexus, a luxury car brand, that never in a million years did I think I could be able to work with. All thanks to your readership, following, and constant support. Thank you, Lexus USA, for this very cool opportunity. I am truly grateful!
Again, below is the link to sign up for the test drive yourself if you live in Seattle or Las Vegas, let Lexus know that I've sent you by using the code LEXUSRESERVE07.
http://dplr.tech/lexus-seattle-antrieu
Thank you so much for reading. Let me know if you have any questions regarding the program and if you're interested in test driving a Lexus in the comment section below.