Early July, I did a 10-day California Road trip, a dream trip that I was honored to take charge in the planning. I took my 5 cousins from Minnesota there, and later in LA, we got another cousin joined us. It was a big trip planned for a lot of people, and thankfully we had so much fun!
And if you are in the mood for planning a road trip on your own or for your family or a big group? Then this blog post is for you! Read on to find out all about where we stayed, what we did, where we ate at as well as our robbery story happened on the very first day of the trip.
THE ULTIMATE CALIFORNIA ROAD TRIP 10 DAY ITINERARY:
San Francisco – 2 Days
Yosemite National Park – 2 Days
Sequoia National Park – 1 Day
Los Angeles – 3 Days
Pacific Coast Highway and Big Sur – 1 Day
San Jose and SFO – 1 Day
A few things to note prior to going all in the nitty-gritty of the trip:
I planned this 10-day road trip for my 5 cousins from Minnesota who had never traveled this long without their parents before. They also had never been to the state of California, and they initially wanted to check out Los Angeles only. I extended the scope of the trip and included nature and the coastal drive to Big Sur, and they were down for it! So keep in mind that most activities are family and group friendly.
In addition, I did purposely plan to include a little bit of everything covering mountains, beaches, cities, lots of sight-seeing and group-friendly things. I had to save all of the Yelp-famous or locally recommended food list till next time since it was impossible to reserve a table for those many people.
CAR RENTAL: We got a van that fits 7 through NU CAR RENTAL. Since their property was off-site, we had to catch the train and shuttle which was quite a hassle. Minnesota to San Fran was a 4-hour flight, the kids arrived quite hungry, plus we didn't get to eat lunch until 3 pm (horrible!). So plan accordingly before picking up the car and returning the car as it might take up to 2 hours each time for your group! Also, be prepared that your car might break down any minute during the road trip, hence it might be worth it to consider car insurance or travel protection offered at the rental place.
Day 1 – July 5 – arrive at SFO, explore San Francisco
2 DAYS IN SAN FRANCISO
WE GOT ROBBED IN CHINATOWN, SAN FRANCISO!!!
Literally, someone broke the back window of the left side of our van and took backpacks with quite a bit of cash, an iPad, some personal items, and a big weekender full of clothes. It was so bizarre since that happened in the bright daylight in the busy streets of Chinatown, SF. It was for sure from someone who had done that before or knew what they were doing. We just left the van for less than an hour, not very long. It was heart-broken seeing my cousins in tears as some of the items in the bags meant so much to them. We called the police and had to get the car exchanged at the NU rental place down in the airport!
*** So please, remember to never leave anything valuable insights including backpacks, even cables or charger in the car since that signals 'valuable items.' If you can afford a car and travel insurance, please do so! Also if you can check in your hotel, don't leave your luggage in the car if you don't have to. We did not opt-in for insurance nor had a chance to drop off our luggage, and that was super unfortunate. Big lesson learned! Only the van damage was covered since we had a Costco credit card. Some of you have messaged me about the apartment or home rental programs that some places might cover the stolen things even when we're away. Thought I'd mention it since it might also be helpful for some of you!
What we did: After getting our van, we drove to Japantown for ramen around noon. By the time I put down my name at the Yelp-famous Marufuku Ramen, I quickly found out that there were already 53 people ahead of us. We ended up going to Hinodeya Ramen Bar and did not get to eat until 2:30 pm. My cousins were starving because it was about 4:30 pm for them (Midwest vs. West coast time!). I enjoyed my House ramen with the clear broth but heard that the chicken ramen was quite salty. After that, we drove to Chinatown and explored the area before our robbing incident. While my bf drove to the poor van back to the airport to have it exchanged, I took my 5 cousins around Sutro Baths, Land's End Lookout and walked around to cool off.
Figured we needed to do some shopping for clothes and necessities that we lost, we headed south to Stonetown Galleria. We stopped by Uniqlo, Miniso (a cheap Chinese-owned stationery shop, like a mix between a Daiso and Muji), and Gram Cafe (the only Gram in the U.S and I believe it's a Japanese pancake cafe that gives off Nana's Green Tea in Seattle vibe). We ate at Champa Garden (Thai food) near the mall since everyone was quite hungry. Finally, we stopped at the Mission area for boba at Boba Guys before heading north to our hotel, and I could confirm with you that Boby Guys is overrated. This was my second time trying their boba after New York, and their boba was really water down. My cousins did not like their boba either!
Where we stayed: Holiday Inn in Mill Valley (North of San Francisco, crossing the Golden Gate Bridge.)
Chinatown Downtown SF
Day 2 – July 6 – drive North San Francisco and explore some more of downtown and drive to Yosemite
What we did: We left our hotel around 9 am and drove to the Cypress Tree Tunnel for views and photos. By noon, we grabbed some quick burgers and fries at Parkside Cafe in Stinson Beach. The parking at Muir Woods National Monuments was full, so we skipped that and decided to explore some more of downtown SF instead. Muir Woods Beach Overlook (South of Stinson beach) stop was spontaneous but turned out to be pretty cool, highly recommend it! It has views of the Pacific oceanside cliffs, several historic base-end stations/ruins where the soldiers stationed back in WWII. Make sure to walk all the way following the staircase to the Overlook Trail and take in the views and lots of photos.
We took the Berkeley route to avoid the ridiculous toll fee at the Golden Gate Bridge. By 2 p.m, we arrived at the Ferry Building, got some really creamy ice cream at Gott's Soft Serve, and walked around at the pier to people watch. And we did some quick shopping at Fjällräven San Francisco, Allbirds, and Isabel Marant on Jackson st. There were over 5 blocks long in order to drive through the iconic Lombard Street, so we drove to the bottom part of the street for photos instead.
Palace of Fine Arts was my cousins' favorite place in SF, and we also got some photos of the Golden Gate Bridge as well. They loved the Victorian houses, so I figured stopping by Painted Ladies was a good addition before heading East to Yosemite. I let them pick out some dim sum options at Dumpling Time on Yelp, ordered it online, and picked it up to save time. By the time we arrived at Painted Ladies (our dinner spot), all of the dim-sum (packaged nicely in their many small plastic containers) got so saggy, but I thought it was a nice way to avoid the crazy lines for food in SF. I then took over the 3-hour drive to Yosemite and got us to the hotel at 1:30 am. The drive was quite easy before it got to the Yosemite area as roads got quite windy and single-lane only.
Where we stayed: Yosemite Sierra Inn in Oakhurst (The reason why we picked this hotel was because we book it quite late, and all lodgings in the Valley were booked up. This place was quite affordable and about an hour drive to both the North and South entrances of Yosemite National Park, so we didn't have to drive so much in the morning for both 2 days.)
Cypress Tree Tunnel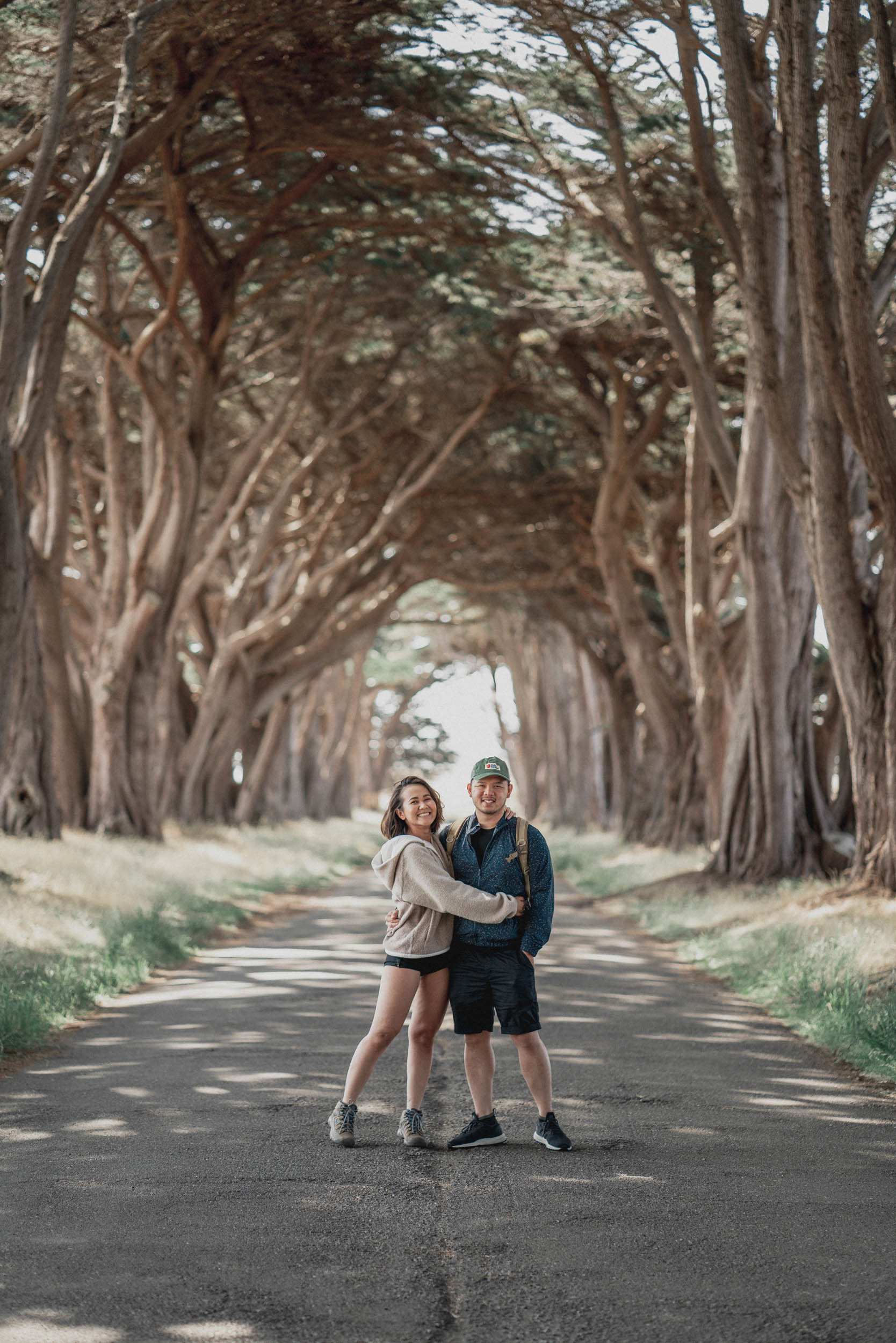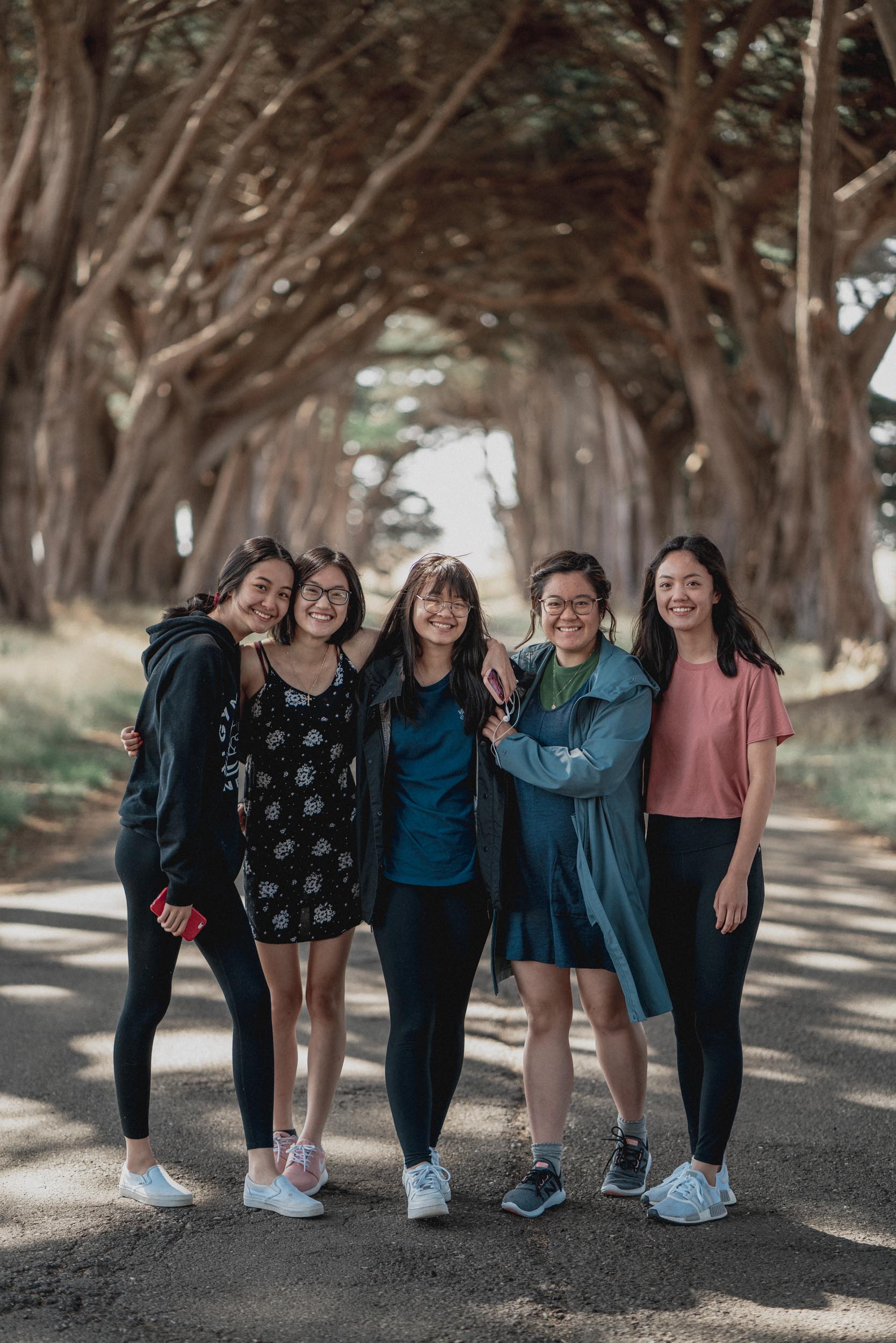 Muir Woods Beach Overlook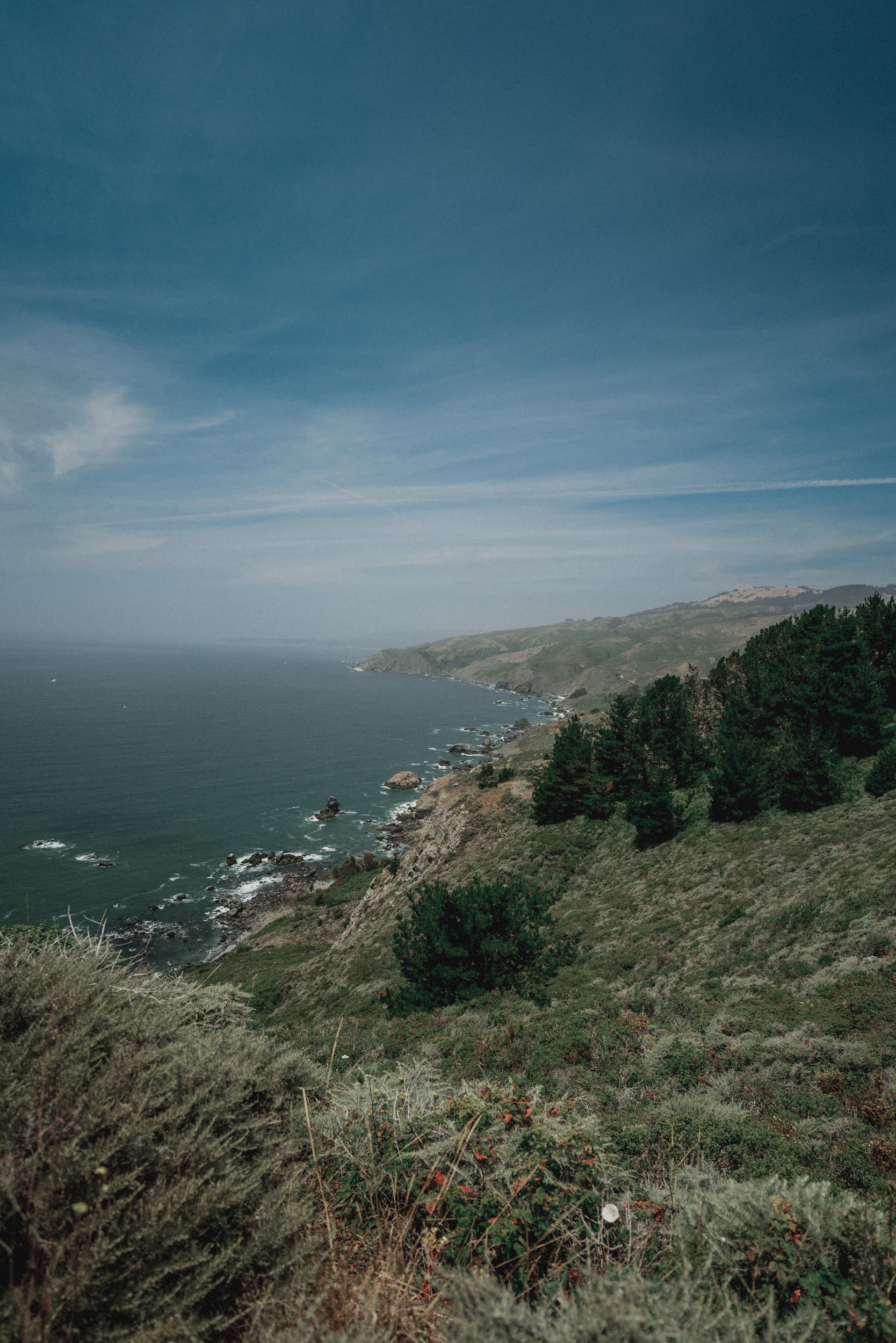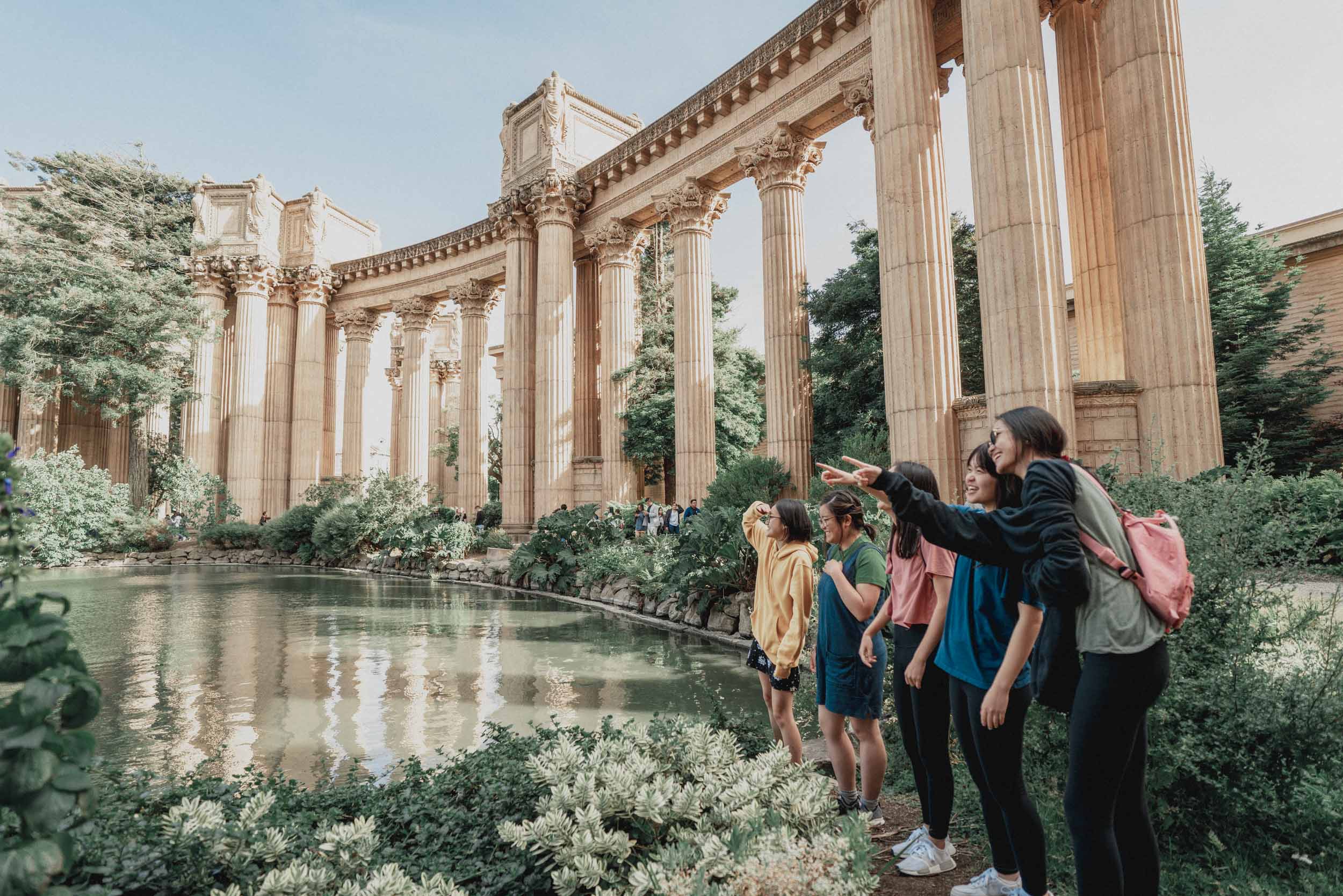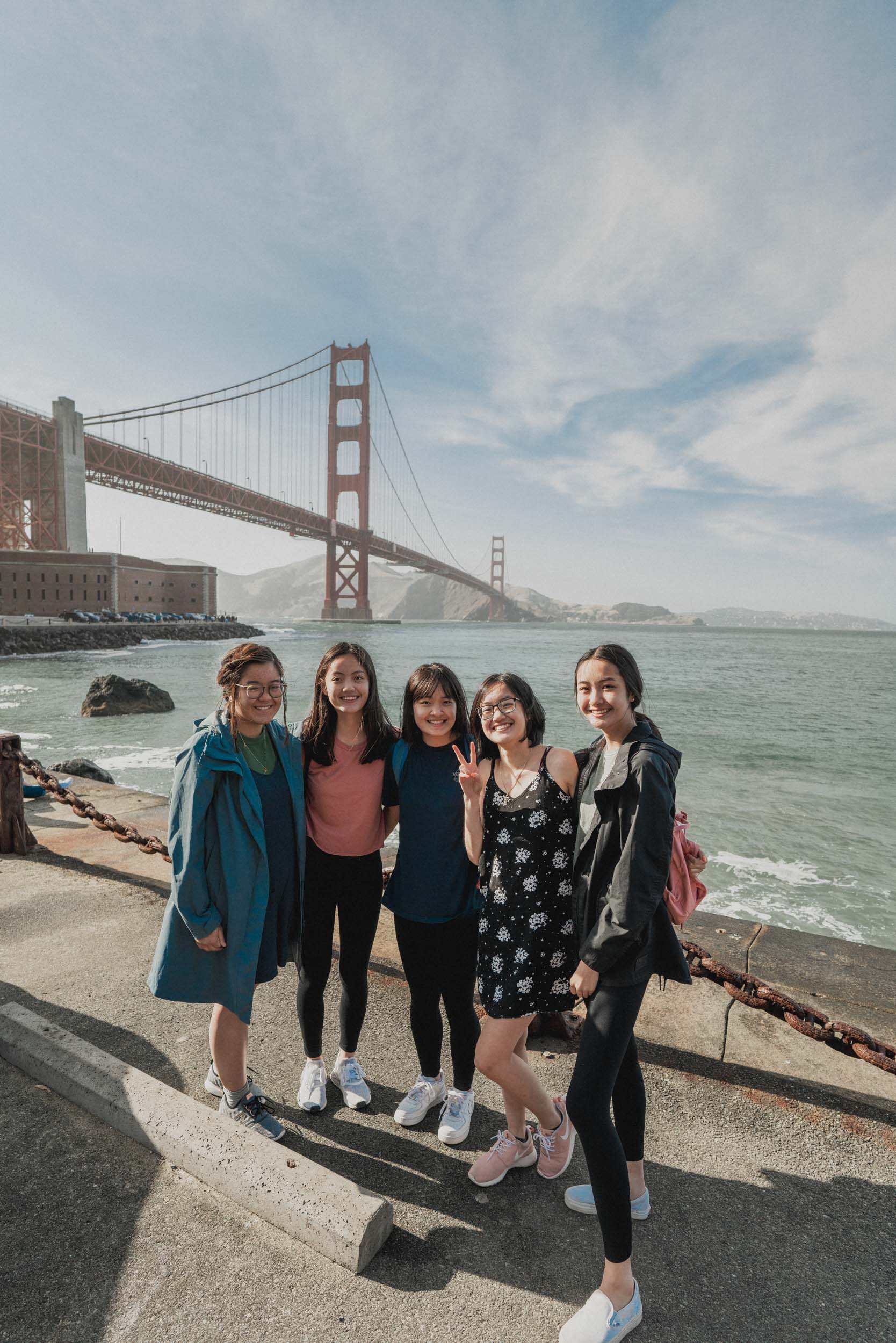 Day 3 – July 7 – hike Mist Trail and explore Yosemite Valley, Olmsted Point, Tunnel View
2 DAYS IN YOSEMITE NATIONAL PARK
What we did: We took the Arch Rock Entrance and arrived at the Half Dome Village around 9 am with barely any traffic on a Monday. Right at the entrance, we were greeted by the giant Yosemite Falls and the iconic vertical El Capitan. Depending on which entrance, you might hit some traffic, so arriving before 9 am is best recommended. There are 4 parking lots for visitors and free shuttles that run every 10 minutes around the park, and make sure to pick up the park map as well.
We parked at the Half Dome Village and decided to hike the Mist Trail instead of the Mirror Lake as priorly planned. We made a U-turn at Vernal Falls since that was quite a lot for the kids. I thought the misting action near the falls was so fun, and call me lucky because I saw 2 rainbows there! Luckily, we packed some snacks and bars otherwise the kids would have been starving by the time we got to our car at the parking lot.
We had burgers and fries, yet again, at a cafe in the Half Dome Village. The kids seemed quite overwhelmed with the hiking activity earlier, so we just took it easy by taking the shuttle bus to see the Lower Yosemite Falls (that required some leisure walking.) Make sure to walk across the street to the wide opening area where you could see Half Dome and Yosemite Falls. After a coffee and ice cream break, we drove up to Olmsted Point after filling up half of the gas tank with some very expensive gas.
Olmsted Point with views of Half Dome and Clouds Rest was so insanely pretty. Again, imagine driving so close to the cloud, tons of wildflowers, and endless glacial erratic boulders that keep your eyes up the entire time. Almost forgot to mention, but we did stop by the Tunnel View overlook and took the inner windy route back to our hotel. Everyone voted for dinner at Denny's, the one right next to our hotel, so Denny it was!
Where we stayed: Yosemite Sierra Inn in Oakhurst (Our second night here! We found out that our hotel booking got mixed up since we were given two rooms with double beds in each instead of one room the previous night. So we had to pay for the second night with an extra room. Good thing that we booked through Expedia and Expedia ended up refunding us for both nights.
Mist Trail & Vernal Falls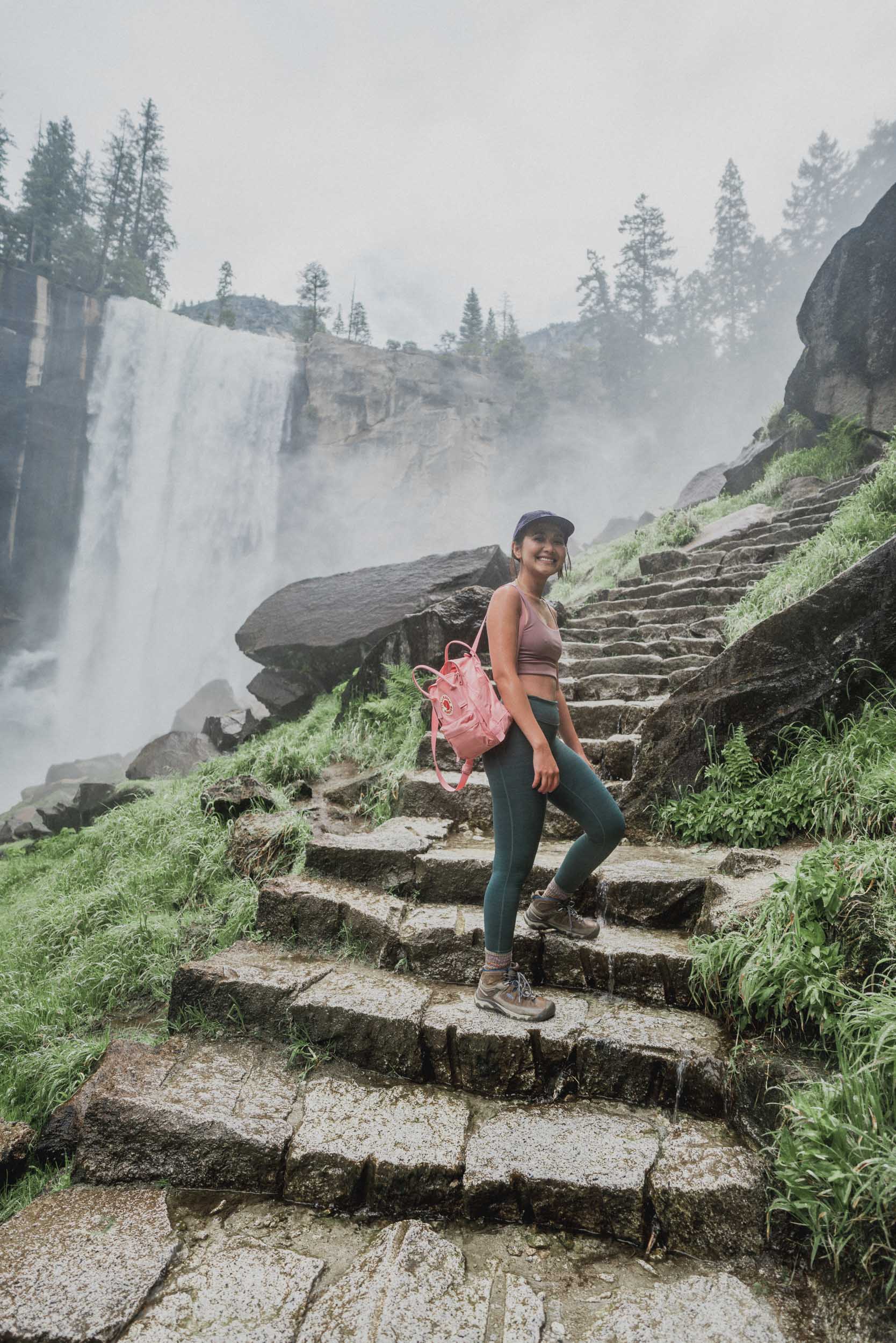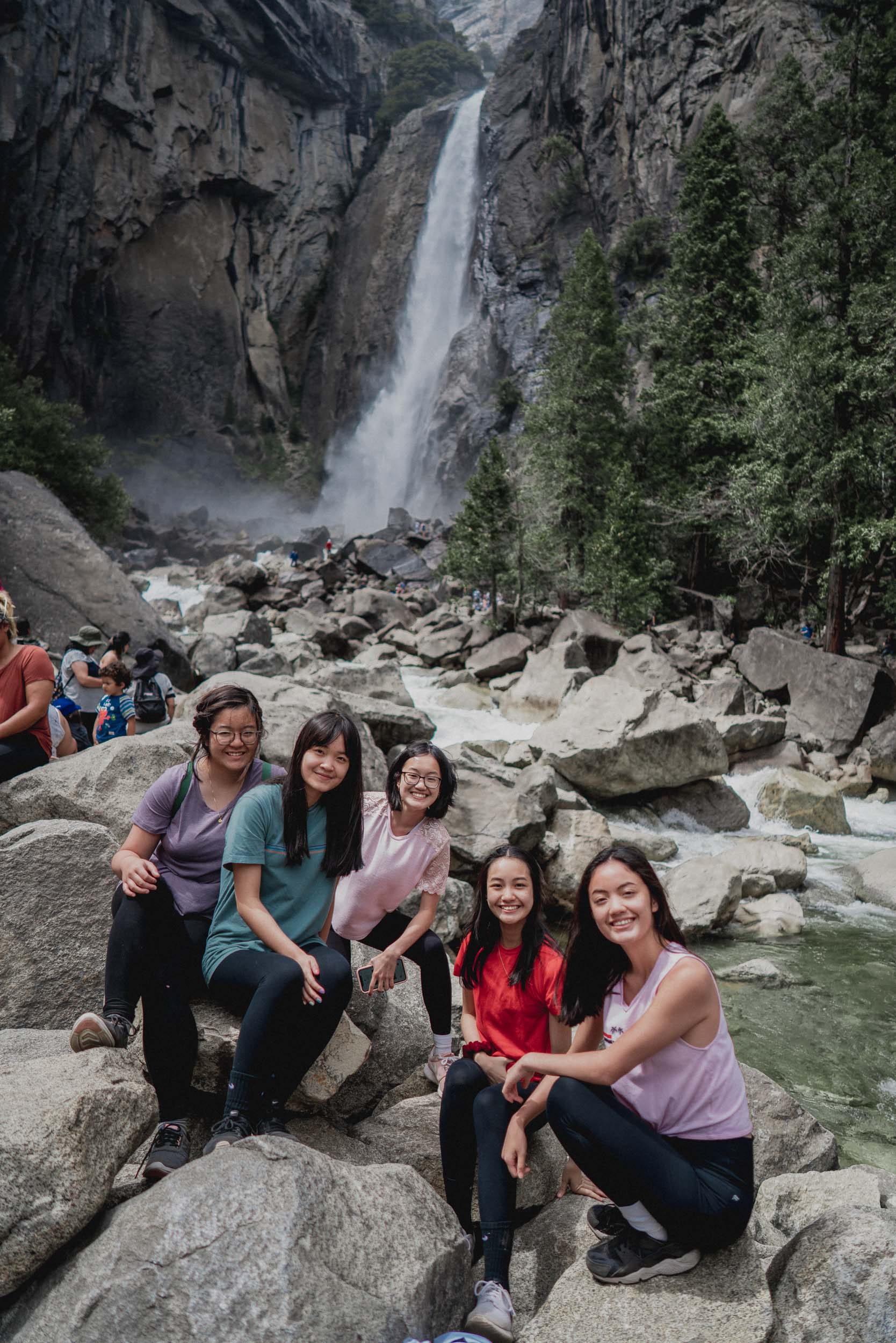 Day 4 – July 8 – Glacier Point and explore south of Yosemite
What we did: Breakfast at Yosemite Sierra Inn was not so great, so we ordered some to-go food at Denny's right next door. The view at Glacier Point overlook was so insane! There's a commanding view of Yosemite Valley, Half Dome, and Yosemite's breathtaking high country. Make sure to walk all the way to the other side to see the Overhanging Cliff where the IG-famous Overhanging rock is!
After about an hour drive south of Yosemite, we took the shuttle in Mariposa Grove of Giant Sequoias to see the sequoias: the Fallen Monarch, the Bachelor and Three Graces, and the Grizzly Giant are just to name a few of these incredible trees. It was an easy one-mile stroll round-trip, super kid-friendly!
Our next stop was Fresno, about an hour and a half drive from Mariposa Grove. We decided to get food, boba and headed to our hotel in Visalia. It was a chill evening with some pool time, catching up on Rachel, Jack, and Ashley Too on Netflix, and pizza!
Where we stayed: Visalia Marriott at the Convention Center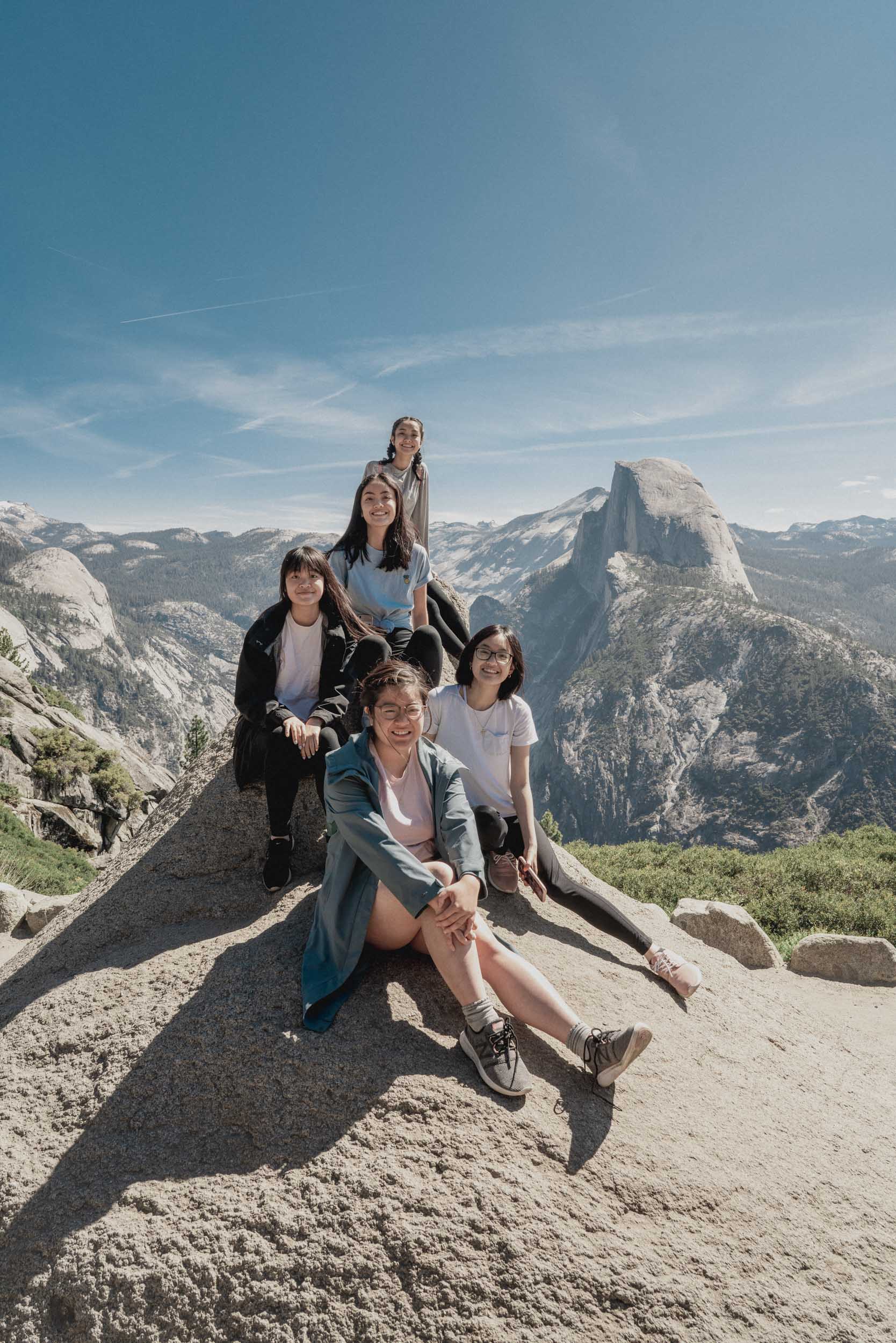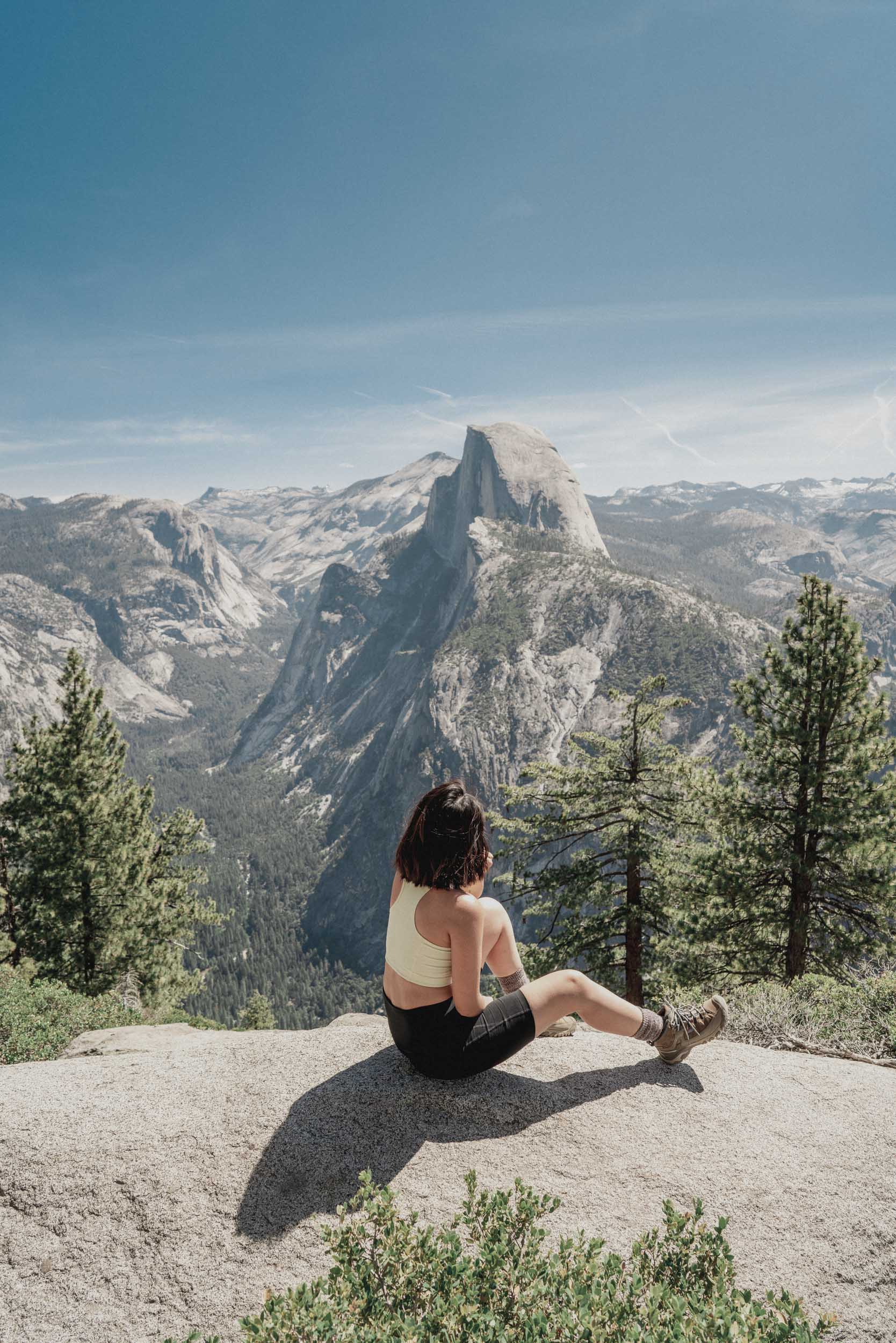 Mariposa Grove of Giant Sequoias
Day 5 – July 9 – hike Moro Rock and General Sherman Tree
1 DAY IN SEQUOIA NATIONAL PARK
What we did: Prior to heading to Sequoia NP, we stopped by a Target in Visalia to pick up some sandwich-making ingredients, fruits, and snacks.
The drive into Sequoia National Park reminded me a lot of our Kauai drive in Hawaii 2 years ago. We stopped at the Tunnel Rock right at the entrance of the park and Bettle Rock next to the visitor parking lot for some more pictures. The hike up Moro Rock was pretty fun, family-friendly, and of course if everyone else is not afraid of height! After that, we hopped on the shuttle to the Tunnel Tree and got back to the visitor center. Sandwiches for lunch were such a hit, and the kids requested to make more in the following days.
After lunch, we decided to drive to the General Sherman Tree instead of taking the shuttle to save time. There's a short hike in order to get to the big tree, but it was so worth it! People were burning down some parts of the park (it's called planned fire as fire helps the sequoias seed and grow). We left Sequoia NP and started driving to LA around 3 pm. It was such a drive, but there were endless views along the way: palm trees, fruit farms, oil drills, etc.
After checking in our hotel in Anaheim, we grabbed Korean food at Mo Ran Gak and rolled ice cream at Sweet Rolled Tacos.
Where we stayed: Clementine Hotel & Suites Anaheim (3 nights, night 1)
Moro Rock
Day 6 – July 10 – Shopping in LA, Santa Monica, Getty Center, Japantown
3 DAYS IN LOS ANGELES
What we did: After breakfast at the hotel, we left to pick up our 6th cousin, Thach, at LAX. The kids wanted to stop by a Brandy Melville, so we drove to the Santa Monica (outdoor mall) and explored the area a little bit. We walked to Santa Monica Pier to play with the water and people watch a little bit! Lunch was at Joan's On Third, a really cute spacious but packed sandwich-cafe located near Melrose. We also went to Glossier (duh!), and of course, each of them had to get their own hand on the Glossier goodies. There's the Alfred Coffee shop nearby, so I got myself an iced latte!
The rest of the afternoon was spent browsing the Getty Center. After that, we got some boba at Sip Matcha at UCLA, did some shopping, and had udon at Marugame Monzo in Japantown.
Where we stayed: Clementine Hotel & Suites Anaheim (night 2)
Getty Center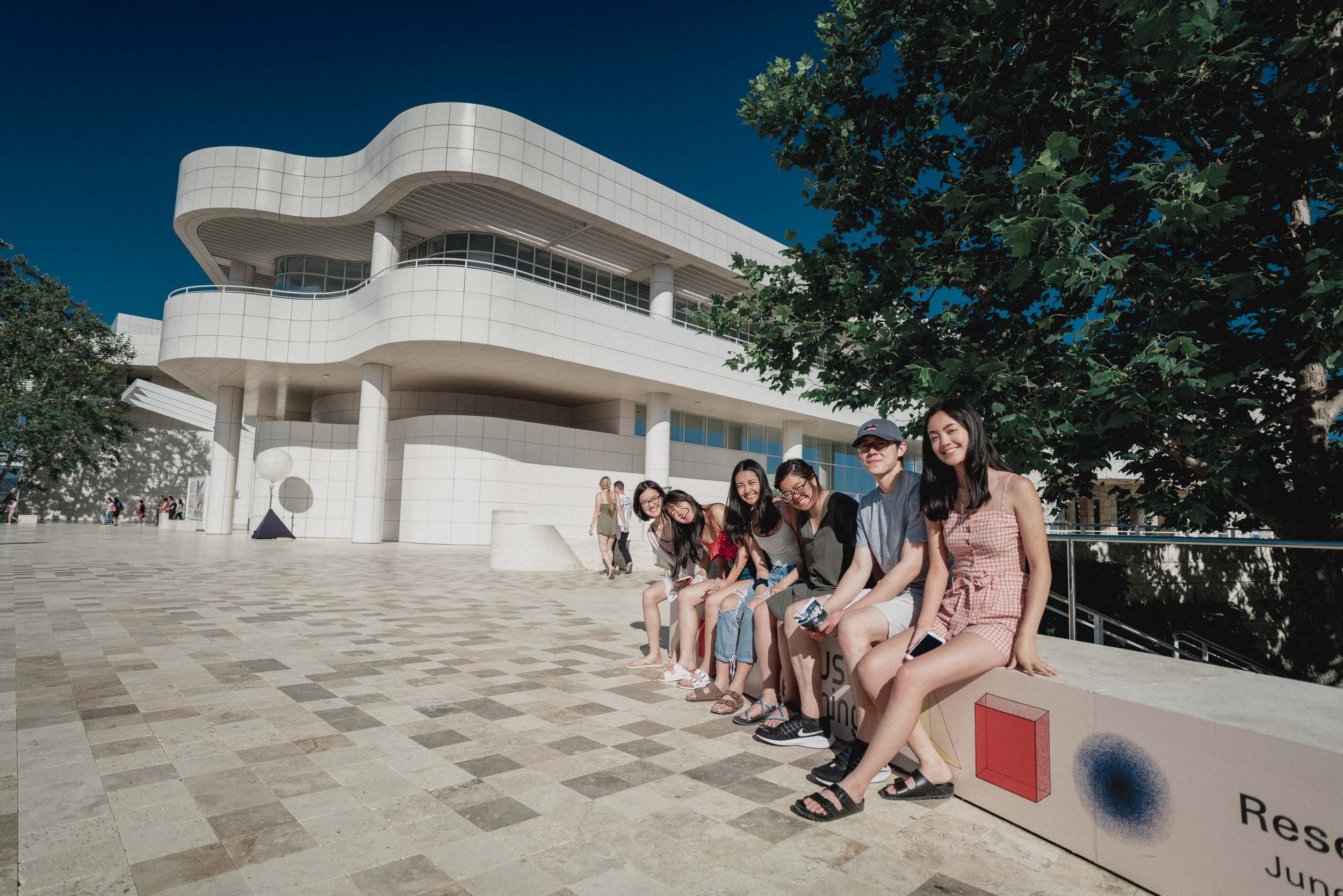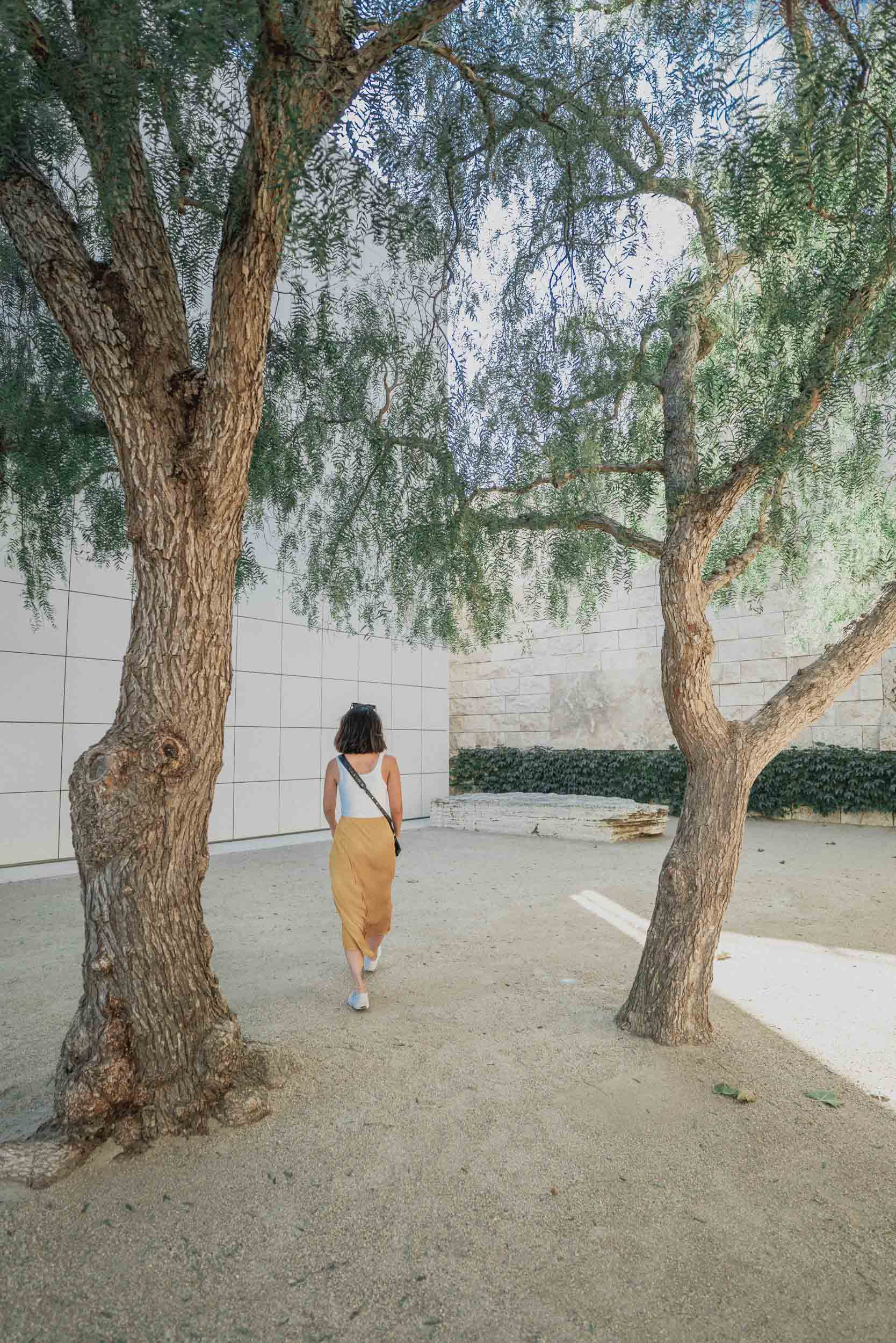 Day 7 – July 11 – Laguna Beach, Venice Beach, Abbot Kinney & LACMA
What we did: Beach day is my favorite day! We stopped by a grocery store in Laguna to pick up sandwich-making ingredients and fruits since lunch at the beach sounded so good! We got some serious noon-sunburn while laying at Aliso Beach and ended up moving to Treasure Island beach because of the scary strong waves! I'd do Zuma Beach in Malibu and avoid swimming at Laguna next time, 100%!
A walk-in in Venice was not as pleasant since there were so many sketchy vendors and people out there. I took my cousins to several vintage shops in Venice (overpriced!): Boardwalk Vintage, Only in Venice Vintage, Animal House, and Gotta Have It. We then decided on the boys walking back to get the car while us girls checked out the shops on Abbot Kinney. In case you don't know, Abbot Kinney is a street that is packed with cute indie-brands and boutiques that any fashion lovers like myself would dream to afford something there! I stopped by LCD, learned a bit about the garments at Industry of All Nations, and checked out Cuyana.
While the kids getting their ice cream order at Salt and Straw, I got myself a Matcha latte at the cutest Cha Cha Matcha shop right across the street. The famous Butcher's Daughter is also right there, so many cool shops on Abbot Kinney. We then went to Costo for gas and got dinner at IN-AND-OUT next door. After almost an hour driving and trying to get up to the Griffth at night, we opted out and decided on LACMA instead.
Where we stayed: Clementine Hotel & Suites Anaheim (night 3)
LACMA
Day 8 – July 12 – Griffith Observatory, Hollywood, Secret Swing, 626 Night Market
What we did: We packed up our stuff, and it was our last day in LA. As you all know that we're Vietnamese, visiting Phuoc Loc Tho or just staying or going to restaurants in Orange County is almost or always a default. We just drove a few blocks in the area and checked in a few shops before heading north.
The Griffith Observatory was not as crowded in the morning, so we got a parking spot up there right away. After that, we checked in Mama Hong's Vietnamese Kitchen in Burbank, and I thought the food was just alright! Big portion but service was meh!
As we drove to Hollywood Boulevard so my cousin Thach could find his 'Bruce Lee' star, we spotted the Line Friends store, located just across the street from the TLS Chinese Theatre. My cousin, Anna, is such a huge fan of BTS, and it was so cute seeing her literally cried of happiness when she found Tata at Line Friends. That store sells everything merch BTS-related, kinda crazy but cute! I also picked up a pair of white sneakers (on sale for $23) and a pair of high ankled socks from MUJI as well.
After dropping off my cousin Thach at LAX, we went to check out the Secret Swing in Elysian Park. Then more hours spent being on the road, and I was kinda sick of it and just wanted to leave LA already! Hours before, we found out about the 626 Night Market, a large-scale night market located in the 626 area of San Gabriel Valley, northeast of LA. The kids wanted to that instead of Malibu, so we decided to stay around. The 626 Night Market was overwhelmingly big with lots of food and drink vendors. Navigating through the sea of people and deciding for such a large group were so stressful. I did have a few meltdowns, though! Some of us were still hungry, so we grabbed some quick and cheap Chinese and boba at Bay Island Cafe before driving to our hotel at Santa Barbara.
Where we stayed: Hampton Inn Santa Barbara/Goleta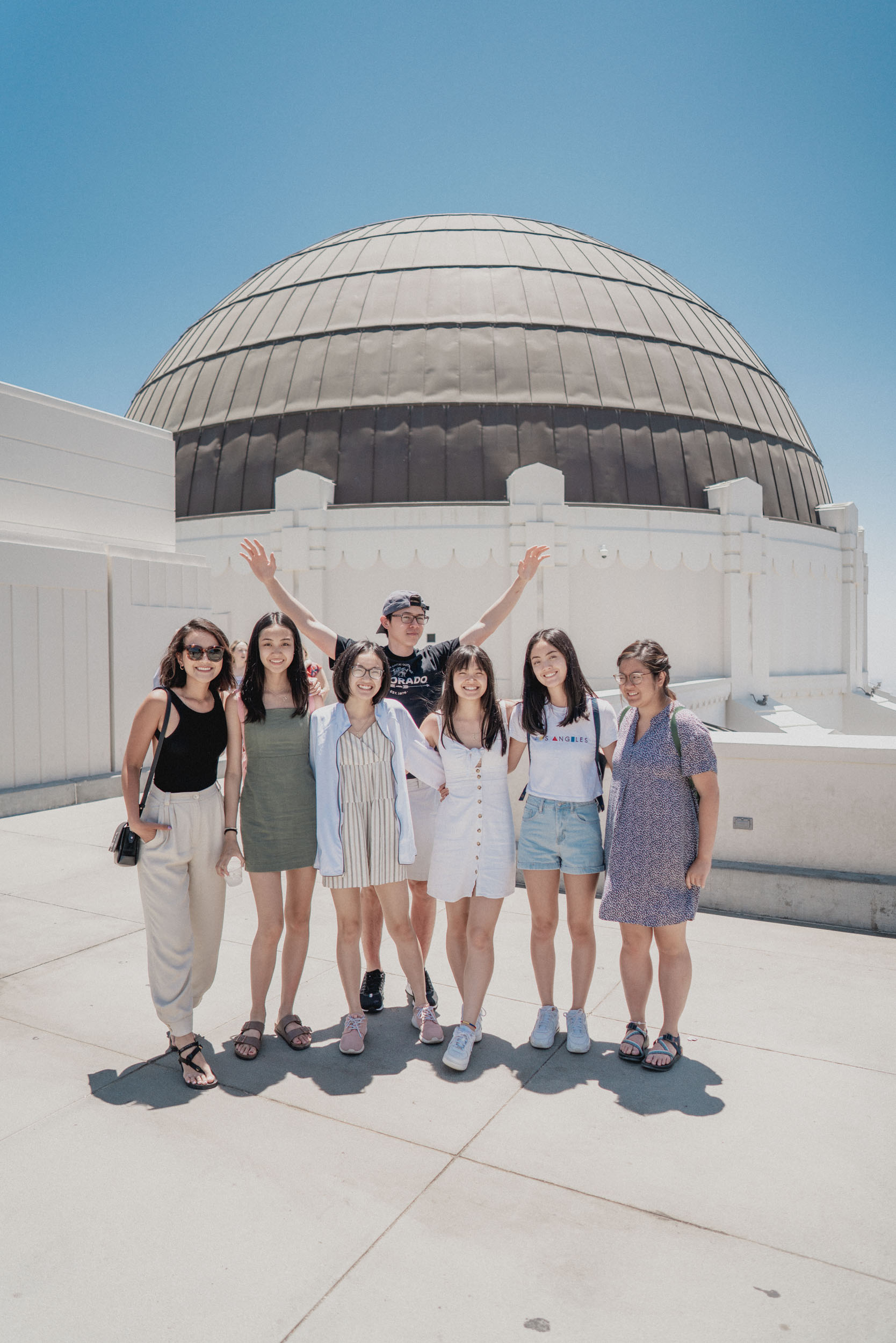 Secret Swing in Elysian Park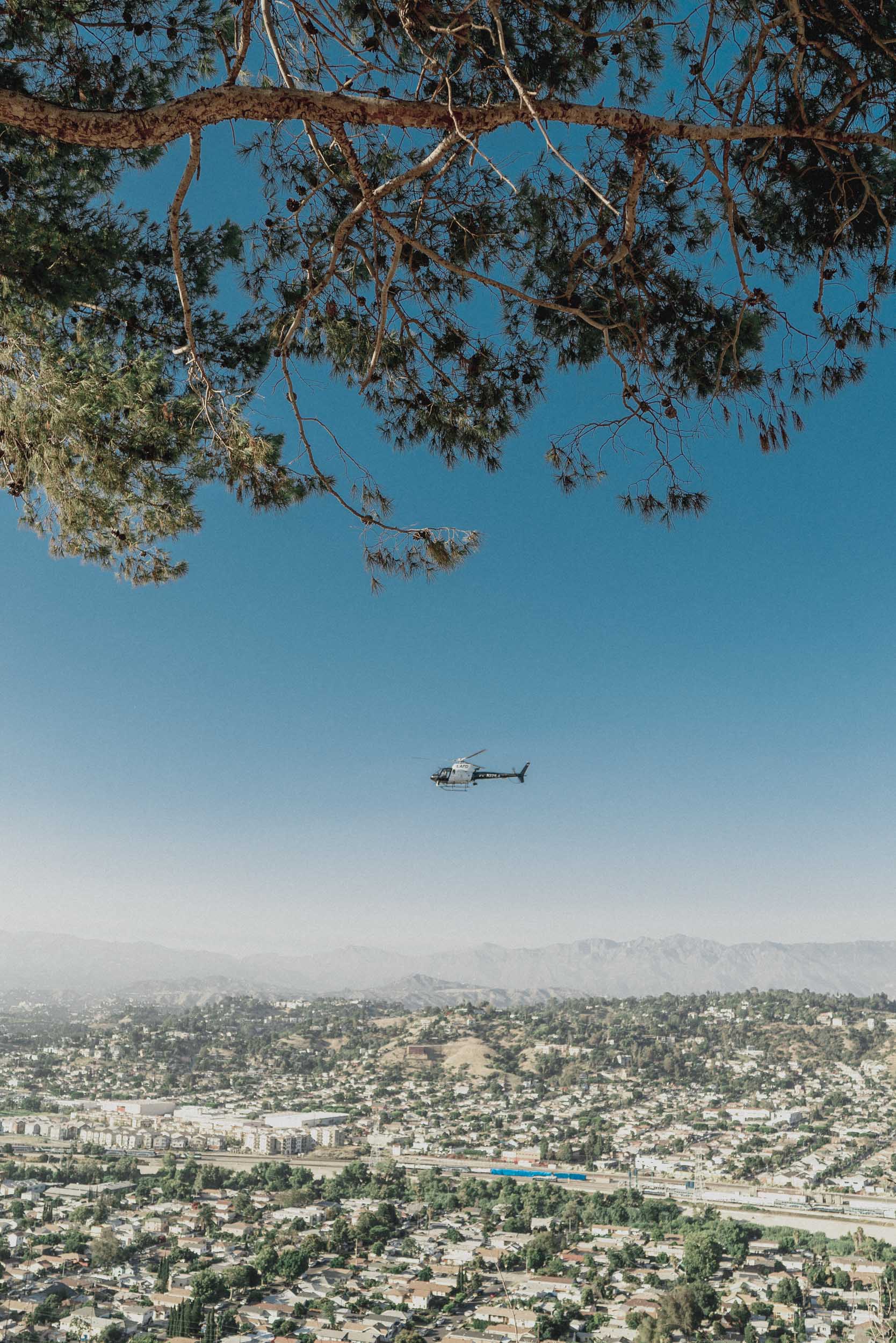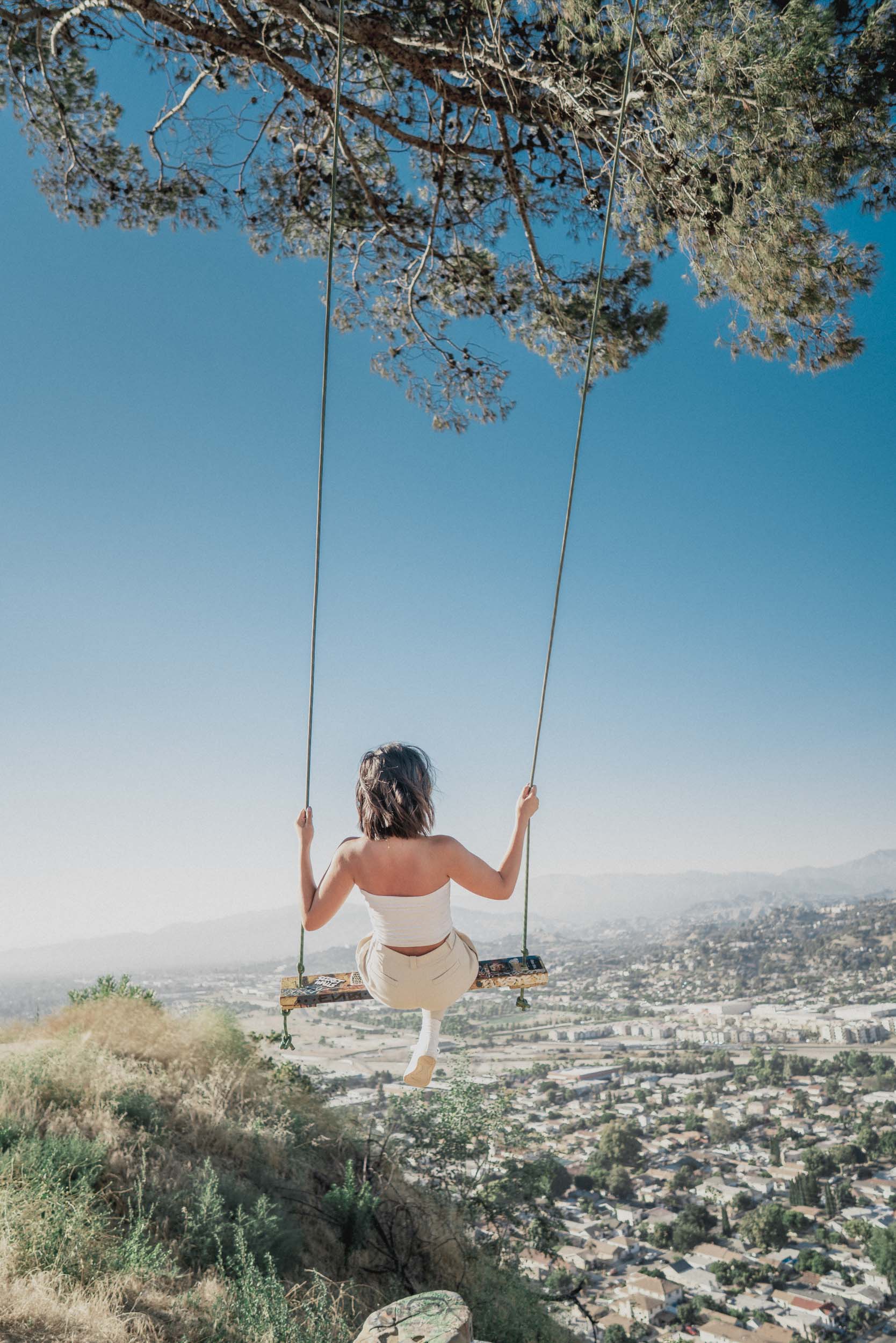 Day 9 – July 13 – Santa Barbara and Big Sur
1 DAY IN SANTA BARBARA AND BIG SUR
What we did: Santa Barbara is such a cute lovely town filled with amazing Spanish-inspired architecture that I'd come back in a heartbeat!
We had a few lunch options in Santa Barbara Public Market which I also highly recommend if you travel with a big group like this. San Louis Obispo was a nice pit stop as we got to drive through the iconic Madonna Inn. And the Highway 1 drive to Big Sur was just as stunning this second time around! Bixby Creek Bridge, McWay Falls or Cove in Julia Pfeiffer Burns State Park, and Pfeiffer Beach were must-stops at Big Sur!!!
I initially planned to do the Scenic 17-Mile Drive in Picturesque Pebble Beach, but it got quite late in the day by the time we left Pfeifer Beach. We decided on some late-night sushi served on a boat at Zum Sushi and called it a night!
Where we stayed: Best Western Plus All Suites Inn in Santa Cruz
Bixby Creek Bridge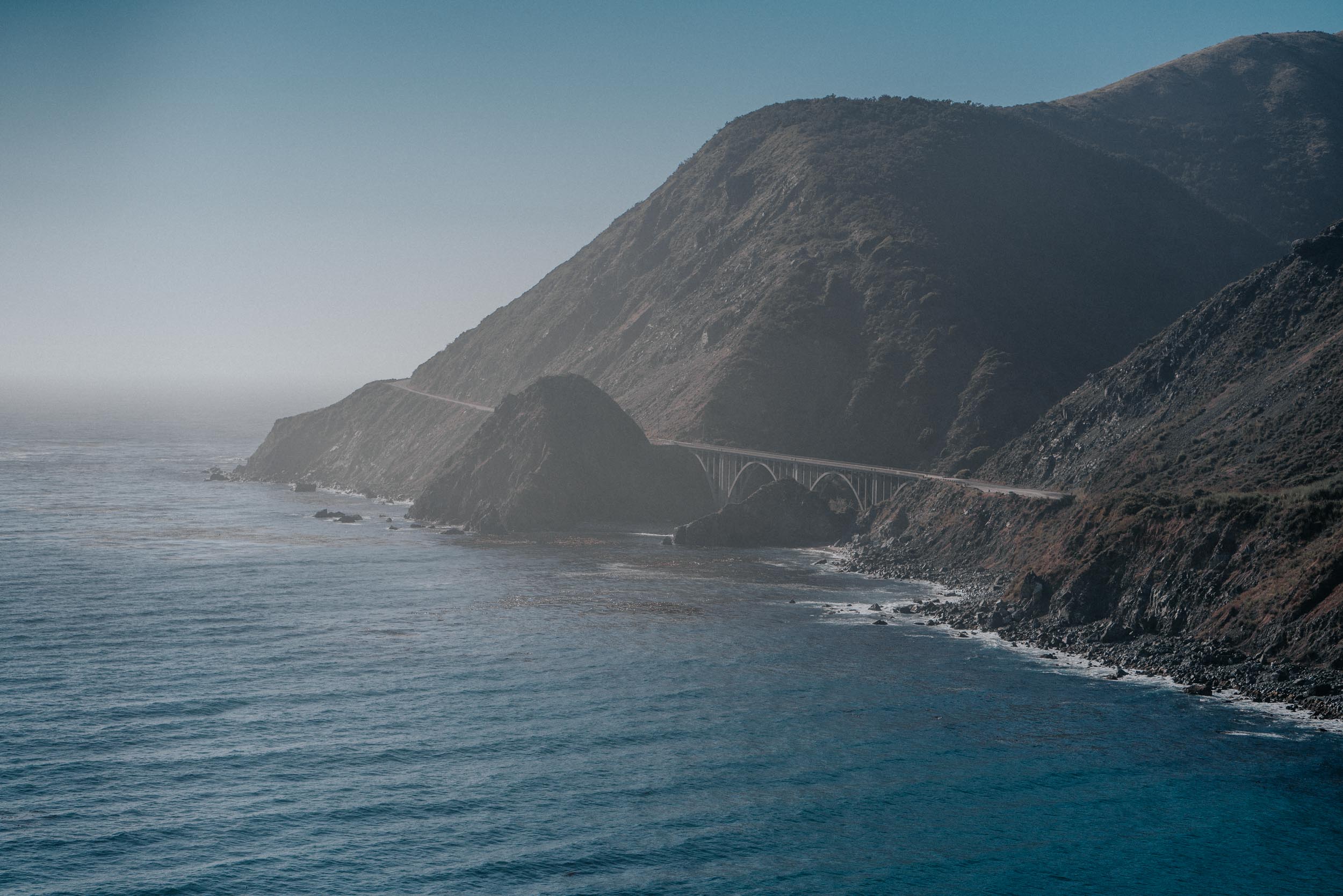 Day 10 – July 14 – Shark Fin Cove, San Jose, Apple Park Visitor, and SFO
1 DAY IN SANTA CRUZ, SAN JOSE, AND FLY BACK HOME FROM SFO
What we did: The little hike down to Shark Fin Cove was nice before we left to San Jose. Crawfish lunch at Craw Shack was the highlight meal of the entire trip, gladly! We got boba at Shincha Tea and soft-serve ice cream in a fish at SomiSomi. I loved those short hours in San Jose, and the food was so good!!! We then took advantage of the hour we had left and driven to the Apple Park Visitor before heading to the airport.
Yay! Congrats for making it till the end of this blog post! Before you head out, let me know if you need help planning at all since I have done this quite a few times now. A few tips that I'd like to share from my own experience when it comes to planning and actually executing the plan:
Be flexible: Even though we had an Itinerary planned, it was not a set plan. It is important to ask everyone's feelings and access the actual timeline and situation and change the plan as we go! One thing that I had to learn at the spot was that my cousins ate breakfast and got hungry way before I did. So I made sure to get snacks and fruits and let them pick whatever they each needed along the way. We booked the latter half of the trip while we were on our 2nd or 3rd day, knowing that the kids loved breakfast food, booking hotels that offered free breakfasts also saved us quite a bit of money and time.

Be prepared: We got robbed on our very first day which really sucked, but thanks God the trip went smoothly after that. I knew the kids would be so hungry, so making sure we had plenty of water and snacks was crucial. Apples and clementines also came in handy, so pick some up at a grocery or hotel. So yes, be prepared for delayed meals and having little to no privacy!

Be responsible and a source of encouragement: I felt like their mom most of the time, and that got quite too much at times, from ordering food for everyone to making sure that everyone enjoyed every single activity. I figured they could take care of themselves for the most part. Just have an open mindset for anything that comes really! I did break down a few times, but I got back up and kept going. I did have fun and accomplished a few things I wanted to do for myself, so that was nice!

There are solutions for everything: My cousin Julia gets car and motion sickness, and she was in tears the first day. Dramamine dramatically helped her sickness and improved the quality of the trip for everyone else!
I really hope that you will have a chance to do a California road trip with friends and family in a very near future though! Please don't feel hesitate to reach out to me in the comment or via DM on Instagram if there is anything you want to know more about, I'd love to give you some details to ease the planning as well as help make it happen for you guys! If you've enjoyed this post, leave me a comment and follow me on all of my social. Thanks for being here!