I went for a week-long road trip, 8 days to be exact, and helped to move a family of a relative from Kansas, Missouri, to Seattle at the end of August of 2019.
In 8 days, we passed a total of 8 states: Missouri, Kansas, Colorado, Utah, Nevada, California, Oregon, and Washington, Lake Tahoe, and 3 National Parks: Arches, Canyonlands, Death Valley, and Redwood. Lots of driving, though!
Of course, we took the longer route and stopped by a few new places that we had never been to. With not a lot of details planned ahead, it ended up being just as fun and rewarding with amazing views, good food, and great bonding memories. It was pretty special seeing how excited everyone else in that family for their new chapter, and I got to witness their first time doing a lot of things as a family. They had never traveled nor done any road trip to explore the US like this before. Just like my July road trip, we were in charge of making every decision from booking hotels, ordering food, and even deciding on the next destination. At least everyone was really up for everything, and they did enjoy a lot of the food!
When in Kansas City, don't forget to grab some Kansas BBQ at Q39. We ordered some food-to-go, and it was amazing.
DAY 1 – Saturday, August 24, 2019
KC to Denver
After helping the family pack up all of their belongings, we left Kansas in two cars with 8 people. There was not much to see besides rolling hills of green grass with cattle and wildflowers in Missouri and Kansas. We drove 6 hours straight to check-in at a hotel in Denver, Colorado.
Dinner: Kobe An Japanese Restaurant (231 Milwaukee St, Denver, CO 80206). Dessert: Meet Fresh (1350 S Colorado Blvd Ste 121, Denver, CO 80222)
Stay: La Quinta Inn & Suites by Wyndham Denver Gateway Park (4460 Peoria St, Denver, CO 80239)
DAY 2 – Sunday, August 25, 2019
Denver to Arches National Park, day 1 – hike Delicate Arch
After Sunday mass, we did some hiking-shoe shopping at the REI downtown Denver, and I was so glad that I picked up a 24-oz Hydroflask water bottle. It truly is the best $36 I've spent as it keeps my ice water stay iced until the next day, perfect for the dessert days ahead!
Denver to Arches was another 6-hour drive. We stopped at Glenwood Springs for some tacos and hot dogs and were headed to Arches.
Shopping: REI Denver Flagship Store (1416 Platte St, Denver, CO 80202)
Lunch: Slope and Hatch (208 7th St, Glenwood Springs, CO 81601)
Arches National Park
Home of more than 2,000 natural sandstone arches and Delicate Arch is definitely the most unique place.
We arrived at Arches National Park around 4 pm as the heat was very intense out. 
Hike Delicate Arch
Access to the trailhead: Wolfe Ranch parking lot. Distance: 3 miles roundtrip
Delicate Arch is a 52-foot-tall freestanding natural arch, and it's been on my bucket list for years now. It is widely recognized as the symbol of the state of Utah, and you can see it on a lot of people's license plates. Please be careful and watch for the weather conditions (summer heat or winter ice) when you ever want to do this 3 mi hike. It seems and looks easy, but once you're out there at the not-so-great time, things can get downhill real fast.
I thought we were prepared by slapping on a lot of sunscreens and packing along a lot of water, but the heat was very intense that day. Highly recommend you do any of these 'desert' hikes super early in the morning to avoid the heat and very little shade.
That night, I was pretty sure we ordered some pizza and ate inside the hotel. Moab is a neat town as they offer a lot of recreational activities going on like white water rafting, mountain biking, T-rex 4×4 tours, and more.
Stay: MainStay Suites Moab near Arches National Park (356 S Main St, Moab UT 84532) – has one of the best free breakfasts out of all of the hotels on this trip!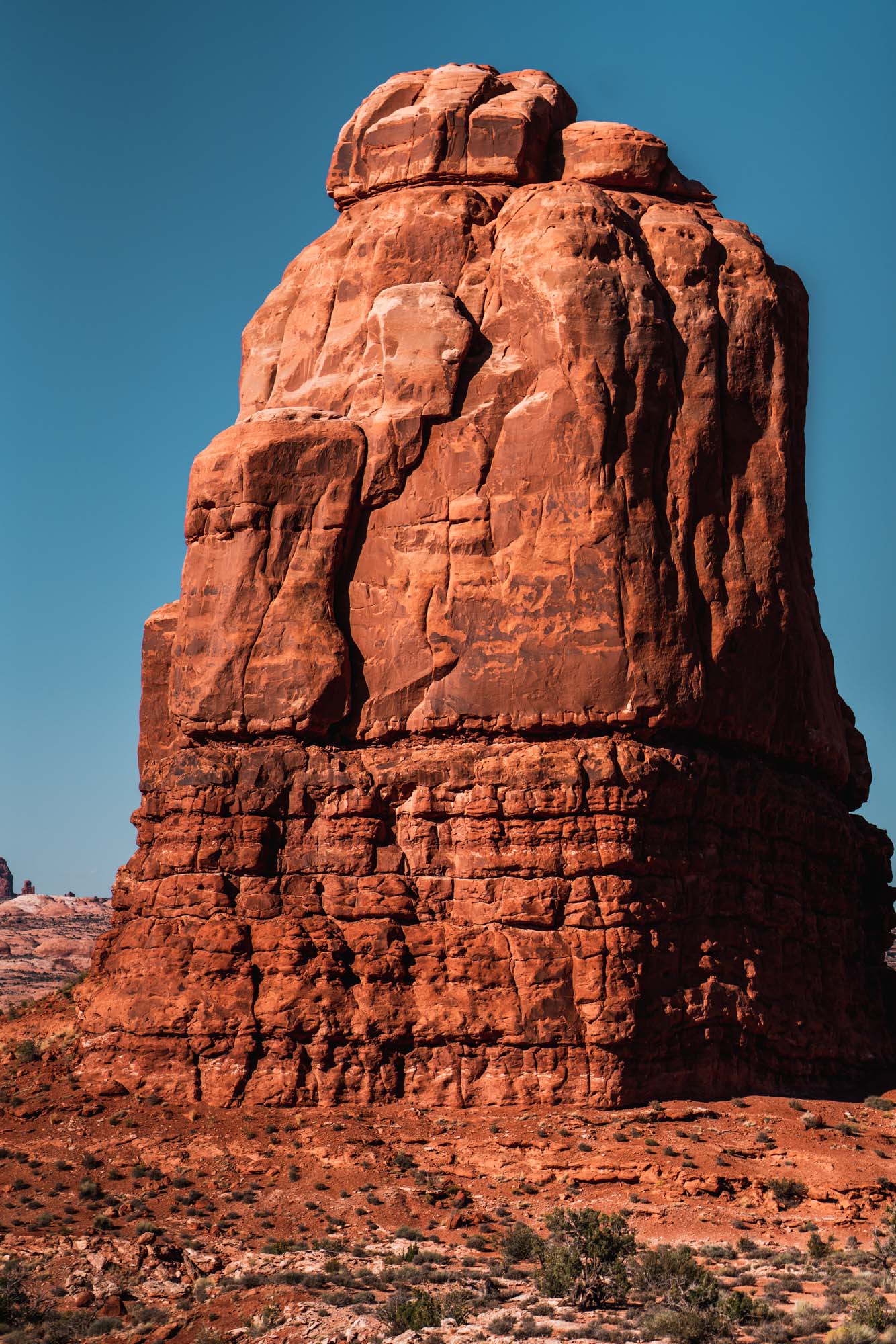 DAY 3 – Monday, August 26, 2019
Arches National Park
Sand Dune Arch
Landscape Arch
North & South Window
Turret Arch
Hike Sand Dune Arch
This was more like a walk through the park, 0.3 miles only with lots of shaded and sand for kids to play around. It funny that we were overly-prepared and brought along food and so much water.
Hike Landscape Arch

Trail access: Devils Garden trailhead parking lot. Distance: 1.6 miles round trip.
Landscape Arch is the world's longest stone span, stretches 306 feet, and is only 11 feet thick at its center. At Arches, things are constantly changing. There are remnants of fallen rocks and arches all throughout the park. It's hot and dry yet so much greenery that gives the park such interesting contrast and colors.
Hike the Spectacles and Turret Arch
The Windows Section: North Window and South Window (when viewed together, they're called the Spectacles) and Turret Arch is easily my favorite area to walk around and admire the captivating sandstone formations.
Island in the Sky, Canyonlands National Park
We left Arches to Canyonlands within the same say. Island in the Sky visitor center was not as busy, so we managed to learn a bit more about the note-worthy viewpoints. Since it got quite late in the day and we had 4 hours to drive to Salt Lake City, we decided to skip it. But I'd have to be back next time!
Dinner: Tonkotsu Shabu Shabu Bar (1898 W 3500 S #11, West Valley City, UT 84119) (It's a Vietnamese owned shabu-shabu individual hot pot place, amazing customer service, but I thought food is alright! They cut meat fresh right in front of you though!)
Stay: Park Inn by Radisson Salt Lake City, Midvale (280 West 7200 South, Midvale UT 84047)
DAY 4 – Tuesday, August 27, 2019
Drive to Valley of Fire and Las Vegas
We left Salt Lake City and decided to not explore the city since the kids were more excited about Las Vegas than anything else. Honestly, we could have skipped Salt Lake city altogether, but because we had already ordered something and had it delivered there, we had to pick it up. It was a 6-hour drive to Valley of Fire State Park, and I was so tired!
Valley Of Fire State Park
The Valley of Fire is located 50 miles (about an hour drive) northeast of Las Vegas in Overton, Nevada. Totally doable and different for a day drive and explore if you're in the Strip for the weekend!
We made a stop at the visitor and attempted to hike the Fire Wave. It was extremely dry and hot when we were there (just about 2 hours), and hiking was NOT recommended. I was out there for a few minutes, and I felt like a roasted pig, not even exaggerating. The drive through the park was absolutely breathtaking though, and I couldn't wait to go back and spend more time here.
A few notable stops (enjoyed inside of the car or you could go out hiking as well) are listed below for your future reference:
Fire Wave: This one is on my bucket-list, 1.5-mile hike, sorta similar to the famous Wave in Arizona with bowl-shaped dips and lines, except this one is totally free and easy to access (well, on a not so hot day or just hike this super early in the day before the sun cooks up the entire valley!)
Mouse's Tank Road: petroglyphs, Pink Canyon (Pastel Canyon): a pastel pink slot canyon, The Beehives, White Domes Hike, Elephant Rock
No photos from Las Vegas because I have been here so many times. After checking in the hotel, we Ubered to Chinatown, just 10 minutes away from the Strip. The Korean BBQ dinner at 888 was really nice and yummy, way better than Gangnam Asian BBQ Dining. Don't get boba at 7 Leaves! I rested early because I drove most of that day while others went playing the slot machine.
Dinner: *888 Korean BBQ (4215 Spring Mountain Rd, Las Vegas, NV 89102). Boba: 7 Leaves (3959 Spring Mountain Rd, Las Vegas, NV 89109)
Stay: Paris Las Vegas Resort & Casino (3655 Las Vegas Blvd S, Las Vegas NV 89109)
DAY 5 – Wednesday, August 28, 2019
Death Valley CA and drive to Lake Tahoe
We picked up some banh mi to eat to-go and left Las Vegas to Death Valley.
Lunch: Dakao Sandwiches (50 US-50, Stateline, NV 89449)
Death Valley CA
Death Valley is a desert valley and is one of the hottest places in the world. It is the land of extremes: the hottest, driest, and lowest National Park.
Temperature (recorded at the Furnace Creek Visitor Center): Valley 122F = 50C – Mountain 94F = 34C. For summer driving, cars break down, and extreme heat kills. Bring plenty of water. Drink plenty of water. Wet your clothes to help lower your body temperature. Eat salty snacks. And lower your car's AC while driving in Death Valley to avoid overheating.
Zabriskie Point
was our very first stop when arriving at Death Valley. It's famously known for its golden-colored badlands and easy access from the parking lot. Only half of our crew went outside, and the other half chose to stay inside the car. It was so hot that my body got so red and my skin smelt so burnt.
We drove to Furnace Creek visitor center to drop off half of the crew who weren't up for exploring. And with little to no phone signal, we aimed for Badwater Basin and drove for a long time! That was honestly the most intense 20 minutes of our lives because we weren't sure what Badwater Basin was duw to the lack of time and researching. Anyways, these beautiful rows of palm trees were taken at the back yard of a resort in Furnace Creek, a beautiful oasis in the middle of the desert.
Badwater Basin
Badwater Basin is the lowest point in North America (at -282 ft or 86 m below sea level). From Furnace Creek, it is a 17 mi drive south on Badwater Road, and you will pass the Artists Drive with multi-hued hills (and you'd have to exit your vehicle to see the Artists Palette)
I saw so many people, especially foreigners, walking further into the salt flats (perhaps trying to find the iconic hexagon-shaped salt flat that I had no clue where it was at the time). It was so HOT I couldn't stand being out there for 5 minutes, so we gave up on trying to find those hexagonal salt flats seen online and on magazines. We got really lucky here because Badwater Basin was actually pretty cool in person.
Mesquite Sand Dune
It is another cool stop on our way out of Death Valley towards Lake Tahoe area. We got out of our car for just a few minutes to shoot a few photos and got some footage for our Youtube video. It was around 3 pm, and yes, it was hot like HELL! I couldn't breathe nor think straight at all. So crazy!
Death Valley is so big and beautiful, and I will come back here in the winter one day! We stopped in Big Pine for some BBQ food on the side of the road since everyone was so hungry. It turned out to be so good, especially the to-go ribs that we had. Must stop if you ever travel to Lake Tahoe from the South end.
Dinner: *Copper Top BBQ (310 S Main St, Big Pine, CA 93513)
Stay: Hard Rock Hotel & Casino Lake Tahoe (50 US-50, Stateline, NV 89449)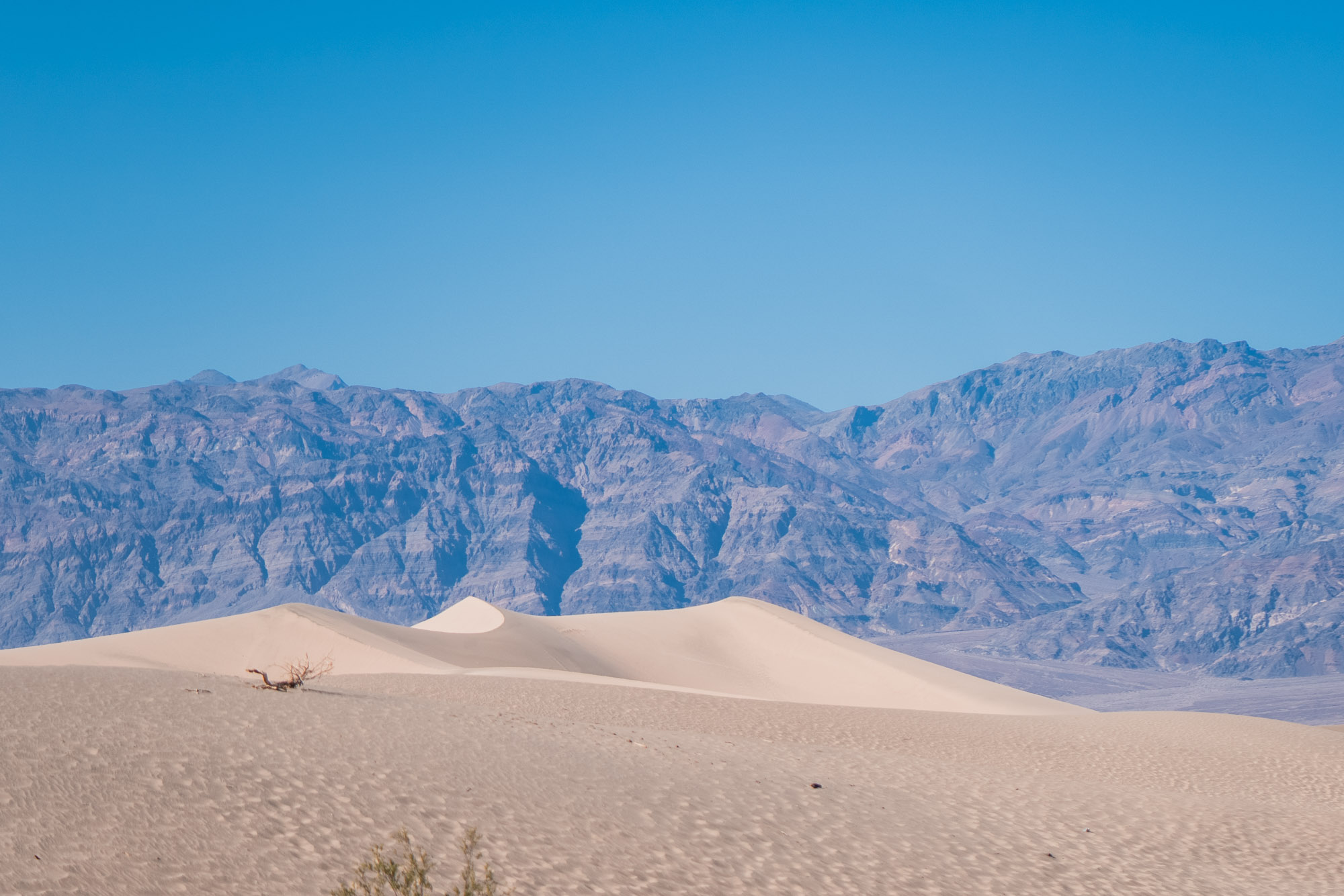 DAY 6 – Thursday, August 29, 2019 – Lake Tahoe CA, Reno NV, and Redding CA
Kayaking at South Lake Tahoe was so much fun! I love that I finally got to see the famous Lake Tahoe in person, and the clear water did not disappoint! We spent about an hour at the Emerald Bay State Park for views at Inspiration Point and hiked the Eagle Falls Trailhead. Figured we needed to get an oil change in one of the cars, so we picked Reno as the next stop. We had some of the most amazing Thai meal at Moo Dang, highly recommend if you ever in Reno. Their beef Pad see ew was so bomb!
Late lunch: Moo Dang (1565 S Virginia St, Reno, NV 89502)
As we drove to the hotel quite late in the day, we got greeted by a huge deer. It was such a closed call because he was just right on the front left of our car, so glad we stopped just in time! Avoid driving late at night especially in the Northern California area because there is a lot of deer crossing.
Dinner: Denny's (right next to the hotel)
Stay: Red Lion Inn & Suites Redding (536 E Cypress Ave, Redding, CA 96001)
DAY 7 – Friday, August 30, 2019
Redwood National and State Parks, CA, Harris Beach State Park, OR and Florence, OR
It took a total of 4-hour drive in the morning before arriving at Prairie Creek Redwood State Park, Redwood. We drove by the campground and saw the sign for elk, but we decided to hike to the Big Tree instead. The big trees in Redwood are big and tall, but I'd much prefer sequoias when comparing the two. Sequoias are much redder and more interesting to look at/photograph. I visited Sequoia National Park back in July, and you could see some photos from my last trip, here.
Redwood National and State Parks CA
Redwood National and State Parks CA is the home to the tallest trees on earth. With nearly 40 miles of rugged coastline, you can safely watch wildlife from a short distance, such as gray whales sprouting on clear days as they migrate (Nov-Dec and Mar-Apr), seabirds, and tidepool marine life. Roosevelt elks also rut/mate in fall and calve in the summer, but generally, they can be easily spotted throughout the park.
Jedediah Smith Redwoods State Park has the famous Howland Hill Road that you must drive through, at least a small portion of it at the beginning. After getting enough photos at the redwood trees literally growing so closely next to each other, we made a U-turn and drove to Crescent city for food. Food and beer at Seaquake Brewing were another hit as we had not had proper new-American dishes since.
Lunch: SeaQuake Brewing (400 Front St, Crescent City, CA 95531)
Harris Beach State Park
It is a stunning beach stop with lots of sea stacks, interesting tide pools with an abundance of wildlife. Don't forget to climb the rocks on the left side after entering the beach from the parking lot. It's where you'd see the crack in the rock, photos below.
Initially, we booked a hotel room in Eugene but had to change it to Florence because we ran out of daylight. Basically, we wanted to avoid driving so much in the dark because we'd have to cross the forest hence deers. Sunset at Buena Vista State Park was also an amazing scene to see! I love the Oregon Coast.
Stay: Quality Inn (2475 US-101, Florence, OR 97439)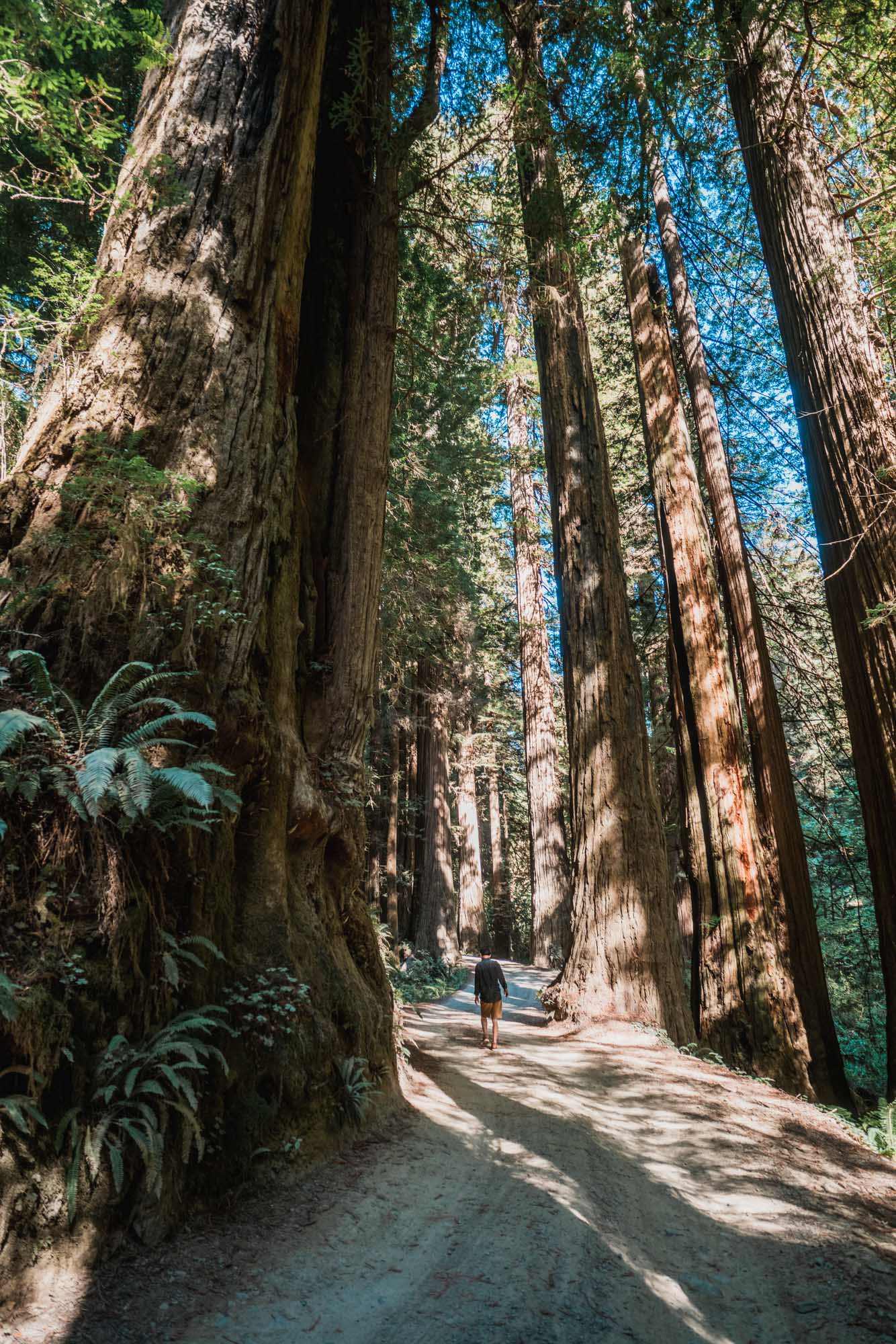 DAY 8 – Saturday, August 31, 2019
Cape Perpetua Area (Thor's Well) OR, Portland & Seattle
We wanted to see Thor's Well before leaving the coast. So we stopped by after checking out the hotel when the tide was low. In-person, Thor's Well did not look as impressive at low tide. However, the Cape Perpetua scenic area was a pretty cool stop with vibrant sea creatures.
There are so many beautiful stops along the coastline of Oregon and many trails to take advantage of. Don't forget to stop by Green Salmon Coffee Shop if you drive by Yachats. I love how intensive and cool their coffee menu is with lots of customizable options such as added CBD oil, coffee art, and take-home beans.
Coffee: *Green Salmon (220 US-101, Yachats, OR 97498)
Lunch: Bun Bo Hue (7002 SE 82nd Ave, Portland, OR 97266)
Shopping: *Nike Company Store (3485 SW Knowlton Rd, Beaverton, OR 97005) (You'd need to get a pass from a Nike employee, and all I know is that the person has a few passes given to them a month. I picked up a pair of Nike Air Force 1, a pair of shorts and a pair of joggers, all for 40% off. Pretty crazy deal considering it's all new-in items that are currently sold at their normal Nike retail stores. Yes, the Nike Company Store is NOT the same as the Nike Outlet or Factory stores, and there's only one in the US where Nike's HQ is in – Beaverton!)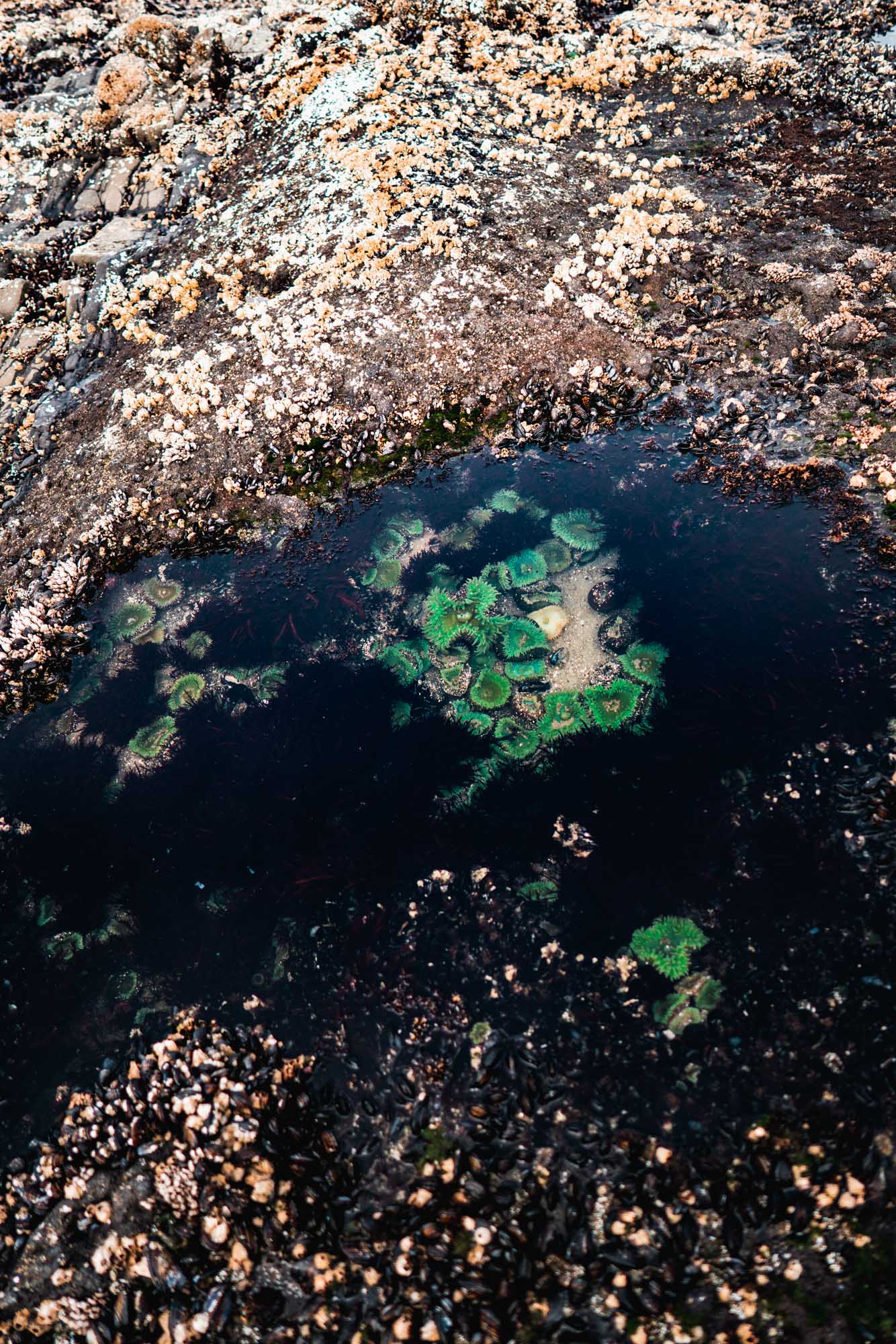 We drove another 3 hours and arrived in Seattle around 9 pm that day.
And it took me literally a solid week to catch up with sleep and recover my mental state. Honestly, even though things did get overwhelming at times, especially when traveling with so many people for so many days, I felt like the luckiest person to have had taken so many trips like this year.
I hope you've enjoyed this blog post, and as always, don't hesitate to reach out with questions if you ever want to plan a trip like this. Make sure to leave your favorite location in the comment section below! Also, stay tuned for an outfit/highlight video coming soon on my Youtube channel, and thank you for taking your time checking out my blog. I appreciate you!
SHOP THIS POST