This shop has been compensated by Kahlúa. All opinions are mine alone. The following content is intended for readers who are 21 or older. #ColdBrewMartini
December is here, and that means holiday parties, New Year's Eve parties, New Year's Day and countless other themed parties. And who other than your family and friends can make this month of festivities better for you? Time to pay them a visit or a phone call to catch-up if you haven't already, or best of it all, host a gathering dinner and have everyone over. No stress for fancy menus, just a plate of charcuterie and some easy-to-make cocktails, followed by a hearty pasta dish.
RECIPE:
Kahlúa Cold Brew Martini
1 part Absolut Vodka
2 parts Kahlúa
3 parts cold brew coffee
Fill your shaker with ice. Add 1 part of Absolut Vodka, 2 parts Kahlúa, and 3 parts cold brew coffee. Easy as 1-2-3. Shake the ingredients hard for at least 10 seconds to create a nice foam. Strain into a cocktail glass, garnish with coffee beans, and enjoy!
I love how simple this recipe is and love how Kahlúa adds just the right amount of sweetness to the drink. My favorite part was seeing the foam floating on top after pouring it out to the glasses and decorating it with a few coffee beans. My first cocktail turned out beautifully and had everyone in awe. I drink coffee on a daily, so saving some leftover cold brew for this drink recipe is not a bad idea either. I bought my Kahlúa Original 750mL bottle at a local Target, and Walmart also carries it.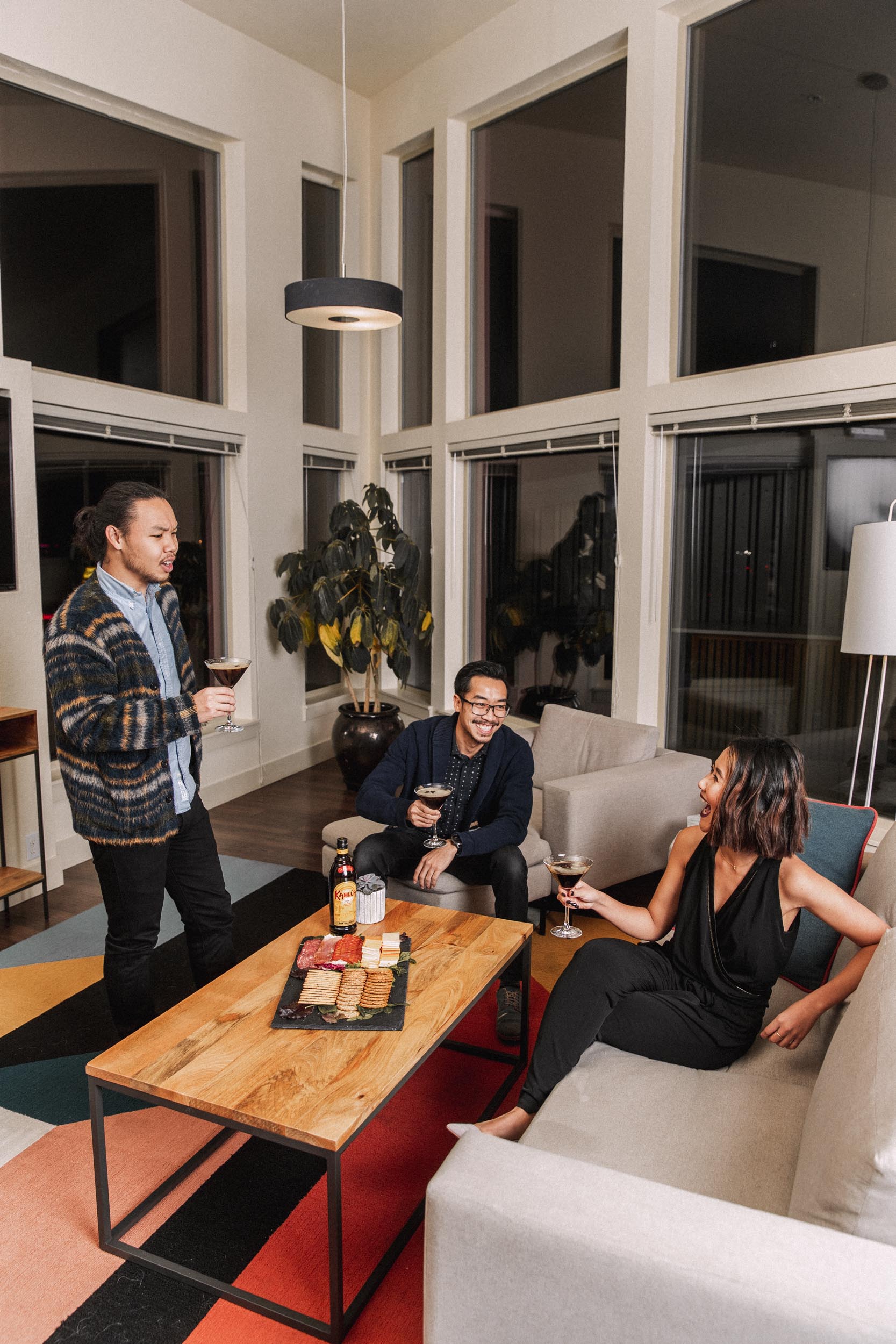 Cheers!!!
Thanks for reading and I hope to see you recreate this drink at home. I'm sure everyone will be super impressed! Please drink responsibly and have fun with friends and family this holiday season.
This post is sponsored by Kahlúa. Give them a follow –  Instagram: @Kahlua | Facebook: @KahluaUS | Twitter: @Kahlua | Pinterest: @Kahlua
Models: Thien Chu and Huan Pham
Photos by Toan Chu