When Girlfriend Collective released their spring 2020 collection, Desert Blooms, I fell in love with the color Trail and knew I had to place an order for the set. If you are looking for something cute to wear at home during this quarantine period, may I suggest a bra and legging set from an ethical and sustainable Seattle-based activewear brand, Girlfriend Collective?
about Girlfriend Collective
Girlfriend Collective is an activewear brand founded by a husband and wife duo, Ellie and Quang Dinh in 2016. With a focus on ethical manufacturing, recycled materials, and body positivity, Girlfriend Collective has built a community that consists of like-minded people like myself who support the mission and adore their products.
Girlfriend Collective is based in Seattle and does not currently have a retail space. I was able to make it to their corporate office once in the UW District and got myself some $25 leggings.
What I love most about the brand are its affordable price points, quality ethically and sustainably made products and inclusive branding. Their bras retail for $38, and leggings retail for $68. Very affordable compared to many activewear brands out there!
MANUFACTURE:
Girlfriend's recycled polyester and nylon are made in their facility in Taiwan that specializes in eco-friendly and high-quality textiles, then they're cut-and-sewn in their SA8000 certified factory in Hanoi, Vietnam. Learn more, HERE.
MATERIALS:
All bras and leggings under are made from #1 plastic or Polyethylene Terephthalate, also known as PET. Compressive fabric contains 79% RPET and 21% spandex. FLOAT (Made from 90% recycled plastic bottles (RPET) and 10% spandex)
SIZES: XXS-6XL.
GET $10 OFF YOUR FIRST PURCHASE OF $95 OR MORE: HERE
Tops: Bras, Tanks, Tees, & Sweatshirts

Bottoms: Leggings (Compressive, Pocket, & FLOAT), Shorts, Skorts, Maternity, Unitard, Sweats, and Joggers

Outerwear: Puffers, Fleece, & Windbreakers

Others: Socks, Bras & Undies, Bags, Scrunchies, & Gift cards
Personally, I think Girlfriend does a really good bra collection. My favorites from the Essential collection are the Paloma and Topanga bra, and all of their FLOAT bras (the Cleo, Lola, and Juliet) are excellent. The Dylan, Bianca, Simone, Tommy, and Lou are newer styles, and I have yet to own them.
Girlfriend's FLOAT fabric is my most favorite thing that Girlfriend has ever released.
Each pair of Compressive Leggings starts with 25 recycled post-consumer water bottles, certified safe by Oeko-Tex and guaranteed recycled. They fit very high at the waist and come with 3 leg lengths: 28.5", 23 3/4", and 19.5" inseam.
$68
I am 5ft5 and fit size XS in all Girlfriend leggings.
My collection consists of 4 pairs of Compressive legging, black, white (discontinued color), and limited edition colors: Trail (spring 2020) and Moss (fall 2020).
REVIEW:
At this point, I have a big enough collection of leggings and can certainly tell you a few things about Girlfriend leggings.
First of all, the High-rise Compressive leggings are very high-waisted and compressive. You'd want to make sure to get the right size otherwise you will get cameltoe problems. Of course, there is a solution for it which is wearing a pantyliner, but personally, please read reviews and consult their sizing chart before purchasing. Their shipping often time takes a while, and there will be a restocking fee that comes with any returns.
Secondly, they can be a bit difficult to put on, especially when you're trying to get the waist over your butt and hip. They also feel tight at first, so you'll have to break them in a little bit. I love that they are mostly seamless and incredibly figure-hugging. They also wash very well and keep their shape.
Overall, all of the Girlfriend leggings get a thumbs up from me for the price, fit, color, and quality. I don't reach for them all the time but on days when I feel like wearing something tight and snuggly. I get tons of compliments whenever I wear my Girlfriend set, so that's something worth considering. Get them in a set!!!
The High-rise Pocket Leggings are just $10 extra, and I think they're totally worth it. I'm someone who uses their phone all the time, so I'd appreciate the pocket addition.
wearing High-rise Compressive legging in Thyme & Trail
The Topanga has a high neck, low back cut with criss-cross adjustable straps. Each bra takes about 11 water bottles diverted from landfills and is made from Girlfriend compressive fabric.
$38
I am a 32B in bra and wear the Topanga size XS.
REVIEW
Because of the high neck and criss-cross back, the Topanga is so easy to put on and take out. I love that the straps are adjustable, and for someone with bigger boobs, this halter style is incredibly flattering and supportive.
Topanga bra is lined with no pockets for bra insert. Due to the nature of the fabric, your nips will most likely show. I personally don't mind that, but if you do, pick these nippies up to wear underneath.
SHOP Topanga Bra:

wearing Topanga size XS and High-rise Compressive legging size S (Sold out in XS at the time. Size S is wearable, but I'd personally prefer size XS)
Paloma bra has a scoop neck, racerback, and is made from 11 water bottles diverted from landfills.
$38
I am a 32B in bra and wear the Paloma in XS.
REVIEW:
Paloma Bra has the most flattering fit out of everything I have in my activewear/athleisurewear bra collection. I have smaller boobs and think this style is the most wearable. Mine is in the color Rose (sold out color, but similar color here).
The Paloma is initially a bit tight to put on, especially because it's the first-ever Girlfriend bra that I own. The tight feeling quickly disappears as I continue to wear it throughout the day. Because of the fit and this particular style that resembles a sports bra, I reach for it so often. It washes well just like other Compressive pieces.
Also note that the Paloma bra is lined, and there is no pocket for bra insert. Same as the Topanga, your nips might show through. 
SHOP Paloma Bra: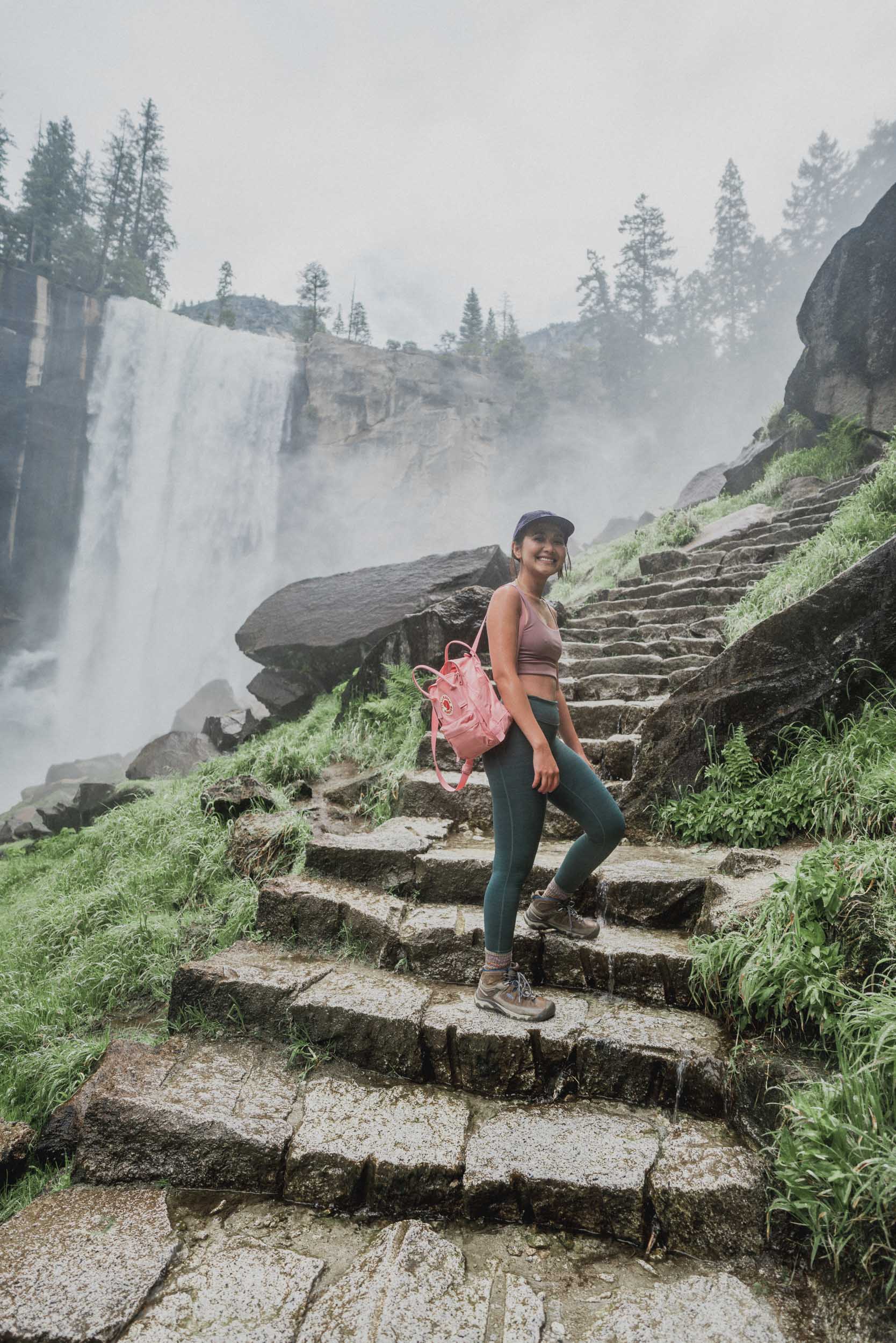 Made from the same materials as the Compressive Legging, the High-rise Bike Short has the same fit but shorter in length, an 8.5″ inseam and with pockets. The Run Short is even shorter in length, a 4.75″ inseam, but I do not own those.
$48
I am 5ft5 and wear the Bike Short in black size XS.
REVIEW
I love that I've gone for the classic black pair, so versatile and they go with everything.
Initially, I hesitated to pick these up mainly because of the length since I have chunkier thighs. And bike shorts like these tend to cut my legs at a weird length and make them look even chunkier. Later, I've learned that it's not that bad in-person. It's different than most shorts that I have, but they're great!
Overall, these are super wearable and easy to style. In fact, my biker short collection has not stopped growing since.
SHOP High-rise Bike Short: