I am sharing with you 5 of my most favorite pairs of high-waisted jeans styles that I have in my collection. I am 5ft 5, weigh 120 lbs, and fit jeans size 25 (mostly).
Best High Waisted Jeans Video
1. AGOLDE Riley in Zephyr
AGOLDE is a premium denim brand based in LA.
Jeans Specs:
100% cotton

27″ Inseam, 11″ Rise, 14″ at the knee, and 14″ at the leg opening

Button fly

Frayed scallop hem

Made in USA
Size & Fit:
I am 25, and these are size 24. I got these at the Aritzia store in Bellevue Square in Washington early spring of 2020. Ever since these are the pair that I get the most questions from you guys. The reason is that Agolde is definitely the new and most talked about brand of 2019 and 2020, especially the Riley.
I've tried a few Riley pairs in different washes in different stores and do hear mixed feedback in terms of the fit. Some said to size up, size down, or stay at the regular size. Just know that each wash is different, and I can only tell you about my specific pair in the color Zephyr.
The reason why I went for these in size 24 was that they were sold out in my size 25. I was able to button all the way, and the first impression was that they were tight. I couldn't sit comfortably but was able to walk around normally. After taking a few minutes to think since these were $200 pair of jeans, I decided to get them.
Review:
I've had these for nearly 1 year and a half, and I've got to tell you that I have worn these so much! I love the fact that these have stretched out slightly and fit my body perfectly. This is why I love 100% cotton jeans so much!
2. LEVI'S Made and Crafted Column Jeans in Indigo Valley
Jeans Specs:
100% cotton (Non-Stretch 14.3 oz organic cotton denim)

High rise: 11.5″, Straight leg opening: 14.25″

Zip fly

Frayed scallop hem

Made in USA

Sustainability: HERE
Size & Fit:
I initially got these in size 25 but ended up getting them a size smaller, and they fit me perfectly. So size down if you want a more fitted look. Keep in mind that these are straight leg, so they will be a little bit loser down the legs. Even though these are non-stretch jeans, they have a super comfortable feel, and I haven't felt the need to wash them since.
Review:
These Column jeans are the best quality pair of jeans that I own in my collection now as of spring 2021. I got these over a year ago from Levi's website right when I first learned about their Made and Crafted line.
I love that these were inspired by vintage dad's jeans but with the high waist. The waist is perfectly nipped in and high-waisted. The medium wash is perfect for my style and is super versatile. I highly recommend picking up a pair if you're into the 90s looks. They're definitely the reason why I quit skinny jeans completely in 2020.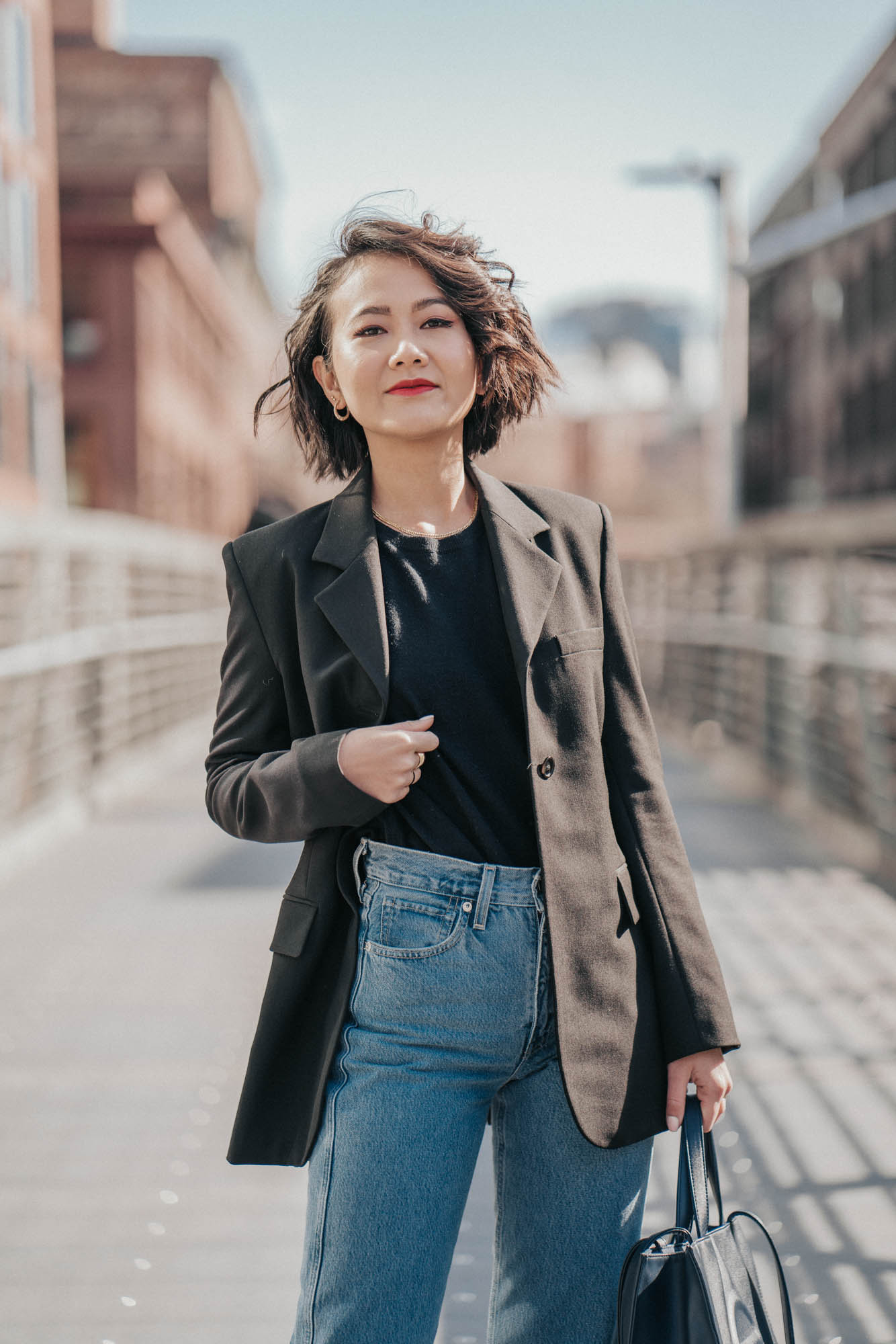 3. EVERLANE Cheeky Straight Jean in Washed Black
Jeans Specs:
Comfort stretch: 98% cotton, 2% elastane (premium 11 oz Japanese denim has an authentic feel with a touch of stretch.)

Rise: 11". Inseam: 26.5". Leg opening: 14" (size 28).

Button fly

Made in Bien Hoa, Vietnam
Size & Fit:
I'm 25 but have got these Cheeky in size 24 in regular length. So size down if you want a slightly more fitted look or stay at your regular size if you'd prefer them looser.
Review:
I love that these have a super high-waisted fit, and size 24 fits me perfectly all throughout. The length is also perfect, and I can wear them with or without the need to roll up the hem. The back pocket placements are closer to each other which definitely creates a more lifted butt look.
I have these in the color Washed Black and Bone, and both are in regular length style. They're also available in the ankle and tall length.
4. GRLFRND Karolina in Sixpence
GRLFRND, launched in 2016, is the California-based denim brand owned and founded by retailer Revolve.
100% cotton

28.5″ Inseam, 10.5″ Rise, 13″ at the knee narrows to 11″ at the leg opening

Button fly

Frayed hem

Made in USA
Size & Fit:
Mine are in size 25 (my regular size), but I highly recommend to size down 1 size. Not all Karolina jeans are made the same!
After getting these pairs in Sixpence, I picked up another pair of Karolia from the Revolve website, but they were completely different wash and fabric. I did size down, so they were super tight on me. There was no stretch, and the fabric felt incredibly thin. Unfortunately, they were final sale purchase, so I couldn't return.
If these Karolina in Sixpence comes back in stock at some point in the future and if you're still interested, I highly recommend getting them in the right wash/color. Again, these are in the color Sixpence.
I love that the waist fits around my belly button and feel just right, nothing too loose or too tight. The legs are more like a tapered or slim than skinny on me. I love the thick fabric with a little bit of stretch feel along with some subtl distress and intentional rips on them.
Review:
These are the most expensive jeans that I have in my collection. I've got them in-store at Nordstrom after trying on nearly 10 pairs. These are the best quality and look the most flattering on my body.
Even though the fabric composition is 100% cotton, they do have a little bit of stretch. And after nearly 3 years, I can tell you that they have stretched out just a little bit. They still look like new and are in great condition.
I'd say these are so worth the price tag, considering how much I have worn them until this point. These are definitely my dressier pair of jeans, and I do see myself wearing for years to come.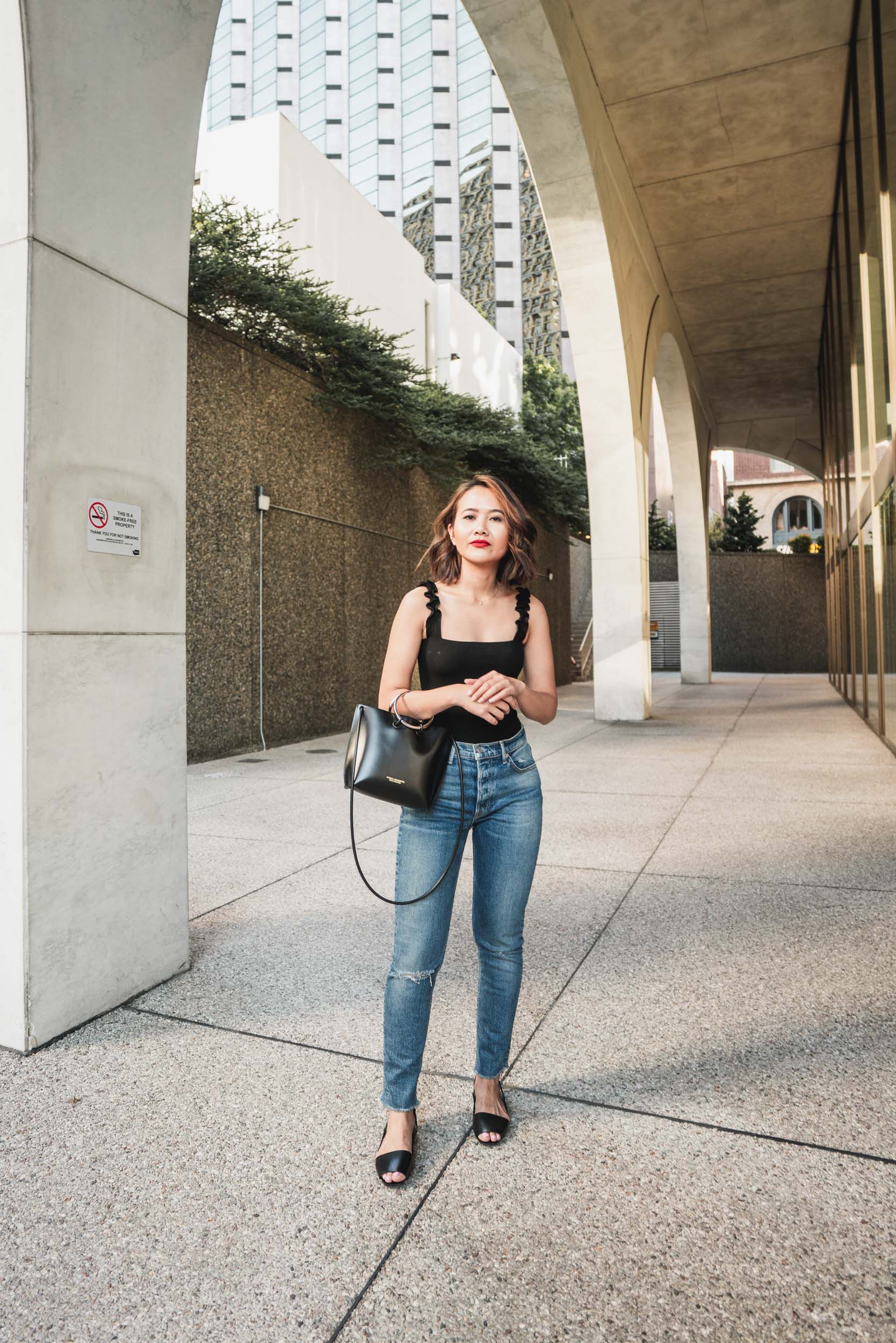 5. LEVI'S Wedgie Fit in Bright Side
LEVI STRAUSS & CO., established in 1853, is a denim brand with a loyal, worldwide following. 
Jeans Specs:
99% Cotton 1% Elastane

Inspired by vintage Levi's® jeans.

Rise: 10.875″, inseam: 26″, and leg opening: 12″

Button fly

Imported
Size & Fit:
I'd say to stick with your regular size. These have a high-rise fit with a tapered leg. They have some stretch in them, so they are really comfortable on. What I love most about these is the fact that they make my butt and thighs feel lifted. They h
Review:
Compared to the Made & Crafted pair I've mentioned above, these are not as good in quality. Hence the cheaper price tag. With that said, that doesn't mean you're paying $98 for a cheap pair of jeans. These are a great pair of jeans!
I'd say they're just different and definitely something I'd wear in a more casual setting. And they're popular for good reasons!
I love the light wash that looks a lot more like a medium wash in photos. Their minimal distressing makes them super versatile, and I can totally wear them with fancier things if I want to.