Welcome back to Style & Senses!
I'm finally sharing my Brooklyn Guide with you on the blog. This blog post is a quick overview of what I share in my newsletter. If you are a paid subscriber to my newsletter, An's List, you'll get to be the first one to hear all about the new cool spots in the city including places I frequent. 
With that said, I'd highly recommend bookmarking this blog post and checking back often as I will update it regularly.
An's Guide to Brooklyn
FYI, I've lived in Brooklyn, New York since the summer of 2021, so I can kinda get to call myself a local at this point. I have a car and have been fortunate enough to visit many corners and places in New York City. I'm a content creator with a fashion, travel, and lifestyle focus, so I also have a bit more to say and a few more things to share. I love making lists and sharing them with you, and for that, I think you should absolutely trust me and my recommendations. Feel free to DM me on IG if you have specific travel needs. I'd love to help you out!
TRANSPORTATION:
Subway: From Manhattan, take the A or C train Downtown Brooklyn.
Ferry: Start from Pier 11/Wall Street Station in Manhattan and take the Ferry to DUMBO (Fulton Ferry, Brooklyn). The ride is less than 5 minutes, and tickets are $4 (can be purchased from a machine or the NYC Ferry App)
Walking the Brooklyn Bridge from Manhattan to the Brooklyn side, or you can also do the other way since you'd be facing the NYC skyline on your way back. If you're not a big walker, you can walk a portion of the bridge for photos and just ferry/subway both ways.
Biking is another great option, and I'd recommend opting for an e-bike if you don't want to sweat too much.
Lastly, always check for prices and compare between Uber and Lyft! You can save more time and energy ordering a rideshare if you're with a group of people, plus it's safer at night and when you're traveling alone.
Brooklyn Neighborhoods
Where to Stay – Hotels vs. Airbnb
Parks & Green Spaces in Brooklyn
Beaches in Brooklyn
FOOD
Wine Shops & Bars
Fashion Boutiques & Vintage Shops
Plant, Furniture & Home Shops
Farmers Markets, Groceries & Specialty Stores
Other Fun Stuff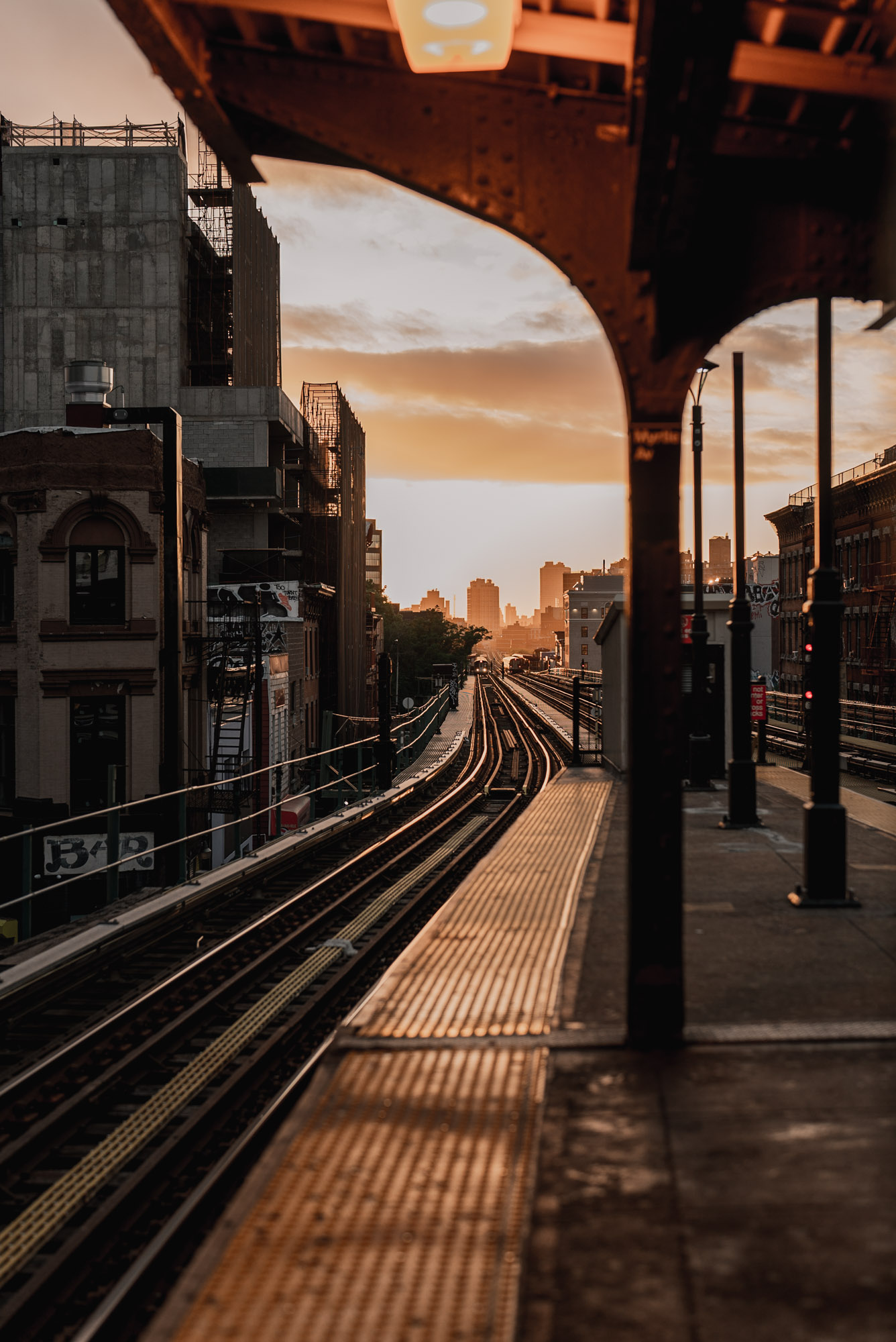 1. Brooklyn Neighborhoods
DUMBO
If you're traveling to NYC for the first time (assuming you're staying in Manhattan and want to explore Brooklyn), make DUMBO your #1 stop just because it's a pretty picturesque area. DUMBO stands for Down Under the Manhattan Bridge Overpass, and the area has incredible views of the Manhattan skyline over the water. The area has an industrial feel ft. many old factories and cool buildings and cobblestone streets.
The Brooklyn Bridge, Brooklyn Bridge Park, Janes's Carousel, Time Out Market & DUMBO Flea are all there. From either side of the Brooklyn Bridge, I can guarantee you'd have a great time walking on or biking through the bridge. If you choose the (M or F) train or car commute, the view of this area is just as nice!
WILLIAMSBURG
Williamsburg, hands down, is the spot to be these days as well as Greenpoint since it's next to each other. It's filled with a young touristy crowd, trendy boutiques, cute cafes, bars, and restaurants. It's also kinda a hot spot for apartments just because of all of the above plus it's very close in distance to Manhattan.
If you're interested in learning about my apartment-hunting journey this second time around, I shared about it here. I've looked at some apartment in South Williamsburg and Greenpoint, and under $3K apartments near the train with decent living amenities is almost impossible to find.
Bushwick is my neighborhood for two years, so I know the area pretty well. It's also right next to Queens, so having a car comes in handy for us every time.
PROSPECT HEIGHTS & COBBLE HILL
I adore Cobble Hill, Brooklyn Heights, Carroll Gardens, and Boerum Hill are my favorite neighborhoods with gorgeous historic brownstone homes and tons of cute shops and great restaurants.
Moving south just a bit, there's Brooklyn's Little Italy in Bensonhurst. Walk up and down Smith Street and Court Street. I'd say the area is not as popular compared to the past or even the Bronx, but you have to check it out if you're nearby.
I also love Fort Greene, the park, the neighborhood, and the tree-lined streets.
INDUSTRY CITY
As the name suggests, it's got many warehouses and storage facilities. We have the only Costco in Brooklyn there, and the only IKEA in NYC is there. I also love to check out the Design Within Reach Outlet, RH Outlet, and West Elm Outlet every once in a while.
BROOKLYN CHINATOWN
The Brooklyn Chinatown is even bigger than the one in Manhattan, but only go if you have a car.
There are lots of cheap eats, and the area feels like you're transported to Asia. Flushing in Queens has similar food offerings and vibe, and it's more known than Brooklyn Chinatown because it's more accessible by train from Manhattan.
LASTLY, JUST AS A NOTE, I'M SKIPPING MANY OTHER GREAT NEIGHBORHOODS IN BROOKLYN SIMPLY BECAUSE I CANNOT FIT THEM ALL. I CAN ONLY SHARE ABOUT MY EXPERIENCE AND PLACES I'VE BEEN, SO CHECK BACK OFTEN FOR THE MOST UPDATED INFO.
2. Where to Stay – Hotels vs. Airbnb
I'd say if this is your first time in NYC, stay in Manhattan and look for hotels that are near train stations. There are many great affordable options as well as fancy upscale ones depending on your budget. If you really want to stay in Brooklyn, Williamsburg is a great area to start. There are also lots of Airbnb options all throughout Brooklyn if you want to explore that route, just make sure it's within a few short blocks to the train stations. 
Uber/Lyft between Manhattan and Brooklyn is costly, but it's worth it if you're traveling with a group of people or when you're out alone at night. 
3. Parks & Green Spaces in Brooklyn
From DUMBO, you should absolutely check out Brooklyn Bridge Park and walk along the piers. Do make sure to bring a bottle of water and wear comfortable footwear because there's a lot of walking involved.
Domino Park, McCarren Park, Bushwick Inlet Park, and WNYC Transmitter Park are some of my most frequented parks in Williamsburg and Greenpoint. It feels like I'm always there back when I used to live in Bushwick. I stop by Prospect Park more often these days since I've moved to a different neighborhood in Brooklyn. The Boathouse at Prospect Park is a nice place to spend an early evening. I love biking and going to a picnic there! 
Brooklyn Botanic Garden is a great spot to spend an afternoon. In the spring, the Cherry Esplanade is a popular spot for cherry blossom, but in the summer, it's a great spot for a picnic.
Other parks I love include North 5th Street Pier and Park, Brooklyn Park Promenade, Squibb Bridge Park, and Fort Greene Park. 
Cherry Esplanade at the Brooklyn Botanic Garden
Steinhardt Conservatory at the Brooklyn Botanic Garden
4. Beaches in Brooklyn
In NYC, beach days for me mean a day of doing nothing, just laying on the sand with occasional steps down to the water if it's warm enough (end of summer!). It's a popular weekend thing for New Yorkers who don't own a car and want to get out of 'the city' for the day. Or you can also the train to Hudson for the day!
Coney Island is an interesting place to be, but you've got to make it there at least once if you live in NYC (not sure if I'd recommend this if you're just visiting for a short amount of time, same with the Hamptons! It's because it's a long commute for not much. Yes, you can swim, but east coast beaches are very cold!).
I think the Boardwalk is nice for people-watching, but the vibe there is definitely not the spot if you'd expect a 'vacation' or beach spot to be. Do try a hot dog and hop up some rides if you feel keen. Brighton Beach is right there, but again, it gets super crowded on the weekends.
Long Beach is the new spot I've recently been to, and I'll most likely be back here since it's much less crowded. I did have to pay a toll, and the beach guy at the booth did let us in for free. But know that you might be required to pay some fees to enter the beaches there. If you drive, you can just pull over and park near any beach entrance. 
If you go, don't forget to bring along a book, umbrella, towel, sunscreen, and snacks. People also play sports on the beach and surf (which I find strange for NYC still!). Compared to Brooklyn (more accessible by train), beaches in The Hamptons are way nicer, but it's also harder to get to.
Coney Island Beach and Boardwalk
6. Wine Shops & Bars
Natural Wine Shops I Frequent
Wildwines (Bushwick)

Henry's Wine & Spirit (Bushwick)

Stranger Wines & Spirits (Williamsburg)
Rooftops
Westlight, El Nico, Laser Wolf, & Williamsburg Hotel
Dancing/Event Venues
I have been to House of Yes (Bushwick), but it's a really popular spot that gets people out of Manhattan to Bushwick. 

The Brooklyn Mirage is the rave spot in NYC if that's your thing.

Elsewhere – a popular live music venue

Bembe – lounge

Black Flamingo – nightclub that I kinda wanna check out one day.
Neighborhood Bars I Love
LunÀtico (Bed-Stuy) – bar with great cocktails and vibe, live music nightly

Frog (Bed-Stuy) – tight bar with a pool table and cute backyard
10. Other Fun Places
Museums & Art Galleries
So far I've only been to the Brooklyn Museum, Amant Foundation, and Faurschou New York in Brooklyn and would recommend them all.
Hair Salon that I Go to
Stationery Shops
Bookstores
Books are Magic (225 Smith St & 122 Montague St – Cobble Hill, Brooklyn) – known as the coolest independent bookshops in Brooklyn opened by author Emma Straub.

McNally Jackson Books (Williamsburg) – popular bookstore, stationery, gifts