The bi-annual SSENSE Sale Spring and Summer 2022 is here. This post is a summary of almost everything I own that is available on the SSENSE website, and most of them are on sale. I always take advantage of the sale and pick up things on my wishlist when I see suits. The price fluctuates depending on what day of the week you browse, and it will go deeper up to 70 or 80% at the end of the sale period.
I don't have the exact end date of the sale, but it usually goes on for a few weeks. I highly recommend signing up for their email newsletter to be notified. A lot of things will be sold out very fast since there are a lot of people on the site. Add things to your wishlist and refresh the browser often. When sale season like this is here, I pretty much browse and check the site daily. It takes work, but trust me, it is one of the best sales you'll ever find these days.
SIMON MILLER
I wore this dress to the wedding in Dallas, photos here. It's made from a stretchy material that's slightly hugging and so flattering. I got mine from Saks Fifth Avenue, and it's currently on sale on SSENSE. I've also linked dresses with similar silhouettes in my wishlist below in case mine is sold out.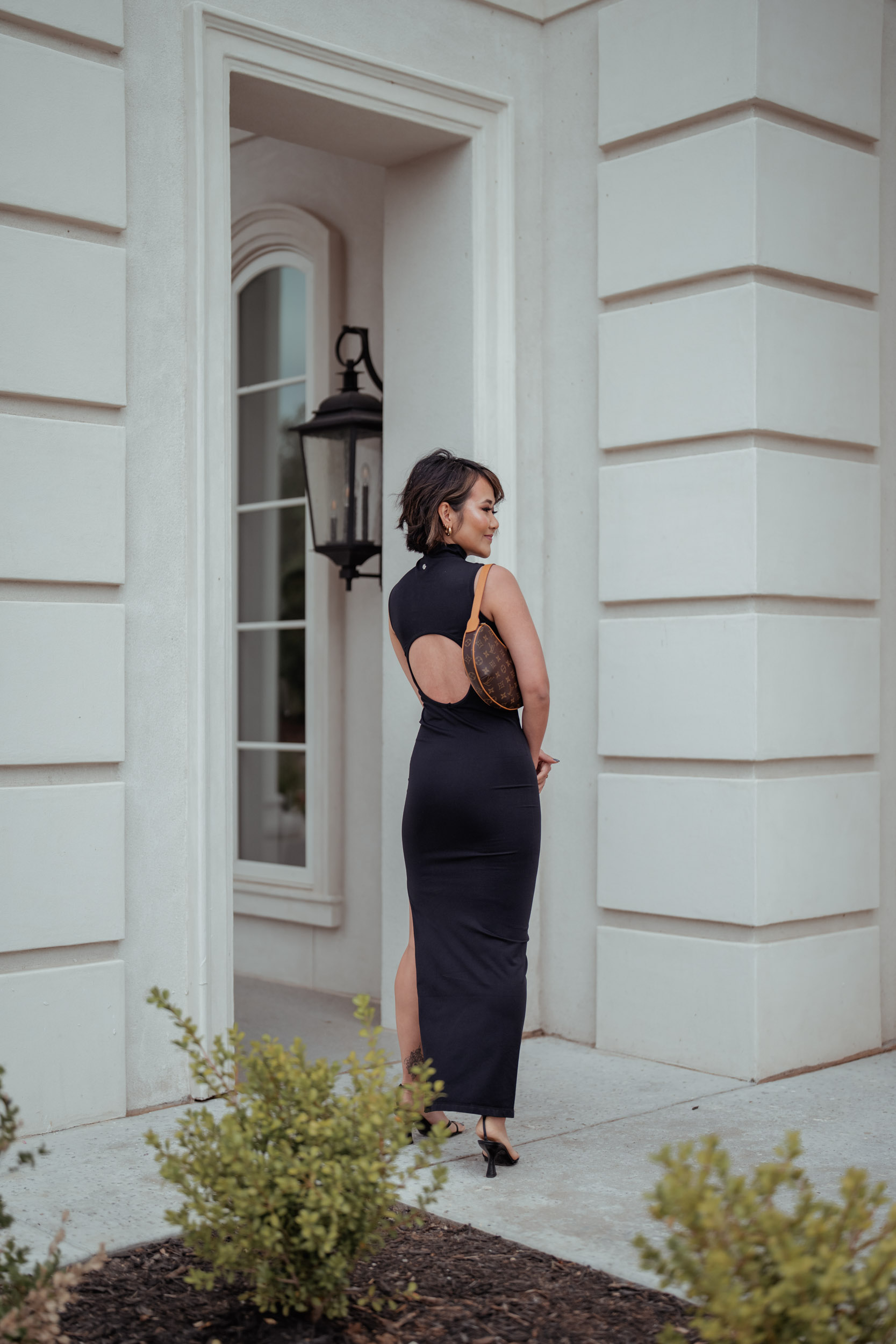 NEW BALANCE

THE FRANKIE SHOP
TROUSERS, VEST OR WAISTCOAT, AND BLAZER
These Gelso trousers are my most worn trousers of 2022 to date. I had my eyes on them for so long, and I immediately bought them when they came back in stock on the Frankie Shop website. I got the smallest size, and the fit is surprisingly so good. Fabric is lightweight, and I love styling them with sneakers and oversized things. I'm debating whether I should pick up the vest/waistcoat on SSENSE because a matching suit look is very on-trend this season. I've linked the blazer here again if you want to go for the 3-piece matching suit. It is a strong look!

CONVERSE
All Converse Chuck 70 sneakers are currently on sale for such a good price. Of course, regular Converse sneakers are classic, but these are much more elevated. Plus they have a little bit of a platform and so comfortable, too. I have the black ones.

PLEATS PLEASE ISSEY MIYAKI
I have a review and styling post on my blog about these Pleats Please trousers. 
Below are what's on my wishlist.

BASERANGE
My favorite scarf purchase this past winter. It's like wearing a warm sweater and not too heavy, surprisingly.

CLARK'S
These unisex shoes pair so well with jeans and trousers. I love the rubber platform sole!

CANADA GOOSE
CANADA GOOSE LONG PUFFER JACKET
The best cold winter investment I've made so far!

SKIMS
Everything from Skims Fits Everybody collection is amazing. I own the scoop neck bra and undies, and they're the comfiest things I own. The cotton boxer shorts are also great for at home or even going out on a casual summer day. I'm eyeing their T-shirts and tanks and planning to pick up a few more undies from them.

MAISON MARGIELA
MAISON MARGIELA Black Tabi Boots
I bought these Tabi boots half size larger than my actual size, so I returned them because they were a bit too big. Stay at your normal size, and only size up if you plan to wear them with thick socks. The 2-inch heels are perfect, but they come in flats and even higher heels. I know Tabis are divisive because of the split toe design, but they are truly a great fashion icon and worth the investment. I'd buy them used or on sale, and for now, I'm watching them drop in price.

MAISON MARGIELA Mary-Jane Heels
These Mary-Jane Tabis are my favorite silhouette, perfect for all seasons and occasions, and I know I will wear these a lot. The Ballerina styles with the little bow are also so cute, and they're very on-trend this year.



TOTEME
So glad to see these trousers back in stock. I love the curvy leg, and the slightly cropped length is perfect!

ISABEL MARANT
The one linked has metal embellishment, and below are other colors available on SSENSE. See how I've styled it multiple ways here.

LEMAIRE
Lemaire is one of my all-time favorite brands from one of my favorite designers, Christophe Lemaire. I'm eyeing their croissant bags either in black or khaki color and their shirts.

MARINE SERRE

STUDIO NICHOLSON
I'm waiting for their trousers, these and these to drop more in price. Trousers my size in my wishlist are most likely sold out when you check, but I'm linking them anyway.

Hope this is helpful. Check back often as I will update this blog post if I find something cool.
SIR
This dress went down in price since it was what I had planned to wear to the May wedding. Glad I waited and bought (size 0) for 47% off. Stay tuned for a try-on.

ETERNE
This brand is new on my radar. I've been looking for a good white tank top with a 90s scoop neck and thick straps like this, so I bought it hoping it's not too sheer. Stay tuned for a try-on.