I want to have this Houston City Travel Guide up before my mind wanders to the new creative territory. Trust me, I've drafted tens of blog posts, spent hours writing, but ended up never finish anything.
Please note that this travel guide format is slightly different than my previous guides, and I did not get to photograph everything. Don't forget to read till the end as I also include my list of places and things I want to do next time when I'm back in Houston. I hope you'll enjoy it, and feel free to take some notes or add things to your next itinerary!
Houston 2020 – 10 Actually Cool Things I Did
I spent a total of 4 full days in Houston, the first weekend of January, and the reason I was there was to attend my friends' wedding. We stayed at a Marriot near the Galleria, Uptown, in between many places we planned to visit. The wedding reception was at Kim Son (the downtown location). Kim Son is a wedding event venue that is popular among the Vietnamese community here.
In case you don't know that everything is big and far away from each other, be prepared for lots of driving as everything is at least 20 minutes to half an hour of driving! Bellaire area is a hub for all things Asian food with lots of good Vietnamese food and desserts of all kinds. Winter is sunny but very dry, so pack on that lotion and lip balm!
I lived in Bellaire, Houston, Texas for the first 5 months when I first came to the US in 2009. After that, I moved to Minnesota and lived there with my relatives for 8 years before moving to Seattle with my partner.
It was definitely an interesting time this time coming back to Houston, but I was glad I got to catch up with old friends and make some new ones on this trip!
1. Experience James Turrell's Twilight Epiphany at Rice University
If you are a fan of architecture, light, and music, take some time to visit the Twilight Epiphany Skyspace at sunrise or sunset as I guarantee it will blow your mind!
The 2-floor Skyspace structure, located near the Shepherd School of Music on the Rice University campus, is designed by an American artist James Turrel and built-in 2012. It is a 40-minute light sequence, timed about 10 minutes before sunrise and sunset. It is free and open to the public, but parking is enforced. Don't forget to check out the neighborhood adjacent to Rice University with lots of beautifully restored bungalows and mansions and streets filled with over-arching oaks. It will make a cute date night idea, and you should try it and thank me later!
James Turrell's Twilight Epiphany
2. Wander at Hermann Park
This urban park is quite literally amazing! It's located in the southern end of the Museum District, and I got to walk around and watch the sunset here one night, right after visiting James Turrell's Twilight Epiphany at Rice University. 
Here you can rent pedal boats, visit Lake Plaza, explore the Japanese Garden, watch a movie at Miller Outdoor Theatre, take a tour at McGovern Centennial Gardens, take a hike at Bayou Parkland, have a picnic anywhere. 
3. Challenge Your Friends at Topgolf
Topgolf is a fun group and family-friendly activity that I highly recommend.
There are 3 locations in Houston: Spring, Katy, and Webster, so if you are with a group of 2 to 6 people, definitely stop by for an hour or two! It's very beginner-friendly, kinda like bowling but a level-up, and lots more fun than a traditional driving range! There are food and drinks that you can order at the table and plenty of space to hang-out!
4. Try Viet Cajun Crawfish Boil
When it comes to Viet cajun crawfish boils, Houston is the BEST place to go to!
If you have never heard of such a term, Viet-Cajun food combines Vietnamese cooking with dishes found in the southern state of Lousiana. You'd suck all the juice and sauce, pinch to peel, and eat the tiny tail portion of the tiny morsel or shrimp/lobster-like creature called crawfish. It's a fun eating experience, of course, if you're a seafood fan!
An old friend of mine actually owns an LA Crawfish franchise in Baytown (4609 Garth Rd Suite A, Baytown). LA is short for Lousianna, a crawfish farm, and a family-owned business. Crawfish season starts early January and lasts till the summer, so if you're in the area, definitely make Viet-Cajun crawfish a priority. The freshness of the crawfish and the buttery garlicky finger-licking sauces are what you should be looking out for! You can always ask for extra sauce or up the spice level, so aim low if you doubt your spice level!
One thing you'd notice is the majority of the crawfish restaurants in Houston do not get very good reviews on Yelp, so make sure you read the reviews to see what people complain or praise about, ignoring the star rating! When it comes to cheap and good Vietnamese food, especially when crawfish boils, I'd personally ask local friends who live here! Make sure it meets 2 minimum criteria: fresh crawfish and good buttery garlicky finger-licking sauce!
5. Get Beef Rib at Killen BBQ
Killen BBQ (3613 E Broadway St, Pearland), I think, lives up to its hype!
The pound-worth beef rib is the reason I will continue to go back here regardless of its pricy menu! Opened in 2014, chef-owner Ronnie Killen shows his meaty perfection very well through all of the juicy slices of ribs. Add some sides and desserts however your heart desires! The portion is small, but you'll walk out very happy! *I give it 4.2/5 stars, read more here!
If you travel with your foodie friends, look up Texas Monthly's 'Top Barbecue Joints' and hit three a day or during your visit! It sounds crazy, but I'll totally be up for it! Sharing my BBQ list (places I'd like to try next!) below:
The Pit Room (1201 Richmond Ave., Montrose)
Corkscrew BBQ (in Spring)
Tejas Chocolate + Barbecue (in Tomball)
Pinkerton's
Roegels Barbecue Co.
Gatlin's BBQ
Blood Bros. BBQ (Vietnamese-owned, opens for lunch only!)

Killen BBQ
6. Browse Hip & Boutique Shops at The Heights Mercantile
Heights Mercantile is a low-rise urban market district in the historic Heights neighborhood.
Some familiar shops like Aesop, Lululemon, Outdoor Voices, Marine Layer, Chubbies, and Warby Parker are there. Paloma Beauty is Houston's first non-toxic nail salon. Forth and Nomad carries curated, small-batch, and lifestyle products! Plus it's super cute and hip, totally worth an afternoon trip! There's Melange Creperie (creperie shop), Cloud 10 Creamery (Houston-based ice cream shop), Local Foods (salad, soup & sandwich shop), and more!
Lemon Laine (714 Yale St., Greater Heights), a natural beauty and wellness shop, is definitely my most favorite shop that I discovered while I was there! The shop interior is like a hybrid between Glossier and Follain, plus a super cute custom oil bar at the corner and friendly staff! I'm a fan!
In front of Lemon Laine
7. Go on a Dessert Hop
Bellaire area is the hub of all things Asian, especially desserts.
If you're not a fan of pies and sweet things like me, there are more to Asian desserts than boba, trust me! Try Beard Papa's (Korean cream puffs), Meet Fresh (Tawainese grass jelly desserts), Top Tea or JTea (boba tea), Bubble Egg (Hong kong styled bubble waffle & ice cream), Popfancy (popsicles), Bambu (Vietnamese che), all the Matcha drinks and soft serves, and many more.
I've done a taco hop (stopping by 3 taco places in Seattle), restaurant hop (4 food places while in LA), and bar hop at many places before. Again, this will make a fun group activity if you're in Houston. Everything is so close to each other here that you can literally walk!
Popfancy (top left) – Top Tea (top right) – Matcha Maiko (bottom left) – bae (bottom right)
8. Eat Asian Food, especially Really Good Vietnamese Food
Did I say Houston has one of the largest Vietnamese communities in the U.S.?
It just means if you come to the right place for the right dish, it just feels like HOME, like you're eating over at that person or family!
During my trip, I only got to check out LES BA'GET (1717 W 34th St Suite 800, Houston). I got quite tired of having to drive to Bellaire two to three times a day, and by the last day, I was done with it! After Sunday mass with a little hung-over from the wedding/previous night out, I was just really craving some pho. Les Baget does great modern Vietnamese food, and the interior totally reminds me of Ba Bar in Seattle, but a level up! Love their drink and to-go stand located right in the middle of the restaurant, pretty convenient! This time, I totally missed the veal brisket pho which comes in a 2-portion clay pot because they ran out for the day, so I just got a regular bowl! The egg coffee and Bone marrow dish were pretty interesting!
Here's my list of Vietnamese food that I didn't get to try:
Hoa Mập Hủ Tiếu Gõ (10815 Beechnut St #143, Houston)
Bun Mang Vit Thanh Da (11526 Bellaire Blvd, Houston)
Mai's Restaurant (3403 Milam St, Houston)
Thien Thanh Banh Cuon (11210 Bellaire Blvd, Houston)
Xuan Huong (bun cha ca)
Pho: Pho Sapa, Pho Hung, Pho Dien, Pho Binh by Night,
Other cuisines: Mala Sichuan Bistro, UB Preserv, Shabu Zone, State of Grace, Crawfish and Noodles, Anvil Bar and Refuge, Better Luck Tomorrow
egg coffee and yummy spread of Viet food at Les Ba'get
9. Get Good Coffee
If Starbucks isn't your thing!
As a coffee lover, I think you'd understand! I don't want to travel to a new city and have to settle for Starbucks coffee. Don't get me wrong because I like my Starbucks coffee and how convenient it is! However, I'd like to make hip local coffee shops a thing and try to visit as many shops as I can during my stay. I got to pick up a latte at Pearland Coffee Roasters (4106 Broadway St, Pearland) after the tea ceremony because the bride's house was close by! The oat latte that I got at Grinder's Coffee Bar was not my favorite, but it was cute that they did custom latte art from the machine! Every time I was like, so glad it's not Starbucks!
Here's my very short list of some coffee shops I'd like to try next time when I'm in Houston:
Blacksmith (1018 Westheimer rd., Montrose)
Boomtown Coffee (242 W. 19th st., The Heights)
Siphon Coffee (701 W Alabama St, Houston)
Boomtown Coffee (242 W 19th St, Houston)
Agora (1712 Westheimer Rd, Houston)
Catalina Coffee (2201 Washington Ave, Houston)
Grinder's Coffee Bar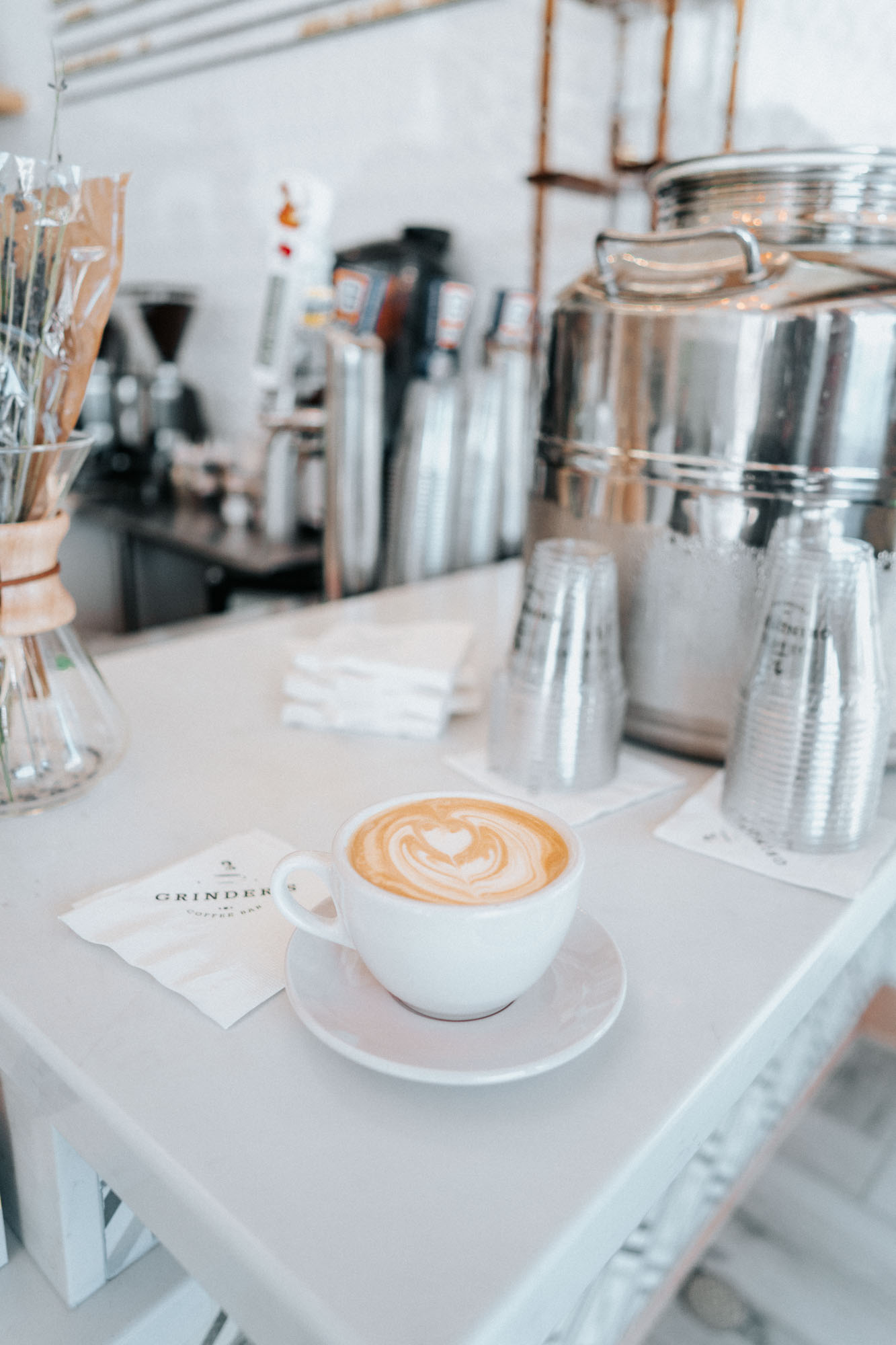 10. Eat Tacos, Tex-Mex, and Cuban Food
El Rey Taqueria (910 Shepherd Dr, Houston) offers Mexican and Cuban fare including sandwiches, tacos, and rice plates that I am glad that I get to try! Plus they're open pretty late, and the service is fast! I really wish I had more time to hit all of the good taco and legit Tex-Mex places here, but next time! Below are some places on my list to try:
Early: Villa Arcos, Luna Y Sol Mexican Grill, Brothers Taco House, and Laredo Taqueria
Later: Tacos La Bala, Tacos Tierra Caliente, La Macro, Taco Keto
Late night: El Rey Taqueria, La Calle
Tacos Tuesday Deals: read here
The Original Ninfa's, Arnoldo Richards' Picos.
All the Places in Houston I Want To Visit Next:
Visit the Museum of Fine Arts, Houston in River Oaks: James Turrell's The Light Inside (what inspired Drake's Hotline Bling music video), Cullen Sculpture Garden, Carolyn Weis Law Building, Audrey Jones Beck Building, The Lay of The Land.
Go thrifting at Lower Westheimer: B.J. Oldies Antiques, Leopard Lounge, Lo-Fi Vintage, Old Blue House Boutiques, and new gems like Space Montrose.
Take some photos at architectural places: BAPS Shri Swaminarayan Mandir (hand-carved marble and Turkish limestones like a 3D jigsaw puzzle – Hindu Temple near Sugarland and Stafford), Sri Meenakshi Temple (in Pearland), The Cistern at Buffalo Bayou Park (formerly known as the drinking water reservoir built in 1926): 30-minute docent-led architecture and historic tours are available every Wednesday to Sunday. Tickets: $8 to $10 per person; no children under the age of 9 permitted
Visit Buffalo Bayou Park: The Rosemont Pedestrian Bridge over Buffalo Bayou
Check out Menil Campus: Rothko Chapel, Cy Twombly Gallery, Dan Flavin Installation at Richmond Hall
Stop by Johnson Space Center: NASA, Saturn V (the most powerful, heaviest, and tallest rocket ever flown) – read more here
Visit a Rodeo: here
Explore the Montrose area.
Food halls: Conservatory (Houston's first underground beer garden and food hall), Finn Hall, Bravery Chef Hall, Downtown Tunnels, Greenway Plaza (Feges BBQ and Burger-chan).
Go on an outdoor picnic at Miller Outdoor Theatre.
Try world-class Meal: Xochi, Uchi, MF Sushi (omakase), BCN Taste & Tradition (Spanish), Coltivare (Italian), fine dining: The Pass, old-school fine dining: Tony's and Brennan's of Houston, steak: Pappas Bros. Steakhouse, Doris Metropolitan, and Georgia James.
Do brunches: best list on Thrillist here
Beer is always a good idea! Try Eater Houston beer bar list: here. Houston's oldest brewery is Saint Arnold Brewing Co.
Reference: Emily @emilyincolors, 365 things to do in Houston, Thrillist Houston
READ MORE:
The Ultimate Seattle City Guide