I have had the Best Hand Cream blog post idea for quite a while, and after getting my hands on Glossier's new hand cream, my list of best 5 for the year 2020 is complete. If you're one of those who constantly wash your hands or just simply want to collect pretty beauty products, this blog post is for you!
Here are the best 5 hand creams that I'm obsessed with from brands that I love, and promise that you will be too!
crème pour les mains – Made in USA – 1.7 fl oz / 50 ml $18
Scent: Glossier You ($60) perfume scent reimagined with fresh and clean notes: its warm base of ambrox, musk, and ambrette is balanced with sparkling top notes like pink pepper and green iris.
Read my Glossier You perfume review, HERE. 
Key Ingredients: meadowfoam seed oil and coconut fruit extract (moisturizing), botanical extracts: echinacea and rosemary (soothing), dermatologist-tested, cruelty-free, gluten-free, soy-free, dairy-free, nut-free, GMO-free, suitable for all skin types.
Packaging: palm-sized pod with sleek curves and 360º squeezable recyclable body. The ergonomic design is inspired by a lighter with a flip-top lid, and the lid is not recyclable.
My rating: 4.2/5
REVIEW:
First, The Glossier Hand Cream is fast-absorbing and leaves no greasy feel nor fingerprints which I appreciate. The scent is gorgeous, and it surely has elements that remind me of the Glossier You perfume. It's the spring and summer scent that reminds me of my time browsing shops in Soho in NYC and Melrose in LA.
Every Glossier try-on in-store or unboxing at home is an experience of its own. I love the packaging, and it reminds me of the Airpod because of the curved edges. The pinks and red accent at the dispensing nozzle are so cute. There is also a secondary packaging which is a paper pink pouch, and yes, it has absolutely no use after tearing it apart. It's a fun touch that adds to the whole unboxing experience at home, a very Glossier thing that I still love.
However, there are some reviews on the Glossier website saying that the hand cream smells a bit plasticky and perfumy which I agree with. It doesn't give me a headache and think it's nice to use before bed or on-the-go hand product. I don't think this hand cream is for people who constantly sanitizing and scrubbing their hands. If you don't care about the packaging, look for something healing like this hand cream and read my Weleda Skin Food review below (I use it when my hands are cracked or overly dry!).
My only complaint about the packaging of this Hand Cream is the fact that it is quite big. You'd have to squeeze quite hard in order for the product to come out, and the bottle seems to be only half-filled. The product comes out from the tiny opening, and it seems to be only half-filled. It's a typical Glossier thing that gets quite annoying because that requires more frequent purchasing or constant stocking up which I am not a big fan of. I wish that the pod can stand up on its own because it's a large product. I like the $18 price point and would prefer the packaging to be 20% smaller than what it is now. Ah, it is not refillable, so that might be the Glossier hand cream 2.0 version: smaller packaging and refillable?!
I'm glad to see that Glossier has discontinued the sticker sheet and plastic bag. They listen to customers and make changes accordingly, so I love and will continue to support the brand.
Watch my first Youtube video reviewing the entire Glossier range HERE 
SHOP GLOSSIER GLOSSIER HAND CREAM & THINGS THAT SMELL LIKE IT: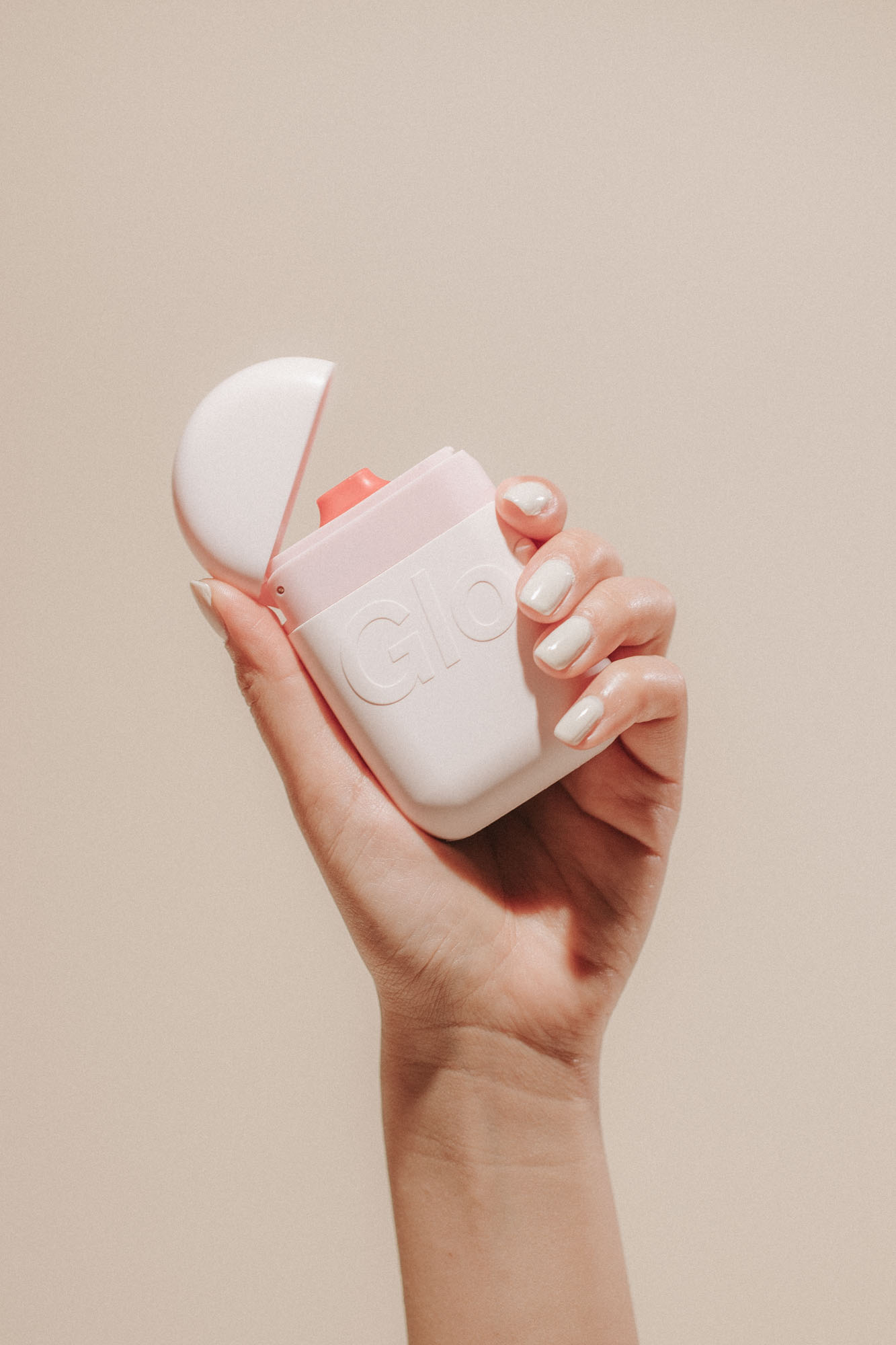 Made in USA – 55 ml / 1.8 FL oz $25
Scent: The Hinoki scent is inspired by the Buddist temples of Mt. Koya in Japan which carry the hinoki trees. The scent is musky, warm, and quite memorably manly.
Read my Le Lebo Shower Gel review HERE.
Key Ingredients: sweet almond (to moisturize), safflower oil (to smooth), goldenrod (to protect). It is plant-based, paraben-free, phthalate-free, and artificial colorant-free. As always, Le Labo's creations are vegan and cruelty-free.
Packaging: Le Labo packaging is iconic, and so are all of their products. Go have a sniff of their iconic Santal 33 perfume and Santal 26 candle if you're ever in Seattle or any cities where there's a Le Labo store aka Le Labo lab. Every fragrance is freshly hand-blended and each label is personalized.
My rating: 4/5
REVIEW:
Le Labo hand pomade is creamy and non-greasy. I love genderless musky scents like this, so if you do, definitely pick one up. I know some Nordstrom stores have a Le Labo section inside, so definitely ask for a sample or try it on when you have a chance. Please note that the scent can be quite overwhelming if used in a large amount. It is the strongest smelling scent out of all of the 5 hand creams reviewed in this blog post, and the Glossier hand cream scent comes second in its 'perfumy' strength.
I think it is nice to get a whole line or range of products, well of course, if you have the means and like to have a collection of things. I use this hand cream after a bath or before bed. It is not the most moisturizing hand cream that I have, hence the 4/5 rating. But the scent is nice!
SHOP LE LABO HINOKI HAND CREAM, SHOWER GEL & HAND SOAP:

Original Ultra-rich Cream – Made in Germany – 2.5 Fl Oz. $14
Weleda's best-seller, formulated in 1926. It's the most versatile product – think hands, elbows, knees, lips, feet and many even use it as a highlighter or all over the face.
Scent: It smells herbal, medicinal, so soothing, and calming. It's the feeling when I smell lavender, and this Skin Food gives me the same soothing scent effect.
Key Ingredients: rich plant blend formula, essential oils: pansy, rosemary, chamomile, calendula. extracts of viola, chamomile, and calendula. Dermatologically tested. Free from synthetic fragrances, colorants, preservatives, or raw materials from mineral oils. Not tested on animals.
Packaging: I bought this back in 2018, so mine has the older packaging with the metal tube and twist cap. The new tube now has a snap-on cap, I believe.
My rating: 4.8/5
REVIEW:
Skin Food is amazing at spot treating dry patches and small areas like elbows and hands. It's a thick cream, so there's resistance when it comes to spreadability, especially on legs. I like to use it mostly as a hand cream and face moisturizer on days when my hand and face feel tight, itchy, extra dry, and rough.
The best way to apply this thick cream is to quickly melt it with two palms and apply it on the desired skin area. My favorite is to deeply inhale the herbal scent and tap the product onto my entire face and neck. It's a relaxing ritual that I very much enjoy. In addition, I also like to tap on the high points of my cheeks and nose to add luminosity, especially at the end of my makeup routine. The original version is quite heavy and oily, so keep that in mind and use a primer if necessary. There's a light version of Skin Food which I think will be more face friendly for those of you who like to use this cream daily.
It's the cheapest hand cream on this list, and I highly recommend you checking it out if you like things smell like nature. It is also the most healing hand cream that I have in my collection.
SHOP WELEDA SKIN FOOD:

Made in France – 1.7 FL. oz. $50
I'm sure you've seen a Chanel egg hand cream on Instagram or on the internet before. Chanel makes 4 hand cream versions: la crème main (the original, Nourish – Soften – Brighten, $50), la crème main texture riche (riche, Nourish – Protect – Brighten, $50, my hand cream featured here), n°5 l'eau (n°5 L'EAU fragrance scent, $55), and the black egg le lift la crème main (le lift, Smooths – Evens – Replenishes, $65)
Scent: Floral, rose, subtly old school perfume-like, fresh, clean, soft, sweet, long-lasting but not overwhelming.
Key Ingredients: Iris Pallida (renewing and brightening), May Rose Wax (hydrating and softening), Shea Butter, and Glycerin (moisturizing and maintaining hydration).
Packaging: The egg-shaped Chanel hand cream is so iconic and has its own hashtag on Instagram, HERE. It came so well-packaged and nicely packed inside a bunch of tissue paper and a keepsake Chanel box. So luxurious and elegant! You have to experience it for yourself to know what I'm talking about!
I purchased the la crème main texture riche directly off from the Chanel website, and it was incredibly well-wrapped. It's a luxury. It's Chanel, and that's all I want to say because you've gotta buy something from Chanel to see it for yourself.
My rating: 4.5/5
REVIEW:
Perhaps the priciest of the bunch (thanks to its $50 price tag), Chanel's La Crème Main is luxurious. It's got a creamy texture, not watery, just a perfect consistency on the skin. It's fast absorbed and has a silky finish. A little goes a long way, and the scent surely lasts a long time! I'm sure it's got a thicker consistency compared to the original one, hence the name 'riche'.
I currently have it with me when writing this blog post, and I cannot describe exactly how it smells like. Hence, all of the adjectives thrown above! It just screams luxury, and that is all I can say about this hand cream! It is not the most moisturizing and healing hand cream that I own, but I love that I have one in my collection. I'm sure I'll throw it into my handbag and carry it every weekend out!
Last year, I bought my 3 aunts a Chanel hand cream each for Mother's Day, and it made gorgeous gifts! It's something you'd not want to get for yourself, but it would be nice to gift someone, you know! But I've pulled the plug and bought one to myself.
SHOP LA CRÈME HAND CREAMS:

Formerly Lait-Creme Concentre Gold 24 Hour Miracle Cream – Made in France – 75 ml / 2.54 fl. oz. – $28
Embryolisse is a French cosmeceutical line that emphasizes simplicity and measurable results featuring botanical extracts of shea butter, plant oils, and vitamins. And this Lait-Creme Concentre is Embryolisse's best-selling cream! But you know what, it's actually a face moisturizer, and I have mistakenly used it as a hand cream for the longest time. However, I still include it in this hand cream blog post because it is, indeed, a multi-function nourishing moisturizer. Many people use it morning and night as a make-up base, moisturizer, cleanser, or mask.
Scent: very subtle, light scent. It smells clean and slightly floral.
Key Ingredients: emollient oil and combination of active ingredients from natural origin: shea butter (nourishing), beeswax, aloe vera, and soy proteins (firming and toning, diminishing fine lines). Paraben-free. Tolerance dermatologically tested, for all skin types.
Packaging: typical French pharmacy product with a minimal white metal tube with a twist cap.
My rating: 4.2/5
REVIEW:
Ok, let's be honest here, this Embryolisse Lait-Creme Concentre would definitely have a higher rating than me if it were to be placed in a face moisturizer category. It's a rich multi-tasking cream that is suitable for all skin types. I love that it's got a subtle floral scent with a silky finish and spreads easily. It is so gentle that makes it a travel-friendly cream to use on the face and body. Plus it's smoothing and even out texture, and I love to use it prior to makeup!
On the Dermstore website, you can subscribe to automatic delivery which will lessen your cost per tube to 15%, and I think it is an amazing deal. Costco also has it for a cheaper price, and Embryolisse does occasional sales on Amazon as well.
If you love collecting beauty products as much as I do, give these creams a try and let me know your thoughts. I think I have more than enough hand creams to use this year, so at this point, I only collect cute products to shoot and write reviews about. Here's my Hand Cream Wishlist, and it consists of another French pharmacy brand, Avène, Cold Cream Concentrated Hand Cream, hand cream with SPF from Supergoop! New Hand screen SPF 40. I'd love to try the famous Aesop Resurrection Aromatique Hand Balm, Byredo Blanche Hand Cream, and fancy Rodin Crema in Jasmine & Neroli.
SHOP EMBRYPLISSE CREAM: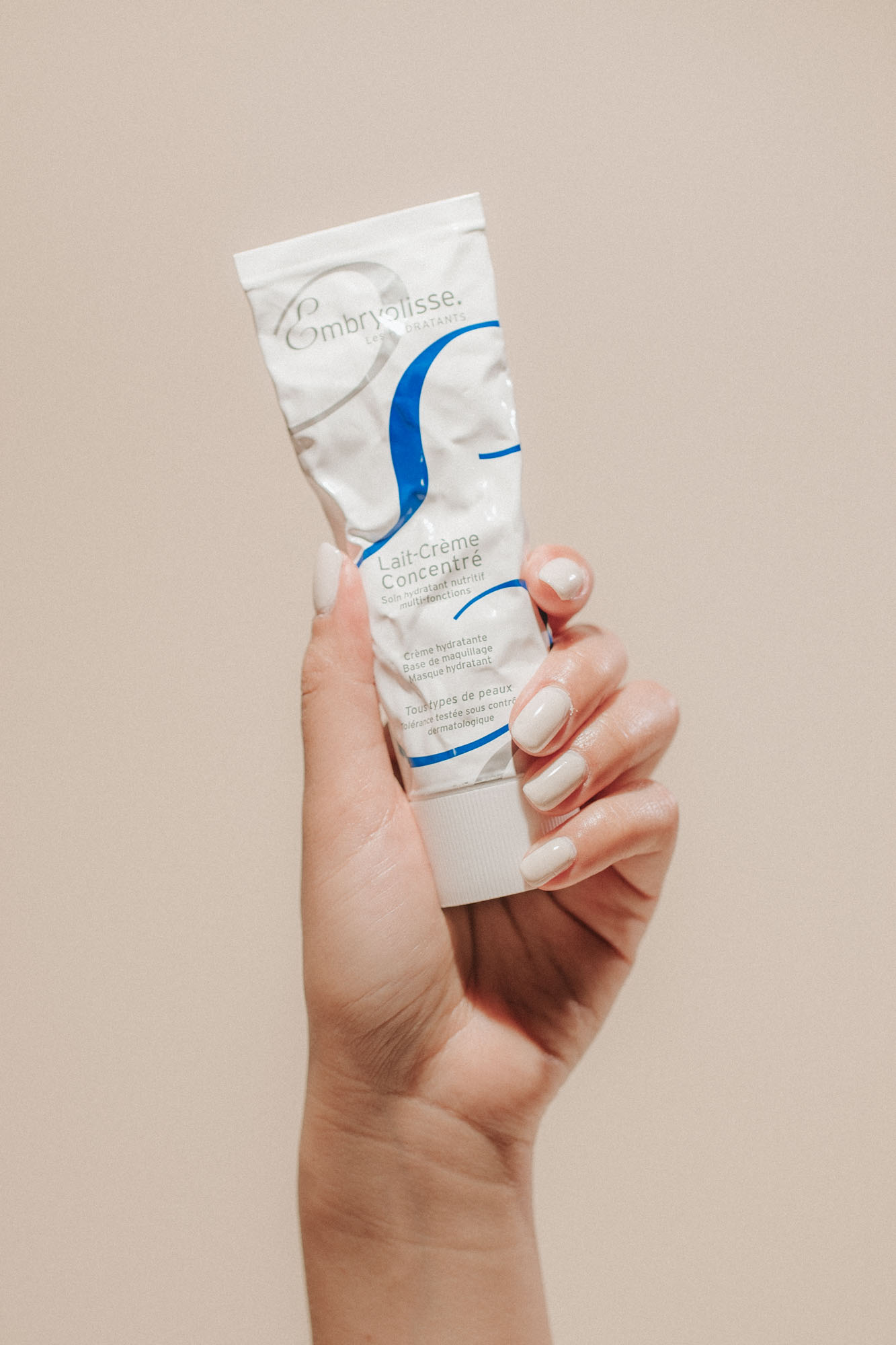 SHOP MY HAND CREAM LIST MENTIONED IN THIS POST:




READ MORE BEST 5 BEAUTY PRODUCT REVIEWS:
10 Current Spring Beauty Favorites
Krave Beauty Review – My Honest Thoughts on ALL the Products!