Wardrobe Essentials are classic pieces that I consider to have in my closet for years and years.
In this blog post, I will share with you some tips and tricks, and steps to build your own Capsule Wardrobe. Wardrobe essentials are what I call foundational pieces that are well-made, made from great quality materials and styles that are basic and versatile but not boring. Most importantly, they have to look good and fit you well.
In order to get one step closer to a great wardrobe, you have to identify what pieces are essentials. I have 20 pieces for you!
20 Wardrobe Essentials Everyone Should Own – Style & Senses
WHITE SNEAKERS
BLACK TROUSERS
LEATHER MOTO JACKET
THE PERFECT BLAZER
ANKLED BOOTS
A CROSS-BODY BAG
MIDI SKIRT
YOUR PERFECT JEANS
BUTTON-UP SHIRT
TURTLENECK SWEATER
WHITE TEE
STRAPPY HEELS
WOOL BOATER HAT
SIGNATURE SUNGLASSES
CLASSIC LEATHER BELT
EVERYDAY FINE JEWELRY
TRENCH COAT
NEUTRAL FITTED BODYSUITS
SIGNATURE RED LIPSTICK
YOUR FAVORITE JUMPSUIT
1. WHITE SNEAKERS
White sneakers are the first things that come to my mind when it comes to wardrobe essentials because they the easiest to find. Whether you opt for something casual like white canvas or leather sneakers, there is something for everyone! With the right pair, they instantly add a street-style element to dress down an outfit and can have the ability to a touch of chicness to a very casual one.
Converse Chuck (low top) or high-top
Common Projects White Achilles

2. BLACK TROUSERS
My journey to the most perfect pair of black trousers has been a long one. Generally, I tend to gravitate towards a pair of high-waisted front-pleated trousers because they are timeless and versatile: easy to dress up with heels or dress down with sneakers. However, you shouldn't feel like you're limited to a pair of tight-fitted trousers. Explore other fabrics besides cotton like leather or wool and styles such as straight-legged or flared ones since they can look equally chic. Lastly, my only advice is to go to the stores and try on different styles to make sure things fit you properly at the waist first, then there's nothing a good tailoring job cannot do!
Great places to shop for low-priced trousers are ASOS, H&M, Uniqlo, Mango, Massimo Dutti, Zara, Topshop, Jcrew or even thrift stores. Mid-priced brands are Aritzia (in-store and online), Everlane, COS, and slightly higher-end brands are Vince and Toteme. Nordstrom, Shopbop, and Net-a-porter are great retailers where you can find a good variety of brands and trouser styles.
Uniqlo Stretch 2-way Ankle-Length Pants
COS High-waisted Pleated Pants
Toteme Cropped Twill Straight-leg Pants
Vince High-waist Tailored Pants

3. LEATHER MOTO JACKET
I cannot recommend you guys enough to invest in a genuine leather moto jacket! My Allsaint jacket is a good find at the Nordstrom store in downtown Seattle almost two years ago, and I have been reaching for it non-stop ever since. Make sure you wait on a good sale or save enough Nordy note credits! 100% worth the investment, and I only have one to recommend just because I only have one! Size up at least one or two sizes since you'd want to be able to layer a knit sweater underneath at least. 


4. THE PERFECT BLAZER
My journey to find the most perfect blazer seems to never end. I feel like I need to make a designer purchase to kinda feel like I've achieved it. Don't get me wrong, I love all of the blazers I have come across, but they all seem and feel quite average. But hey, Aritzia, Zara, Topshop, Mango, H&M, Massimo Dutti, and Everlane are some of the brands that make decent quality blazers at affordable prices. Black, brown, white, plaid, checker, herringbone. Oversized, fitted, vintage, relaxed fit… The possibilities are truly endless, so it's best to stock up on a few colors and styles. Just make sure you have at least a black one with a pair of black pants to match. You'll never know when you need to dress for success (such as interviews or important events), and a simple well-fitted black blazer can go such a long way!

5. ANKLED BOOTS
Ankled boots are essentials for good reasons. They also come in many different styles and finishes, so just make sure you opt for genuine leather material that is sturdy and not too soft (perhaps read some reviews online?) with reasonably high heels so that you can stomp around town in them all day. There are of course faux leather options, however, personally, I still prefer mine to be genuine leather because leather ages very well through time.

6. CROSS-BODY BAG
A bag holds all of the belongings, so it's very personal and unique to each individual. I don't often buy bags, but when I do, I'd prefer to invest in a designer one. You don't have to because as long as you have something sturdy and well-made, any bags are good bags. 
I usually make a decision on which bag to buy depending on what designer I like and how much money I have at the time. Then I'd go to the store, read reviews, and stalk on it for quite sometime before deciding to spend my hard-earn money on it. I don't just buy a bag for a show. It needs to serve a purpose, practical, and that it will hold up through time.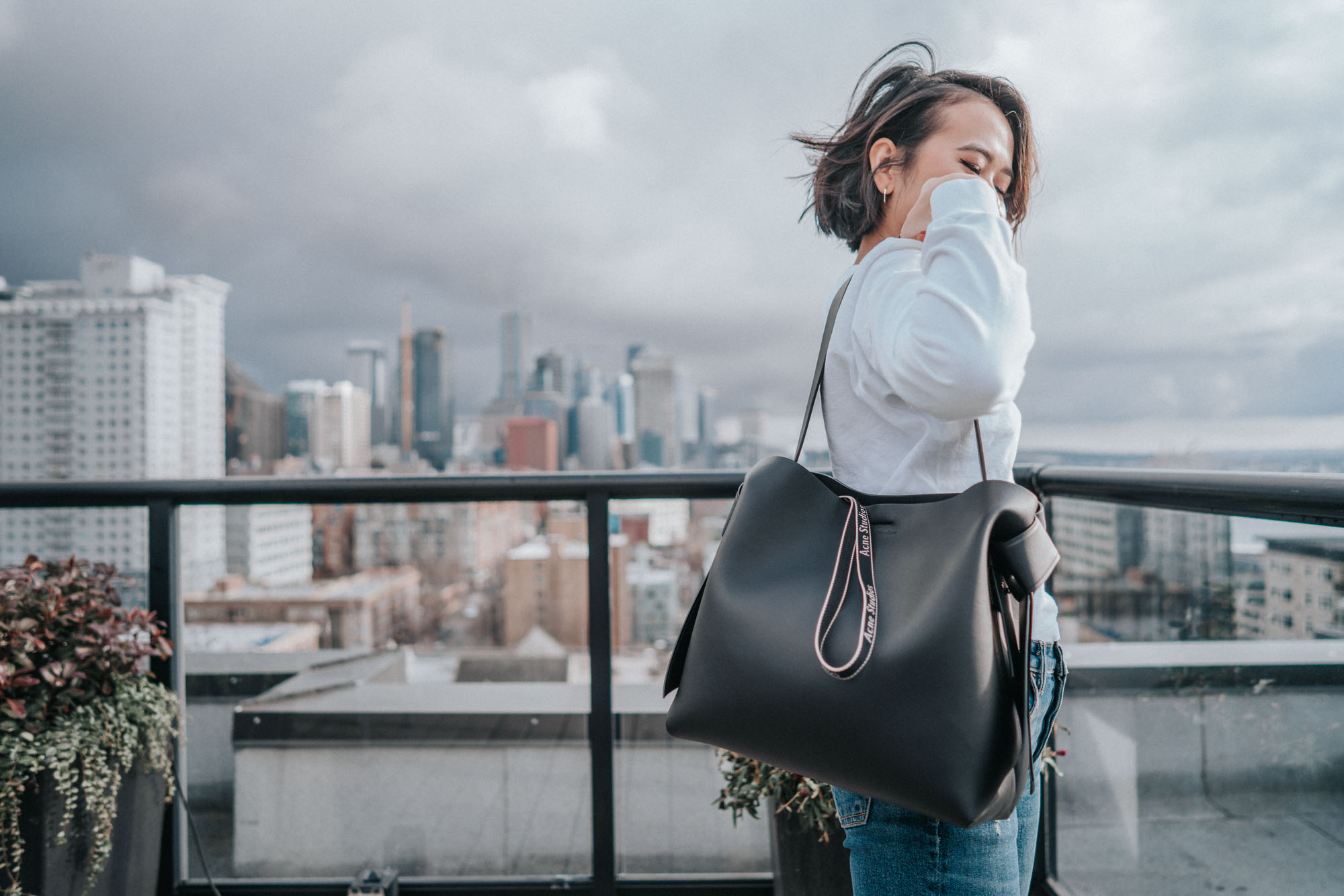 7. MIDI SKIRT
My favorite silhouette when it comes to skirts is flowy fitted at the waist and flowy toward the bottom. Satin skirts are definitely making waves this entire year of 2019. Skirts like these are versatile and can be paired with any tops and shoes, really!

8. YOUR PERFECT JEANS
My denim requirements are a straight leg, non-stretch/100% cotton, high-waisted, button-fly with minimal rips and tears.
To my experience, a good pair of denim rarely goes on sale, so I'd be happy to spend $150-$250 on a pair once in a while. My current favorites are the Agolde Riley in Zephyr (via Aritzia) that I'm sure you guys are sick of me talking about and the GRLFRND Karolina in Sixpence (via Nordstrom). Both I bought at the original price (I know!), but they are so well worth the price!
For lower price denim, I'd say Topshop's Jamie or Joni (skinny jeans), Weekday Seattle jeans, & Other Stories jeans, and Levi's jeans are some of the best and most-loved jeans in the fashion community. Nordstrom Rack and Sak Off Fifth so have a good selection of past-season denim, and you might be lucky to find something there as well. Just make to always try them on and take note of the style and wash because no jeans are made equally!


9. BUTTON UP SHIRT
Linen and silk are my favorite types of fabrics in a button-up or button-down shirts. Uniqlo has a wide range of linen shirts with tons of different colors, and I especially love the men's ones since they have slightly thicker fabric. I like Vince and Equipment for quality silk shirts. Everlane is also a great stop-shop for shirts, and Toteme does great not-so-basic shirts that I love as well. Button-up shirts are great for interviews, presentations, beach, or vacay worn as an overshirt. Versatile and super easy to pack along!

10. TURTLENECK SWEATER
Turtleneck shirts or sweaters come in a million different styles and fits and all colors of the rainbow. I do own a handful of them myself. Everlane's
Pima-micro rib turtleneck
's fit and the fabric is a dream! I love a thing well-fitted turtleneck top like this to wear underneath thicker knits, jackets, or coats. In addition, I love
Uniqlo's washable extra-fine merino knit range
since they are so affordable. Ariza and Jcrew also make great turtlenecks, and I'm linking a few favorites below.

11. WHITE TEE
I made a Youtube video sharing my top 5 picks, all under $20, white T-shirts. Check it out: HERE. My favorites are crewneck and relaxed boyish fit for sure!
You don't have to spend over $50 on a T-shirt unless it's from a brand that you absolutely adore! I love a good designer piece but don't mind waiting for their sales. 


12. STRAPPY HEELS
I think this category is straightforward enough! I'm linking a few of my favorites and those that are on my bucket list below.

13. WIDE-BRIMMED HAT
Lack of Color is the brand to go when it comes to wool boater hats that are practical and affordable. I have 3 hats from them now! Their hats range from $80-$150, and shipping from Australia is super fast! I got the Benson Tri – Brown in size L thinking it would fit my big head, turned out it was too big for my head. I contacted the brand and was instructed to send the hat to their warehouse in California. My new hat came in a week after as well as the reimbursement for the shipping fee. Love LOC!

14. SIGNATURE SUNGLASSES
I've found 2 pairs of Celine sunglasses at a local designer outlet store in Minneapolis, 
Opitz,
during my trip home. I got them for $150 each on two different occasions while the original price was about $500. I also have a handful of Rayban sunglasses and a pair of Le Specs cat-eye Lolita ones. I highly recommend any of the styles below if you're looking for a pair of quality fail-safe trendy and quality sunglasses.

15. CLASSIC LEATHER BELT
I am in love with this Isabel Marant belt! I love how it's versatile: worn at the waist to belt a blazer or waist line of your pants. I've worn it with an LBD HERE. For a more affordable version, Uniqlo, Jcrew, Anthropologie, Banana Republic offer some pretty good options that are worth checking out. Don't forget to check out the thrift shops as well!


16. EVERYDAY FINE JEWELRY
MEJURI is the brand that I will always tell you guys to invest your money when it comes to everyday fine jewelry. AURate NY is another brand that I've worked with and also offers fine jewelry at a great price and quality as well!
Take 10% off your first purchase at
edit.mejuri.com/antrieu
. Watch my MEJURI COLLECTION video
HERE.
I'm also an affiliate with AUrate, so check them out
HERE
or click below to shop my favorites.

17. TRENCH COAT
My tip when looking for a good trench coat is to stick with a classic camel (or navy) long oversized coat so that you can layer a thicker knit underneath. Remember to read the fabric composition and try it on with a few outfits before getting it! A Burberry and Toteme trench coat is still on my bucket list!

18. NEUTRAL FITTED BODYSUITS
I have a small collection of bodysuits that I wear on dressy occasions. They are a great way to elevate any looks and instantly make it dressy and more put-together. I like my bodysuits to have some unexpected details such as the fun straps, open back, one sleeve, and interesting unexpected collar details.
Bodysuits should fit and feel comfortable on you, so definitely try them on and don't settle. The trick is to make sure they're stretchy and easy to put in and take out for bathrooms.
Opt for black, white, gray, and neutral colors!

19. SIGNATURE RED LIPSTICK
Adding a red lipstick is y favorite way to instantly look chic even on days when I give no effort to my outfit. The less makeup the better when it comes to a bold red lip in my opinion. So just explore different shades whatever suits your skin tone, mine is definitely a deep burgundy warm-toned red shade.
MAC lipstick matte in Russian Red
,
KAT VON D Everlasting Liquid lipstick in Nahz Fur Atoo
, and
TOO FACED melted matte liquified long wear lipstick in Ladyballs
are my top three signature red colors. What is yours? Share below!

20. YOUR FAVORITE JUMPSUITS
Jumpsuits are the easiest to throw on and be out of the door. They come in so many different shapes and styles, are made from so many different types of fabrics, and they definitely will save your money on many occasions because of how versatile they are. All you need is to pair them with a pair of cute heels, and you're set!

Thanks for reading! Feel free to reach out if you have any specific questions in any of the pieces I've featured in this post as I am happy to help you out. Let me know if you'd like a part 2 of WARDROBE ESSENTIALS. Have a productive week!