Happy Wednesday! As promised, I'm sharing with you another 10 cool locations that we have recently discovered in and around Seattle for my outfit photos. Feel free to tag me on Instagram if you ever decide to check out some of recommendations below. Enjoy!
1. Seattle Flight Museum
9404 E Marginal Way S, Seattle, WA 98108
I posted this outfit photo taken right beneath the U.S. Navy Blue Angel and got a lot of love from you guys on Instagram. I'm sure if you lived in Seattle, you'd notice or know exactly where this was taken. I got to spend a few hours sitting in the sun right in the middle of I90 freeway to watch the Blue Angels flying over Seafair weekend last summer. My boyfriend's brother used to be in the navy, so we tagged along with his brother's family to watch it. I wish I was in one of those boats that could see the Blue Angels directly above our eyes. hah! Long story short! This was literally right in front of the Museum of Flight in Tukwila. We didn't go in to see other 'planes' since it costed money. It was worth the drive down here, and shout out to my boyfriend who insisted on driving and taking these photos of me. Also, can you tell how much fun we have been having shooting with our new wide lens and the new edit?

2. Georgetown Trailer Park Mall
5805 Airport Way S, Seattle, WA 98108
This corner was a spontaneous find when we arrived at Georgetown, one of the oldest neighborhoods in Seattle. The area doesn't seem to have a lot of photogenic locations or buildings (lots of buildings built from red bricks), but it does have a lot of hidden spots that I want to check out in the future. This so-called trailer park mall literally crammed in a corner looked kinda dirty from the outside, but I was surprised by what actually was in each trailer. I got to chat to a few artists, makers, and trailer shop owners about their work, pretty cool! I loved the woodworking girls and their altar setup, and of course, I forgot to take their business cards.

sweater dress: TOMMY JEANS (via Nordstrom) | bag: PS MINI ELLIOT 
3. Cherry Street Coffee House (Pioneer Square)
700 1st Ave, Seattle, WA 98104
Ok, I don't like their coffee, but I felt bad for not stopping in since I took some photos here. This location is located in the Pioneer Square area. We knew that we had to take photos here because it literally matched with my outfit. Do you see how the colors of my outfit and the building/background complement and elevate my outfit? I'm also obsessed with this outfit, especially the brown chunky sweater here. Read more in my previous blog post where I shared how I've styled it a few other ways, here.

skirt: ZARA (sold out) | sheer bodysuit (worn underneath sweater): ARITZIA (old) | earrings: AURATE | rings & necklace: MEJURI | watch: ROSEFIELD | bag: PROENZA SCHOULER
4. Dr. Jose P Rizal Bridge
Dr Jose P Rizal Bridge, Seattle, WA 98144
I see this green bridge many times before but would never think to take outfit photos here. My boyfriend found us this place when he scrolled through someone's photo on Instagram and said we'd gotta go here. It was such a great overview of the city but messy looking from this angle since you could literally see trashes and tents of homeless people. My outfit screamed spring, I know! It was my little dressing trick (wearing pastels: pink, baby blue, light gray, etc.) to battle the Seattle gloom! Could you tell how drastically different these photos look compared to other photos with some sun? Ah! Can't wait to get out of here and go somewhere warm!

sweater: UNIQLO U | pants: ARITZIA | heels: VAGABOND via UO | belt: UNIQLO | bag: STAUD
5. Mopop
325 5th Ave N, Seattle, WA 98109
MOPOP stands for Museum Of Pop Culture, and it is one of the touristy places in Seattle that I have not or don't plan to go in. Well, unless it's free, but unfortunately, it is not! Here I'm wearing my beloved and huge and oversized trench that I got on sale from Zara years ago. The black midi dress is also an old item that I have not had a chance to wear it out much. I've shot many outfits here, and I don't know why I haven't mentioned it yet in my previous 2 blog posts. Also, don't forget to check them out for more cool locations to check out if you're planning to visit the city in the future!
Some bonus holiday photos were taken in the Seattle Center area, just walk further in from the Mopop. I smiled a lot in these photos probably thanks to the holiday spirit. I love Christmas, can't you tell?
trench: ZARA (old) | dress: H&M | sneakers: Reebok via Urban Outfitters | clutch bag: GUCCI via Nordstrom (sold out style as I got the last one in store, like 2 or 3 years ago!)
6. Parking lot next to the Polyclinic Madison Center
near 904 7th Ave Seattle, WA 98104
I thought these photos turned out pretty cool! See how the colors of the background literally is either the same or has some matching element to my outfit? And yes, I'm wearing my Allsaints leather jacket again! This also reminds me to blog about this outfit and have it as a separate blog post coming up next! Until then, can you guess my outfit details! Sorry that I don't have the exact address for this location! It wasn't that hard to get to since it was right next to the huge Polyclinic building in First Hill.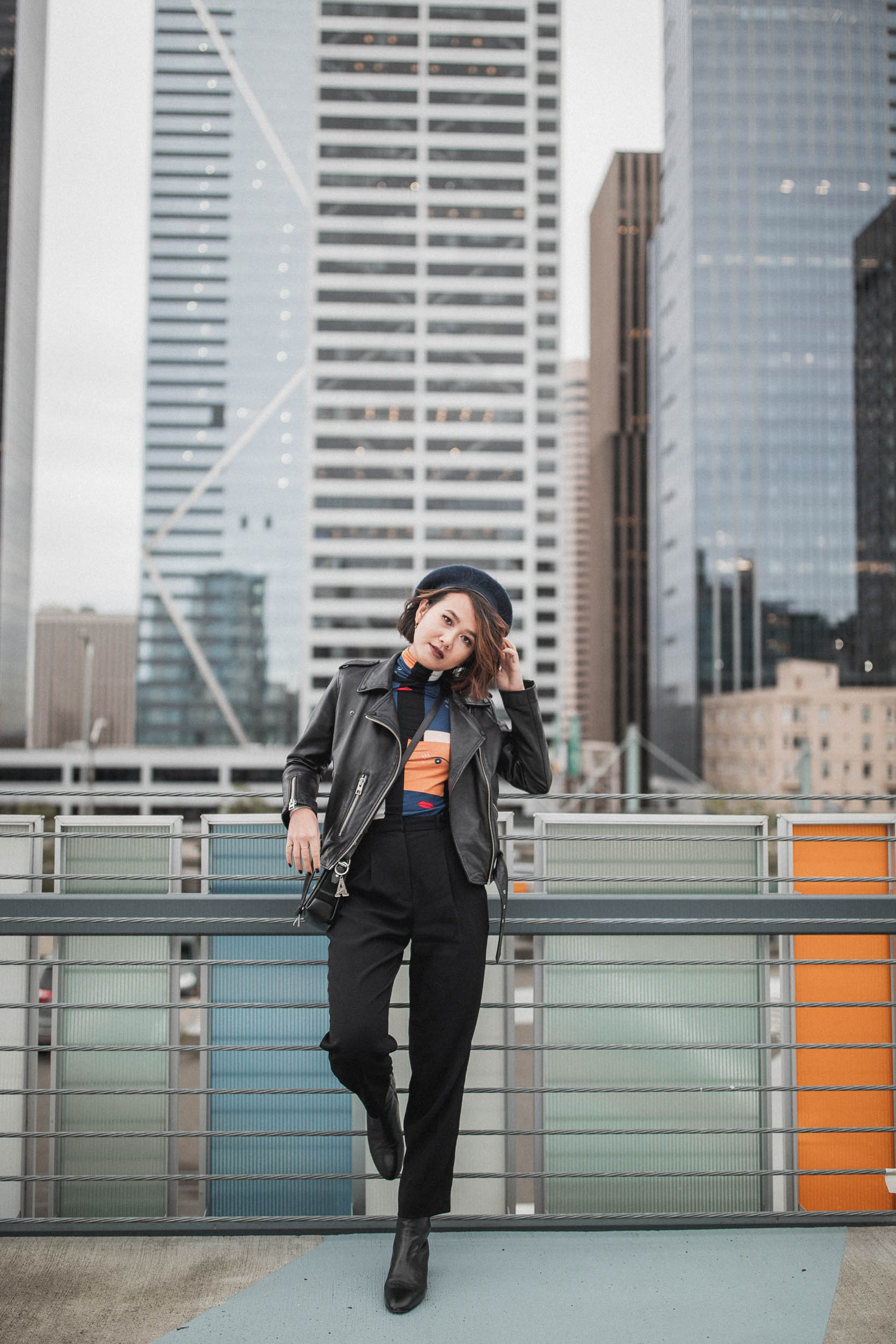 7. The Bravern Shops, Bellevue
11111 NE 8th St, Bellevue, WA 98004
And can we take a moment to appreciate this gold and silver light setup for Christmas at the Shops at Bravern? Insane! I also recommend you guys to buy something there and ask for a parking voucher if you ever decide to walk in and check out the shops here. We paid $12 for parking and were so mad for not knowing it costed that much but had to anyways!
denim shirtdress: WEEKDAY via ASOS | earrings: AURATE | watch: ROSEFIELD

8. Harborview Medical Center Park
325 9th Ave., Seattle WA 98104 
This one is also another random encounter while we were driving around the city for outfit locations. This was a park (seemed more like it was built for patients!), but it was open for public. We parked on the street nearby and walked here. I'm not sure if it's private, but it was almost empty when we were there. Also, I love this outfit so much as it is literally one of the warmest and most cozy pairing that I have put on this winter. Winter in Seattle is weird!
sheer bodysuit: ARITZIA (old) | wool pants: ARITZIA | scarf: also old from ARITZIA | heels: MANGO | lock necklace: MEJURI
9. Pike Place Market Sign
85 Pike St #500, Seattle, WA 98101
I don't know why it has taken me this long to share about such an iconic location. But here you go! 
10. Moore Theatre
1932 2nd Ave, Seattle, WA 98101
Moore Theatre is Seattle's historic performing arts theatre. Once you're here, make sure to check out Moore Coffee shop. They make super cute latte art, and it's a great place for locals and tourists to hang out.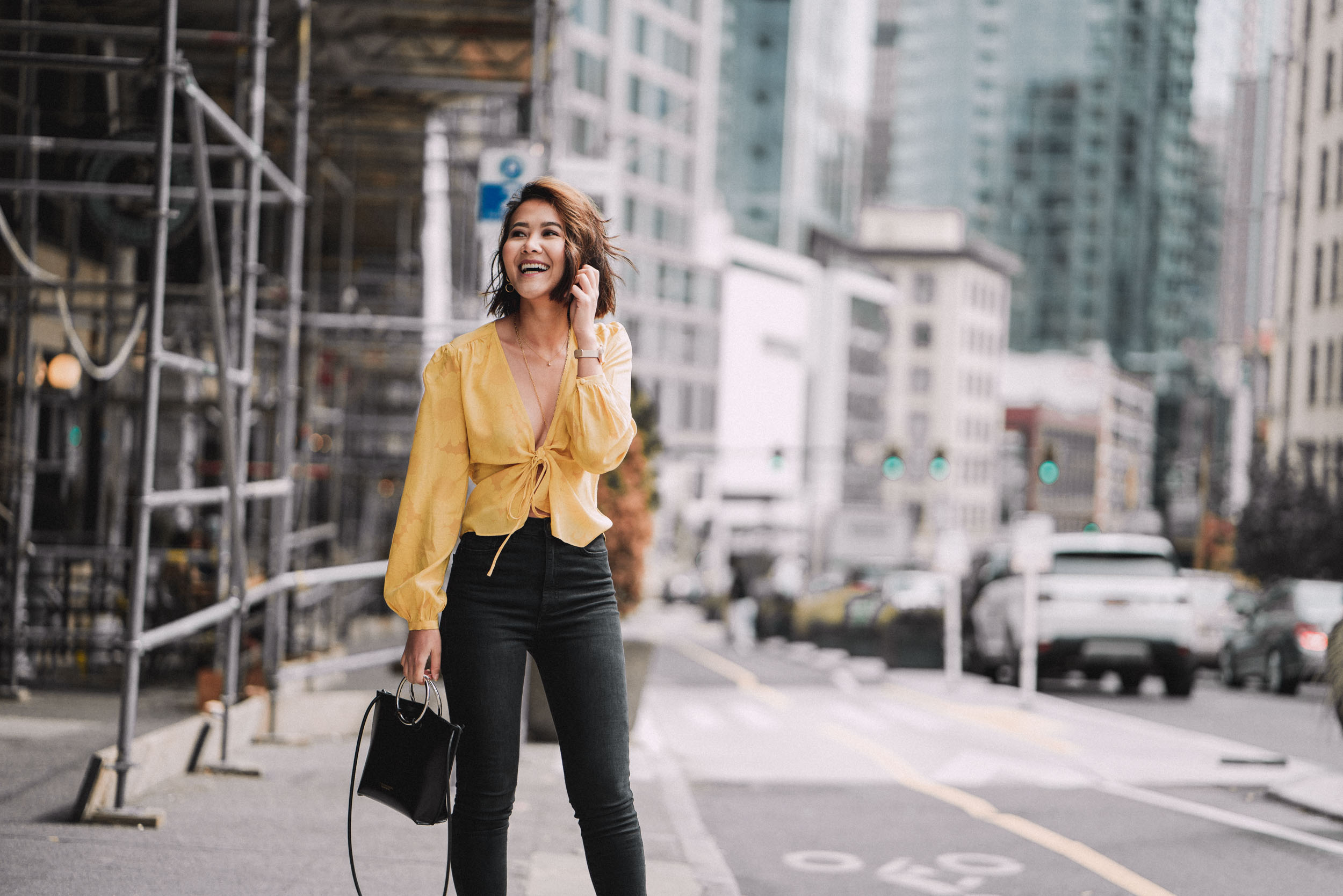 Well, congrats for making it until the end of this blog post! I really enjoy writing long ones like this, but I do admit that it takes a lot of time! I'd love to hear your feedback for future blog posts though! Do you really read and scroll through just to see photos? I know that a few of you have utilized my links to shop for things, so I definitely will look into more interactive ways to have you back! And a new theme for the blog is overdue, I know! For now, keep checking back at least every Wednesday for a new blog post and one or two spontaneous ones going up on the weekends! Have a productive week, everyone!
10 Cool Locations For Outfit Photos in Seattle – Part 1