A heart-to-heart conversation of a twenty-something to her younger, current, and future self. Hope this might touch some of you!
No matter where you are in life, how old you are, how achieved or successful you are, it is difficult not to compare yourself to other people.
Growing up, I constantly feel like I needed to fit in, needed to be invited to join groups, friends' hangouts, parties, and events. There were many instances that I was not included on the invite list, and I always thought to myself that I was never important or cool enough. That resulted in many self-pity episodes. These past years, I've grown so much (not taller) but closer to my true self. I can confidently say that I feel comfortable in my own skin. The FOMO (Fear Of Missing Out) and the not-enough feeling in me have drastically reduced.
1. DO WHAT YOU LOVE AND OPPORTUNITIES WILL COME.
I started blogging seriously posting 3 times a week with consistent daily Instagram postings just about a year ago. I knew I wanted to pursue something in fashion ever since I was a little girl, but with little support in the creative field, I went for a science degree instead.
Years ago, I remembered signing up for so many free accounts on blogging platforms, had a Youtube channel filming my outfit and travel videos with embarrassing editing skills, and did countless attempts at taking photos documenting my OOTDs using the most shitty point-and-shoot camera that I borrowed from my cousin. I used to draw, sketch, and sew to design things here and there but never found myself being stuck or invest so much in one thing.
Back when I was in college, with the busy school and work schedule, I found sale shopping or hunting for designer pieces on sale was something I could do within a few short hours before the days ended. It was more like 'I needed to be by myself to think' and needed to drive to a destination, so I ended up shopping. I was also working a lot to pay off my school bills at my aunt's tailoring shop, so I utilized the time to learn how to sew and alter clothes, often time my own clothes. So I picked up a ton of sewing and customer service skills. I learned a lot about what people wear and also many designer brand names, tips, and tricks in how to alter clothes and style them a certain way to make them look good on different body types. The decision to start blogging seriously was by far the best thing that had ever happened to me last year. And I would never look back! It was when I told myself that I wanted it so badly, things started to make sense.
Ever since I have landed many cool brand collaborations and opportunities to connect with so many like-minded people who do what I do. It is also amazing that brands have also been reaching out offering free products and are willing to cover the cost of blogging. All come with hard work, determination, quality, and consistent content producing, of course! And even though I don't have a huge number of followers, I have pretty consistent email contacting from brands wanting to partner up. And for that, I am eternally grateful!
2. KNOW YOURSELF, WHAT YOU'RE GOOD AT AND COMFORTABLE WITH.
My recent casting call for a secret project at Amazon is a perfect example to illustrate this point. I will share more details of this experience as to how I've got the invite to the casting call along with the whole experience in my next post. Overall, the whole experience was a firm reminder that I needed more experience in being in front of the camera and exposure to people. I did show up quite prepared but ended up leaving without any expectations on and forwards. Performing or being a crowd-pleaser has never been my strong point, and I knew that ever since I was 5. I felt super uncomfortable when they really just gave me a minute to talk about myself while being taped with other strangers' presence.
Walking out, I knew that I could have done a lot better. I beat myself for a good hour on the way home after that audition. I had to accept that the fact that lots of people coming in auditioning had already worked for agencies, and some were gifted with that talent of performing great under the pressure and in front of the crowd! But well, at least I did not say no and gave it a try! Although it is quite a popular belief that a blogger must love being in front of a camera and must be really good at posing, I am nowhere near that. I often freeze, overthink, and never know what to do. Many photos that my partner has taken of me did not make the cut, trust me, it is still and always will be a learning experience for me. Luckily, my partner is a professional photographer, and he definitely makes me way cooler than you think I am.
3. IT IS OK TO GROW SLOW. SET YOUR PACE.
I have recently discovered Instagram Pods and sad truths about the community behind them. You can Google for yourself and read more about them.
A couple of months ago, I did a Q&A on my Insta-stories asking for opinions about Instagram Pods. Only 2 out of the 8 bloggers responded with positive feedback and that they had been getting significantly more likes and followers from that. The rest of them found it was stressful because there were so many strict rules within certain groups. The majority of them quickly withdrew from the pod groups. I got an invite to a pod about a few weeks ago, and of course, I ignored that invite! This one blogger I know had gained up to 1000% of followers the past year from being super active in pods, liking and commenting on other people's posts, the seconds their posts go live. Others would do the same to her posts, and that was supposed to beat the algorithm and bring her photos to the popular suggested page. Hence, more people would see her posts. I would always wonder why their posts always got so many comments and likes, and now I knew why.
I realized something VALUABLE for myself. NUMBERS DON'T REALLY MEAN ANYTHING! The majority of them are manipulative and fake! There are also apps that can get you likes and followers, so keep that in mind! So ever since I knew about Instagram pods, I stopped comparing myself as to why my posts didn't get as many likes or why I didn't have many more followers as I thought I should have. I stopped watching those stupid advice videos or trying out tactics or tricks that people were trying to tell others what they should or must do in order to gain followers fast. I stopped worrying and letting it affect me, my mood, and lived out my life like a normal human blogger. And I had never felt better!
Instead, I started focusing on my crafts- planning my outfits, studying the poses, and just slowly letting go of thoughts and worries in terms of how I look and how the photos will turn out. I post when I have some free time at work and go do my thing. I don't get too obsessed with anyone or trying to follow any trendy editing and fashion trends. I see positive change. And ever since my move to Seattle, I have landed many cool opportunities with brands that I truly love and am passionate about working with. See! I only have 1340 followers (as some say that is a small number!). In order to land a brand partnership, one should or must already be a fan and use their products. That is just common sense, but it is not the majority of the cases. Well, I'd much prefer growing my readers and followers slowly rather than having a 10k+ number but producing shitty content.
4. WORK WITH WHAT YOU HAVE.
There is a quote I find that really resonates with me, and it goes, 'Don't be afraid to stray from the mainstream clickbait trends that dominate the fashion industry.'
As a fashion blogger, I constantly fight the urge to buy, buy, and buy. It is true that I love shopping and shopping is an important part of what I do as a blogger to stay and look updated with trends. It is a never-ending cycle that I get so tired of many times.
Sometimes when I cannot find anything in the shops that I like or that I am not inspired by any particular pieces, it motivates and forces me to style my old clothes differently and creatively, and I really enjoy that! On a daily, I have to strategically plan and shop both online and retail stores in person knowing the fact that I don't have a car, have limited alone time, hence limited shopping hours.
In addition, I get paid once a month, and I don't make a ton of money and those have gotta be for bills and rent. I only invest in quality designer bags or shoes. I don't often pay full price for clothes since I can easily incorporate some of my designer investment pieces to make them look a lot more expensive than they actually are. I am lucky that I have access to photography, and I know many bloggers out there have to outsource their photography to help them with a load of blogging. It is a lot of work and commitment. I stayed up until 4:30 am trying to have this post up, and that was another story to tell. But anyways, blogging does not happen to me in a day!
5. LIVE OUT YOUR LIFE, FIND TRUE FRIENDS & SUPPORT
For years of living in Minnesota, even though I made so many beautiful friendships, I knew I was not surrounded by the right crowd. Mid-September of last year, I finally made a move out to Seattle and forever moved away from the brutally cold winter and flatlands of the Midwest.
My partner who was just a friend back then did express the idea that he wanted to move out west and suggested that I should have done that already. He was literally the one who understood what I wanted to do at the time, but we lived too far away from each other. I knew I would move out of Minnesota but was not sure when.
Almost 4 years after, things slowly but surely worked out between us.
Now we live together and do almost similar yet different aspects of blogging makes it so much easier. We often argue about many little things but find ourselves sharing the same values in ways of living, and that is another blessing! We go shoot outfits on the weekends and would go on random adventures any day.
I've got many beautiful and close friendships that I've built over the years, and they live all over the place. Even though I live far away from my family. I know that wherever I am, I know that family back home will always have my back. I mean what else can I ask for?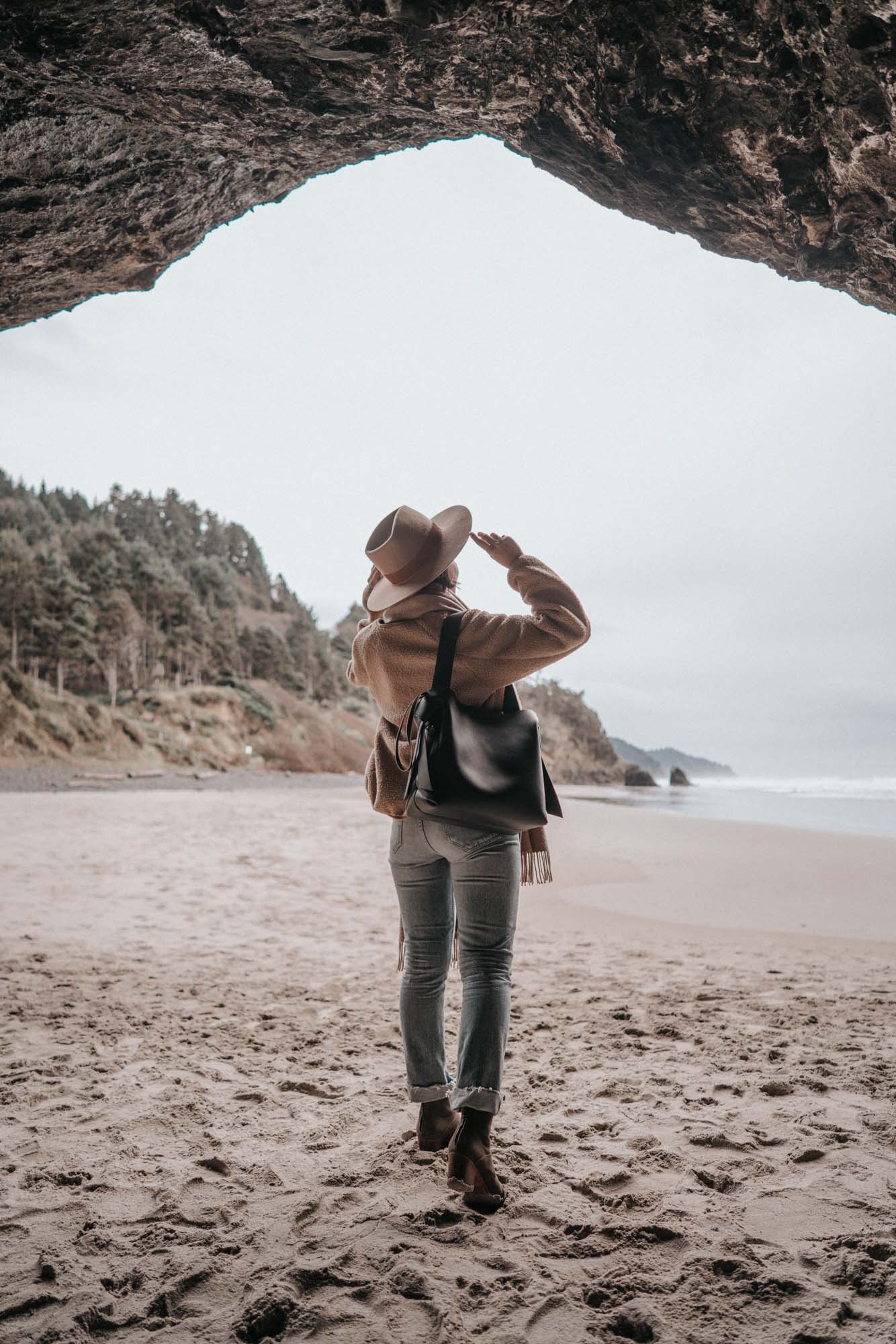 OUTFIT: Jacket: UNIQLO | hat: LACK OF COLOR | jeans: AGOLDE | boots: ITALEAU | scarf: ARITIZA | shirt: REALISATION PAR
It is 2018, and we are living in an era where it is all about inclusivity and community. Besides some negativities from the Instagram pods I have mentioned above, I have met many inspiring and motivating bloggers, and that they truly love what they are doing and have a purpose towards something they believe in life.
As social media take over traditional media, it is when you get lost in believing in yourself, you start comparing yourself to others. At the end of the day, parties end, lights are off, and no one cares about others more than they care about themselves.
To me, it is the real human connection that will touch your life not those faux notification pop-ups nor those likes and numbers.
They mean something to someone but not everything to me! 
READ MORE: