I often get asked about my gold jewelry pieces and how I get started working with Mejuri as an affiliate partner with the brand. So in today's post, I am going to share with you a brief brand history and answer your most frequently asked question: How I've landed a partnership with Mejuri.
Disclaimer: I do not get paid nor have ever been asked to write this blog post review. All jewelry photographed and featured in this post, however, was gifted to me by Mejuri in exchange for Instagram photos. If you'd like to support me as a blogger, please purchase using my link: edit.mejuri.com/AnTrieu. If you do, you will get 10%, and I will earn a small commission from referring you to the brand. All opinions are my own. 
about Mejuri:
Mejuri was founded by Noura Sakkijha and Justine Lançon in 2015.
They believe that luxury should be accessible and a part of everyday life. By adopting the direct-to-consumer model (skipping the middleman and sell directly to consumers), Mejuri can provide fine jewelry at a fraction of the price (compared to traditional jewelry brands being sold at department stores).
They also believe that women do not have to wait for someone else to give them fine jewelry, Mejuri encourages women to make a jewelry purchase for themselves just like how they shop for shoes or clothes which I think is an absolute genius idea. I love what they believe in their high-quality products can be priced at much more affordable price points.
The Factory, Materials, and Process
Mejuri directly works with their manufacturers located just a few blocks from their Toronto downtown office in Canada and Seoul, South Korea. Partnering with a local manufacturer helps to keep their lean production from the design process to be able to have products launched on a weekly basis. They launch new piece/s every Monday.
Fine jewelry is defined as jewelry made out of precious metals, such as gold or platinum, and may contain precious gemstones. In addition, Mejuri uses 14k gold and offers sterling silver and gold vermeil, diamonds, gemstones, and freshwater pearls.
Most of my jewelry pieces gifted by Mejuri are gold vermeil (pronounced as Ver – May). Not to be confused with gold plating, Vermeil is a much thicker layer of gold which gives the pieces their long-lasting color (with a minimum of 10k and 1.5 microns). Mejuri uses 18k gold layered on sterling silver. And the rest is solid gold.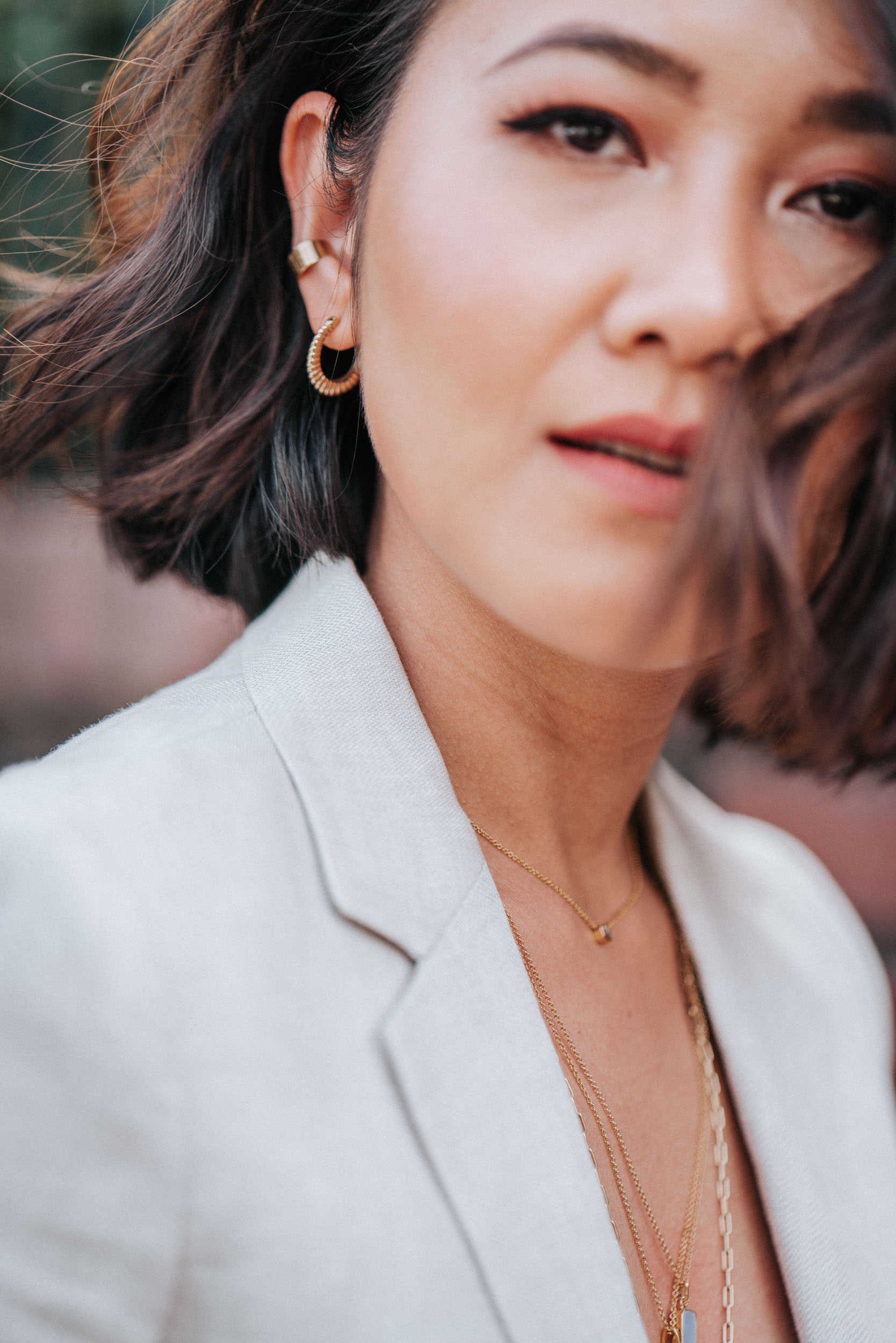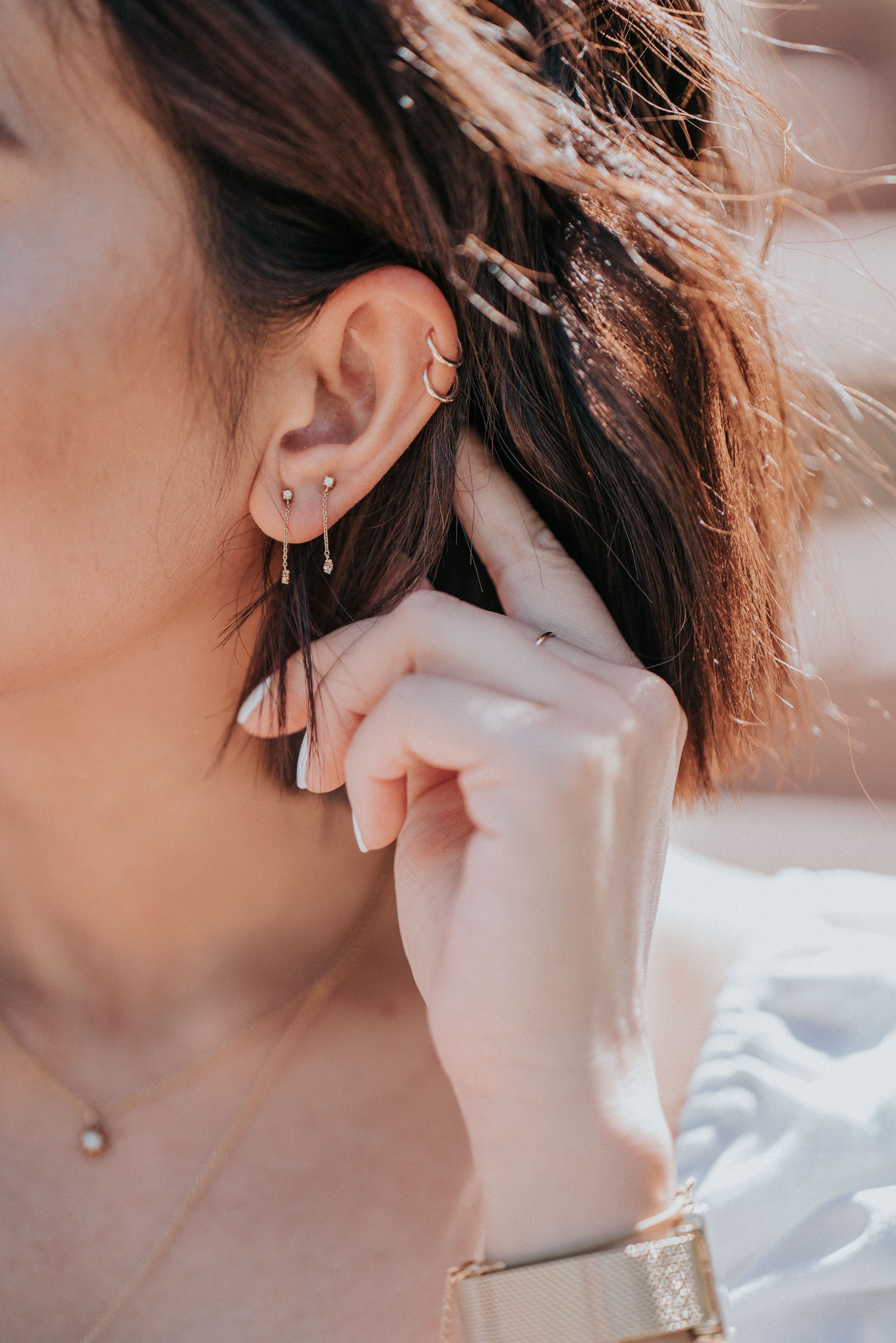 How I got to work with Mejuri:
In case you're new here, I moved to Seattle in the fall of 2017 and started to take blogging and posting on social media seriously at the beginning of 2018. I received an email from Mejuri Partnerships' representative back in January 2018, became a part of the fine Crew in November 2018, and Mejuri Edit (the next higher tier of partnership) in May of 2019. Initially, it started out on a gifting basis in exchange for an Instagram post wearing the jewelry and featuring them up-close. I later was invited to join Mejuri Fine Crew with a unique link and landing page, and I'd be able to earn a commission if someone purchases using my link.
I remembered back in 2017, I literally saw every girl on Instagram was a Mejuri Fine Crew member. And I later eventually became one. So I guess it's hard to pinpoint one reason why and how, but here are what I think are the reasons as to how I got to work with Mejuri.
Having good quality photos. I work with my photographer partner, and we shoot with a DSLR.

Consistent posting schedule and having some sort of following on Instagram. I do get asked this question many times by many of my fellow bloggers who have reached out to the brand themselves. That was about a year after I actively posted on Instagram and really started to build up my blog and social media presence as a blogger based in Seattle.

My style. Styling Mejuri pieces and shooting them have always felt natural and not forced because their pieces are really my style.
Remember that brands want good quality photos, and having a blogger or Instagrammer who has a similar style wearing their products is a double-win-win situation and collaboration. It is a new but very effective advertising strategy.
Final thoughts:
I love Mejuri jewelry pieces and Mejuri as a brand. They have done a fantastic job in setting their social media image as a contemporary and modern brand that offers luxury that is affordable and approachable. Their products really do speak for themselves. I love all of my pieces and am humbled to have this opportunity to work with a brand that I love.
WATCH MY MEJURI COLLECTION VIDEO
READ MORE:
MY MOST WORN AND FAVORITE JEWELRY COLLECTION