To me, skincare products are some of the things that I believe 'you pay for what you get.' And I am someone who would not mind paying more for skincare and makeup brands that make quality products. The fact that everything from the Ordinary is under $20 gave me so much doubt, so I wanted to test the products myself. After many hours of browsing their website, I did not only learn so much about their products but also ingredients and beauty regimens suggested by the brand.
I knew about the Ordinary from reading IntoTheGloss top 25 beauty products of 2017, and the Ordinary's serums won 'the bargain' award for their simple, well-priced, well-made formulations. IntoTheGloss is my favorite beauty go-to destination whenever I need a product suggestions and want to know other readers' opinions about products.
About The Ordinary
'Clinical formulations with integrity.'
The Ordinary is championing in single-ingredient skincare products, their transparency in product sourcing, production, and integrity. The Ordinary is a brand from DECIEM- an umbrella of many other brands, such as NIOD and Hylamide, that are focused on advanced functional beauty.
According to their website, all DECIEM products across all brands are 'free of parabens, sulfates, mineral oil, methylchloroisothiazolinone, methylisothiazolinone, animal oils, benzalkonium chloride, coal tar dyes, formaldehyde, mercury, oxybenzone.' They do not test on animals nor pay others to do so. They also state that the fact that their products are not available in mainland China due to their requirement on products to be tested on animals. You can also follow them on Instagram which the founder, Brandon, would directly communicate and announce things all by himself there. The company is based out in Canada, by the way!
My skin type:
I have a dry skin type, but it could get super dry or oily in certain areas. My cheeks would get tight and patchy if I don't put on enough moisturizer. On days when I don't wear makeup or do not have primers on, my forehead and eyelids are extremely oily. Besides that, I don't have acne or any specific skin concerns regarding sensitivity or allergy.
My goals with skin care products are to prevent pre-mature lines and wrinkles, to even out skin tone and texture, and to gently exfoliate whenever need be. With my skin type and the mentioned needs in mind, I purchased 5 skincare products from The Ordinary hoping they to perform as claimed! I also purchased a serum foundation which was too cheap for not giving it a try. I will include it at the end of this post as an extra, but for today's post, I just want to highlight the 5 skincare products that I tried for myself.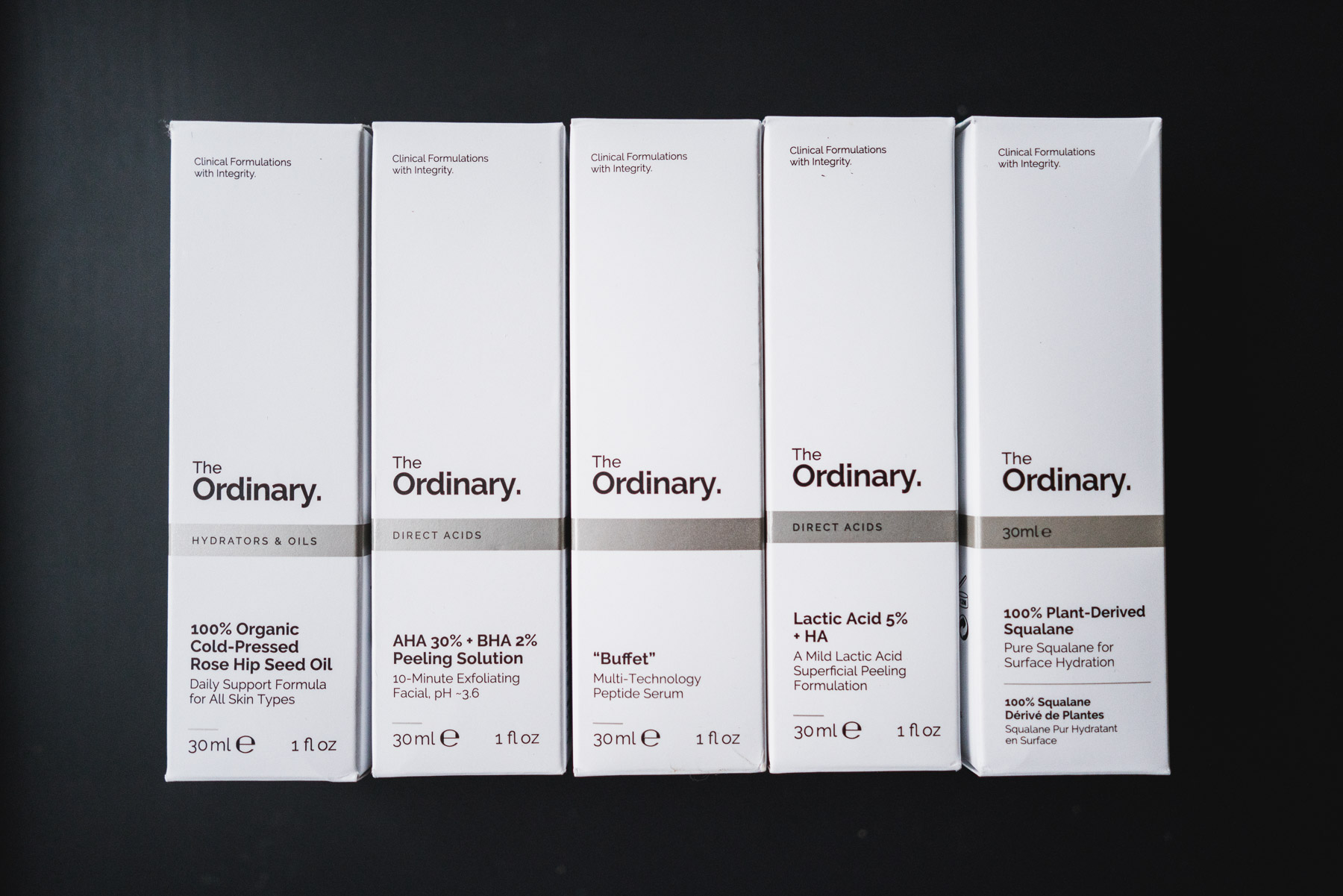 My 5 skincare picks from the Ordinary:
30ml $6.50
PH 3.60-3.80
The Ordinary has two Lactic acid + HA versions, one is 5% and one is Lactic Acid 10%. I went for a milder formulation since it is an acid, I want to slowly introduce my skin to it.
WHAT IS LACTIC ACID?
Lactic Acid is an alpha hydroxy acid that exfoliates the skin. This formulation is supported with a purified Tasmanian pepperberry known to reduce signs of inflammation and sensitivity that are often associated with exfoliation. Lactic acid is known for the treatment of dull, pore-clogging dead skin cells, fine lines, and wrinkles which ultimately leave your skin appears plumped and radiant. Sunday Riley's Good Genes is another super popular pricey yet effective product that contains lactic acid as an active exfoliate. So I guess if you want to give a chemical peel product a try that does not break your bank, go for this one!
Ingredients: Aqua (Water), Lactic Acid, Glycerin, Pentylene Glycol, Propanediol, Sodium Hyaluronate Crosspolymer, Tasmannia Lanceolata Fruit/Leaf Extract, Hydroxyethylcellulose, Isoceteth-20, Trisodium Ethylenediamine Disuccinate, Sodium Hydroxide, Ethylhexylglycerin, 1,2-Hexanediol, Caprylyl Glycol.
HOW I USE IT: As directed, I only use it at night time. I apply three drops directly on my skin, one on my forehead and one on each cheek, massage it in, and continue with my serum and moisturizer. This product is not supposed to be rinsed off! They suggest mixing it in with other treatments to reduce strength until the skin develops tolerance. I don't use this every day since I switch exfoliating products constantly according to my skin needs. So far, it has not irritated my skin nor do I experience any 'vigorous' exfoliating action that I notice. Perhaps I should have gone for the 10%?
30ml $7.20
10-Minute Exfoliating Facial
PH 3.5 – 3.7
If you have uneven skin tone, uneven texture, fine lines, wrinkles, or if your skin is dull, look for products that contain active acids like AHA and BHA. One of my favorite skincare brands, Drunk Elephant, has a very popular product called T.L.C Sukari Babyfacial which contains 25% AHA and BHA. And this formulation from the Ordinary contains ~30% BHA and AHA and is effective and suprisingly much cheaper.
As clearly stated in the product information page on the Ordinary website, this formulation contains a very high amount of active acids (~30%). It is called a 10-minute exfoliating facial for a reason, therefore, it must be washed off within 10 minutes! Also note that this is a chemical peel, not a physical exfoliating peel. So please be cautious and ask skin professionals if you have problematic, acne-prone, or sensitive skin.
WHAT ARE AHA AND BHA?
'Alpha hydroxy acids (AHA) exfoliate the skin's topmost surface for a brighter and more even appearance. Beta hydroxy acids (BHA) also exfoliate the skin with an extended function to help clear pore congestion.
This combined 32% AHA/BHA solution offers deeper exfoliation to help fight visible blemishes and for improved skin radiance. The formula also improves the appearance of skin texture and reduces the look of fine lines with continued use. Salicylic Acid further exfoliates inside the pores to target congestion and visible blemishes. The formula also contains a hydrating Hyaluronic Acid Crosspolymer, pro-healing Vitamin B5, antioxidant Black Carrot, and a soothing Tasmanian Pepperberry to make it tolerable by most skin types including sensitive skin.
Ingredients: Glycolic Acid, Aqua (Water), Aloe Barbadensis Leaf Water, Sodium Hydroxide, Daucus Carota Sativa Extract, Propanediol, Cocamidopropyl Dimethylamine, Salicylic Acid, Potassium Citrate, Lactic Acid, Tartaric Acid, Citric Acid, Panthenol, Sodium Hyaluronate Crosspolymer, Tasmannia Lanceolata Fruit/Leaf Extract, Glycerin, Pentylene Glycol, Xanthan gum, Polysorbate 20, Trisodium Ethylenediamine Disuccinate, Potassium Sorbate, Sodium Benzoate, Ethylhexylglycerin, 1,2-Hexanediol, Caprylyl Glycol.
HOW I USE IT: I only use it when I feel like my skin feels dry, flaky, and congested. It is suggested to only use it once or twice a week, and I use it very sparingly when I absolutely need it. The berry red color might look scary in person, but I appreciate the effectiveness and the color reminds me to keep an eye on it making sure I wash it off after 10 minutes.
At night, I use 3 drops on my slightly wet face, one on my forehead and one on each cheek, massage it quickly, and time myself for 10 minutes. After that, I rinse it with lukewarm water and go in with my normal nighttime skincare routine. I love how effective this chemical peel is. My skin feels super soft the next day! I always make sure to use sunscreen the next day in the morning. Out of all of the Ordinary products that I purchase, this is my most favorite one! Remember, a little really goes a long way!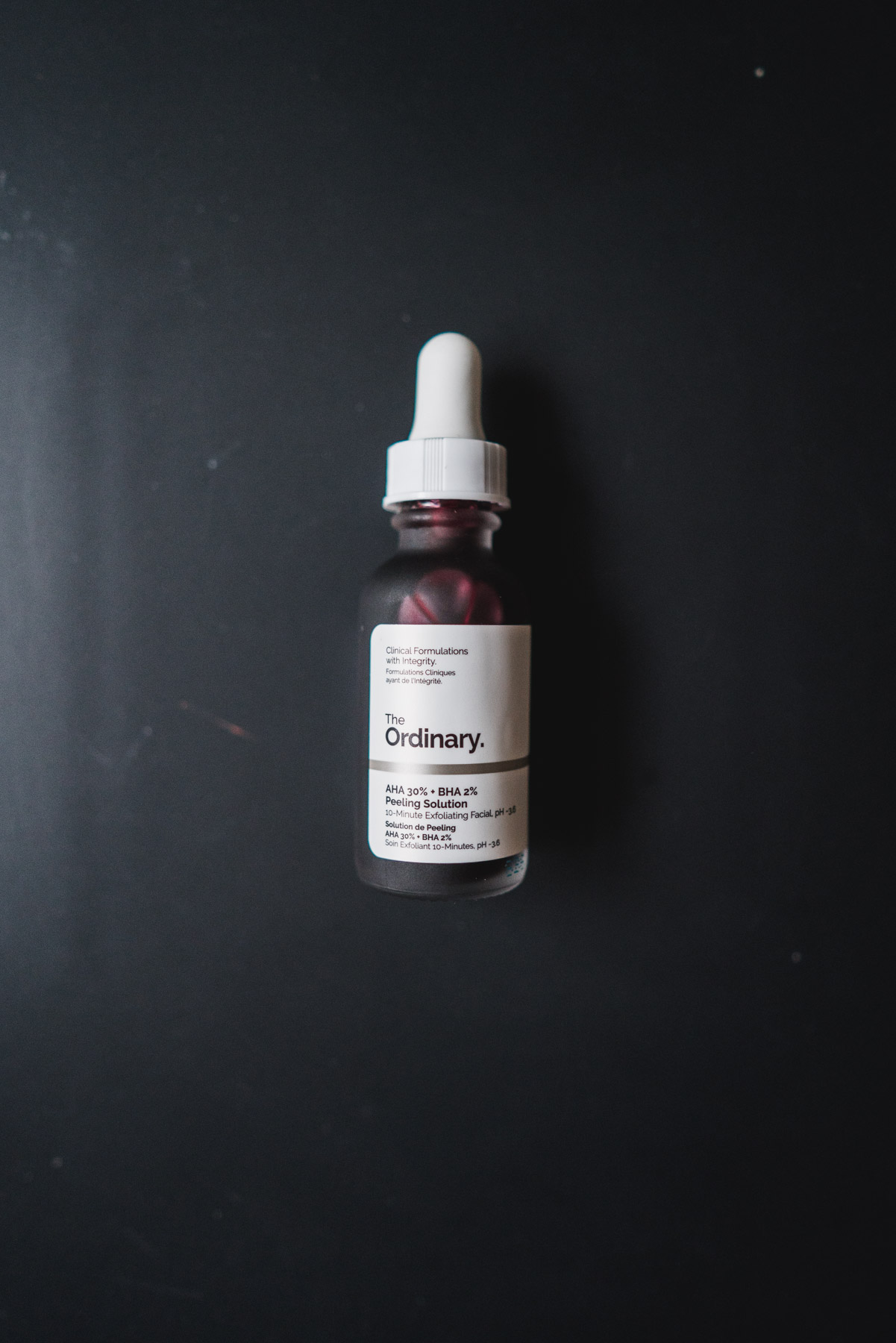 Don't run away if you have oily skin just yet! Oils are proven to be very effective skincare ingredients. I have been using Morrocan oil on my hair for years, Argan oil on both skin and hair, and there is no doubt that they have saved my skin and hair all through harsh winter seasons.
Squalane is relatively new to me! I saw a few bloggers promoting Biossance's squalane products, and that got me quite interested in trying one day. Well, they are expensive, and that is the reason why I have been holding off on trying their stuff.
WHAT IS SQUALANE?
Squalane is a much more light-weight, non-greasy, and superb hydrating solution. It is 100% plant-derived (commonly from sugarcane or olives) and is suitable for all skin-types, yay! However, I've got to say that this Ordinary's squalane plant origin is unknown as they only say 'squalane' in the ingredient list. Anyways, squalane can also be used on hair which offers heat-protecting benefits such as stopping moisture loss and breakage. Due to its hydrocarbon-only chain structure (calling out all Chemistry folks), it contains 100% saturated fat and is proven to be stable in various UV conditions and temperatures which is another plus for products that will go on to your face.
Ingredients: Squalane
HOW I USE IT: I apply three drops after my water-based products aka after toner and serum but before moisturizer. It is clear, scentless, and goes on so lightweight! It adds incredible moisture but doesn't leave my skin greasy, and I'd use it as a moisturizer on days that I don't wear makeup. Squalane is definitely a staple oil that I think everyone should have on their skincare shelf.
30ml $9.80
WHAT IS ROSEHIP SEED OIL?
As the Ordinary claims, Rosehip Seed Oil (extracted from an African Marula Oil called 'Rosa Canina Seed Oil') is rich in linoleic acid (omega 6), linolenic acid (omega 3)and pro-vitamin A, all of which degrade when the oil extraction process involves heat, hence, the cold-pressed method ensures the good oils stay. Rosehip Seed Oil has been shown to reduce signs of photo-ageing and many other skin conditions. This formulation is unrefined, hence, it has a very oily scent (almost stinky! scent, in my opinion). This scent is due to its high omega fatty acid content. If you have ever come across Rose Hip Oil that does not have any scents, this is because it has already been refined and offers reduced benefits.
Ingredients: Rosa Canina Seed Oil.
HOW I USE IT: I love adding this oil right before my moisturizer, and of course after cleansing and serum. Regardless of the distinctive woodsy and almost 'moldy' scent, I love how it makes my moisturizer goes on smoothly when applied prior to that. The smell quickly dissipates, and the oil leaves my skin extra moisturized.
Why Rosehip Seed Oil? If you are in a market for an anti-aging product, Rose Hip Oil is the best one to go for! I already started using anti-aging skincare products when I was at my early 20s. The Ordinary also recommends using Moroccan oil or Argan Oil on super dry skin and hair which I have already been using both for the past 3 years.
30ml $14.80
The "Buffet' is also known as the multi-Technology Peptide Serum.
PH 4.50-5.50 
WHAT IS SERUM?
Serum is a skincare product you can apply after cleansing but before moisturizing. It is often water-based or oil-based and is packed with a high concentration of moisturizing ingredients (hyaluronic acid, ceramides, etc) to help the skin retain moisture. It is somewhat similar to essence but does not target specific skin needs or problems and is thicker in consistency and more concentrated inactive ingredients' in the formulation. If you have acne-prone or more sensitive skin types, please do research prior to purchasing any skincare products, especially serums since they are potent and have powerful ingredients which can irritate your skin. You can read here to find out more product recommendations in terms of serums for different skin types.
List of the peptide technologies which takes up to 25.1% of
the Buffet
formula by weight (found on the website):
Matrixyl 3,000 peptide complex (with palmitoyl tetrapeptide-7)
Matrixyl Synthe'6 peptide complex (with palmitoyl tripeptide-38)
Syn-Ake peptide complex (with dipeptide diaminobutyroyl benzylamide diacetate)
Relistase peptide complex (with acetylarginyltryptophyl diphenylglycine)
Argirelox peptide complex (with acetyl hexapeptide-8, pentapeptide-18)
Probiotic complex (with lactococcus lactis lysate)
in a base of 11 skin-friendly amino acids and multiple hyaluronic acid complexes. 
HOW I USE IT:
I like to use
The Buffet
at night time before moisturizer and after cleansing, as directed. I add three drops, one on my forehead and one on each cheek by directing dropping it using the dropper that it comes with, and massage it in with my fingers. And the rest goes into my neck! I do notice it makes my skin feel sticky, and the obvious reason is a large amount of glycerin used (it's listed as the second ingredient in a very long list of ingredients). Glycerin/glycerol is a very common skincare ingredient, naturally derived from animals, plants, or synthetically produced. It forms a protective layer that prevents moisture loss, and if used in large amount, it can feel tacky/sticky. One serum application a day is good enough, and it's been great at providing my skin with moisture. No noticeable skin difference so far!
The only makeup product I've picked up from the Ordinary:
30ml $6.70
(My shade: 2.1 P for a medium with pink undertone)
This is by far the cheapest foundation that I have ever bought. The bottle is tiny, but a little goes a long way. I do not need much even though it has a very watery consistency. It feels quite thin and lightweight on the skin, but I find it does not give me the dewy look that I need in terms of a base makeup product. It covers my pores and uneven spots pretty well, but I have to make sure my skin is well-moisturized beforehand.
SHOP THIS POST:

FINAL THOUGHTS: Skincare doesn't have to be expensive.
It is a common belief that 'what you pay is what you get.' And I used to be a firm believer of that. Especially skincare, I used to pay $100 for a jar of night moisturizer from Shiseido and was so close to getting a bottle of SK-II essence which costs over $150 just to try it out and see what the buzz is about. Shiseido and SKII are well-known Asian skincare brands that my aunts, uncles, and lots of skincare lovers are loyal to for years. So I trust those brands and believe the price tags that they are selling.
And The Ordinary has proved me wrong here! Their skincare products are simple and effective. The chemical exfoliator will last me years, and I will definitely repurchase the oils. Some products from the Ordinary I have are definitely a hit, and I am pleased with them so far! Skincare does not have to be expensive, indeed, and thanks to everyone who is behind this brand!
Which product would you try? Let me know in the comment section below! Hope you find this post helpful!
Thanks for reading!
Watch my nighttime skincare routine: HERE